8 Broadway Cast Albums That You Have To Listen On Spotify
Feb 6, 2018 &nbsp • &nbsp Janelle Almosara
If you're a fan of musicals or just someone who's exploring the wonderful world of theatre, then you'd know that there is so much to learn and feel from Broadway cast albums. Whether you've seen the play or just interested in listening to some great music, cast albums have its own way of transporting you to a magical place, making you feel as if you're a part of another world.
As a true-blue treasure-trove of all things related to music, we've decided to go through Spotify's catalog and list down some of the greatest cast albums that we can find! Here's the rundown:
Waitress: The Musical
Essential Track: She Used to be Mine
Music and lyrics written by Sara Bareilles, Waitress: The Musical is just like your favorite feel-good indie-acoustic album – complete with catchy songs, emotional tracks, and a whirlwind of feelings. Just like eating a pie, listening to Waitress is also heartwarming and comforting. While the life of the central character, Jenna, takes a whole lot of twists and turns, the end of this musical is straight up satisfying, you would ask for more.
Chicago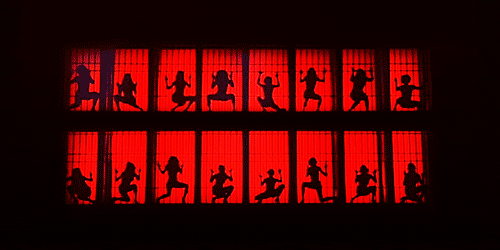 Essential Track: Cell Block Tango
Set in the 1920s, this dazzling production is definitely not to miss. Listening to the cast album is actually like being in a time machine – their songs filled with pizzazz, the music so lively and energetic; you couldn't help but dance. Bring out those flapper hats and cutesy little dresses. This award-winning show is here to make you feel glamorous.
Want to see the music with actors but can't afford to go to Broadway? Go ahead and watch the film adaptation. It's still sparkly as ever, and it features Catherine Zeta-Jones.
Wicked
Essential Track: Defying Gravity
Witches, wizards, and magic – this enchanting musical will make you feel like a kid again, believing in powers and alternative universes. Based on the 1995 Gregory Maguire novel, Wicked: The Life and Times of the Wicked Witch of the West, Wicked tells the unlikely friendship and unending rivalry of Elphaba and Glinda through spellbinding music and powerful performances.
This cast album features the original Broadway cast, including the iconic duo, Kristin Chenoweth (Glinda) and Idina Menzel (Elphaba).
School of Rock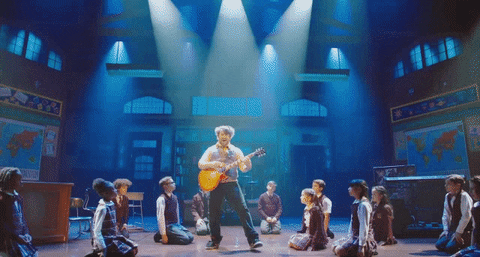 Essential Track: School of Rock
I bet I'm not the only one wishing to have a teacher that's this cool…
School of Rock is a stage adaptation of the canon film of the same name. Staged in 2015, this fun-loving, head-bangin' musical is written by greats Andrew Lloyd Webber and Glenn Slater. If you've seen the movie, then you'll know what to expect – except this time, everything is in a rock-and-roll format.