A Year in Good News: 8 Things That Went Right in 2019
Dec 25, 2019 &nbsp • &nbsp Kyzia Maramara
It's a challenge to pick only 8 good news out of the hundreds if not thousands that present themselves. Admittedly, 2019 has been a tough year for Filipinos and everyone else for that matter, but since 2019 is creeping to a close, it's about time we recognized all the great things the year brought us. No matter how bleak things are, there are sparks of good news that will bring hope and a smile to your face.
Seven eggs from the world's last two remaining Northern White Rhinos have been successfully fertilized
When Sudan, the last remaining male northern white rhinoceros died last year, he left two adult females as the last of his kind. Sadly, Sudan was past his reproductive years and the females are unable to produce offspring naturally. However, this year it seems scientists have reached a breakthrough. They harvested eggs from the living rhinos and are currently working on looking for the right surrogate mother. Here's to hoping the northern white rhinos come back from extinction!
Amazon tribe wins court battle, protecting the Amazon Rainforest from oil drilling
The Waorani people of Pastaza Ecuador won the legal battle that would prevent oil companies from ruining indigenous people's homes, the Amazon Rainforest, from oil drilling. They were even supported by the likes of Leonardo DiCaprio and Mark Ruffalo. They have succeeded in protecting over 500,000 acres of rainforest!
President Rodrigo Duterte has signed R.A. 11223, the Universal Health Care Act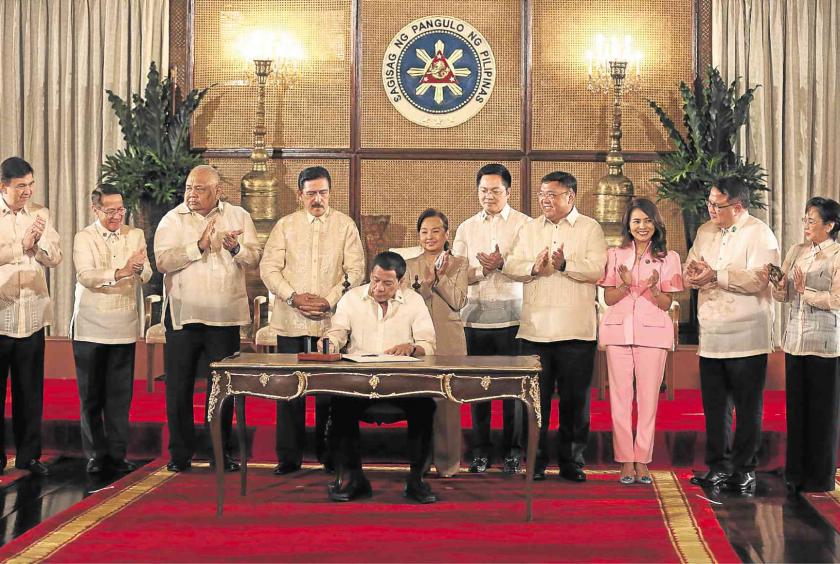 The Philippine government's efforts in investing in health care for 2019 resulted in the passage of the Universal Health Care Act early this year. This entitles all Filipinos to health insurance and medical treatment. While Filipinos can already avail some of the law's benefits, it will gradually have its full effect throughout the years.
Hope for the bees in London, Finland, US, and Holland
There fear that the bee population is declining due to drastic change in weather and constant use of pesticides in farms and plants. Holland addresses this problem by covering hundreds of bus stops with plants where bees can take refuge. Scientists in Finland have developed the world's first vaccine to fight off 'bee apocalypse.' London has a seven-mile 'bee corridor' of vibrant wildflowers to encourage bee population. Even the US Environmental Protection Agency banned 12 pesticides that are harmful for bees.
Malawi's Senior Chief, Theresa Kachindamoto, annulled over 2,500 child marriages and sent all children back to school
In Malawi, it used to be a common thing to see girls as young as 13 years old already married and with a kid. It's a cruel tradition that Dedza District tribal ruler Theresa Kachindamoto made her most crucial official duty to eradicate. Through hard work and the help of "secret mothers" she enlists in every community, she is able to annul thousands of marriages and send the girls to school, often subsidizing their education.
The sea turtle population has increased by a whopping 980%
According to a study, "78 percent of marine mammals and 75 percent of sea turtles increased their population size after protection under the Endangered Species Act." The Endangered Species Act by the United States Congress signed in 1973 proved to be one of the most successful environmental laws to date. It prohibits harming, killing, and exporting endangered species and, as proof, we see its effects in the rising number of sea turtles and even humpback whales.
India's sanitation drive results in 90 million toilets this year
In India, defecating in open fields is the only way people can relieve themselves since they don't have the luxury of toilets in their homes. But Prime Minister Narendra Modi ended this situation covering over 98% of India's household through his Swachh Bharat, or Clean India, mission launched in 2014. Citizens now have the opportunity to build their own toilets!
A man in India planted a tree every day for 35 years and created a forest larger than Central Park
With burning forests everywhere and acres upon acres of trees being cut down to make room for "developments," it's a relief to hear that some people are working hard to repopulate the earth with greens. Jadav "Molai" Payeng single-handedly planted an entire forest in Majuli Island in Assam. He started when he was 16 years old, scientists predicted the island to die after a major drought. The forest he has planted is now home to Royal Bengal tigers, elephants, rhinos, and other creatures.
What other good news did you hear from 2019?