Netizens were shookt early Christmas morning when actress Bela Padilla snapped at a random netizen on Twitter. And it was barely 6 AM. Bela replied to a tweet mentioning her name and talking about getting locked in a bathroom. If you're still in the dark wondering what's so offensive about the whole thing, we're here to regale you with a tale of ancient showbiz history. Judge for yourself whether Bela Padilla's reaction was justified or uncalled for.
The tweet that incited a reaction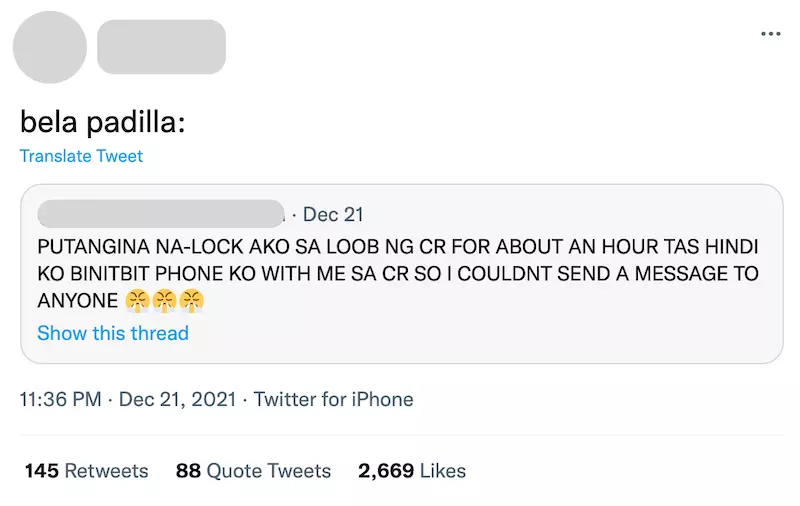 It looked harmless enough. The original tweet was someone saying they accidentally locked themselves in the bathroom for an hour without their phone so they couldn't call for help. It was quote tweeted on Dec. 21 by another netizen with a simple caption: Bela Padilla's name. It was a joke that would make those who *know* chuckle and those who don't get it just scroll past. As of writing, the post has 2,646 likes with 233 retweets.
Bela Padilla replies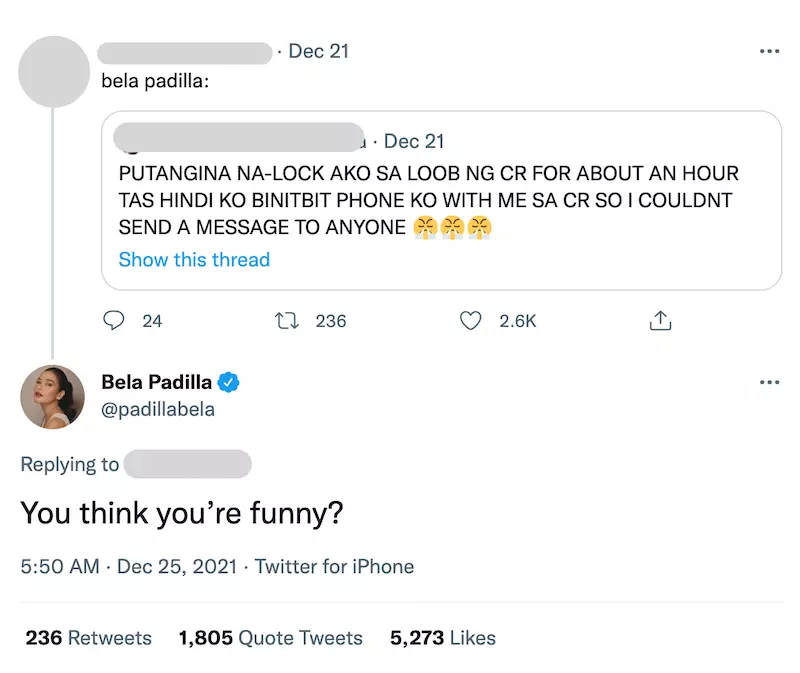 But then, early on Christmas morning, the actress randomly left a scathing reply under the tweet. And because it caught netizens off guard, naturally her reply trended online. "You think you're funny?" she wrote, clearly not pleased. As of writing, it has 5,253 likes and 2k retweets. The whole thing — a celebrity noticing you after almost four days of posting — read like the opposite of a Christmas miracle.
What's the context?
Why did Bela find the tweet offensive anyway? Your Marites friends will tell you it has something to do with Marian Rivera and Dingdong Dantes. Back in 2010, the three starred in the GMA primetime series Endless Love. Bela and Dingdong, 19 and 30 years old at the time, play the part of lovers. Marian, then 26 years old and Dingdong's real-life girlfriend, allegedly got jealous after one scene where the two had to get physically close to each other. What followed was a showbiz fiasco.
Marian was accused of harassing Bela. Reports say she followed the young actress in a bathroom, made everyone go out, and proceeded to verbally abuse her by saying Bela wasn't a good actress and that Dingdong isn't interested in her. As a result, Bela got "very afraid" of Marian to the point where her manager, Claire dela Fuente, had to ask GMA to protect her.
Dingdong Dantes spoke up
View this post on Instagram
When the issue blew up in late 2010, Dingdong released a statement to defend his girlfriend. He said the accusations are "blown out of proportion" and that what happened in the past was "between two ADULTS" and that it's "already resolved." He also said that his and Marian's relationship is at its "strongest point now, more than ever."
They've patched things up
But that was ancient history. A few years after that, in 2014, Bela said she received closure after guesting at Marian's weekly GMA dance program, Marian. While they didn't talk about the issue, Bela said having a friendly relationship is better. She became a stellar actress with films like 100 Tula Para Kay Stella and Meet Me in St. Gallen under her belt while Marian, of course, went on to marry Dingdong with whom she has two lovely kids. Marian also recently served as a judge for the 2021 Miss Universe.
Some laugh at Bela Padilla for essentially confirming the issue

After getting over the initial shock that Bela would address the issue, netizens feasted on her Twitter reply. Many laughed at the whole thing saying the actress basically confirmed what happened. Bela has successfully kept her silence on the whole thing even after a decade so it's unusual of her to snap at a random social media post. Plus, it's the Internet, when they sniff a weakness, they will poke on it until they're an inch away from cyberbullying.

But netizens come to Bela Padilla's rescue
Many also understood that Bela wouldn't engage in a four-day-old tweet if it wasn't important to her. It's no joke experiencing harassment and being afraid of your co-stars or co-workers, especially since she was a teenager back then. No one knows what she went through or if the verbal abuse got to her and affected her career after. It could be a sensitive topic to her even after all these years, something that shouldn't be joked about. Everyone's trauma is valid.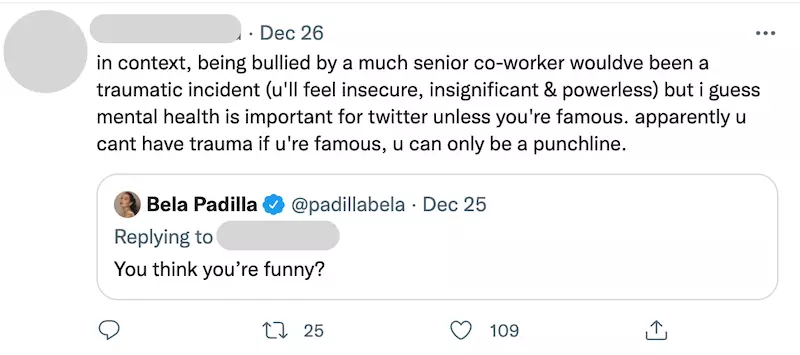 What's Bela Padilla up to these days?
Bela recently moved to London. According to the actress, it's easier since some of her family members live in the UK and she's closer to her Swiss-Italian boyfriend. She also said the pandemic inspired her decision to move and try new things, she feels she'll be more productive abroad. Subscribe to her YouTube channel so you can see her vlogs and get updates on her life in London.
Check us out on Facebook, Instagram, Twitter, and YouTube, and be the first to know about the latest news and coolest trends!