Awesome Board Games for Rainy Nights Indoors
Aug 24, 2016 &nbsp • &nbsp RJ Firmeza
Awesome Board Games
for Rainy Nights Indoors
By RJ Firmeza

All rained in? Not a lot of people relish the thought of getting stuck indoors because of the weather, but with some good company and a couple of great board games, a night in can quickly turn into tons of fun.
So, if your board game knowledge is limited to Monopoly, you ought to check out these fun and interactive board games that'll test your mettle and wits against other players.
Definitely, not your mom and dad's Snakes and Ladders.
8. Splendor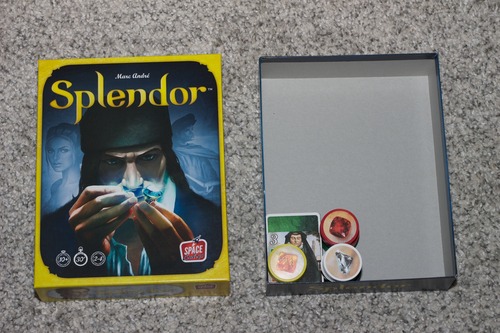 2-4 players | 30-60 minutes| Buy it here.

Enjoy the art of trading as wealthy Renaissance merchants. Splendor will have you compete in bidding for gem mines, mediums of transportations, and artisans—with the goal of being the most prestigious merchant of them all. You can even score a visit from a noble if your wealth is worthy of consideration—a visit which will add even more to your prestige.
What's fun about it?
First off, the art is beautiful—you won't tire of looking at the paintings on the cards. Second, the scarce resources at your disposal will result in tough decisions that will have you really thinking like a merchant. It's a fast-paced board game whose replay value is off the charts.
7. La Granja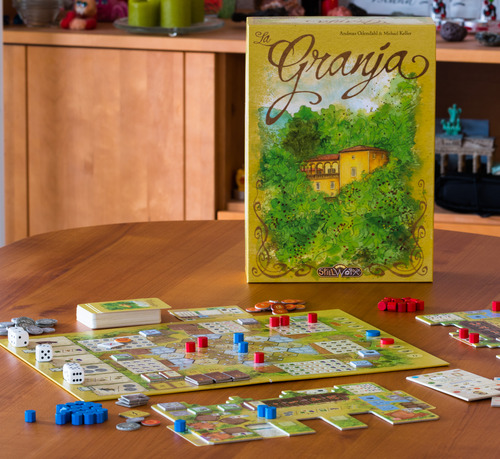 1-4 players | 90-120 minutes | Buy it here.

La Granja is a farming-themed game where you're basically farm proprietors  tasked to produce goods to sell in the market, with the goal of being the new owner of the estate. Your consistency in delivering said goods  will gain you VPs (Victory Points). The player with the most VPs is declared the winner.
What's fun about it?
The replay value is unimaginable with the multi-use cards mechanics that test your ability to think on the spot. Will you focus on long-term resource goals? Will you opt to produce more grapes? Will you choose to expand your farm first? Or do you want to gain a special power? You start with four cards, so if you're doing the math, that's 16 different options straight off the bat.
6. Patchwork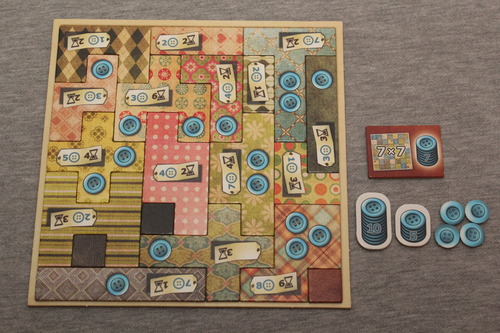 2 Players | 20 minutes | Buy it here.

Patchwork is a light and creative game where two players collect and assemble fabric pieces (think Tetris). The goal is to craft the most aesthetically pleasing patchwork quilt on a 9×9 game board while maximizing the use of "buttons"—which is the currency. The player with the most points (buttons) at the end of the game wins.
What's fun about it?
For a game that's "deceptively simple", a single patch could cost you the whole thing! The execution is simple yet it demands a lot of thinking and includes time pressure on top of it all.
5. Pandemic Legacy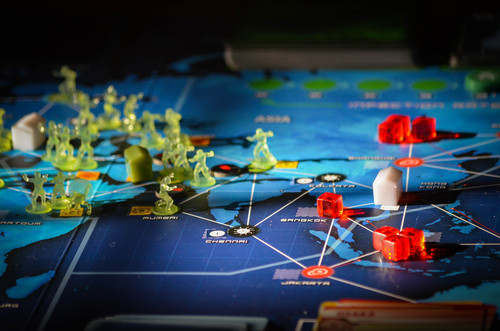 2-4 Players | 60 minutes | Buy it here.

Considered the best board game at the moment, Pandemic Legacy is situated in a world about to get consumed, and the only hope left is for your team to keep four deadly diseases at bay for one whole year.
What's fun about it?
Much like your favorite TV show, its fun-factor is its episodic nature. Your team will be enthralled with the unexpected twists and turns that can happen each month when you resume playing the game. Many will die, but legends will be born