4. Mister Kabab
2F Pearl Plaza, Pearl Drive, Ortigas, Pasig City
(02) 584 3833 | Facebook
Open every day from 10am to 12mn
Budget for two – P500
Spice up your 9-to-5 routine with food that's packed with flavor. How? Go to Mister Kabab and devour various kinds of Turkish grilled meats—lamb, chicken, beef and seafood. And if the rain's gotten you craving for something saucy, their stews are must-tries, too. The only guilt you might feel after is from over-eating, but none from over-spending.
3. The Grub
GF 8101 Pearl Plaza, Pearl Drive, Ortigas, Pasig City
0929 883 2425 | Facebook
Open Monday to Saturday from 9am to 8pm
Budget for two – P300
At first glance, The Grub seems like a simple, unassuming kiosk serving your run-of- the-mill snacks. But ask an Ortigas-foodie or even just look at the menu, and you'll be pleasantly surprised. The Grub serves customizable, gourmet burgers that's already gotten many smitten. If you don't feel like conceptualizing your own, they have delicious combos, too. Take advantage of their extraordinary toppings like rosemary aioli and sriracha mayo.
2. Schmidt's Gourmet Hotdogs
5F The Podium, ADB Avenue, Ortigas, Mandaluyong City
(02) 246 9069 ext:276
Open every day from 10 am to 10pm
Budget for two – P400
Why settle for boring, old hotdogs topped with mayo-ketchup- mustard when there are so many more delicious possibilities? "Tipid eh," may be your wallet's fast answer. But you've gotta introduce Schmidt's Gourmet Hotdogs to both your belly and wallet. Six mouthwatering hotdogs await them—the Wagamama, Seattle Dog, Kimchi Dog, Hawaiian Dog, the Julius and Coney Island. Pair your pick with pasta, nachos or fries.
1. Pins & Bricks Pizza Bistro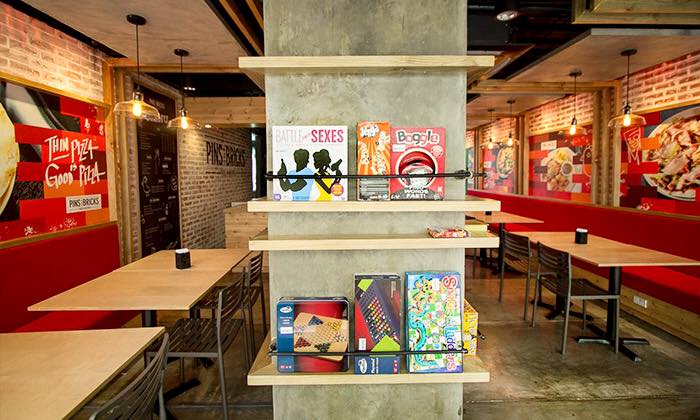 2F 8101 Pearl Plaza, Pearl Drive, Ortigas, Pasig City
0923 980 3172 | Facebook
Open Monday to Saturday from 10am to 9pm
Budget for two – P300
How awesome does the pairing of comfort food and board games sound? If you need a breather from the stress of work, try spending your break at Pins & Bricks. This bistro is a one-stop-shop for a delicious and fun time. Add budget-friendly to that mix, and you've got a winner lunch break. And if you need more convincing, just know that a bacon-wrapped grilled cheese is waiting for your belly.
Any other cheap and delicious food spots in Ortigas Center? Sound off below!