The Jaw-Dropping Lineup of Performers at This Year's Clockenflap
Nov 23, 2015 &nbsp • &nbsp 8List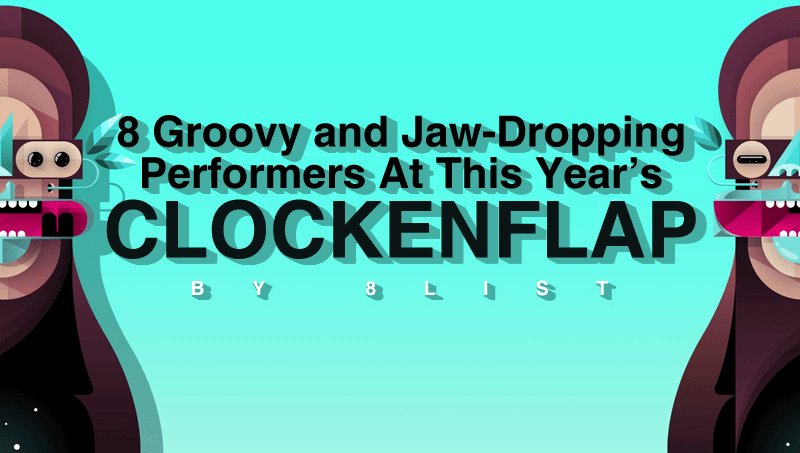 With 45 artists scattered over 10 stages, this year's Clockenflap looks to be the biggest music and arts festival to be held in the history of Hong Kong. It's going to be Hong Kong's best weekend ever with awesome tunes, on top of art installations, film, delicious grub, and fun games.
If you're new to Clockenflap, you're in for a treat. When they say it's "Hong  Kong's best weekend ever," they were not joking. Forty-five. COUNT THEM. 45 different artists will be performing in the 3-day festival at Hong Kong's West Kowloon Cultural District.
Happening on November 27-29, here are some of the musicians to look forward to seeing. BOOK THOSE TICKETS NOW.

After a four year hiatus, chillwave band Neon Indian is back with a vengeance with their new album VEGA INTL. Night School.
Get ready for a night of dancing as the group performs in Hong Kong for the first time with their signature dreamy synth tunes.
Experimental math-rock idols Battles is set to deliver a sonic, aural assault on your senses as the three-piece plays in this year's festival.
Their music is a machinery that is melodic, ruthless, bouncy, and energetic. They took the world by storm in 2007 with their debut Mirrored and have never looked back. They followed up with 2011's well-reviewed Gloss Drop and released La Di Da Di just this year.
You're in for a show that will leave you high and breathless, and most definitely sweaty.
Having toured with Bjork, Daft Punk and The Killers, you know Ratatat will deliver the goods in Clockenflap.
Mixing elements of psychedelic rock and electronica, the New York electropop duo is known for is known for their energetic live shows.
Expect to see crazy and dynamic lights and swirling colors spliced with movie clips projected onto a screen. Pair that with Ratatat crushing your senses and you got one unforgettable gig.
There's no question Flying Lotus is one of this year's most anticipated performers. After all, the DJ, rapper and producer has collaborated with a range of popular acts in the music industry from Kendrick Lamar, Erykah Badu, Snoop Dogg and Radiohead.
He has an uncanny knack for blending together hiphop, electronica, blues and acid jazz, creating music that simply transcends genres.

Damien Rice's brand of folk rock is melodic, haunting, and deeply personal.
His debut album O sold over 2,000,000 copies—with 650,000 in the US alone—and peaked at the UK music charts. Now on his third record, My Favourite Faded Fantasy, Rice is recognized as one of the best singer-songwriters of the century. As he takes the stage, you're in for a mesmerizing and heartfelt show.
Known for their powerful rock anthems and notorious controversies, The Libertines lead the charge of the garage rock revival in the late '90s to the early '00s, giving rock and roll the swift kick in the nuts it needed with their rebellious attitude and fiery and raw punk-infused indie rock stylings.
After breaking up in 2004, the band reunited and released their album Anthems for Doomed Youth this year, expect the rockers to bring the thunder with their trademark incendiary and unpredictable live performances to the Hong Kong audience.

Repping Harlem, New York, A$AP Rocky is one of the most exciting and critically-acclaimed hiphop acts in the world today. His downbeat and tempered rapping style swims in a funky, dreamy, psychedelic soundscape that is both grimy and somewhat otherworldly.
His albums have received widespread praise. His 2013 album Long. Live. ASAP debuted number 1 in the Billboard 200 Chart and was certified gold by the Recording Industry Association of America. His subsequent 2015 release Long. Last. ASAP also peaked at number 1 in the Billboard 200 Chart.
Clockenflap will be A$AP Rocky's lone stop in Asia for the year, so you wouldn't want to miss that.
When influential post-punk legends Joy Division dissolved after vocalist Ian Curtis committed suicide in 1980, the remaining members formed New Order and became without a doubt one of the most influential artists in the past 35 years.
They are responsible from countless hits including Blue Monday, which is the biggest selling 12-inch single of all time. They have influenced numerous artists with their post-punk and electronica tinged new wave music.
With the release of their new album Music Complete just this year, expect an awesome and emotional live act with songs old and new.
Hong Kong's best weekend indeed!

Are you going to Clockenflap? Who are you looking forward to seeing? Let us know in the comments!