If you can't sleep without a light on at night, there's an easy solution for that: nightlights. And since you're adding a nightlight to your room, you may as well make sure that it fits your aesthetic. Check out these cute nightlights for ideas.
Light Control Nightlight (₱42)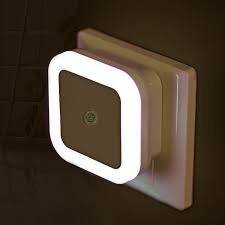 This simple nightlight plugs into an outlet and automatically turns on at night or in low light conditions, giving a soft, white glow. No need to flip a switch of push any buttons, so you can easily get up to use the restroom and get some water without turning on a main light!
Get it here.
Moon Lamp (₱170 – ₱599)

Who doesn't love looking up at the moon at night? With this nightlight, you can bring the moon into your home to bathe your space with a gentle glow. It's got a built-in rechargeable battery, and on a full charge, the lamp can be used for 8-30 hours.
Get it here.
Rotating Starry Sky Projector (₱189)

Want to see beautiful stars before you sleep? This cute nightlight is the perfect addition to your room. Not only will it project beautiful stars above your room, it'll also help you relax and drift off to sleep.
Get it here.
Mushroom Plug-in Nightlight (₱128)

If you love the cottagecore aesthetic, this mushroom nightlight is a must-have. It turns on automatically in low-light conditions, and during the day, it can just serve as decor!
Get it here.
Thunlit Cloud Night Light Cute Shape Pink Blue White Color

Who can ever go to bed in a bad mood next to this cute nightlight? This battery-powered light will brighten up your room and will make sure you get a good night's sleep.
Get it here.
Quantum Night Lamp (₱899)

This night light is the perfect addition to not only just your bedroom but also your workspace. If you love seeing rainbow-colored lights while you study or work, this may be right up your alley.
Get it here.
Mini RetroNight Light (₱69 – ₱139)
This classic night light is sure to add a sense of elegance to your bedside table. 4
Get it here.
Duck Night Lamp (₱299)

You've probably seen this cute duck night light on Tiktok, so why not get one for yourself now? This rechargeable lamp is touch-activated — all you have to do is tap/knead its soft head to turn it on or off!
Check out this product here.
Which of these products will you check out first? Tell us below!