8 of David Hasselhoff's Amazing Hoff-tastic Moments
Apr 24, 2015 &nbsp • &nbsp Kevin Christian L. Santos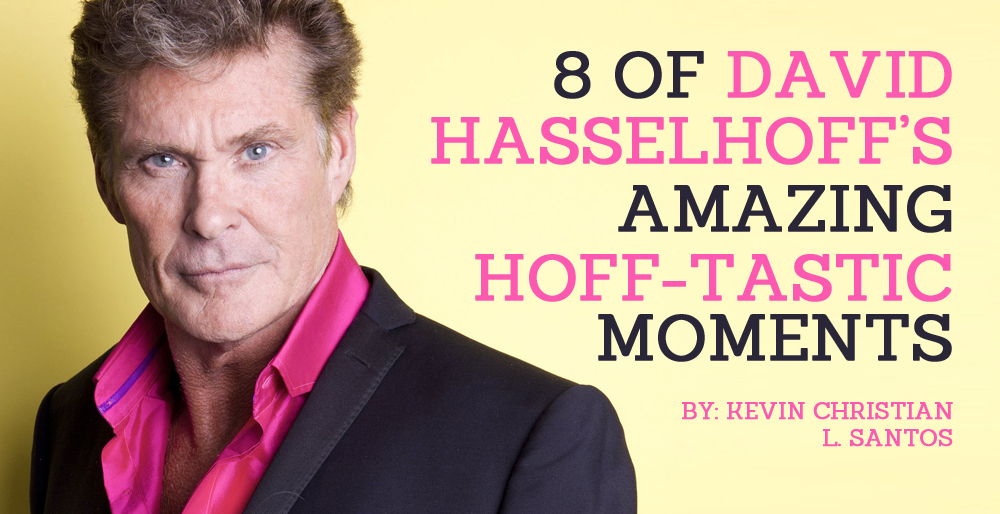 In case you haven't noticed, the one and only David Hasselhoff released a new music video and it is all sorts of awesome. Like a baby being born, winning a business pitch, or unleashing a silent and unscented fart, this calls for a celebration. Let's take a moment to look back on the Knight Rider's craziest moments that have led up to this, the pinnacle of his career. (And no, we're not talking about him drunkenly eating a cheeseburger off a floor.)
8. Hoff Gets Roasted
David Hasselhoff's Comedy Central Roast in 2010 was brutal, with the star having to deal with jokes poking at his (in)ability to act, his drunken meltdowns, and the spectacular failure that is Baywatch Nights. The Hoff would get the last laugh though, with a show-stopping musical number.
7. Hoff'd on a Feeling
The Hoff induced many WTF-is-this-shit reactions when his crazy music video cover of BJ Thomas' Hooked on a Feeling dropped in 1997. People were left baffled by this green screen monstrosity of a video, and who could blame them? We see the Hoff going on an African safari, skiing in (what looks like) Antarctica, floating on a motorcycle, and more. Was Hoff dead serious about making this video, or was he fooling us all? Was he a genius ahead of his time or just a flat-out crazy lifeguard? We will never know.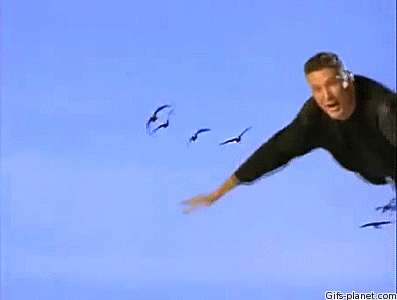 6. Jump in Hoff's Car
Speaking of video monstrosities, the Hoff unleashed this music video out of nowhere during the mid-2000s.
In what looks like a self-jack-hoff (chuckles) of a video, we see Hasselhoff paying tribute to himself, with a KITT cameo and Baywatch imagery.
Is Hoff in on the joke? Watch the video and get ready to have your brain broken. And probably get a seizure.
5. The Hoff Saves Spongebob
After being nearly killed by an evil scuba diver, Spongebob Squarepants and Patrick finally have King Neptune's crown to save Mr. Krabs. The problem? They don't have a way back to Bikini Bottom. In comes the Hoff, in slow-motion running and orange lifeguard shorts glory. Hoff offers the boys a ride back home thanks to his flutter kicks and muscley, hairy chest. Enough said.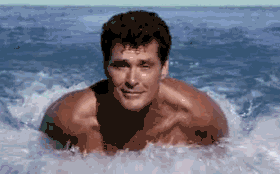 4. David Hoffs It Up at the MTV Europe Music Awards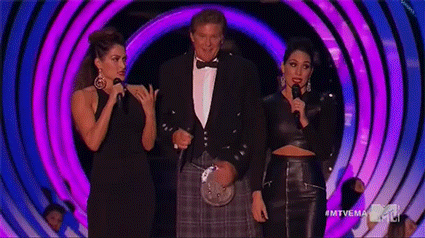 David Hasselhoff obviously had a good time at the MTV Europe Music Awards. First was in 2009, when he launched into a line from his song Looking for Freedom before delivering a very slurred speech on the 20th anniversary of the fall of the Berlin Wall.
Then in 2014, Hoff decided it was a good idea to wear a kilt before perving out on WWE wrestlers Brie and Nikki Bella. Keep being everyone's favorite drunk uncle, Dave!
3. Being himself in commercials
The Hoff is a walking nostalgia machine. Seeing him brings up memories of a simpler time, one free of smartphones and overly-sensitive social media netizens. He's given us decades of movie and TV fun.
Hoff has also starred in many commercials. And just like his music videos, they are cheesy and fun as hell. The above ad is him demonstrating the dangers of the internet by being a sex machine, which is basically him 24/7.
He also starred in an ad for Samsung, where his beloved KITT becomes jealous of his new brand endorsement.
2. The Hoff Breaks Down the Wall
What is it with David Hasselhoff in Germany? The guy's treated like royalty there.
It turns out he had the number one hit in 1989 in Germany for Looking for Freedom. His song also became the anthem for the destruction of one of the 20th century's notorious symbols of communism, the Berlin Wall. The wall was erected (huehuehue) to keep the repressed people under communist East Germany from fleeing to West Germany.
During his performance at the partly-demolished Berlin Wall, he asked the people of East Berlin how they know him. As the guy who talks to a really cool car on TV? Nope. They know him as the man who sings about freedom.
David Hasselhoff. Uniter of countries. Fact.
1. Permit denied
Sporting a mullet, sweet fingerless gloves and a leather jacket, David Hasselhoff's new music video is an awesome love letter to the '80s that will melt your face off. It's the official track for the Kickstarter crowdfunded movie Kung Fury. It has everything you want in a movie and in a music video: Kung Fu, dinosaurs, Nazis and Viking gods. In short, it's the '80s. Watch the video and get ready to grow a beard and some biceps and feel your testosterone levels increase.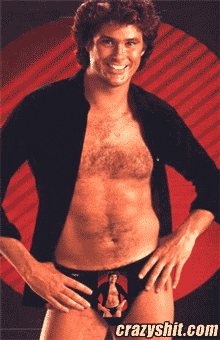 Never change, David Hasselhoff. Never change.
How about you guys? What's your favorite Hoff-tastic moment?