Politician Deathmatch: Trump VS Duterte
Dec 9, 2015 &nbsp • &nbsp Abu Poblete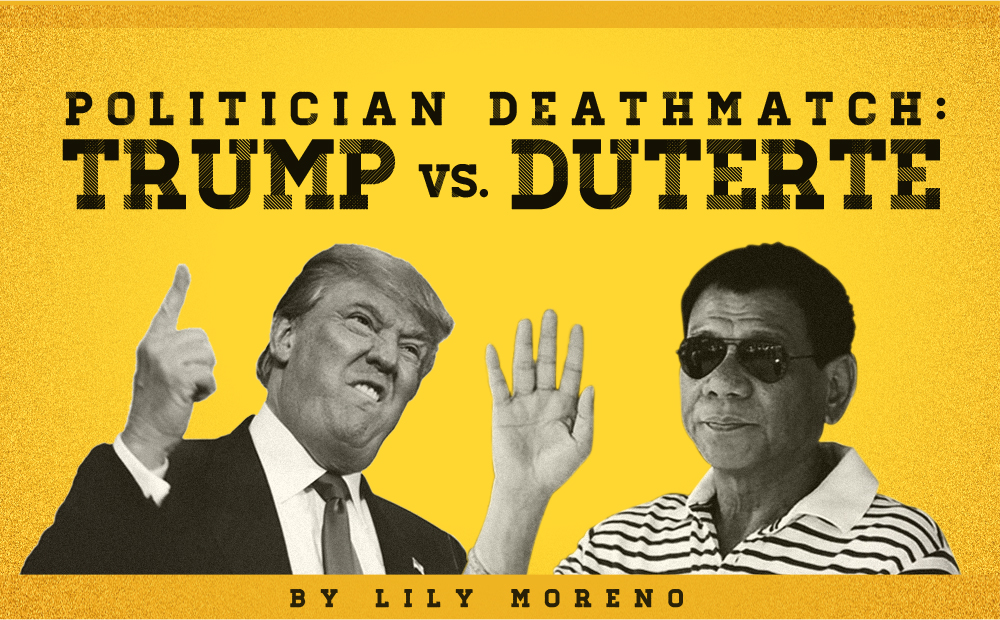 Besides being presidentiables of their respective countries, Donald Trump and Rodrigo Duterte have more in common. Senate minority leader Juan Ponce Enrile recently compared Duterte to Trump, saying that both are outspoken and like insulting everything and everyone, no matter their race or religion. Both politicians have very strong personalities which they unapologetically show every time they face the cameras.
We already know what's going to happen if Miriam Santiago and Enrile fface each other off in a slapfest, pillow fight and Dance Dance Revo competition, so now we pit Duterte and Trump against each other! Here are 8 things Duterte and Trump can play to see who is tougher than the other.
8. A Longest Happy birthday game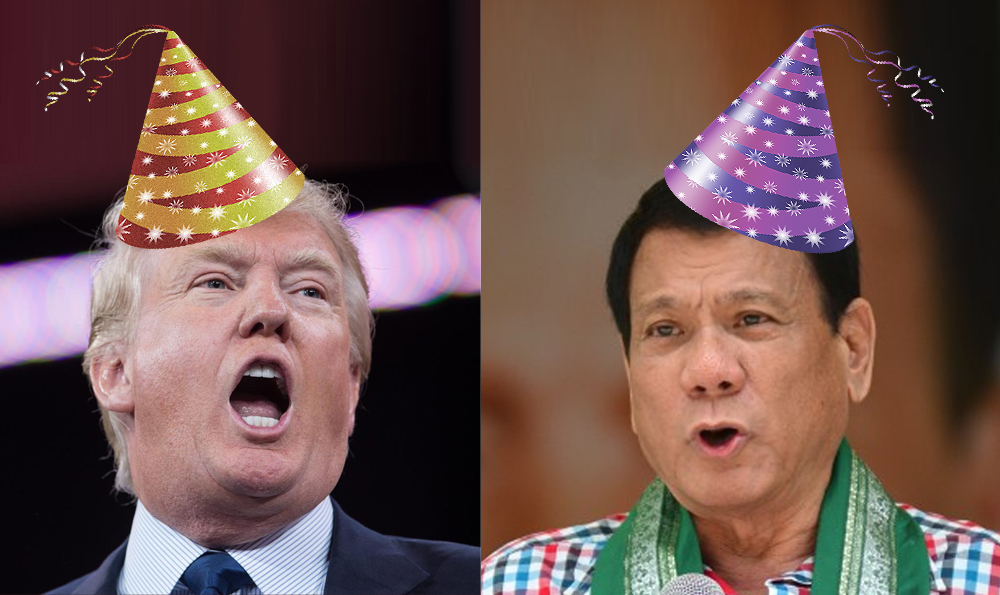 There's nothing wilder in a children's party than the classic game of the longest Happy Birthday. Cases of children losing breath (and unfair counting on the part of party hosts) always happen. This then makes for a perfect battlefield for Duterte and Trump to know who has stronger lungs (that can withstand all the presidential campaigning they both have to do in the future). Not only will the winner look victorious among children, but he might also win an extra loot bag.
Most likely to win: Trump. But only because he said that he's never smoked single stick of cigarette in his life.
7. Twitter war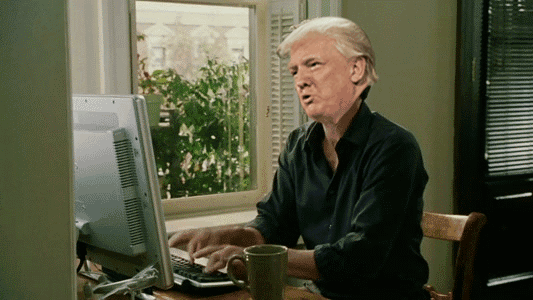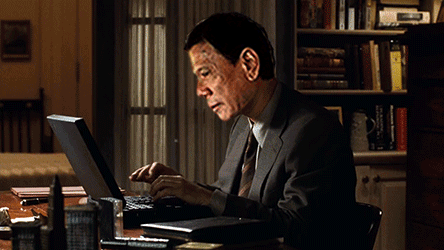 From One Direction, Charlie Sheen, Rita Ora, Azealia Banks, Anabelle Rama to Sarah Geronimo, the Twitter atmosphere is home to the craziest wars ever known to man. Twitter is a probably one of the best places to get people to listen to you. This makes a Twitter challenge one of the best ways to determine the best in word war.
Most likely to win: Trump. With his very active Twitter feed filled with hate and myriad rants, the guy can easily sass Duterte in 140 characters. Look at his tweets and you'll get why he's a clear winner.
6. A Laser tag match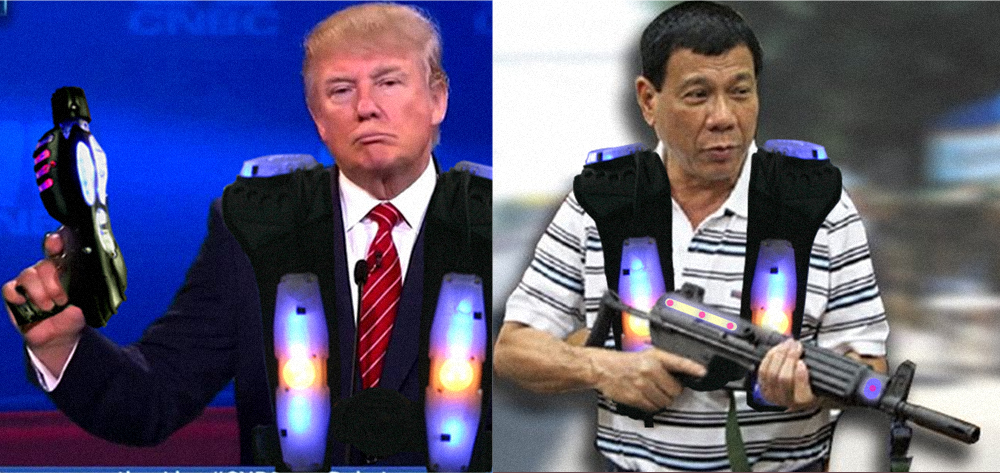 Laser tag is one of the most intense and adrenaline-inducing battles in recent history (or early 2000s youth culture). Strapped with matching laser tag battle jackets and badass colorful guns in a room lit with just lasers and UV light, it's the best way for them to prove just how strong their stamina and strategy games are. Just imagine how many cuss words these two will let out in a 15-minute game.
Most likely to win: Duterte. As the mayor famous for making a smoking tourist swallow his cigarette butt at gunpoint (which the tourist eventually did), Duterte has a lot of practice in pointing guns and at getting what he wants.
5. A Car Race in EDSA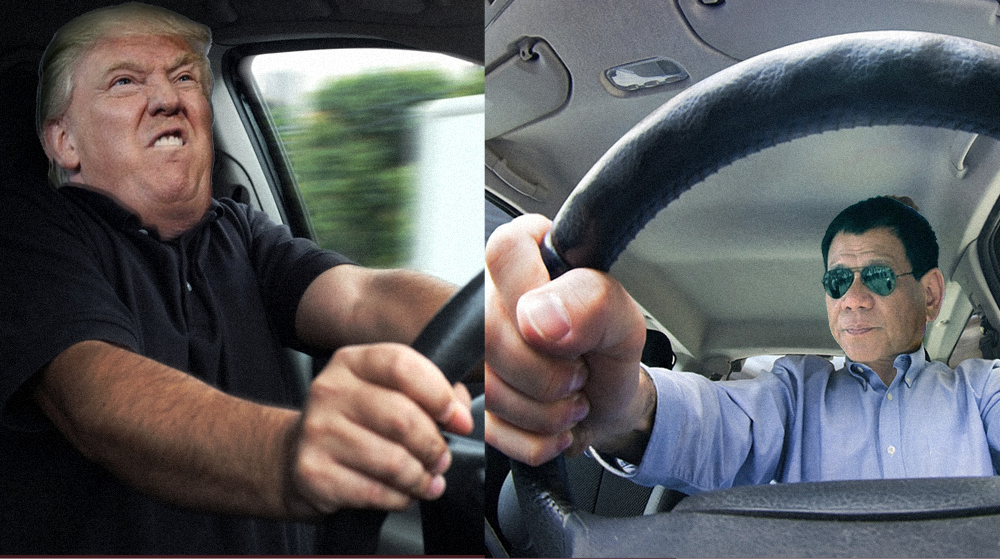 In this battle, both racers are free to choose whatever car they want to use. Using GrabHeli or UberChopper will get them disqualified. And, no stop-and-go scheme will be implemented on the day of the race.
Most likely to win: None. No matter how many Popes are cursed at or how rich they are, the race won't even get to start because traffic. is. simply. not. moving.
4. A Lip Sync Battle
Duterte and Trump have a special and unique way of getting everyone to listen to what they're saying no matter how scary or incredibly racist it is. But what if, for once, they use the stage not only for their political debates but for serenading the public with their singing voices?
Most likely to win: Either. There's really no way to determine the winner for this one. But, you know you'd pay to see if they do a duet with Duterte's smooth tenor and Trump's high baritone. Maybe they can even sing the songs written for them.
3. The Beer Pong Challenge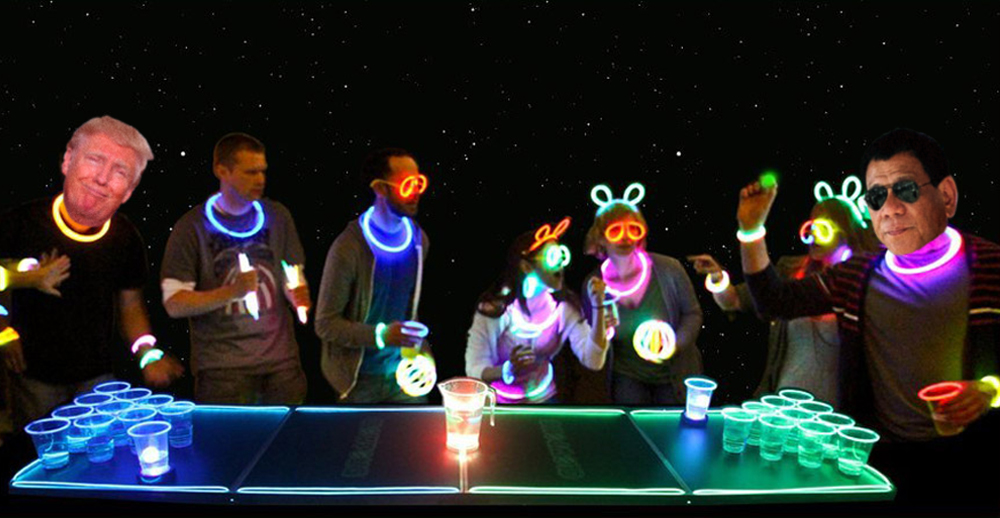 A beer pong challenge is one of the best ways to know if Duterte and Trump are as tough as they claim they are. It's during this famous drinking game that people slowly show their true colors. If neither Trump or Duterte can handle booze, who knows if they can even handle a whole country?
Most likely to win: Duterte. Trump says that he's never smoked a cigarette or had a sip of alcohol in his life, so he might even concede before it starts. Duterte might just win this time.
2. A profanity drinking game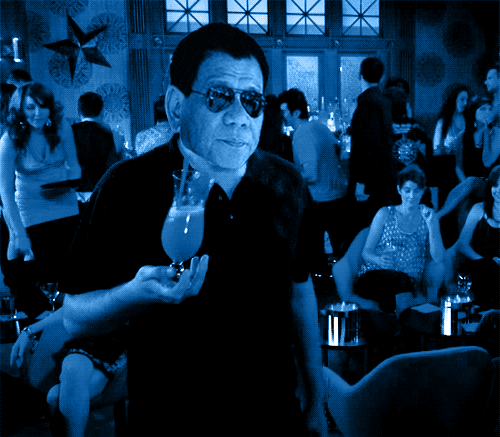 A dash of f-bombs and a sprinkling of PIs are present in the speeches of Duterte and Trump. There's so much of these words in their public appearances that a drinking game is highly recommendable if you're looking to get piss-drunk on a Friday night. Collect a bunch of videos of their speeches and you're all set.
Most likely to win: Trump. In this game, the first one to get drunk is the loser. Duterte will be completely passed out (and maybe even alcohol-poisoned) with just a few minutes of him speaking. All even before Trump gets to drink his first shot.
1. The Get that Girl's Number Game
Duterte and Trump are self-proclaimed charmers. Trump even said that all women on The Apprentice have flirted with him—some even deliberately. Duterte, meanwhile, has called himself a womanizer for having two girlfriends—while still actually married to his second wife. Being smooth with the ladies is one of the things these two are great at, and what more to prove this skill than challenging each other to a game of getting the most cellphone numbers of women in a bar?
Most likely to win: Duterte. Duterte deals with his partners fairly—all he never keeps it a secret. (And this has us thinking, are affairs only affairs when they're illicit?) He won't always give them what them want (like a car, perhaps) but he will give them rent, and he sure knows how to have fun with each of them (probably in his favorite motel).
Who do you think would win? Share your thoughts below!