Match of the year: Duterte vs. Roxas
Dec 17, 2015 &nbsp • &nbsp Abu Poblete
The audience falls into a frenzy as they post their rants on social media, and the resulting posts are making this match far more gripping than other (more important) issues going on in the country like maybe the 800,000 people driven out of their homes by Typhoon Nona.
This match really is one of a kind, and the media isn't missing a second of it. After all, why focus on things that might actually benefit the Filipino people?.
We've been watching these two for days now, and we just can't wait to find out what's going to happen next. Ladies and gentlemen. Here it is, the fight that no one really wants to see.
In this corner, donning a yellow polo tucked in to his high-waisted jeans with a black leather belt is the Department of Interiors and Local Governments' Manuel "Mar" Roxas II! On his side is his other half Korina Sanchez, who's looking as supportive as she said she'd be of her husband.
And on the other side of the ring, wearing a checkered polo also tucked into his jeans and hurling every expletive known to Pinoys as he enters the stadium, is none other than Davao Mayor Rodrigo "The Punisher" Duterte. He's followed closely by his entourage, led by runningmate Senator Alan Cayetano!
8. ROUND 1. Davao is a myth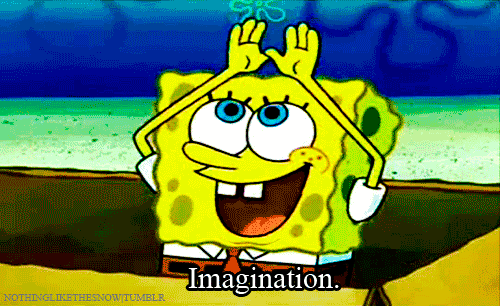 Starting the fight confident, Cayetano unleashes his first blow towards Duterte.
With a slow yet effective hit, Roxas throws at Duterte, "So it's a myth, imagination that it's peaceful in Davao City. I'm not putting them down here, I'm just citing data." Roxas continues to give Duterte powerful blows as if it was his life's destiny to do so. He states that Davao City has the fourth-highest number of crime incidents in the Philippines and even jabs at Philippine National Police's (PNP) Oplan-Lambat-Sibat for maximum ouch.
Roxas continues his attack with tremendous determination. His statement was enough to provoke The Punisher.
ROUND 2. If Davao is a myth then so is Roxas' Wharton degree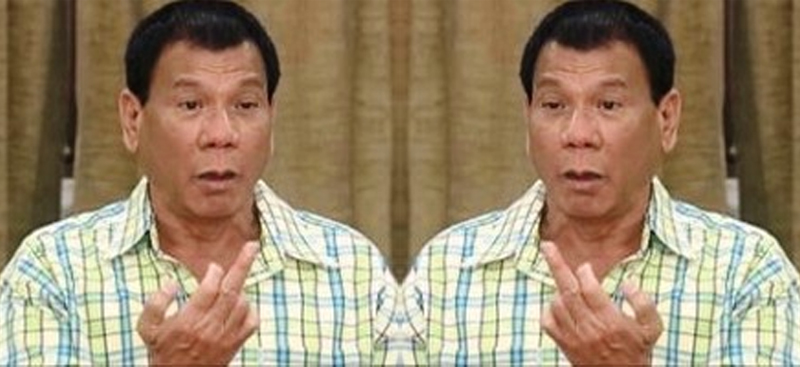 After a round of blows from Roxas, The Punisher's eyes turn red as he readies to fight back against his yellow-clad enemy. "Mar (Roxas) gave the victims (of Typhoon Yolanda) uncooked rice. Why will you give them rice when they don't have pot and water to cook them?" Duterte comment is a blow to the gut as he brings up Roxas' inability to handle the stress of the  Yolanda relief efforts. Duterte classic mocking move is effortless.
But Duterte has something more powerful than this special move– the "Attack-Your-Enemy's-Educational-Attainment-And-See-If-They-Get-Offended" attack.
"He said that ito daw peace and order ng Davao City myth. I would like to ask the presidentiable, you claim to have graduated from Wharton School of Economics, that is a myth. You did not graduate sa Wharton School of Economics, Mr. Roxas."
Duterte is relentless. He continues, "Maybe umenroll ka niyang three months course, 'yang correspondence, I would believe that. Pero ikaw na nag-graduate naka-toga? Show me a (picture of you wearing a) toga na nandoon 'yung nanay mo."
It's a critical hit!
ROUND 3. ROXAS: A slapfest is suggested
With Duterte's surprise attack, Roxas has no choice but to defend himself, going as far as physical measures to determine the tougher fighter.
"Kung hindi totoo ang Wharton degree ko, sampalin mo ko hindi ako iilag. Pero kung totoo ang Wharton degree ko, sasampalin kita," Roxas says with raging confidence, showing Duterte that he's not the only one in this arena who's a tough cookie.
With the ever-present eyes of the media, they found a photo of Roxas wearing a toga on the website of the University of Peninsula where he finished an undergraduate degree.
Roxas is new to the tough-talking sport, but he's showing great potential against a fighter who's known to be so tough he made a tourist eat a cigarette filter. So far, there's no clear winner yet to this newsworthy slapfest!
ROUND 4. Challenger accepts slapfest invitation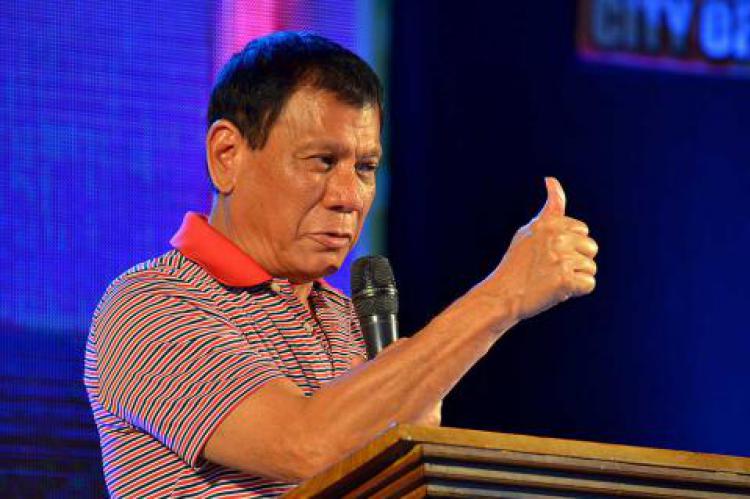 Philippine politics is usually filled with debates and more debates that always end up forgotten and rarely resolved, but it's the first time a fight has been THIS intense. It's no wonder that it's all over the headlines instead of other more pertinent matters.
On with the fight. Duterte decides to take it to a whole new level and gets personal with his attack. "Huwag na sa airport, pupuntahan ko siya sa bahay." The fight has turned into a brawl.
ROUND 5. Slapfest reaches Roxas' home and turns into a fistfight
Much like a typhoon always seems to intensify before it reaches the Philippine Area of Responsibility, as does the Roxas-Duterte fight. Roxas decides to counter Duterte with an unexpected series of punches. Roxas reveals his complete home address during an interview! On top of that, he's thrown in hand signals along with "Talk, talk, talk. Yan na lang ang ginagawa mo Digong eh, daldal ng daldal. P. Tuazon, Cubao, Quezon City. Aantayin kita. Galit ako sa mga tao na akala nila sila lang ang kapangyarihan dito sa bansa natin. Kaya kung hindi ka pa nakaharap ng iyong katapat, Digong, nandito ako. Hindi kita aatrasan." What. A. Badass.
"Sa dami ng problema na hinaharap ng ating bansa, ikaw nauuwi ka sa kung ano-anong mga kalokohan. Gawin mo nalang kung ano gusto mo gawin. Sampalan? Bakit pa sampalan pambabae yan. Suntukan nalang," Roxas adds, enforcing his super badass anti-bully attacks.
Now, how will The Punisher react?
ROUND 6. Duterte: Why not a gun duel instead?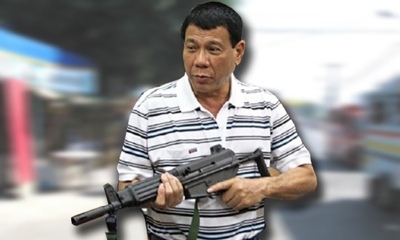 Roxas responded well to the new level of attack, but the Davao mayor isn't easily deterred! The round has taken an unexpected turn as attacks with another of his old-time classics, the "I'll-Use-My-Gun-Because-That-Always-Scares-People."
"Barilan na lang. Takot mamatay ang mga mayayayaman. Anong kinatatakutan ko?"
ROUND 7. A third player is welcomed to the ring
Before Roxas has a chance to counter, Duterte brings up another game-changer: a third player.
Recently, challenger Speaker Feliciano Belmonte has been getting sassy with Duterte. Belmonte challenged Duterte to identify all the criminals the mayor says he's killed and in exchange for his acceptance of the challenge, Duterte counters that Belmonte will have to slap Roxas if he's able to come up with the list.
Challenger Belmonte surprises the crowd by saying he's up for the challenge, "Kung genuine nga [ang academic records ni Roxas], unfair naman siguro [na sampalin ko siya]. Kung fake ang degree niya, I'll take up Mayor Duterte's challenge."
Looks like we have another big fight in the works.
ROUND 8. Level up the game: Talk it out
Roxas successfully dodges Duterte's jab at a gun duel, saying, "Ang baril ay hindi solusyon sa kahit anong problema. Iwan na natin siguro ang usapin tungkol sa pamamaril, sa sampalan, sa karahasan. Malinaw, hindi ko uurungan si Mayor Duterte sa kahit anong hamunan. Malinaw na hindi ako takot sa kanya at haharapin ko siya."
If there's one thing we can now say about Roxas, it's that the man is a fighter. He counters Duterte's blows with a statement that reroutes the physical threats into a verbal fight of things that politicians should actually discuss.
"Mayor Digong, let's level up. Our people deserve better. Itong tapunan, itong putikan, itong kasinungalingan ay walang lugar sa ating political discourse. Ano bang plano mo, anong plano namin; Anong nagawa mo, anong nagawa namin – 'yun at 'yun naman lang ang dapat na napag-uusapan dito para makapagpasya nang tama ang ating mga kababayan."
The tough exterior of Duterte has been aggravated by challenger Roxas, and both were able to show that they are worthy fighters of an entirely overrated match. But ladies and gentlemen, what a fight that was! Although no one was slapped or shot, this match was truly one for the history books. Or not. Only time and the internet trolls will tell.
Did this match have you on the edge of your seat? Share your thoughts in the Comments Section below!