The Night King is slain, his army of the dead vanquished; the most hyped battle in Game of Thrones (GoT) history is over, and Winterfell remains standing. In one corner of Westeros, Cersei (Lena Headey, 300) awaits at King's Landing with a mercenary army and the world's largest navy, while Daenerys (Emilia Clarke, Me Before You) and Jon Snow (Kit Harrington, Pompeii) have their combined forces, along with two dragons to help take the Iron Throne. Who will emerge victorious in the latest episode, "The Last of the Starks"?
THE STORY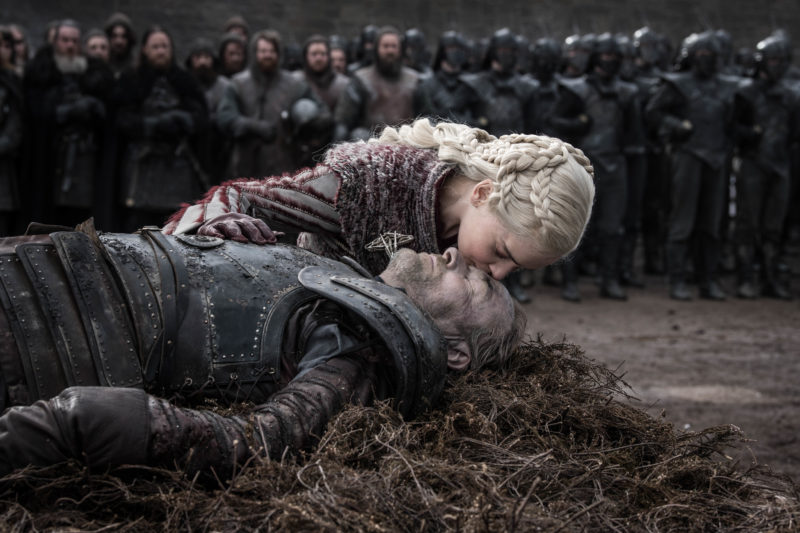 We pick up shortly after the battle of Winterfell, as the night's survivors gather to honor their fallen dead. Grief is set aside almost immediately, as the coalition of the living holds a feast to celebrate their victory. As our heroes swap congratulatory toasts and propositions, Daenerys surprises her advisors by legitimizing Gendry's (Joe Dempsie, TV's Skins) Baratheon birthright in a transparent attempt to secure his loyalty. Once the celebrations have ended, alliances are tested once more as Dany pushes for an immediate attack on King's Landing. Unbeknownst to all, Cersei and Euron Greyjoy (Pilou Asbæk, Ghost in the Shell) have a nasty surprise lying in wait for the gathered forces of Winterfell.
THE LONG NIGHT'S AFTERMATH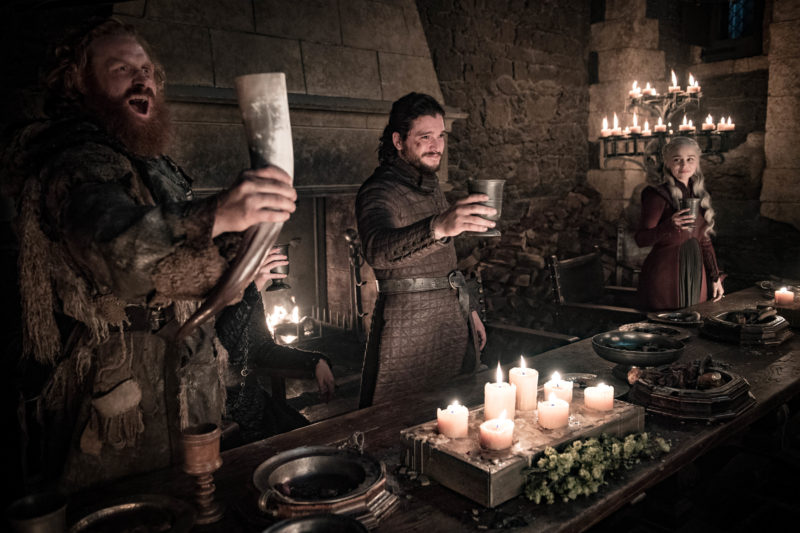 The funeral rites that open "The Last of the Starks" make for the episodes finest moments, as the characters and audience alike bid farewell to their slain comrades. Unfortunately, any emotion generated by this solemn sequence is thrown out the window by the raucous party that comes immediately after. Now, the party itself is offensive for any number of reasons –not the least of which is Tyrion's (Peter Dinklage, Three Billboards Outside Ebbing, Missouri) drinking game– but the real headscratcher here is how they have time to celebrate at all, when in the next scene, Dany is adamant about not granting the troops any time to recover from their previous battle (in order to get to the next one).
CHARACTER ASSASSINATION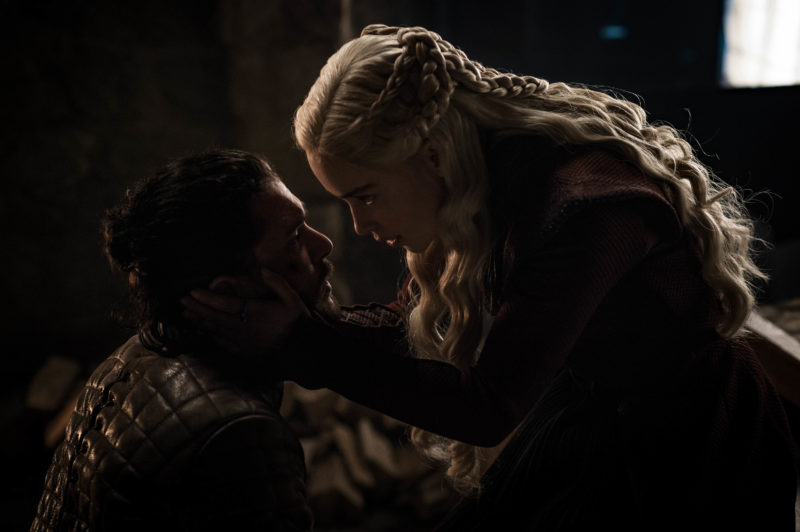 If there's one thing that GoT used to do well, it was upending viewer expectations, both in terms of pushing the broader storyline forward, and its characters' individual arcs. An excellent example would be Dany's rise from glorified bargaining chip to dragon-riding political powerhouse, or Sansa's (Sophie Turner, X-Men: Dark Phoenix) journey from spoiled royalty to being the only one of Ned Stark's children with a capacity for good governance. Unfortunately, Season 8 seems determined to undo nearly a decade of growth by having almost the entire main cast act so out of character as to be unrecognizable.
Indeed, Dany's leadership inconsistencies are but one of this episode's many, many problems, most of which are applicable to Seasons 7 and 8 as a whole: too many instances of people acting out of character for the sake of manufactured conflict, and cool visuals over story for the sake of spectacle. Take, for instance, Gendry's legitimacy granting him the courage to ask Arya to marry him, when he, of all people, should know damn well that the last thing the youngest Stark wants is to be anyone's lady.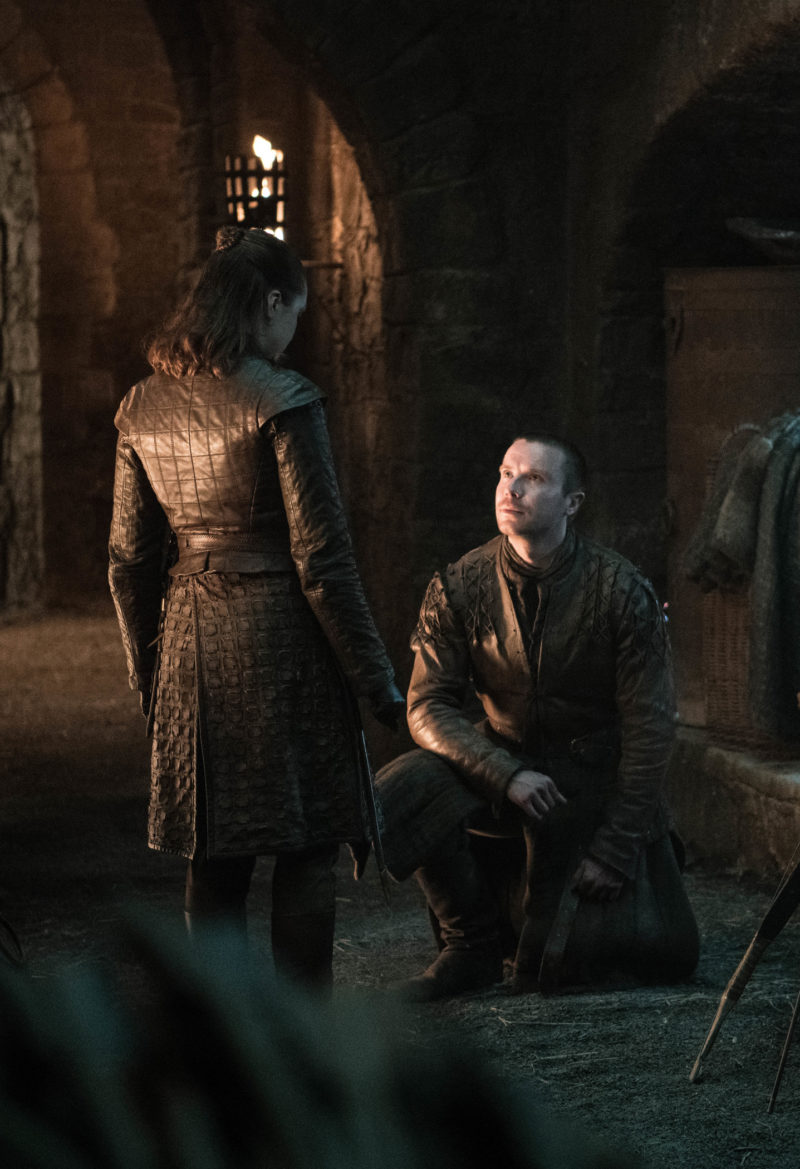 Where once we had strongly-defined, independent characters, we are left with caricatures of the worst kind, completely undermining any and all progress made over the last eight years. Meanwhile, all Jon Snow did was yell at a dragon, and he gets labelled a hero.
THE MAD QUEEN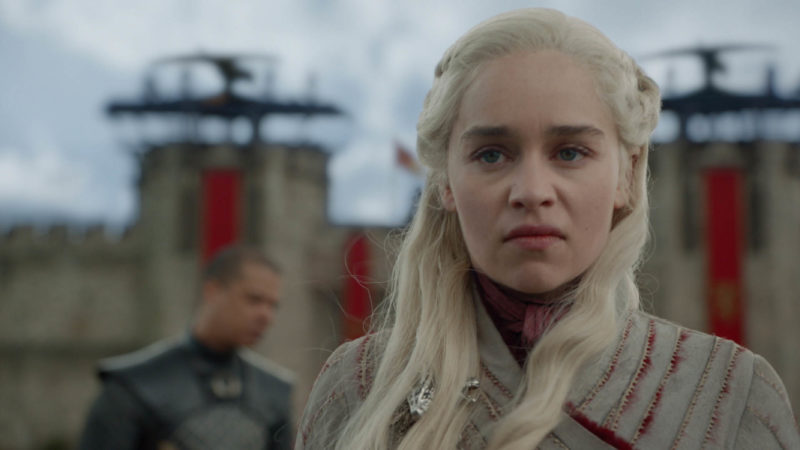 Perhaps the worst-hit by the poor writing was Dany herself, as the producers seem to be going out of their way to discredit her by presenting her as an immature, insufferable lunatic whose only defining characteristic is a blind lust for power.
"The Last of the Starks" depicts Dany with insecurities stemming from the double whammy of learning Jon's heritage and seeing how (inexplicably) beloved he is for his (non-existent) battlefield prowess. While we've always known her martial abilities leave much to be desired (that's what Jorah and Grey Worm are for), her political machinations here make even less sense than sacrificing the Dothraki last week – all she accomplishes with her recognition of Gendry's heritage is to introduce another player with a legitimate claim to the Throne she so clearly craves.
Now, I'm no political expert, but that just seems counterproductive.
This is not the Dany who liberated the slaves of Yunkai, or the one who tried to do the same for Mereen. Frankly, I don't know who this Dany is anymore, and I don't think the writers do, either.
 FAMILY TIES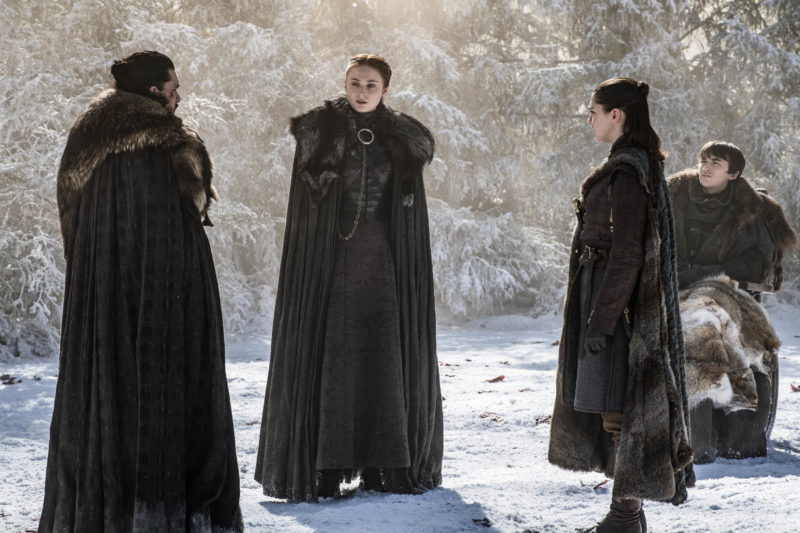 Burdened with the knowledge of his real name, Jon finally shares his Targaryen lineage with Sansa and Arya, both of whom he swears to secrecy. With all the talk of family and the importance of remembering one's roots among these three over the last few weeks, it is truly mindboggling that the next thing Sansa does is share the information with Tyrion. Tyrion, in turn, tells Varys (Conleth Hill), which only further convinces the old spymaster of Dany's newfound unsuitability to rule.
The aforementioned character inconsistencies rear their head, as this series of events flies in the face of everything we know about these people up to this point. Clarke's awful acting when she begs Jon to keep quiet notwithstanding, the erstwhile Snow's faith in his adopted family has always been absolute, with the Starks' virtuous fortitude forming the closest thing Westeros has to a moral center. In yet another sign of the producers' seemingly not caring anymore, their decision to have Sansa betray her brother's trust without hesitation just further drives home how far GoT has fallen.
RACE TO KING'S LANDING

If last week's episode seemed blatant in its hurry to end the Night King storyline and get everyone to King's Landing, this episode doubles down on that with some truly cringe-worthy exposition that resets the game board for the "final war" to come. Tormund tells Jon that the Free Folk will be taking their leave of the North as soon as possible, thereby divesting them of any participation in the battle at King's Landing. At the same time, Sam (John Bradley, Grimsby) and Gilly (Hannah Murray, TV's Skins) reveal that they're expecting and will likewise be sitting out the upcoming war.
As contrived as the resulting tears and hugs are, however, they pale in comparison to the producers' way of writing Jon's faithful direwolf Ghost off the show: Basically, after being MIA for the majority of the show's run, reappearing in the Season 8 premiere, and proving his worth on the frontline against the Undead, Jon just gives him away without so much as a pat on the head. Never mind the fact that this is a show that literally advocates against irresponsible dog owners in real life, but seeing how Ghost clearly had massive wounds and had lost an ear for his ungrateful human, he certainly deserved better.
Thematically, this could have been a powerful moment, with Jon's statement that the South is no place for a direwolf echoing Sansa's declaration that Stark men have never fared well in the South, but it, like much of the episode, just comes across as a meaningless gesture to get the story from Point A to Point B.
EXIT THE DRAGON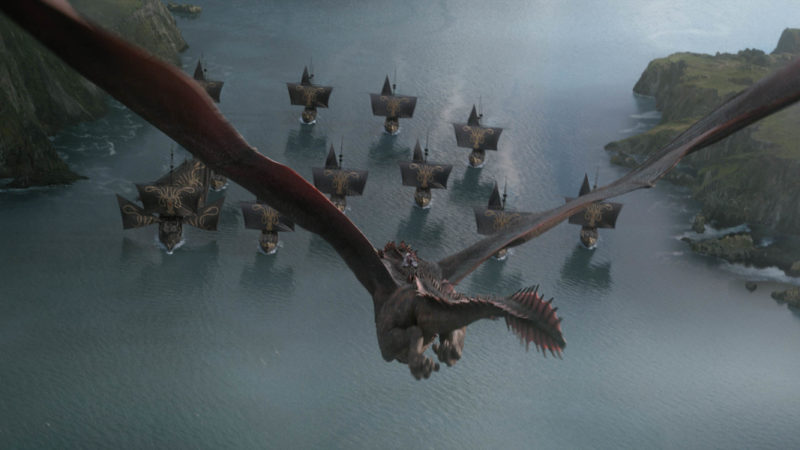 With Dany astride Drogon, and Rhaegal flying alongside, the coalition of the living is making its way to King's Landing when they find themselves face to face with Euron Greyjoy's fleet, which has been equipped with Qyburn's (Anton Lesser) scorpion artillery weapons. In short order, Rhaegal is killed, and the coalition navy decimated, resulting in Missandei's (Nathalie Emmanuel, Maze Runner) capture. When Dany and Tyrion attempt to bargain with Cersei by appealing to her love for her unborn child, the defiant-to-the-last Missandei is executed before their eyes.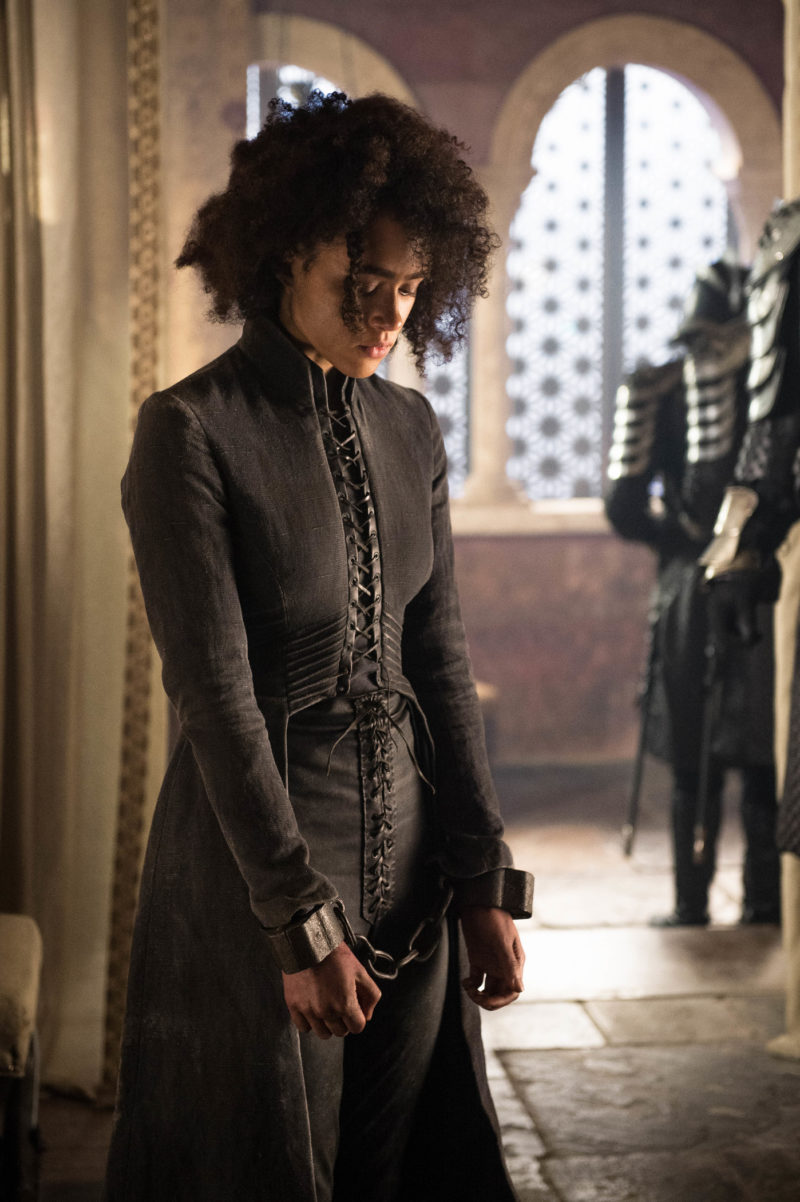 Whereas the previous episode showed Dany and Jon forgetting to use their aerial capabilities to scope out what their opponents were doing, the blunder is repeated in even more pronounced fashion here, as Dany completely fails to see from the air a massive navy bearing down on her. Forget Bronn's (Jerome Flynn, Loving Vincent) previous boasts about having scored a direct hit on a dragon in mid-flight – a cackling Euron does the same thing three times in a row with little apparent effort.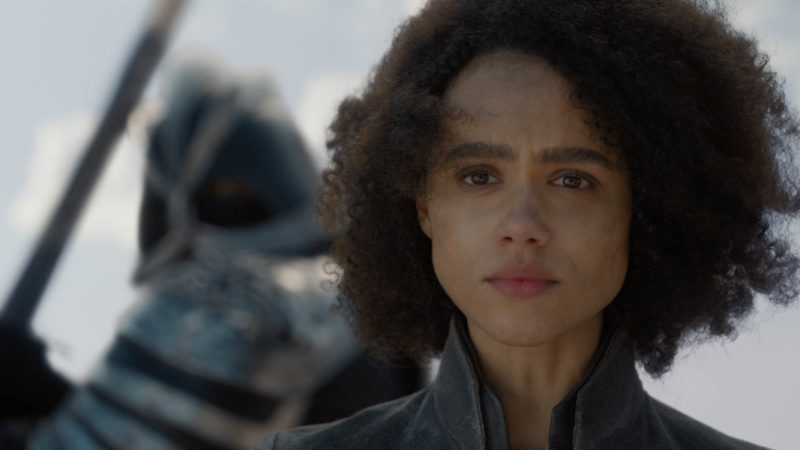 Missandei's ignominious end serves as the capper to a mostly unengaging episode, the latest minor character to be sacrificed for the seeming immortality of the show's leads. While one could ask just how Euron's forces were able to pluck Missandei (of all people) out of the debris- and soldier-strewn waters of King's Landing, or how they knew that she would be a valuable hostage, it doesn't seem to be a question the producers concerned themselves with, so what even would be the point?
THE BOTTOM LINE
Despite its fantasy trappings, Game of Thrones was never about battles or special effects. Indeed, for a show with ice zombies, dragons, and night kings, GoT was able to attract a mass audience due to its prioritizing of character and story above all else. To wit: all of the first season's battles occurred off-screen due to budgetary constraints, so it was never about spectacle. With believable, relatable characters, audiences grew invested, both as the budget increased, and as more fantastical elements were introduced over time. Hopefully, for the two weeks that we have left, the producers will manage to get their act together, because if there was one thing glaringly absent from this week's episode, it was something for us to care about.
All images courtesy of HBO
What did you think of this week's episode? Tell us below!