Netizens Create the Funniest Memes Inspired by Liza's Loooove for Sinigang
Feb 22, 2018 &nbsp • &nbsp Kyzia Maramara
The beautiful Liza Soberano found her name trending once again on social media but this time it's not because some international pop star declared he had a crush on her – it's because she proved she's a legit Filipino by saying she loved Sinigang.
Yes, sinigang the mouthwatering Filipino dish.
Are you confused? It started when a netizen aired his complaints on Twitter that ABS-CBN's upcoming Fantasy TV Series Bagani, a show supposedly about Filipino Mythology, didn't feature more Pinoy looking celebrities. The protagonists of the show featured fair-skinned actors with dominant foreign features who are half-Spanish (Enrique Gil) and half-American (Liza Soberano) when it should have featured pure-bred kayumanggi Filipinos living in pre-colonial Philippines.
Liza found it in her good heart to defend her Filipino blood: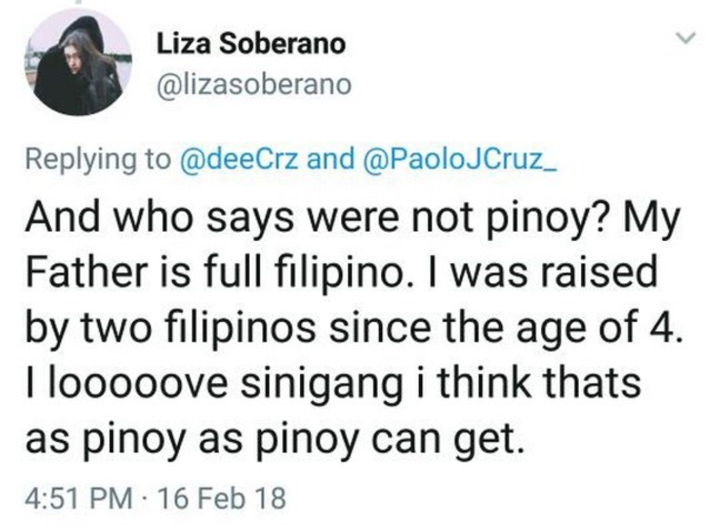 Unfortunately, her seemingly innocent defense made matters worse. Being Filipinos, we like to inject humor into everything so it's no wonder the internet quickly produced Sinigang Memes. The best ones being…

[/whole] [/row]
Have you met the new character?
Liza's character in Bagani was drafted for another name. The writer apparently liked this one better.
There's a new Law, ICYMI
Condolences to the Filipinos who don't love sinigang that much.. Guess you ain't Filipino enough… This is LAW

— (@jltjavier) February 18, 2018
What's that? You like Adobo better? I guess you ain't Filipino then.
Even Ethel Booba is half… something
And who says I'm not Techie? My Father got 90 in Science. I was raised by two Physics teacher since the age of 1. I looooove retoke I think that makes me half Pinoy, half Science and Technology. Charot!

— Ethel Booba (@IamEthylGabison) February 20, 2018
So if I love French fries, does that make me half French or half fries?
The ultimate test
Sinigang must course through a Filipino's veins.
A tip on how to get Liza to like you
Me pag di ako tiniran ng sinigang sa bahay pic.twitter.com/M0XDeZ5eak

— Regis Andanar (@RegisAndanar) February 19, 2018
Always remember to save a bowl of sinigang for her. She isn't liable for any arrows that may or may not pierce you if you don't.
The Filipino Citizen Starter Pack
Make sure you have enough valid IDs guys.. pic.twitter.com/YtSpUqeWyI

— Pork Señagang (@Sentastic) February 18, 2018
Preparing for a passport appointment? Don't forget to bring a bowl of sinigang to prove your citizenship!
ILYSB so bad!
favorite ni liza soberano ilysb bc it stands for i love you sinigang na baboy

— january danielle (@warysanchhh) February 18, 2018
Liza sparked a new meaning to the crowd favorite Lany song!
Actual image of Liza loooooving sinigang
Liza and her looooove for sinigang pic.twitter.com/uwXWllN3h7

— Gab Wata (@mkylegab) February 18, 2018
Uhm.. This photo made me hungry.
But did you know even Sam Smith is half Filipino?
sam smith is half-pinoy https://t.co/MOhY8kukjB

— blackpanther in your area (@AtomSiraullo) February 18, 2018
A lot of netizens are begging for the Sinigang Memes to stop coming. I mean, it got its 15 minutes of fame already, why won't it die down? And if you're wondering, no, Sinigang didn't want all of this to happen. It even told Liza pointedly so:
I would very much like to be excluded from this narrative.

— Sinigang (@puresinigang) February 18, 2018
Very Taylor Swift
Got anymore Sinigang Memes? Kidding! Comment your thoughts down below!