How to Master the Art of Deskercising
May 26, 2016 &nbsp • &nbsp Shen Mascariñas
4. Figure Four Stretch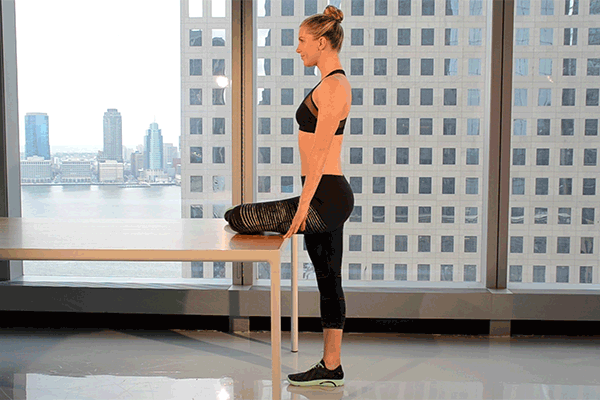 Difficulty Level: 3/8
Embarrassment Level: 5/8

Put one of your legs on the table with your knee bended. Slowly bend over your leg while keeping your spine long. Hold the pose for a few seconds while breathing deeply. Repeat until you feel more relaxed.

Seeing an officemate in this position is a very, very peculiar sight. So give your officemates a break if they judge you for a bit.
3. Chair Squats
Difficulty Level: 4/8
Embarrassment Level: 5/8

You officemates probably won't notice your first few squats. It'll look like you're just looking for something or someone. But when you're repeatedly popping out of your cubicle for more than five times, they're bound to wonder what the hell is up.
2. Bent-Over Leg Extensions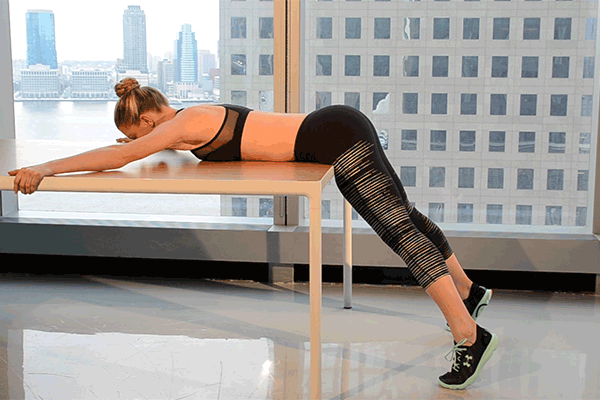 Difficulty Level: 8/8
Embarrassment Level: 8/8

Here's a hardcore move that's sure to surprise (to say the least), but its benefits for your body are awesome. Rest your torso on a tabletop while your feet are on the floor. Hold the sides of the table, and then lift your legs as high as you can without arching your back. As you do so, keep your torso pressed on the table and squeeze your glutes. Repeat at least 10 times.
1. Chair Dips
Difficulty Level: 6/8
Embarrassment Level: 5/8

When you look like that fine man, virtually nothing you do will ever be embarrassing. But when you're like the rest of us (normal-looking-lot), it requires a lot of effort not to look awkward or constipated (hay, life). Don't worry; the longer you practice—the better you'll look!

Get a stable chair. Position yourself seated in front of it with your legs extended and your back near the edge. Grip the edge and prop yourself upwards while keeping your feet on the floor. Keep your core contracted and your toes facing upwards. Repeat at least 15 times.

Keri? Kayang-kaya yan! Got other favorite deskercises? Sound off below!