It's easy to forget that a significant number of today's collegiate or professional stars are second-generation talents who have been born to Pinoy basketball royalty. Despite their pedigree, the numbers don't lie, and it's pretty clear to see why the Kiefer Ravena's and the Jeron Teng's of our day are getting all the attention.
But how do these second-generation stars actually stack up against their dads? Sure, we probably won't be able to make a thorough stat analysis of their respective careers if the kids are still active or have even just barely begun, but it should be easy to project their likely level of success as pro ballers, after all has been said and done. Let's take a look at 8 basketball stars and how well they match up against their progeny.

[buffer by="10px 15px 10px 15px" id="bar"]8. Peter Aguilar vs Japeth Aguilar[/buffer]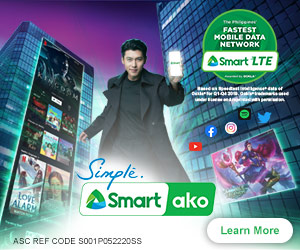 The Dad: Peter Aguilar was a second round draft pick in 1989 by Anejo Rum, which we currently know as Barangay Ginebra. He was batchmates with one of the best players of all time, Benjie Paras, and while not particularly a superstar in most regards, he certainly was known as a reliable centre in the amateurs despite being clearly undersized at the position in the pros at 6'4. He was regarded as "uncoachable," and despite being shortlisted for the National Team at the time, he never made it to the main roster and never reached his full potential.
The Son: Japeth Aguilar is currently playing for Barangay Ginebra after a rocky start with the league because of his open desire to play for the Smart Gilas squad instead of signing on with the team that drafted him. He was the first overall draft pick in 2009, having been picked up by the Burger King Whoppers. Needless to say, with multiple National Team stints under his belt, Japeth has been a stalwart player for whichever team he's on.
The Verdict: This is one of the cases where the son has clearly surpassed his father. While Peter Aguilar has always been a solid player, Japeth is every bit as all-around, albeit on a bigger stage: the FIBA scene. Japeth is one of those players who's always threatening to become the premiere player of the league if the stars align his way, which could have been said for his dad as well, but let's face it: Japeth's playing days are far from over.
Dads: 0 Sons: 1

[buffer by="10px 15px 10px 15px" id="bar"]7. Benjie Paras vs Andre Paras and Kobe Paras[/buffer]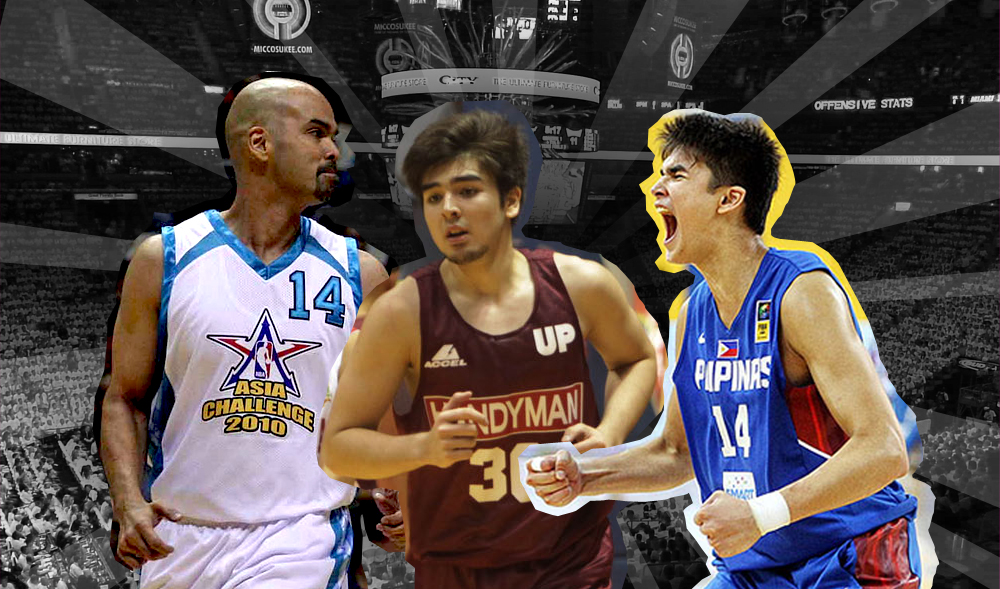 The Dad: No introductions needed. The only Rookie of the Year and Most Valuable Player in the same season in the entirety of the PBA. He even has an amazing off-court career, often playing comic relief in a litany of roles. Benjie Paras is one of the greatest PBA players of all time, full stop.
The Sons: Andre Paras is suiting up to play for the San Beda Red Lions nowadays, after a winless stint with the Fighting Maroons the previous year. Of course, the last time the Maroons were relevant in the UAAP was when Andre's dad was tearing it up in the collegiate leagues. Kobe, aside from his telltale name, is playing basketball in the United States as well.
The Verdict: Benjie Paras really got into acting towards the tail end of his basketball career, not well before he started. In contrast, Andre is clearly focused on that aspect of his career. It's safe to say Andre will never beat his dad at basketball, but maybe as an actor? He has the matinee idol looks Benjie Paras never had, after all.
Dads: 1 Sons: 1

[buffer by="10px 15px 10px 15px" id="bar"]6. Bobby Parks, Sr. vs Bobby Parks, Jr.[/buffer]
The Dad: The late Bobby Parks was the second American ever inducted into the PBA Hall of Fame back in 2009, and is still the second or third most famous PBA import of all time (Sean Chambers is the other guy who may be more popular than him). Seven-time best import, part of the 5,000 points, 2,000 rebounds PBA career echelon. Not bad for a guy who literally couldn't possibly play all three conferences of every PBA season, right? The guy even starred in a few Filipino movies, to boot!
The Son: Bobby Ray Parks may have a lot of controversy to his name right now, but that comes with the territory of being a bona fide NBA prospect. He was a two-time UAAP MVP with the National University Bulldogs, and was part of the NBA Summer League for the Mavs this year, as well as Smart Gilas.
The Verdict: Obviously, Ray Ray has a loooong way to go before he can overtake his dad's legacy, but there's no question that he has the tools to do it. Will he join the PBA? Will he keep trying to break into the NBA? The fact that we can discuss both possibilities without blinking tells us all we need about this young man's potential. In fact, I'm willing to be proven wrong about him.
Dads: 1 Sons: 2

[buffer by="10px 15px 10px 15px" id="bar"]5. Alvin Teng vs Jeric Teng and Jeron Teng[/buffer]
The Dad: Alvin Teng aka Robocop. A rough defender who could sometimes go on a hot streak from the field, Alvin Teng had a pretty solid career, although he was never "the man" of any team he was a part of. His MBA stint, particularly with the Negros Slashers, is probably the worst part of his career.
The Sons: Jeron Teng has one UAAP title win under his belt, and is still one of the players to watch in the league. Jeric Teng was drafted in the second round in 2013 by the Rain or Shine Elasto Painters. While admittedly, Jeric is not exactly lighting it up in the pros right now, it's the younger brother most everyone is looking out for anyway.
The Verdict: Stacking up the two Tengs against their dad, I think it's safe to say they will surpass Alvin's legacy. Eventually.
Dads: 1 Sons: 3
[buffer by="10px 15px 10px 15px" id="bar"]4. Bong Ravena vs Keifer Ravena and Thirdy Ravena[/buffer]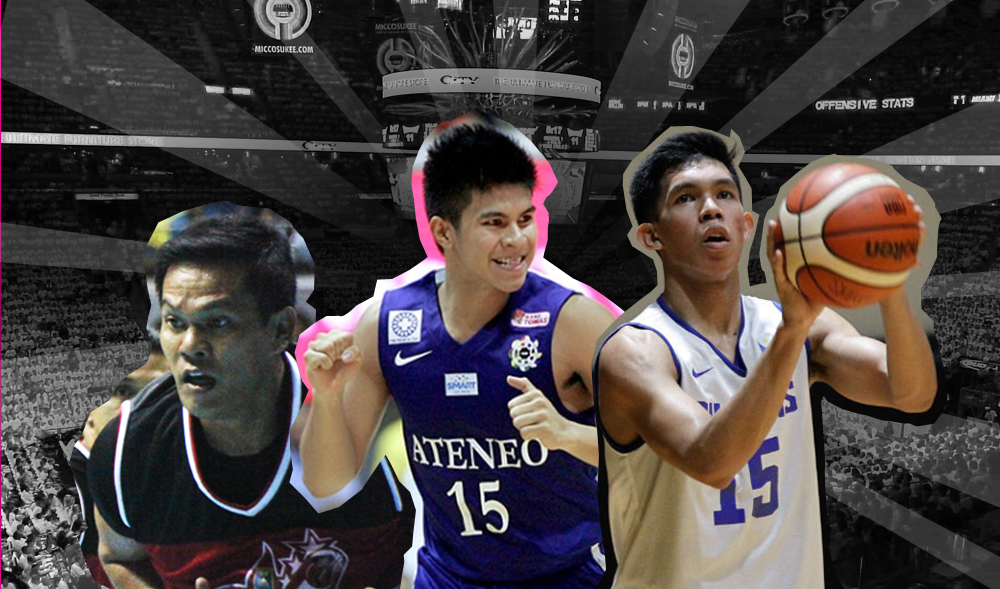 The Dad: Bong "The Raven" Ravena was a late bloomer in basketball, having discovered football and volleyball first. Despite that, he has always been a reliable player, with five championships under his name at the end of his career. Individually, he has only ever made it to the Second Mythical Team and the Most Improved Player award, aside from being the Rookie of the Year.
The Sons: Keifer needs no introduction at this point. Thirdy, on the other hand, has yet to actually make any waves because of his off-court problems keeping him from ever playing for the Eagles. That being said, "The Raven" was always a reliable second or third option for his team. That being said, "The Raven" was always a reliable second or third option for his team. Kiefer is undeniably the first on his.
The Verdict: Keifer, if he continues on his current trajectory, will be the next big pro superstar. It's not even going to be close, barring some horrible injury.
Dads: 1 Sons: 4
[buffer by="10px 15px 10px 15px" id="bar"]3. Caloy Loyzaga vs Chito Loyzaga and Joey Loyzaga[/buffer]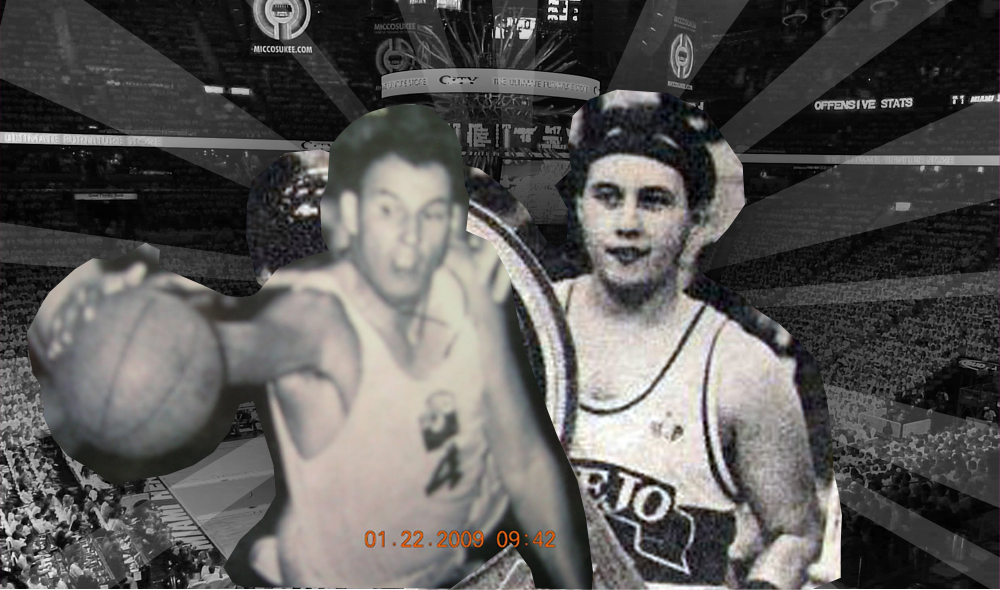 The Dad: Two-time Olympian Carlos Loyzaga never played for the PBA, probably because he started well before the PBA actually began. He is a Philippine National Basketball hall of famer, and the "Athlete of the 20th Century" awardee for the Philippine Sportswriter Association. And, oh–he's a two-time gold medalist for the FIBA Asia Cup, and managed to win Bronze in the FIBA World Cup, so there's that, too.
The Sons: Chito and Joey did not meet superstardom like their dad, but they had ridiculous amounts of success between the two of them, more so when they ended up playing together in Ginebra. Admittedly, it would be difficult to be the team's #1 option when you still have to share the stage with a still-active Robert Jaworski.
The Verdict: Sorry, boys. Your dad still has this. Really hard to scoff at a time when Filipinos were still a threat to win it all in the FIBA Worlds.
Dads: 2 Sons: 4

[buffer by="10px 15px 10px 15px" id="bar"]2. Freddie Webb vs. Jason Webb[/buffer]
The Dad: Aside from being a former senator and actor, Freddie Webb is probably one of the best guards of all time. He retired in 1978, but not before leaving his mark on the league with his precise ball-handling and pinpoint passing.
The Son: Jason Webb tried. Really. But he never found himself in the right team to really make an impact in the PBA. Unfortunately, he never quite made it.
The Verdict: No question here. Freddie Webb takes this, easy.
Dads: 3 Sons: 4

[buffer by="10px 15px 10px 15px" id="bar"]1. Robert Jaworski vs. Dudut Jaworski[/buffer]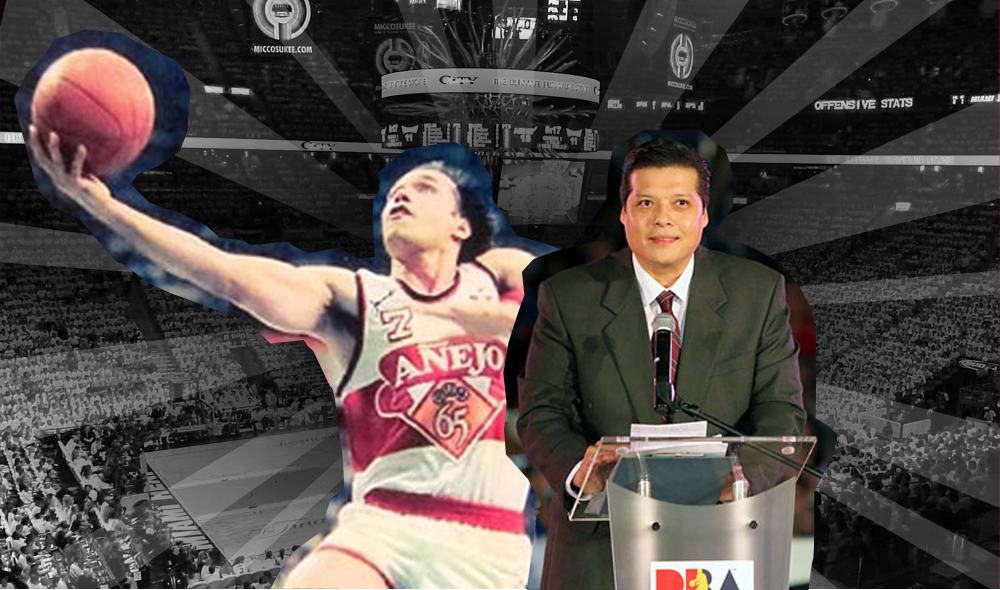 The Dad: The Living Legend, and every bit as good a basketball player as he was bad at being a senator. First PBA hall of fame inductee ever, and with good reason. There's so much you can say about Robert Jaworski's career as a basketball player, but he's essentially the Filipino version of Michael Jordan, if you added a lot more of Charles Barkley's attitude into the mix.
The  Son: Well, he's married to Mikee Cojuangco, and he was often part of the starting five in the latter half of his career, only to pick up three to five fouls in the first quarter, never to be seen for the rest of the game. Yeah, political dynasties are a thing in the PBA, too.
The Verdict: Are you kidding me? Dodot's career-high was nine points. Nine! This was a feat duplicated by his dad in 1997, with a few behind-the-back assists, to boot. Need I remind you that when Jawo did that in '97, he was already well over 50 years old? It's fine, though. Dodot is still married to Mikee Cojuangco.
Dads: 4 Sons: 4
What's your take on these ballers and their sons? Share it with us in the Comments Section below!