When news broke out that Anthony Bourdain has died of suicide at the age of 61, Filipinos mourned with the rest of the world for the chef, author, and TV host who opened people's eyes to different cultures and cuisines. Tony had earned the Filipinos' admiration and affection because of his one-of-a-kind personality, as well as for putting the spotlight on the Philippines many times, from hailing our lechon as the best pig in the world to digging deeper into the kind and giving nature of Filipino workers.
Among those who expressed their grief were personalities in the local food scene, who have either personally met Anthony or have been greatly inspired by him. Here's what they had to say:
Chef Margarita Fores of Cibo
"One day in New York, the heavens conspired and I had the priceless chance to meet you, and so incredibly at your home," Chef Gaita recalled. "…you changed the world for those of us in this crazy industry where what drives us is how we feed and nurture others." She also included the hashtags #hero, #lifechanger, and #bourdainforever.
Chef JP Anglo of Sarsa
For Chef JP, meeting Tony was the best day in his life as a chef, especially since the man was his inspiration when he was still a struggling young cook. "You showed us that good food does not have to be expensive nor does it have to be in a fancy place. You taught us that we sometimes have to go to great lengths to find good, honest and sincere food and sometimes, it can be just around the corner," he wrote. "Hope you're having lots of beer sisig and lechon over there."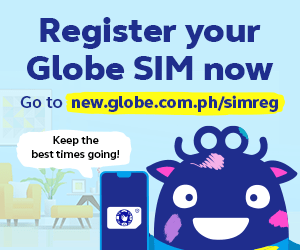 Masarap Ba? of Instagram
The popular anonymous food reviewer on Instagram likened the loss to a father dying – a feeling that was definitely "hindi masarap." She says Tony inspired her to be honest, bold, firm, and rebellious in the way she does reviews. "At ikaw din ang nag-inspire sa'kin na bigyan ng break ang mga maliliit na kainan pero deserving ng respeto at pagkilala," she wrote.
Chef Gino Gonzales of Café Ysabel
Chef Gino honored Tony for his works as an author. "Thank you for the books that exposed kitchen life & a chef's life to the world. Your books will always serve as an inspiration to future chefs and if they are really cut out for the kitchen," he said.
Margaux Salcedo of Phil. Daily Inquirer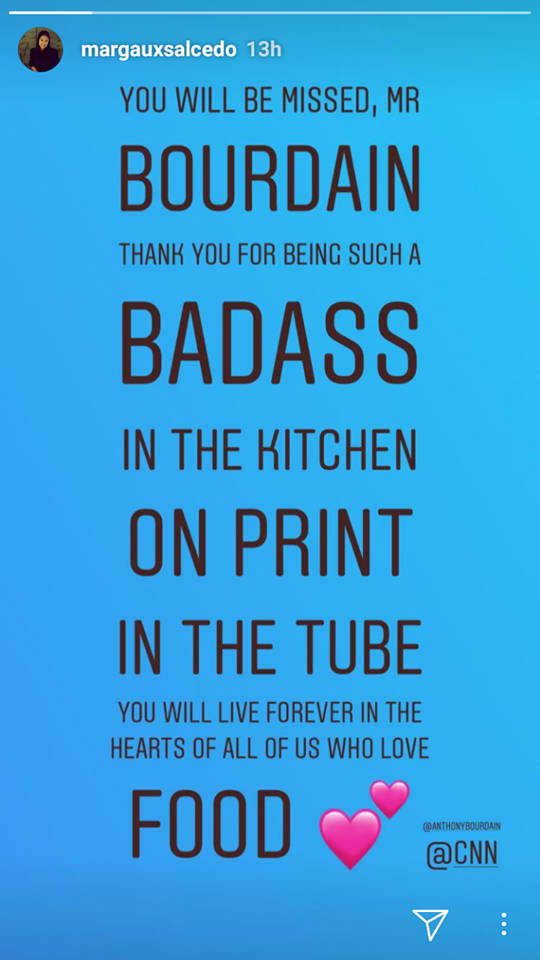 The columnist and writer took to Instagram stories to pay tribute to Tony.
Cheryl Tiu of Cross Cultures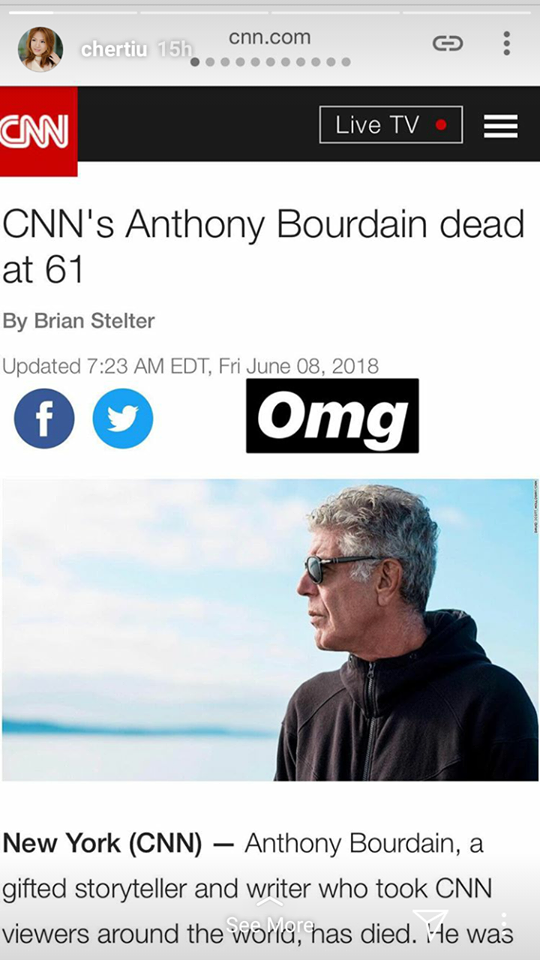 In a series of Instagram stories, Cheryl, a journalist who mounts events promoting culture through food, expressed her shock and also reminded everyone how important it is to be kind to others – and also to one's self. "We can never really know what another person is going through deep inside," she said.
Chef Edward Bugia of Backyard Kitchen + Brew, Bean & Yolk
Chef Edward also took the opportunity to remind everyone how mental health issues are a real problem that affects not just the food industry, but any other industry. "Be a friend to anyone who needs one. Offer your ears. You hearts," he wrote as a caption for an IG post of a blank, black photo.
Joel Binamira of Zubuchon
Seeing as how Tony's description of Joel's lechon as the "best pig ever" has paved the way for his chain of restaurants, it's no wonder that the American chef's death has affected him profoundly. "One day with you helped to alter the course of my life and it has provided gainful employment for hundreds of folks at Zubuchon as well as shining the global spotlight on Filipino food," he wrote. "We are all so saddened by your passing and so grateful to have crossed paths… Salamat."
If you feel you need help, reach out through these hotlines:
Manila Lifeline Centre:
02-8969191
0917-8549191
The Natasha Goulbourn Foundation:
02-8044673
0917-5584673