4. We generally don't proofread before sharing.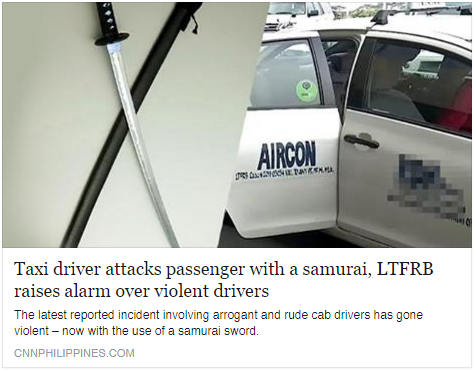 Sometimes, we don't only refuse to take the time to read the article, we actually refuse to read the title itself and it leads to unintentionally hilarious results.
Case In Point: Why would a taxi driver want to assault you with a medieval Japanese man who observes the code of Bushido?! Or did you mean a katana, aka the swords used by samurai, who were people?
3. We might be quoting a Facebook-edited headline.
There is a feature that allows for editing headlines in Facebook. The results may be hilarious, but when taken as fact, not so much.

Case In Point: Well, take your pick. Do you want the tale about how Josh and Bimby were caught by Kris Aquino doing something positively lurid, or the time Abad "admitted" that Laglag-Bala was a scam supposedly for raising funds for the LP (2,000 Pesos per bribe will raise millions in campaign funds, really?)?
2. We might be quoting a satirical article or fake news.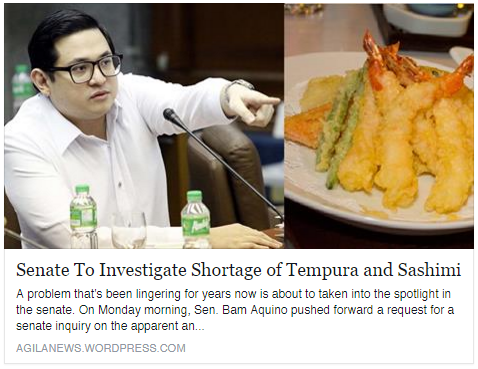 Alternatively, the news itself might be fake, and we're just sharing it as if it were legit. I mean, we love So What's News, but we are at least aware it isn't real news when we share it. Are you?
Case In Point: Remember when people thought 8List.ph was legitimately saying the government wasn't to blame at all for the Fallen 44? Boy, that was fun.
1. We sound stupid when we talk about something we know very little about.
When we mouth on without actually reading the article we're commenting about, it generally shows. The few times you choose to do just that, someone in the comments ends up pointing out that either the point you're reiterating was already addressed in the article, or what you're trying to say is the exact opposite of what the article is trying to say. Whoops.
Case In Point: It's easy to call the current administration "heartless" when all we know is that they vetoed the pension increase bill for SSS pensioners, and we juxtapose it with the salaries SSS executives make. What people fail to understand is that these two things are mutually exclusive: even firing these SSS executives wouldn't be nearly enough to make the shortfall of money we would have just to provide that extra 2,000 a month to 2.1 current beneficiaries.
And it's not like we're willing to raise our SSS contributions, either, nor is it free to make collections more efficient. All of these solutions will cost money and aren't even in place yet, so when it's our turn to benefit from SSS, whoops, approving this bill without thinking of the long-term just might not be the best idea, after all.
But you would have known that, if you actually read the damned article you're linking to.