Saan Aabot ang 200 Pesos Mo Around BGC?
Jul 24, 2019 &nbsp • &nbsp Alvin Guiao Santos
If tomorrow you wake up in a parallel universe where everyone and everything spoke the truth, the whole truth and nothing but the truth, without filters, how do you think your Instagram bio would read? Be honest now. Mine would probably be, "Smart, gorgeous and friendly but cheap with a very good sense of humor." In my defense, I may be cheap, but only with myself and not with others, and certainly not with my family and friends. And besides, being cheap is a lot different from being practical.
I am a part of the great majority who live within (or at least try) a budget. I have set my daily budget allowance, which, for the life of me I just can't hit, at 300 pesos. Hey, no budget-shaming! I work in BGC, and in case you haven't been informed, parking spaces have overtaken fast food chains and banks as Taguig City's newest cash cows.  To pay 100 pesos for a whole working day's parking means I'm left with around 200 bucks to work and negotiate with my tummy for food. If you're smiling or pursing your lips while reading this because you share in my sufferings (huhuhu), there, there. There's a price to pay for good food, yes, but nobody said you had to eat them one-handed because they cost an arm and a leg. Yes, even in posh BGC.
Nanyang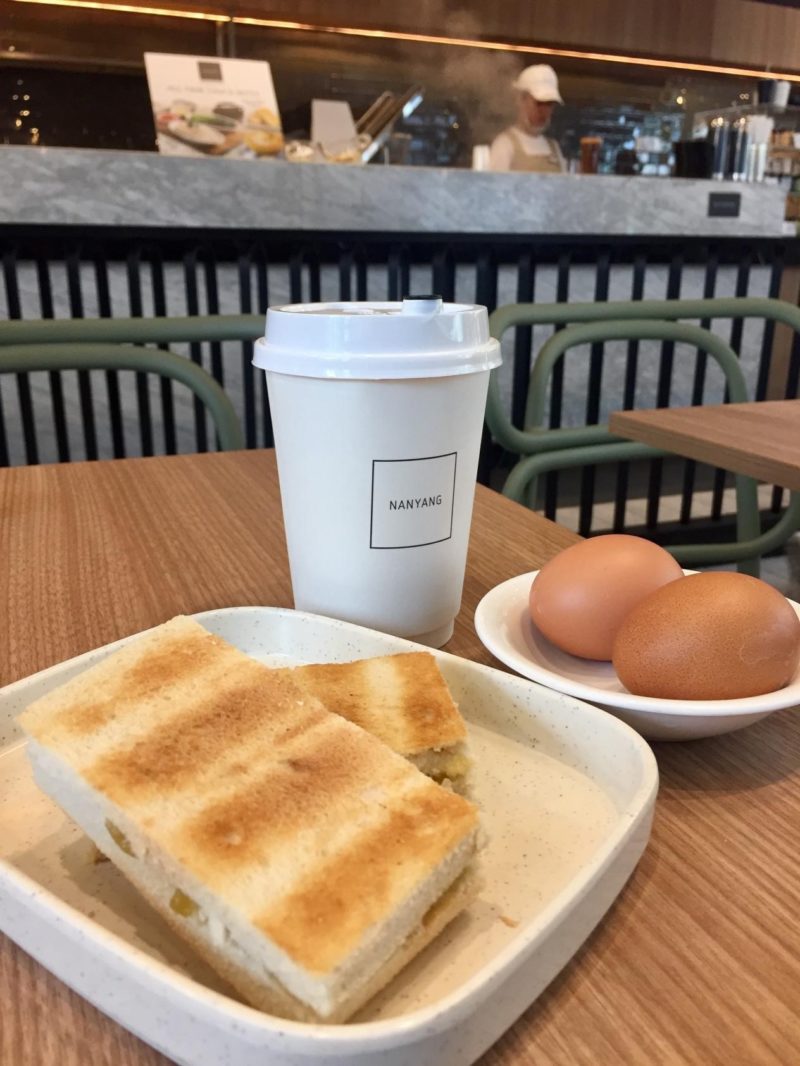 Neatly tucked inside Breadtalk on Lane P, B7 Bonifacio High Street is this little gem of a find. Enjoy a taste of Singapore with its cozy and spacious open kitchen layout and this classic Singaporean meal for, wait for it, Php135. Ka-ching! Oh, their coffee is a winner! Yummy lah!
Sushi Nori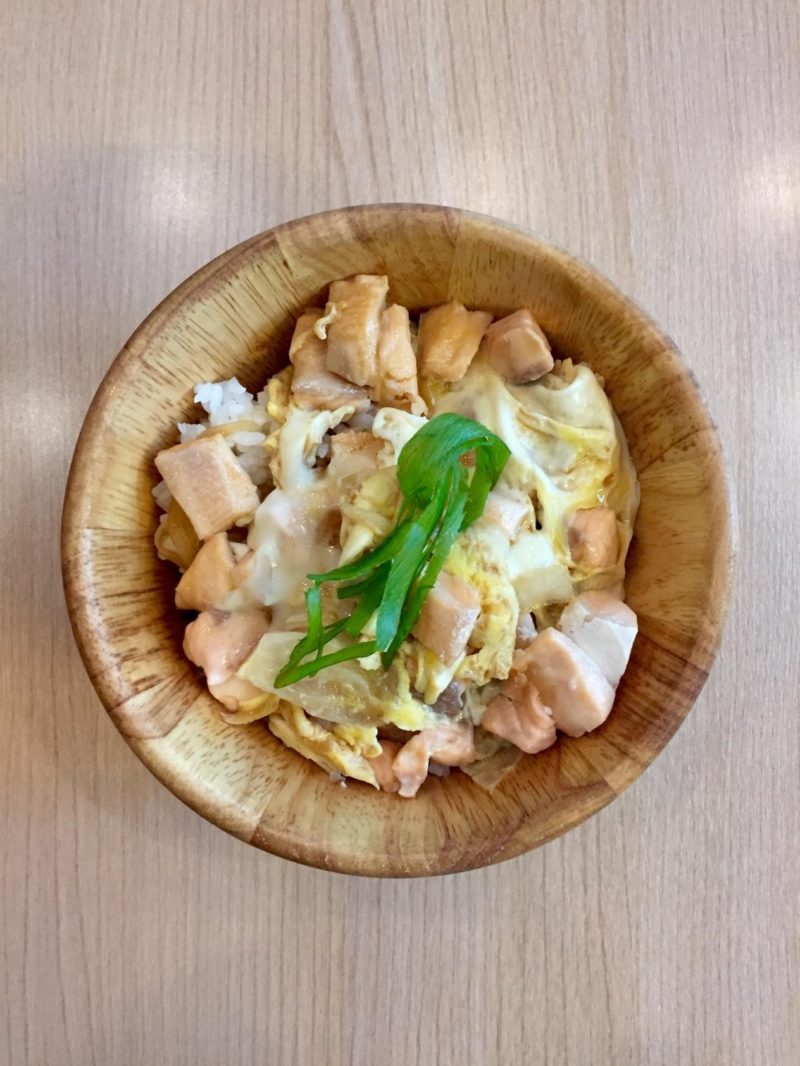 Inconspicuously located behind a bus stop along 7th Avenue in between Lane Q and 30th Street is this sushi haven. Yes, there's affordable sushi in the heart of BGC that's edible, too! These babies may not sit in boats on conveyor belts, but can still give any fancy-shmancy sushi a run for its money and the Michelin star. Go for the healthier but still delicious option with their Salmon Donburi of fresh salmon, perfectly cooked egg garnished with onion leeks topped on a generous serving of lightly seasoned Japanese rice for PHP199. Ka-ching! Oishi!
Mad Mark's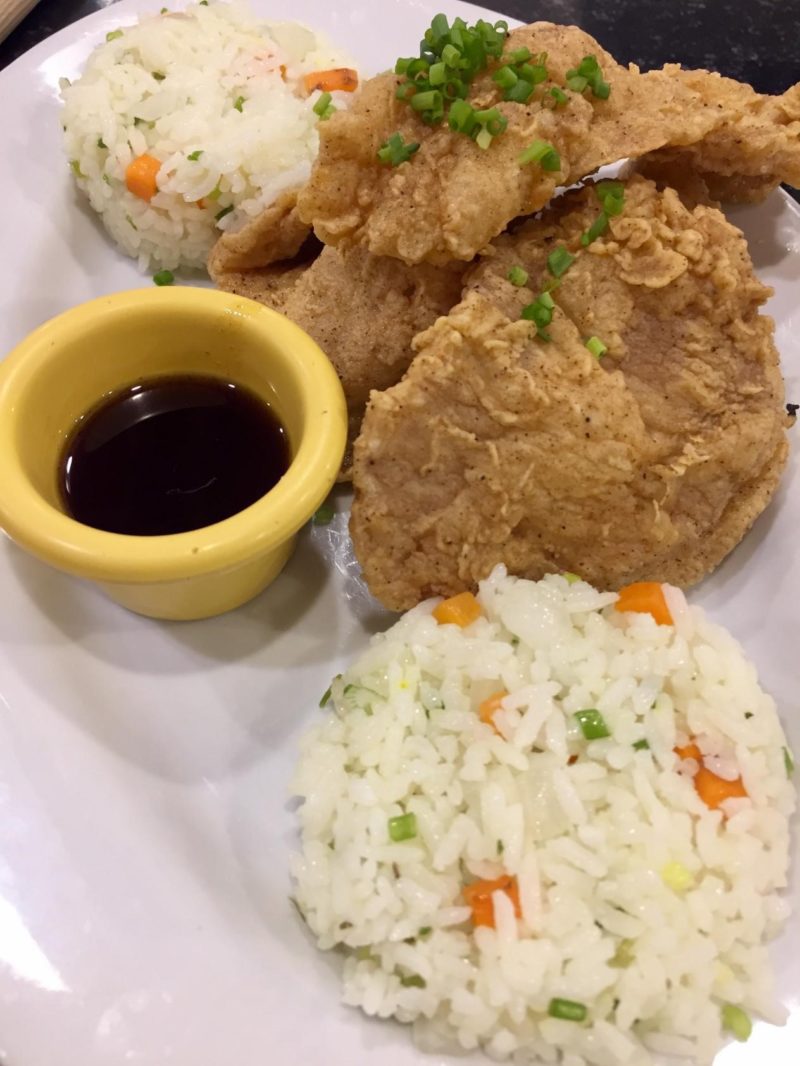 Go gaga with this crispy and tender treat on the 3rd floor of the Central Square mall in Bonifacio High Street. The deep fried crunchiness of the pork chop steak stands well with or without the sweet and tangy honey barbecue sauce and complements perfectly with the soft and well seasoned vegetable fried rice which could very well be the star of this meal. Get this mad meal for a mad deal of Php180. Ka-ching! Sarap besh, extra rice please!
Luna Specialty Coffee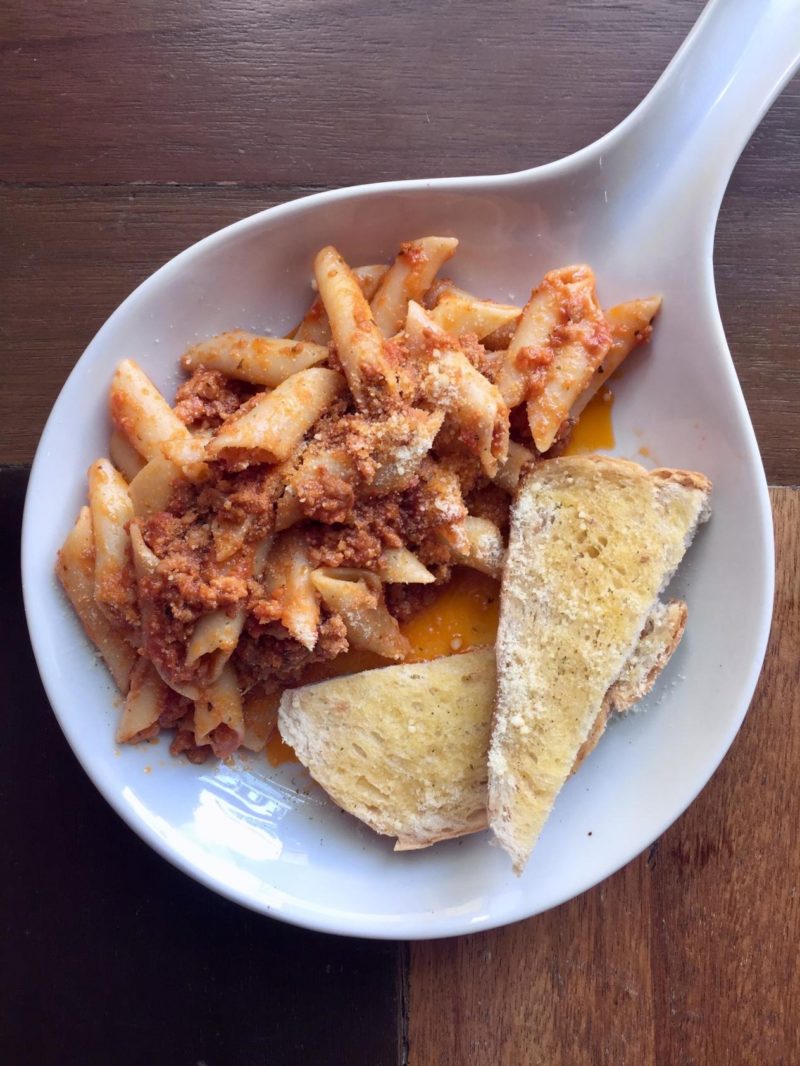 This hole in the wall on the ground floor of the NAC Tower along 32nd Street serves healthy comfort food which will remind you of your mum's cooking, and I mean this in a good way. Hi, Mom! Indulge in the great combination of the subtly sweet and moderately salty Penne Longganisa Bolognese cooked al dente and paired with generously buttered garlic bread for only P170. Ka-ching! Take note though that this is available only from 2PM onward so make sure you do brunch lest you go hangry! Don't say I didn't warn you!
Pound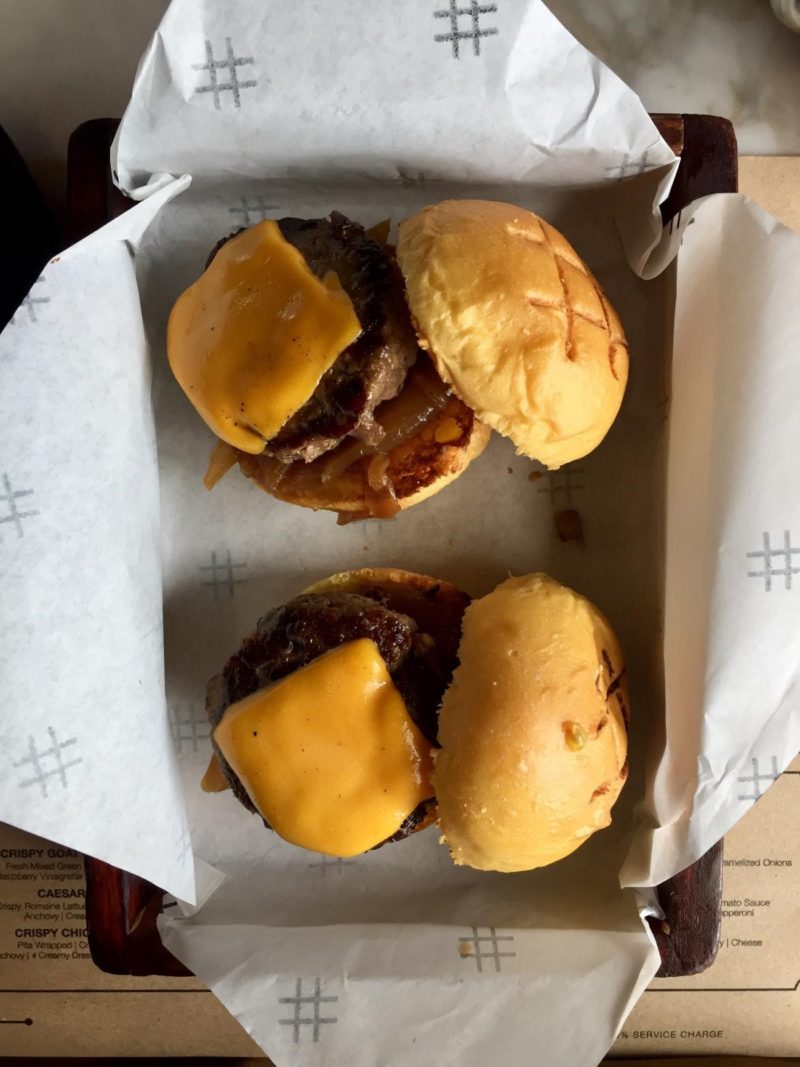 Find this posh pub in B3, Bonifacio High Street with the dim, cozy interiors which is a perfect lunch getaway from your bright office space, the glare of your laptop and your boss' forehead (not a true story). Oh, and the food is good too! They serve American food trademarked by these mouthwatering sliders for just Php155. Ka-ching! You can tell a good from a bad burger by its bread and patty and this one got the combo right! Thick and juicy patty and that lightly browned, smooth and sweet bun. Yummy! Get in my belly!
PS: Remember that these are sliders and not quarter pounders so you better come not so hungry and leave happy.
Sunnies Cafe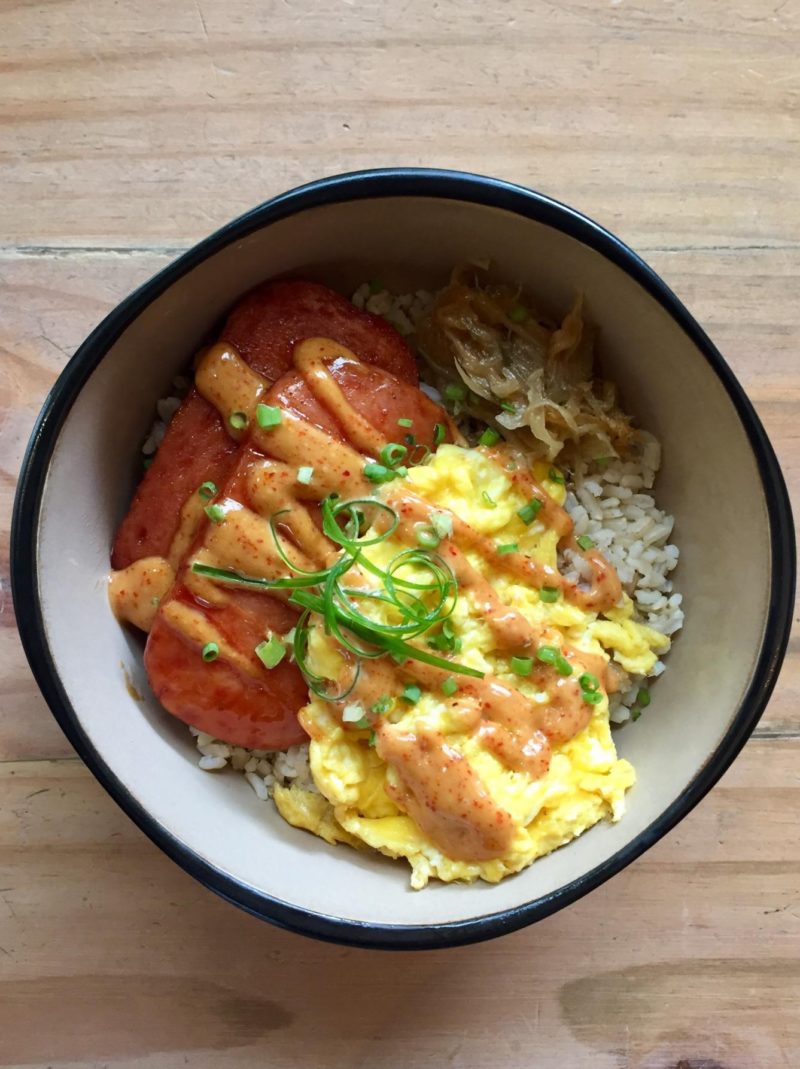 Tell me who your friends are and I'll tell you all of them like Spam. Transform them It Girls into Eat Girls with these breakfast specials (which are best paired with their coffee Americano blend) starting off with this hot Creamy Caramelized Spam Bowl served in this super cute and beachy joint in B3, Bonifacio High Street for Php190. Ka-ching! Enjoy this best by combining the perfectly cooked Spam, fluffy scrambled egg, caramelized onions, scallion brown rice and that hot sriracha aioli sauce in every bite. It's Spam made extra. Imagine that! Delish!
BirdBox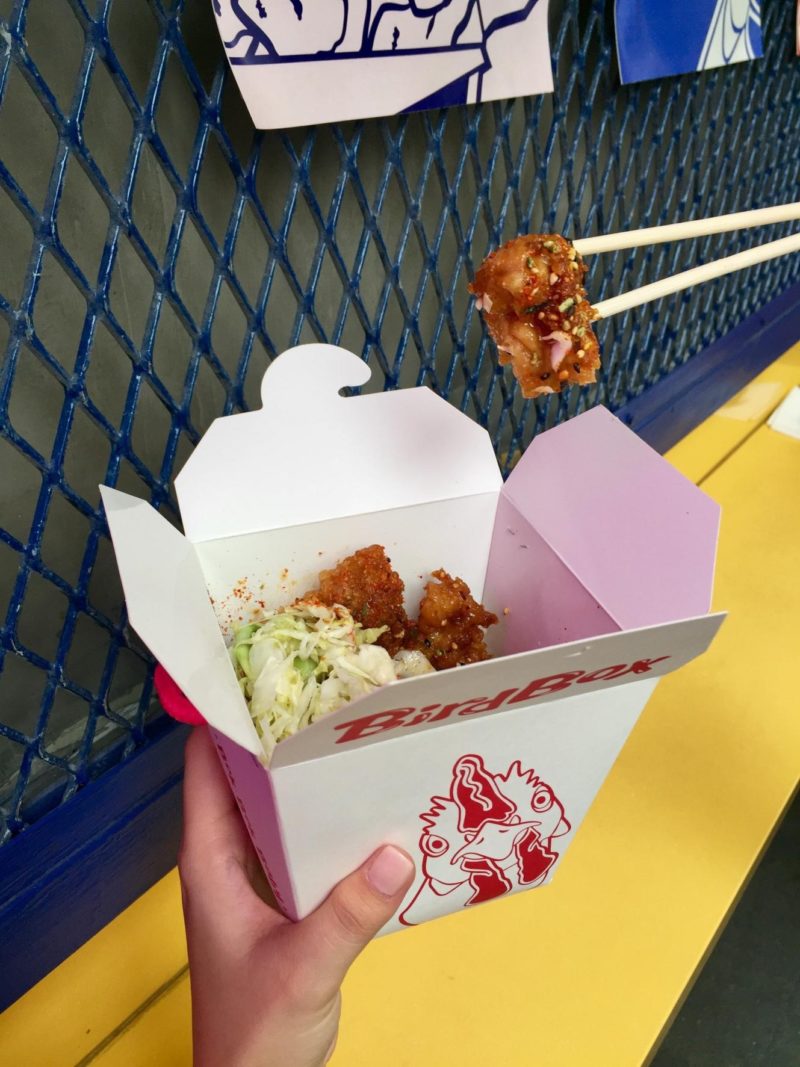 There's absolutely nothing to be scared about this cute and colorful Asian take-out joint at the corner of 9th Ave and Lane P, BirdBox. They serve chicken (duh!), best paired with their refreshing Calamansi Wintermelon and deliciously fried in their original recipe sauces of your choice garnished with different toppings also of your choice, topped on a generous serving of hot white rice and conveniently packed in cute Chinese take-out boxes with those signature hot pink strings perfect for people on the go! Try the Tebasaki sauce with shichimi, furikake, pickled cabbage and water, or should I say, tea it down with the Calamansi Wintermelon all for just Php199. Ka-ching! Watch out for their bundled meals soon to come in August. Ka-ching! Ka-ching! Bok bok good!
Go Bento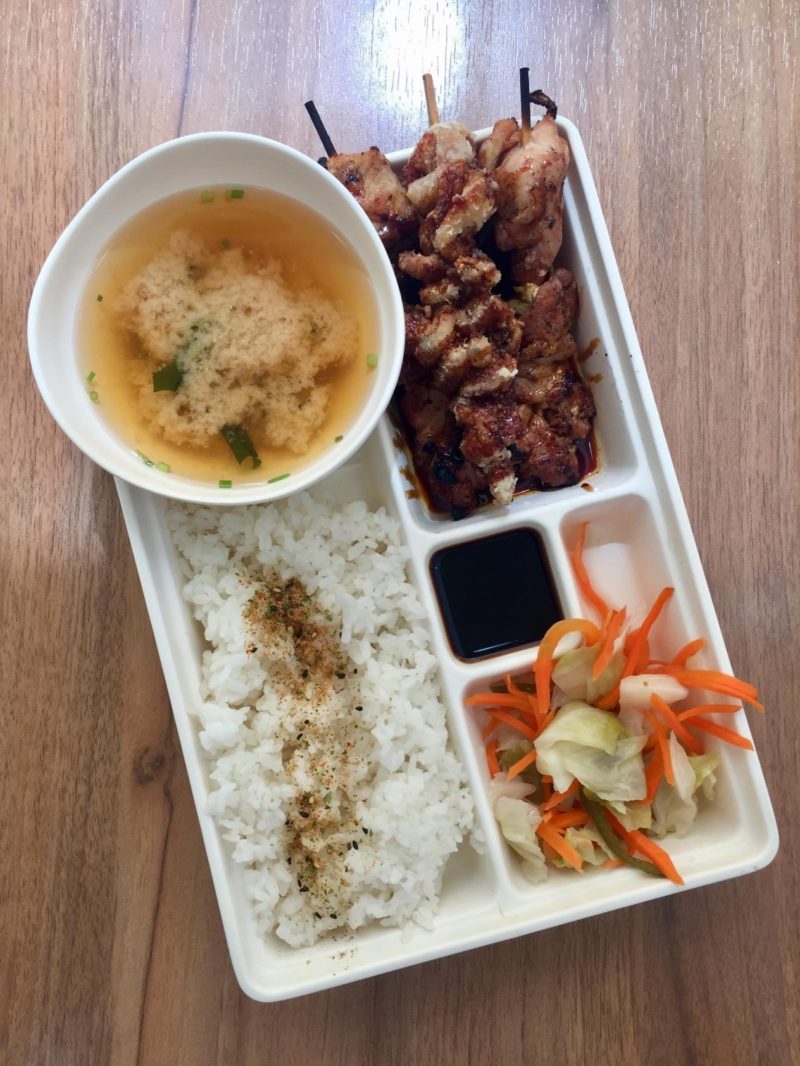 Topping my list, well, in an inverted way that is, is this cheapskate (oh, hush!) goldmine in The Spa Building along 9th Avenue. Come hungry and leave happy with these incredibly affordable yet surprisingly delicious and thankfully filling bento meals starting with a personal favorite, the Yakitori Bento. Enjoy this medley of mixed chicken meat and skin skewers barbecued to perfection and paired with a generous serving of lightly garnished Japanese rice, some greens and that heavenly, authentic-tasting miso soup with wakame seaweeds and tofu swimming in blurry, tasty miso broth for a jaw-dropping and head-scratching Php155! Ka-ching! Ka-ching! What did we do to deserve this? Whoever is responsible for bringing this Japanese goodness to the heart of BGC, I say, arigatou gozaimasu!
Got any more recommendations? Share them with us below!