With the elections just around the corner, everything has become political — or at least, more obviously so. Wear a specific shirt color for a day and people will ask if you're supporting a particular candidate. Even our default (albeit awkward) ice breaker has become asking someone who they're supporting. Naturally, we want to know who's voting for who and why. But while conversations about politics are important, some may be taking it a bit too far. It's gotten to the point that even huge corporations like Jollibee Foods Corporation (JFC) had to announce it's not endorsing anyone. But should companies take a political stand?
JFC's statement got netizens flinging different opinions at each other. For some passionate Filipinos, the world is divided into two — those who are against oppression and those who support it. But is this matter really black and white? Should every company clarify who they're supporting? When brands remain neutral, should you stop patronizing them?
Companies have a business to protect
Trust me, I get the passion.. we're frustrated and exhausted— but hating on citizens/companies does not inspire them to speak up but scare them into silence.

Don't make people feel inferior for not taking the same/as strong of a stand as you.

— Janina Vela (@janinavela) February 22, 2022
Why do companies like JFC distance themselves from political affiliations anyway? Once a company makes a political stance, they risk alienating customers who don't hold the same beliefs as them. Let's say a popular clothing store expresses support for Candidate A. Their loyal customers who support a different candidate will feel awkward and unsure about shopping for a brand that doesn't align with their beliefs.
While many other brands have openly expressed their support for certain candidates, we can understand why some companies would want to stay as nonpartisan as possible. It's business.
An entire corporation is separate from each individual it employs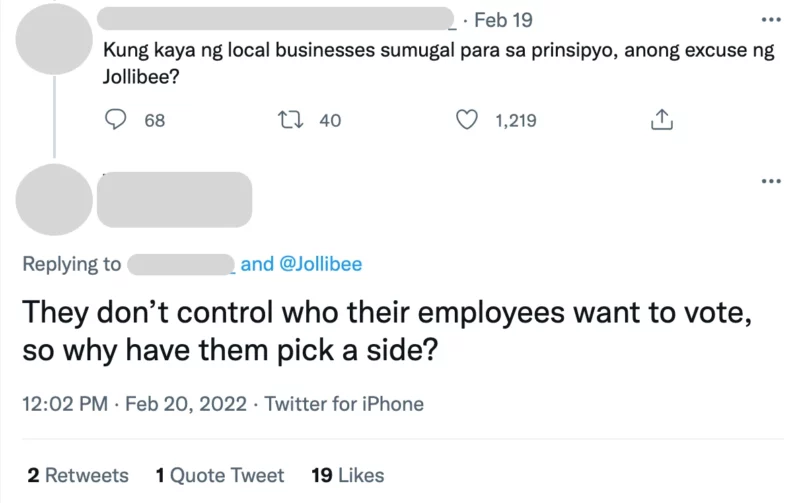 It wouldn't be fair to force a company to suddenly take a political stand since they represent everyone they employ. Unless they've got some kind of hive mind, each of those employees will have different opinions and points of view when it comes to politics. There will always be employees who are pro Candidate A, some considering Candidate B, and others, fanatics of Candidate C. Businessowners can't be faulted for accounting for diversity and their employee's freedom of choice.
It may lead to discrimination
Let's say the company you worked for released a statement that they're openly supporting Candidate A, a controversial politician whom you don't agree with. Suddenly, by working for that company, you're immediately associated with the said politician. Your friends, family, and everyone else who knows where you work will ask you about it and might even judge you for it. How are employees supposed to escape that?
A company's actions will always affect its employees, so business owners always have to set boundaries to avoid conflict. Sometimes, that means being politically neutral.
But some Filipinos think silence is not an option

Perhaps the biggest reason why individual Filipinos want even companies to take their stand in politics is the reasoning that "silence always sides with the oppressor." To many Filipinos, being apolitical means you're fine with thousands of Filipinos losing their jobs or that you're okay with having a leader who lacks integrity and honesty. Even influencers are speaking up and using their platform to endorse candidates, so why aren't bigger companies following suit?
Some just want people to leave the brands alone

And because it's social media, people will find ways to get on other people's nerves. Truth be told, the stressful political climate is tiring for everyone — trolls and legit people alike. Can't we just eat our ChickenJoys in peace?
Times have changed
There was once a time when brands were expected to stay politically neutral. This has changed. Consumers want the brands they patronize to be aligned with their beliefs. A 2020 survey conducted in America revealed that 63.2% of the marketers who participated believe that companies should take a political stand.
"It will attract people who appreciate the statement and it will make them feel more at ease spending their money with you than with a company who is laying low and burying their head in the sand," said one of the interviewees. "In addition to being the right thing, morally, the positive publicity of taking a political stand is unmatched."
Although this study was conducted in the US, the findings could also apply to the Philippines. Consumers crave authenticity and clarity. They want their hard-earned money to go to companies that care.
The truth is, companies can't avoid politics, as it affects everyone — no matter what industry or sector you work for. That's why people tend to trust brands that take a solid stand on issues since it displays transparency, integrity, and leadership skills.
But a brand's political standing shouldn't be a factor in your vote
Choose respect despite differing candidate support, political stands, AND YES, differing values and principles —

Even those on differing sides hold the value of human dignity.

— Janina Vela (@janinavela) February 22, 2022
At the end of the day, your favorite fast-food chain shouldn't sway your vote. They could help spread awareness, sure, but ultimately, everyone has their own reasons behind their choice. Who do you believe in?
On the lighter side, some netizens had other concerns

Some Filipinos couldn't resist being Filipinos under JFC's official announcement. Forget about politics for a sec like these netizens who took the opportunity to get things off their chest. "'Wag n'yong tadtarin ng Scotch tape yung lagayan ng gravy!!!" read one comment on Facebook which garnered 8.9k likes. Totally unrelated to the post and the rest of the comments but it seems like a lot of people can relate to the sentiments.
Another netizen also voiced a concern: "Out of context tweet, pero you should also advocate for clean utensils and baso since masebo po kasi. Thanks," said the tweet. These comments just prove that while we're all out here supporting different candidates, there are still some things that 100% of Pinoys can relate to. Somehow, that's a comforting thought.
Do you think companies should take a political stand? Share your answer with us in the comments!
Check us out on Facebook, Instagram, Twitter, and YouTube, and be the first to know about the latest news and coolest trends!