New Year Chic: 8 Outfits to Welcome 2016
Dec 28, 2015 &nbsp • &nbsp Shen Mascariñas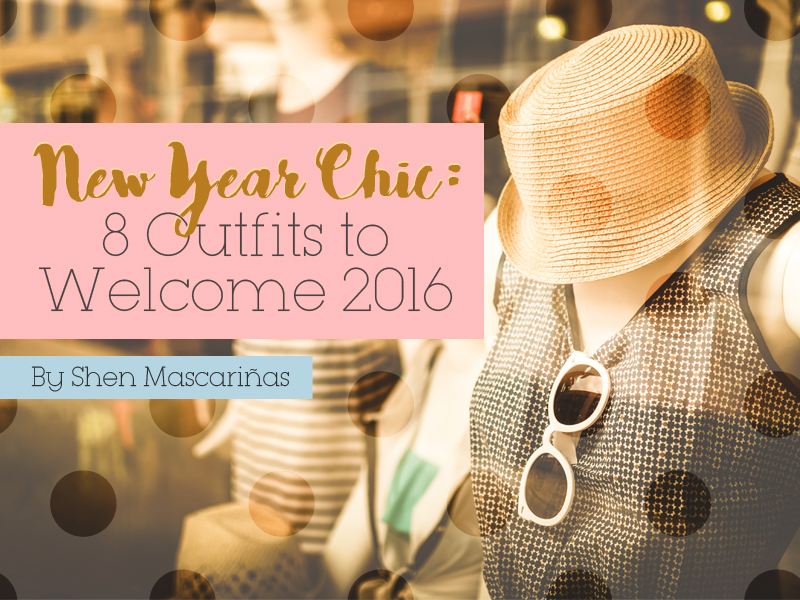 Pinoys have really quirky New Year traditions, from jumping at midnight to eating round food. We put a lot of thought and effort in how we start the year not only because of tradition, but also because it affects our attitude towards the new beginning. Starting the year thrilled, prepared, happy and with your loved ones makes it more likely that you stay that way for most of the year.
Make sure you look your best as you welcome 2016. Draw inspiration from these 8 outfits that epitomize New Year Chic.

New Year's the perfect time to wear fun prints like stars. Choose a dress with an edgy cut like this one, so you don't look like you shopped at the kids section.
Here's something you may want to add to your New Year's resolutions: Flattering over trendy any day! You can hit the balance of the two, though, like what Liz Uy achieved in this outfit. Go for vertical stripes and a halter cut to look several pounds lighter. Pair it with cool booties to take the outfit up a notch.

Now if you're one of the lucky ones attending a formal ball on New Year's Eve, choose your gown wisely. Set yourself apart from the pabebe majority, and wear something unique, elegant and incredibly chic. Plus points if you have a cape, of course.

You're going to be out until breakfast time for sure, so wear something comfortable. That doesn't mean you need to compromise your style, though. Go for a sexy jumpsuit to achieve both. You'll look very powerful while you're at it, too.

Expect your Titas of Manila to request you wear something bright (aka red, please) and polkadotted for your New Year family lunch. Please them while looking damn good in a stylish dress like this. Pair it with booties and maybe a hat to double your chic points.
A floral print makes you look happy and approachable, which is definitely a great way to welcome the year. Go for a 50's inspired cut like this dress to add elegance to the look, too.

Turn heads at your New Year party with a sparkly ensemble like this one. With the combination of shimmer and a sexy silhouette, pick subdued colors to keep the outfit elegant and not too in-your-face sexy. Make sure your makeup is neutral and minimal, too.

Beyond the fabulous clothes and the gorgeous makeup, being fit and healthy is the best way to welcome 2016. That's what matters most, so start the year with a determined mindset to get active and eat healthy. More importantly, follow it up consistent actions, so that you can end 2016 fit and fab as well.
How about you? Any other style inspirations for your New Year outfit? Sound off below!