SLIPKNOT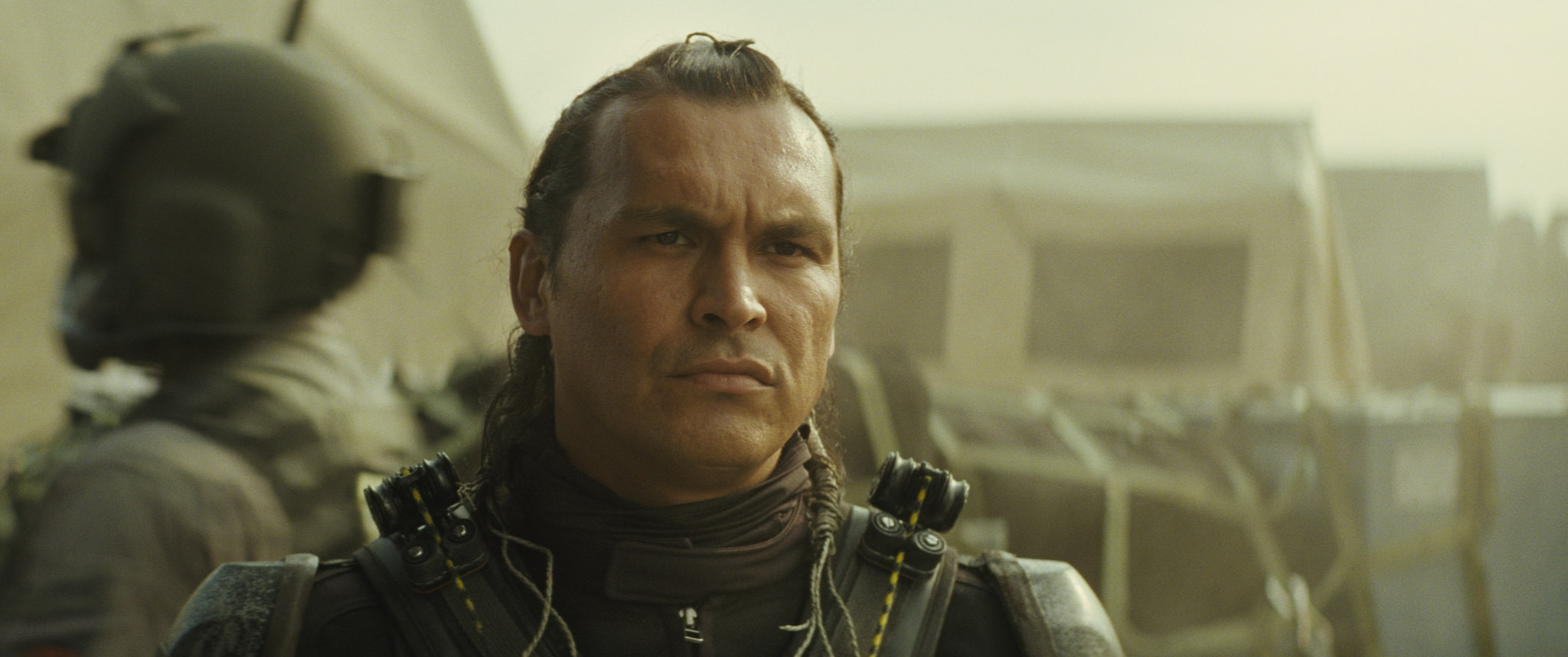 50 lbs. of gear was the weight of the full armaments—including ropes, heavy duty gloves and combat vest—worn by Adam Beach as Slipknot, an expert assassin with a talent for inventing super-strong adhesives and rappelling out of any situation. Included in Beach's training was a course of ropes the actor climbed each day wearing a 20-lb vest.
KATANA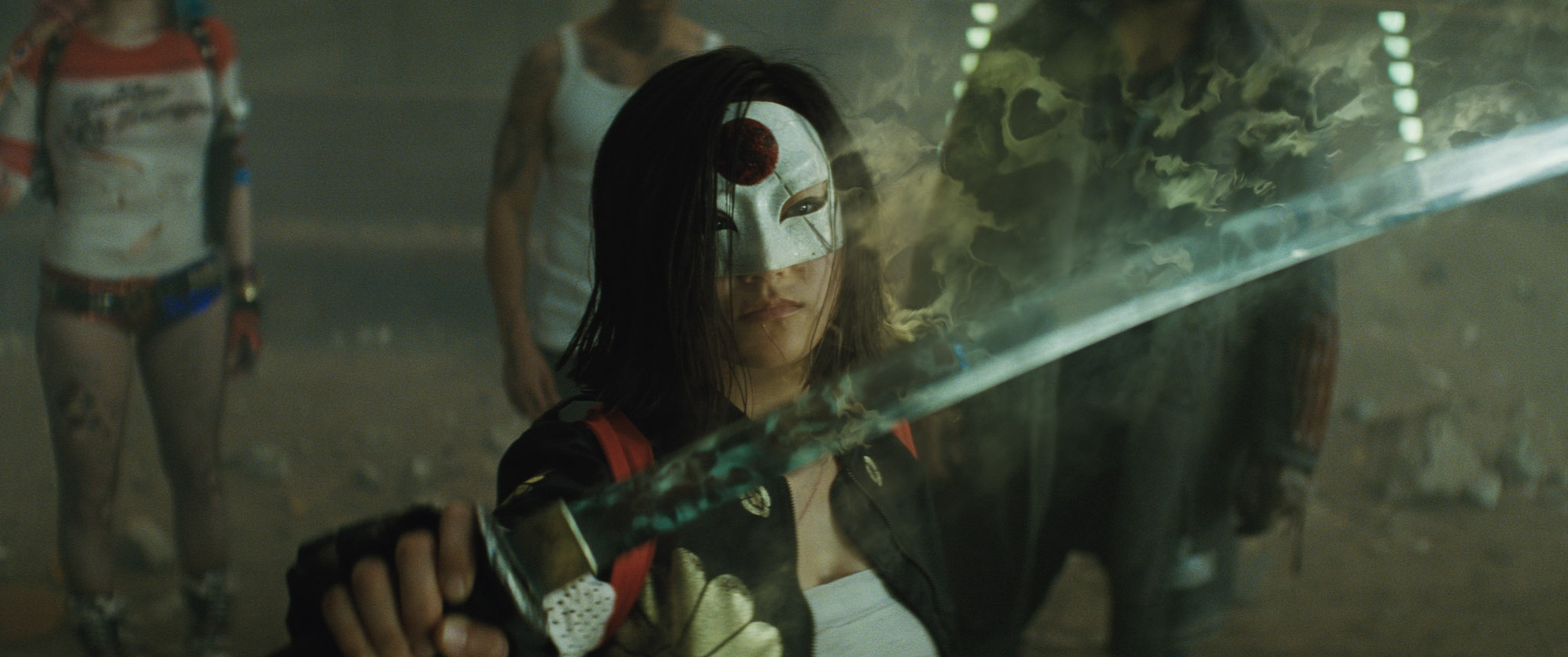 It was in the 14th  Century that the Soultaker was born, a legendary Samurai sword that traps the souls of all its victims, including the beloved husband of the lethal warrior who now wields it—Tatsu Yamashiro /Katana, played by actor and martial artist Karen Fukuhara.
During a conversation conducted for Playboy's "No Filter" Fukuhara said that she "…Always wanted to play a samurai warrior […] Samurai are almost always male, so growing up in America I had a hard time figuring out role models. Katana and I may not have the same personality, but coming from the same cultural upbringing, we share core values."
 KILLER CROC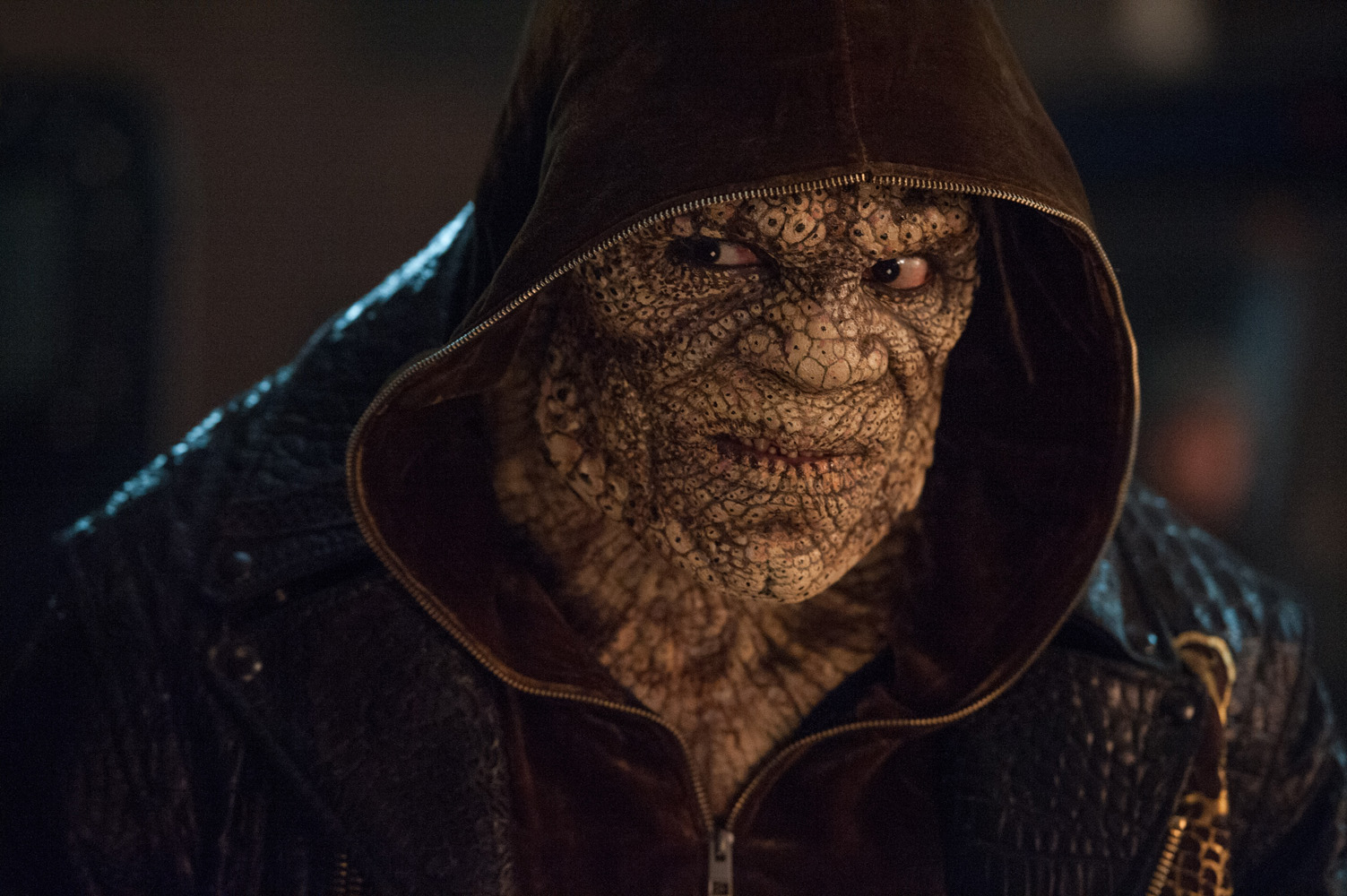 It takes five hours for the team from Greg Nicotero's KNB FX (Killer Croc supervising makeup artist Christopher Nelson and makeup artist Sean Sansom) to apply the facial prosthetics and two inches of foam that transformed Adewale Akinnuoye-Agbaje into the scaly, subterranean, meta-human cannibal Killer Croc. He also has to don 40 lbs. of the crown jewel of Killer Croc's "sewer bling" (his crocodile leopard jacket emblazoned with golden rendering of his namesake) created by costume designer Kate Hawley. So bulky was his gear that his cast-mate Adam Beach gifted the actor with a special on-set Killer Croc recliner as a place to rest between takes.
ENCHANTRESS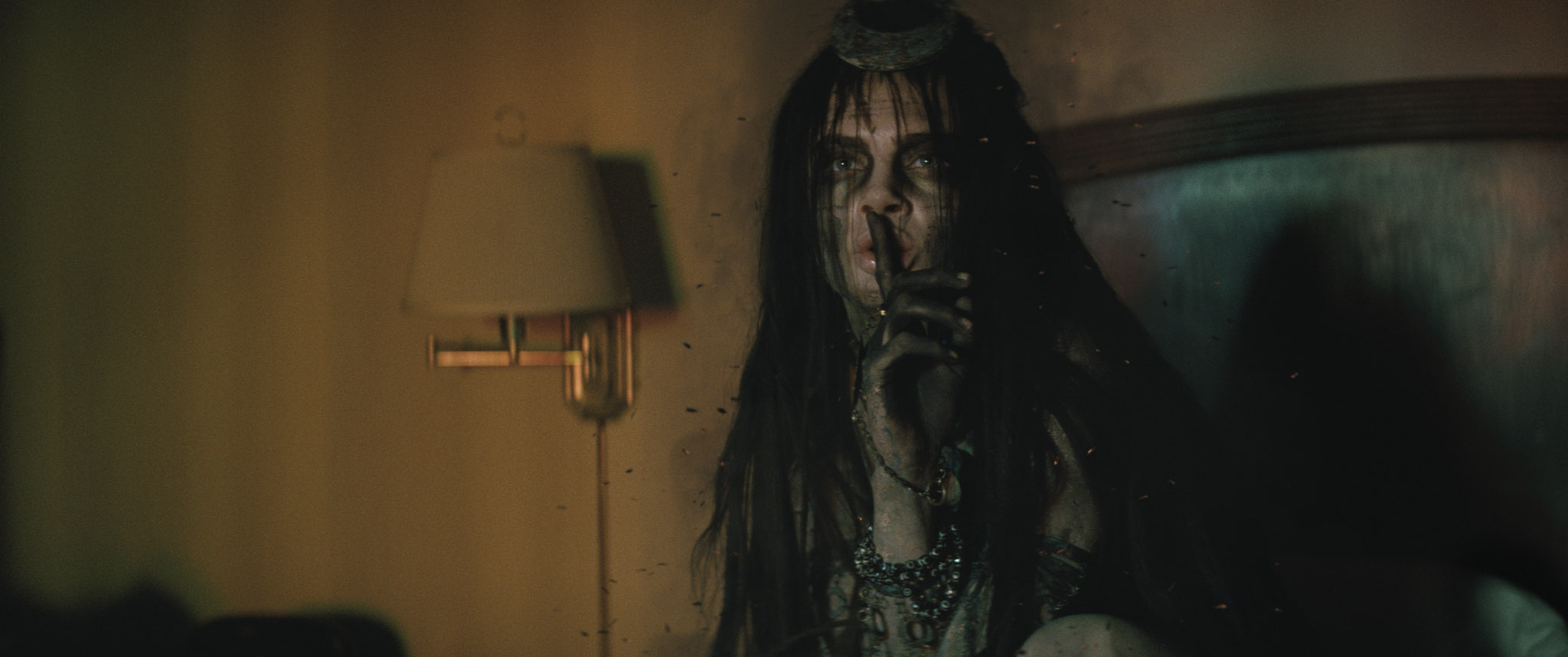 It takes three hours for Cara Delevingne, with makeup and hair designer Alessandro Bertolazzi and his team, to be transformed into June Moone's alter-ego, Enchantress. Included in her regimen are three workouts held daily on the production's on-set gym. This is attended by cast and crew alike and run by physical trainer Pieter Vodden, who also put the actors through their paces during pre-production training.
CAPT. BOOMERANG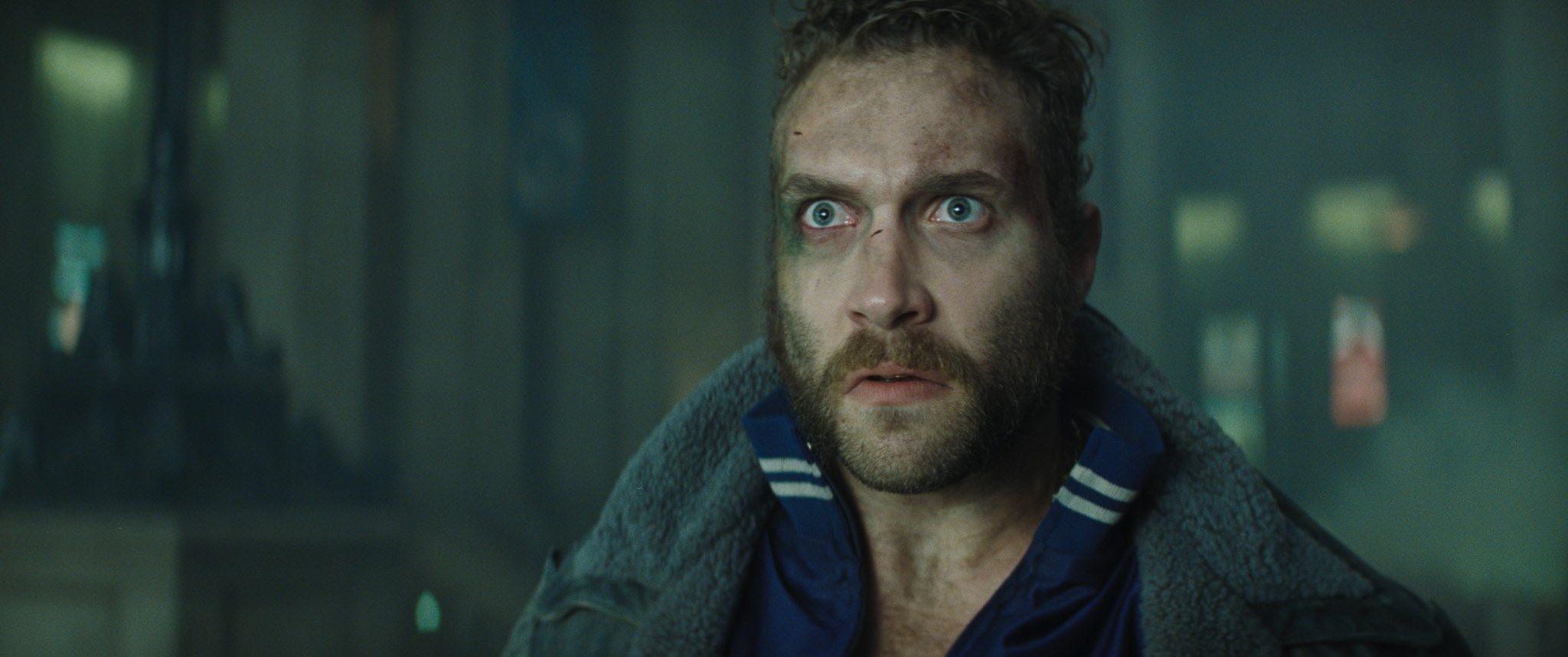 Capt. Boomerang has two curved, boomerang knives wrapped with military paracord, hand-crafted by property master Dan Sissons and deployed with style and maximum menace by Jai Courtney as Australian roughneck Captain Boomerang.
EL DIABLO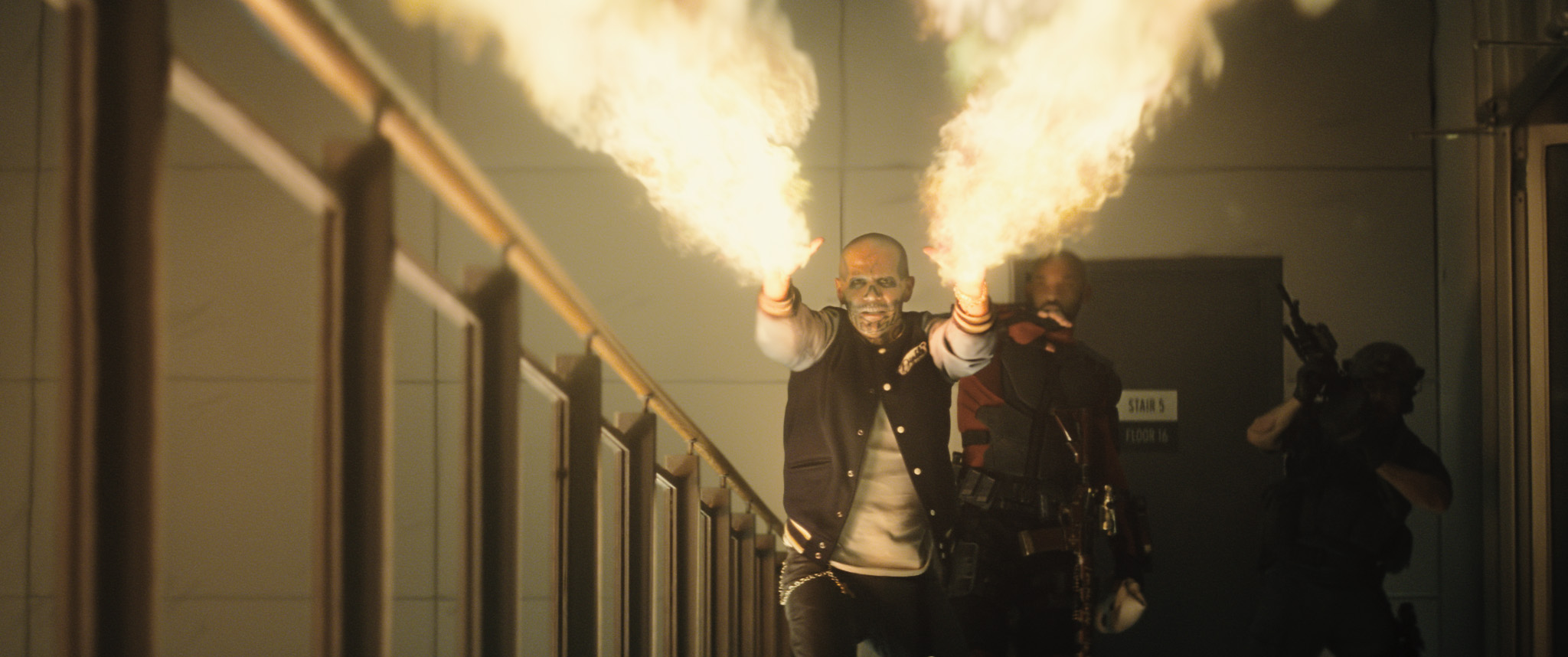 There were 30 foot-long flames rigged practically on set by special effects supervisor Michael Innanen and his team for a live stunt by Jay Hernandez in which El Diablo gives the Squad its first glimpse of his awesome pyrotechnic powers. It also took 5,000 gallons of water poured into a specially created tank to illustrate the precautions taken to move the incendiary El Diablo from his cell at Belle Reve Penitentiary.  Committed to performing the stunt himself, Jay Hernandez endured total submersion for the nearly five seconds it took to fill the tank to maximum capacity.
DEADSHOT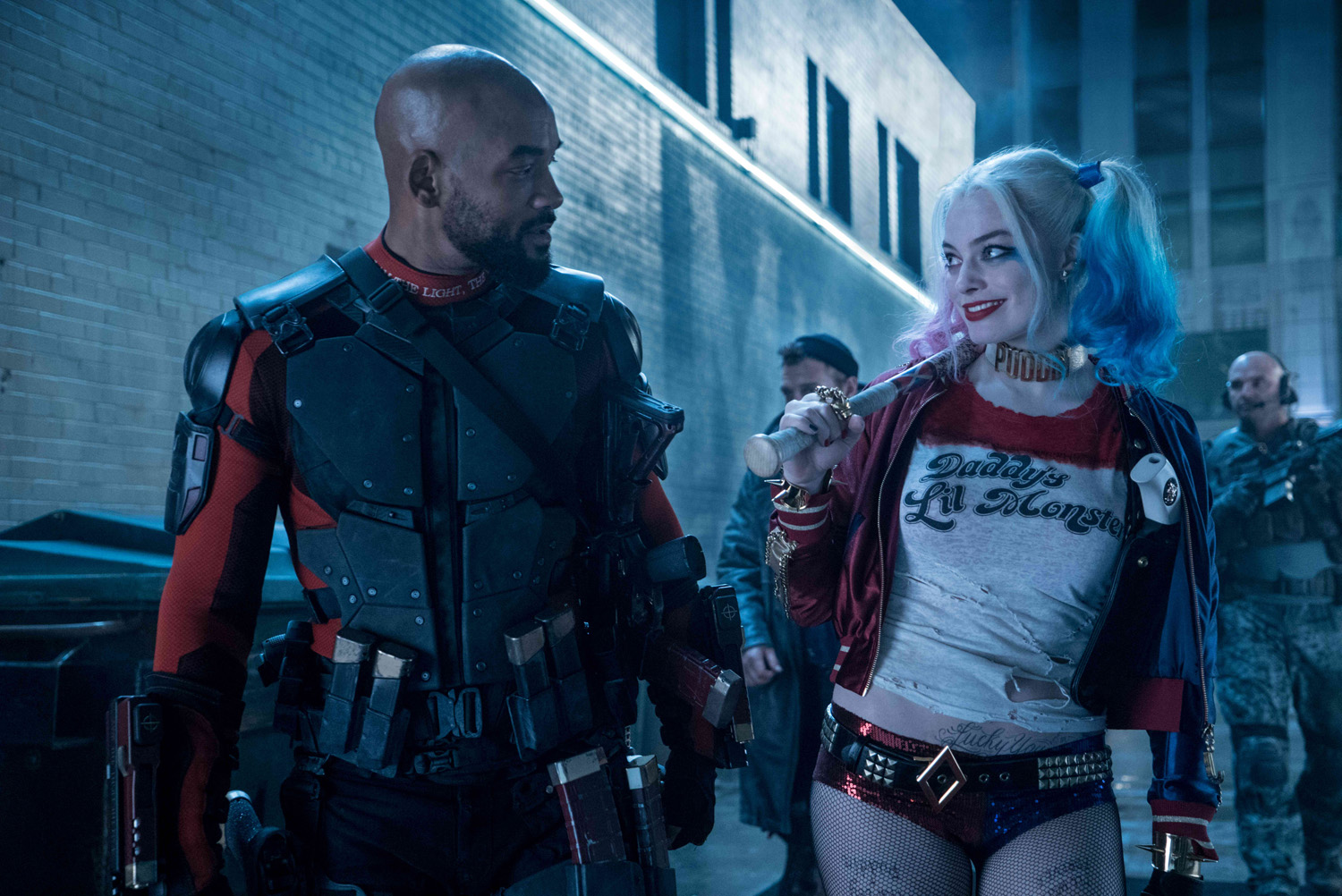 The Man Who Never Misses is equipped with two fully functional wrist magnums that put the trigger right in Deadshot's hands. "Deadshot has a daughter he loves more than anything, and he wants desperately to be a great father," revealed Will Smith in the production media notes. "But at the same time he keeps the lights on by being a hitman. He's deeply conflicted by the paradox of his love for Zoe and the fact that he gets pleasure out of ridding the world of trash."
HARLEY QUINN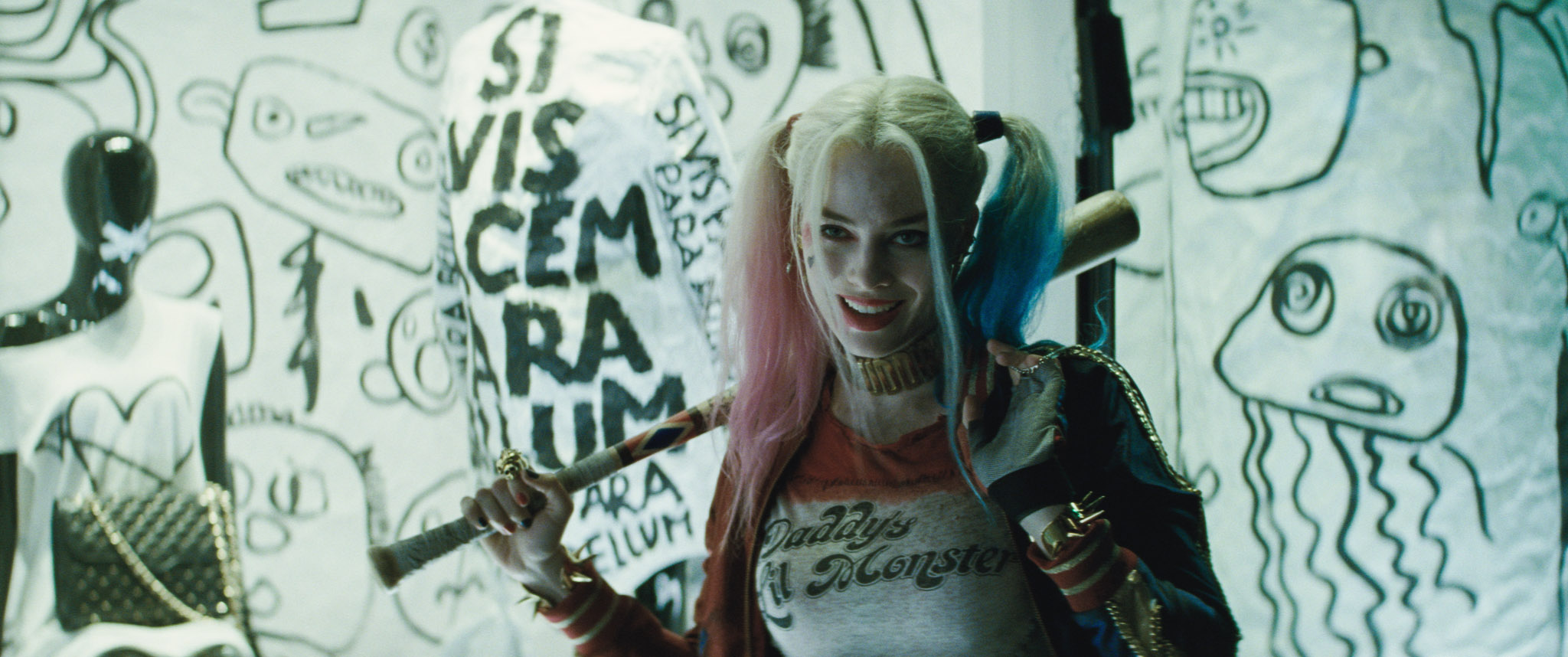 Former psychiatrist Dr. Harleen Quinzel wears her heart on her sleeve. She openly expresses her love for the Joker, a man she was once assigned to psychoanalyze at the notorious Arkham Asylum prison, but for whom she now brands herself with tattoos that bear his name and symbols.  20 tattoos are applied to Margot Robbie each day, designed by production tattoo artist Rob Coutts, to aid in Robbie's transformation into Harley Quinn. Robbie also spent six months near her home town on Australia's Gold Coast in which she trained with the stunt team in a rigorous schedule that included strength, gymnastics, jiu-jitsu and marksmanship.
"Why does [Quinn] love this guy?" said Robbie, grappling to bring humanity to the role of the deranged former psychiatrist. "It was one of the things I really struggled to crack with this character.  She's so strong and smart and such a badass, she's just awesome, but then she falls to pieces over this guy all the time. It's something I didn't like about her because I didn't understand it at first. So, because she's a psychiatrist, I decided to do research into the concept of codependence. I was taken by the idea that people could really live their life for one person. And it turns out it's not really about the person, it's a compulsion like alcohol or drug addiction. Once I thought of her relationship with Joker in those terms, as an addiction, I had a world of empathy for her."
Suicide Squad is Rated R-13 by the MTRCB and opens in 3D, 2D and IMAX 3D cinemas on Thursday, August 4th.
All photos courtesy of Warner Bros Pictures.
Are you pumped to watch "Suicide Squad"? Tell us why in the comments!