There's a certain level of expectation when they tell you that this is the "first Filipino film shot in Greenland." The first thing that comes to mind of course is that it'll be one of those diaspora experiences of heartbreak and woe as an OFW, at once casually dismissive and definitive. Nothing wrong with that, but the trappings of the genre are now familiar scaffoldings to Pinoy pop culture cinema that there's very little room for creativity or even surprise.
So it was with real delight and genuine surprise at the screening to behold that, true to form, Nuuk as directed by comedy and rom-com stalwart Veronica Velasco is actually a classic noir mystery dressed in the garb of the immigrant experience.
And yes, the icy, sub-zero setting of Greenland, its cultural mood and social ambience, are as intrinsic as the "Pinoys abroad" theme.
ALICE AND AGA ON ICE
View this post on Instagram
When the movie begins Alice Dixson, playing widowed Filipina immigrant Elaisa Svendsen, is trudging through the thick snow, passing through the small town of Nuuk, the capital of Greenland. On a big screen at the town center is a news clip where a man is talking about how his young girl committed suicide after catching a big halibut on a recreational fishing trip.
Elaisa is also estranged from her biological son, Karl—whom we later on get to know has his own problems regarding ethnicity and mental demons. In the opening minutes we witness Elaisa fail to get her Prozac prescription renewed at the local pharmacy, as she's still struggling with her grief over her husband's death.
Meanwhile, Aga Muhlach plays Mark Alvarez, another Filipino who works in Nuuk as part of a fish importing company. He bumps into Elaisa at the pharmacy where he's just scored his own bottle of Prozac. Seeing this, Elaisa inveigles him to give her a few pills to get her through the week. Mark relents and gives her some but asks for her number in case he gets into trouble for it.
As Elaisa downs a few pills and washes it down with vodka, she wakes up in a panic and tries to unsuccessfully throw up the pills. She accidentally calls Mark when she asks for help before passing out. From there, Elaisa and Mark develop the kind of deep friendship that only Filipinos abroad can have. But as their friendship inevitably turns to romance, Mark suddenly disappears and horrible things start happening to Elaisa's life.
SON OF ALICE: UJARNEQ FLEISCHER
https://www.youtube.com/watch?v=RdOSj8VIc6I
As Alice and Aga try their best to imbue nuance to their diaspora and OFW characters, it will feel almost too familiar to Filipino viewers how these two fall into the same kind of chemistry, that much lampooned vibe we can almost call "Filipino film" with all its connotations of easy acting and good-enough thespianism. This is a trick that later on proves its value.
But this is why the real revelation here is the half-Filipino and half-Inuit actor Ujarneq Fleischer, who plays Elaisa's prodigal son Karl Svendsen. Feuding with his mother and heir to all the problems and challenges that a half-born teenager living in Nuuk and Flescher not only does a masterful job of portraying the young man  plagued by both social and mental demons, but also keeps his performance at once arresting and nuanced. His scenes light up and it almost feels unfair sometimes that his charisma and skill are so far beyond that of both his co-stars Muhlach and Dixson.
Apparently in a city of 18,000 people, Flescher is almost like the local Tom Cruise if he was combined with Tom Hardy, a known face in Greenland who's been part of the cultural scene for a decade both as a filmmaker and a star. His latest movie is the art house drama Anori (2018), but he's mostly famous for being the host of the Visit Greenland tourism videos, and as a video vixen for Sigur Ros-like, post-rockish band Nanook music video song about—what else?—the polar bear.
NUUK: CITY OF FROST AND LIQUOR
Denmark is known for Lars Ulrich, Nicolaj Coster-Waldau, Mads Mikelsen, Great Danes, and of course Lego. But did you know that Greenland is an autonomous Danish-dependent territory with limited self-government and its own parliament?
Yup. The world' biggest island, about the size of Western Europe and populated by around 57,000 people, is almost its own country under Danish rule. Kind of like Guam or Puerto Rico and the USA. Around 80 percent of the place is permanently covered by a huge ice cap and it's got perpetual daylight for two months each year.
Nuuk is the capital of Greenland and where the film was shot. There are 18,000 people in Nuuk and most of them are from the native Inuit ethnic group, making up 88 percent of Greenland's population. Like many native peoples who are suddenly thrust into modern life (the Cherokee of the US plains and Alaska's Eskimos), it's the coping with the loss of traditional hunting and gathering roles that hurts the most and so many of them turn to drink. The native population has suffered from the same rampant alcoholism since the 1970s.
IMMIGRANT SONG: PINOYS IN A NORDIC NOIR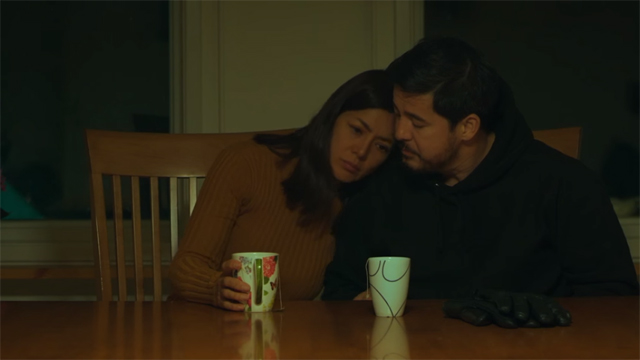 While both Alice and Aga try their best to inhabit the lonely, isolated, and harsh environment of Nuuk, it's quite apparent they're outsiders struggling to fit in. It's a credit to the visual vocabulary of the story that we progressively see them trying to live up to the challenges of life in the far north.
For one thing, the city of Nuuk has rampant alcoholism and suicides among the young. Thus the metro is in itself a personality that cajoles and harasses Elaisa, Mark, and especially Karl. Elaisa's spiral into depression and her recovery to health is set against the sparse sunlight and almost perpetual dark of the landscape. Karl's promiscuity and drinking 'til blind to the world or angry enough to fight anyone will be familiar to anyone who's taken home that one problem friend in every barkada (yung galit sa mundo).
Nuuk has 300 Filipinos living and working in the city, the biggest ethnicity with the Thais coming in second. But our tropical Third World hospitality was apparently still thriving amid the Nordic cold when director Veronica Velasco and her crew shot there.
"The Filipinos there would seek us out, they'd bring coffee, food, snow boots," Velasco said. "A lot of us [Filipinos] are in the food and hospitality industry, and in health and medical services with the Thais. So we'd be at a steak house and we'd just order the sides since the meat is expensive, but then we'd be surprised that a steak would be served since the chef is a Filipino!"
FILMING AT SUB-ZERO: DIRECTED BY VERONICA VELASCO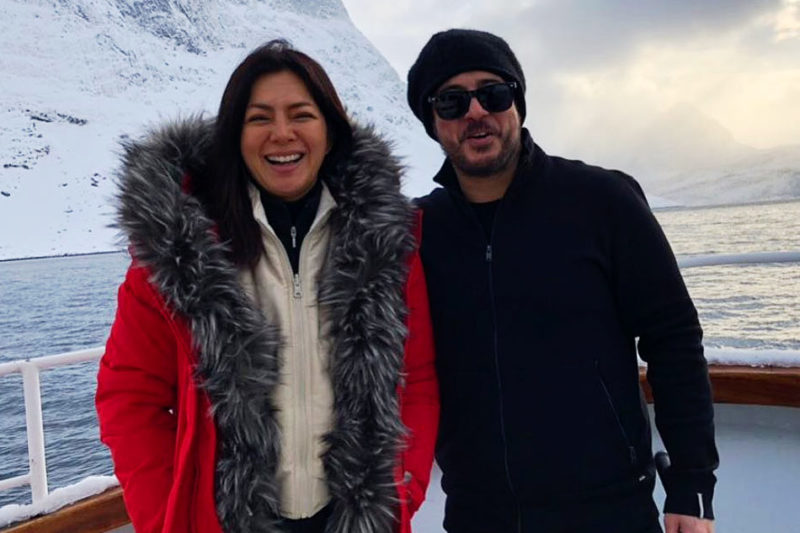 Considering the bulk of Veronica "Roni" Velasco's filmography lies in the comedy and rom com genres, it's a massive revelation that Nuuk as a quiet crime thriller came to fruition this well. It's certainly a departure from her films last year, Through Night and Day and Single Single: Love Is Not Enough but there is an implicit understanding that Nuuk would not be a commercial project at all.
Still, admitting that she had naively started the film without full cognizance of the environmental and infrastructure challenges was paramount but nevertheless instrumental in how they completed the movie.
Filming at sub-zero temperatures and in the snow was one such trial. "Just standing there filming is excruciating in the cold. You have to have a lot of know-how about moving, walking, and just being able to stand in the snow," said Velasco to 8LIST. "We shot one scene, where it was supposed to be a local reporter talking about suicides in Greenland, and our crew kept sinking in the snow, but the local actor playing the reporter remained steady since he knew how to stand in the snow."
TEENAGE WASTELAND: SUICIDE IN GREENLAND
One of the themes in the movie is about Nuuk's issues: alcoholism and the high rate of suicides. Understand that the image of the drunk, Inuit Greenlander has become so common that it's a racial stereotype in Denmark.
Add to that how suicide is the leading cause of death among young men aged 15 to 29 and you can see how Karl, as the drink-loving and prodigal half-breed son of Elaisa the Filipina, is constantly mired in a sense of outrage or sorrow: he feuds with his mom, sleeps with plenty of girls, is barely emotionally stable, troubled by his efforts at intimacy, and struggles to find his sense of place on the world, never mind his identity.
Greenland's suicide rate among the young, the highest in the world, is no joke. It's 24 times more than the rate seen in the United States and rivals that of Japan (where ritual suicide is almost a holy thing) by miles: Japan has an annual rate of about 51 people per 100,000 inhabitants, while Greenland's is 100 per 100,000. Shootings and hangings account for 91 percent of male suicides and 70 percent of female suicides, since most every home has firearms for the hunting that is still a major past time in Greenland. In the Greenlandic language a noose is called "our Lord's lasso."
In the movie, signs of this suicide epidemic are all around, in news clips that play on the town's screens, in stories about Karl's friends, and in the near-suicide of Elaisa herself (though she denies she needs help) as she battles with depression through the same drink and pills that Karl uses (even as she scolds him for it).
DENOUMENT SERVED COLD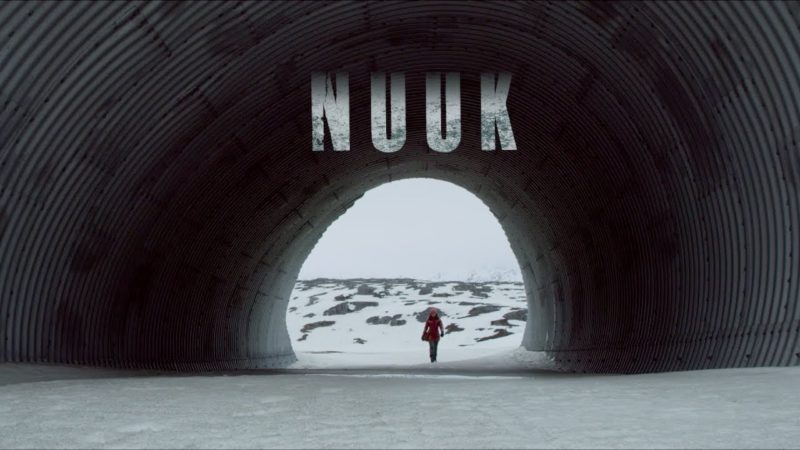 It is important to understand how this milieu, the sub-zero world of Nuuk and its suicidal atmosphere for young people, figures in the movie and how it moves the characters to unexpected actions.
Without spoiling the major twist, and the filmic bread crumbs that lead you to it, the kind of nuanced mystery that evolves from a place of harsh winters and almost perpetual cold is very different from one that would have been written by a Filipino that's set on his native soil.
Thus it is important to also come armed with the context of how suicides among the tribal Inuit of Greenland stem mostly from the deadly effects of rapid modernization and unprecedented cultural interference. Studies have shown that there was already a precedent in how the communities of the American Indians like the Cherokee and the Apache, as well as Alaskan Eskimoes, folded under the same social pressures.
Towards the end of the movie, the revelation and the execution of the plan as it serves the plot will not only feel apt, but also justified. It asks: what would you do in the throes of your sorrow, alone in the freezing dark?
THE NORTH REMEMBERS

What is Nuuk but the Filipino interpretation of that sub-genre that is Nordic noir?
With the trappings and conventions of the genre enshrined in big hits like Smilla's Sense of Snow by Peter Hoeg (and the 1997 movie starring Julia Ormond) and The Snowman by Jo Nesbo (which has a 2017 movie of starring Michael Fassbender), it's amazing but not entirely surprising that the crew of Nuuk arrived at the almost the same narrative accouterments organically. They even managed to insert touches of tropical gothic to their mostly white canvass of a film, one that's daubed in red.
I immensely enjoyed Nuuk, though it's far from perfect, especially the pacing—a  sludgy, indulgent, and ponderously molasses first act that could have been cut in a way where the whole enchilada could proceed faster. Though I suspect that slothness is a feint to weed out those who'll walk out early, inevitably missing the satisfying the second and third acts. But never mind that, the impatient and the foolish will reap their own FOMOs.
What I loved about Nuuk isn't just how the clandestine clues get tied up smartly and eloquently, but also in how it brought out unfamiliar and therefore impressive performances out of its main Pinoy stars (I suspect even Alice and Aga were surprised at their thespian breakthroughs on this one), acting that was almost as primal as it was cathartic. It is full of its own truth and therefore true to its audience, constructing a way to teach us how to watch it; a language of ice, dark, and sorrow.
Watch it. And, oh, don't skip the end credits drone sequence.
"Nuuk" is screening at the 5th Danish Film Festival, from Oct 9 to Oct 13 at the Shangri-la Plaza Mall.