8 Predictions for this Week's UAAP Action
Sep 16, 2015 &nbsp • &nbsp Naveen Ganglani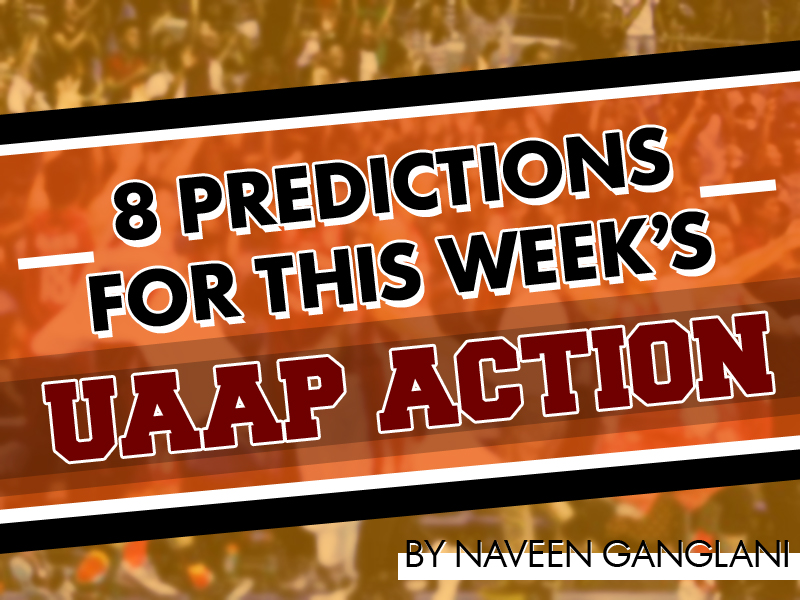 Hurrah, we have another week of UAAP action ahead of us! That means six more games of our favorite collegiate teams and players, more courtside reporters on TV (yay!), and a truckload of trash-talking to look forward to with our friends from other schools.
Aren't you excited? Here are the games this week:

So, what's going to happen? Who's going to win? Who's going to drop 50 points? Who's going to be dancing with the Mogu-Mogu mascot? (Oh, you know that's always a favorite!)
Here are a few things we're looking forward to.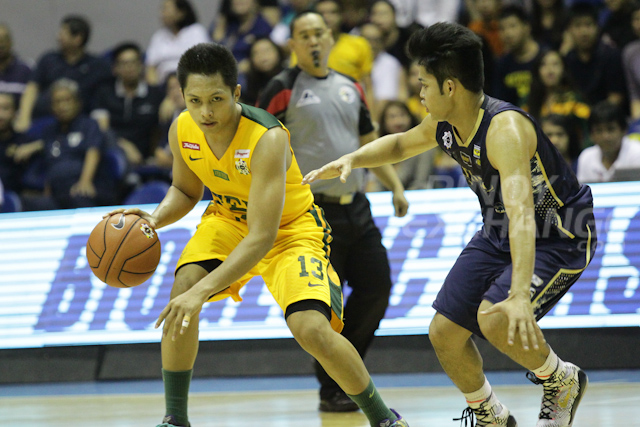 If one could wager a guess, it's probably going to be the UP-FEU game. Nearly two weeks into the UAAP season and we haven't had an overtime contest yet. There have been quite a few close games, but none that have required an extra fives minutes of play. We have a feeling that's about to change.
The Growling Tigers have clearly been the best team in the league so far, but we predict that they're about to suffer the first L on their record. They only have one game this week (and against the defending champions, at that) and we're not loving that match-up for UST. When the dust settles on Saturday, Growling Tiger fans aren't going to be happy.
Here's a suggestion for the "What nickname should we give Ed Daquioag" conversation: how about "Ed the Terrific."
No? Yes? Well, let's try to make it catch on! The Growling Tigers star has been playing like a madman lately. He was just named the player of the week, and we feel that he's going to have another 20+ point performance against NU.
Did you know NU was 4-0 against Ateneo last season, and was the team that eliminated them in the Final Four round?
Did you know the Bulldogs also went 2-0 against the Blue Eagles the year before?
Did you know NU will defeat Ateneo again on Wednesday? Just kidding, Blue Eagle fans.
I think it's going to be another close game between both sides, but I'm kind of feeling National U winning again. They're just a bad match for Ateneo, especially with Alfred Aroga's size advantage. Also, we're assuming they're going to come out fired up after falling to 0-2 this early on.
We do, however, bet on the Blue Eagles defeating the Red Warriors on the weekend—but not before their fans see them throw the ball away a lot.
That vaunted UE press defense is still terribly tough to deal with, and it's going to take some Kiefer Ravena heroics (something Red Warriors fans are used to seeing) for Ateneo to take the win.
Yeah, it wasn't exactly a great past week for La Salle fans. You already know the details, so let's not get into that.
One guy who's been struggling of late is Jason Perkins. Maybe he's still getting used to his lighter body, maybe he's just missing shots, or maybe he's not yet used to his new teammates. We, however, have a feeling that he's going to have a strong bounce back game on Sunday, and the Green Archers will snap their current skid.
Also, it's a currently winless and inexperienced Adamson team they're facing, so that should help.
We just can't wait for the reactions on Twitter.
Who doesn't like this year's UP team. How could you not?
They've already won two games, which, is already more than they've won the past two years. Even in the loss to UST, they kept fighting the entire way even if they trailed early. These Fighting Maroons are legit. They don't give up. They keep coming for you.
The problem is, FEU is just too good. Just ask La Salle fans.
We see UP taking FEU to the limit, but Mike Tolomia and Mac Belo will ht big shots late to deliver the victory.
How do you think this week's games will go? Sound off in the comments section below!