This Week in Weird News: Snow on the Sahara Edition
Dec 23, 2016 &nbsp • &nbsp Kevin Christian L. Santos
If the worsening traffic and throngs of people in malls are any indication, Christmas is just a few days away. You'd think things would ease up by now but noooooooo. That Energy Gap song is giving us a migraine and world's weirdness never seems to stop. It's like someone grabbing a spoon full of concentrated weirdness being jammed into our eye socket like a furious bullet train. Seriously, can't things be normal just for once?
That said, let's take a look at the weird wreaking havoc on our holiday season. Merry Christmas, and may the universe have mercy on us.
1. 163 new species found in the Mekong
Wooly-headed bat.
First, some awesome weird news. A report by the World Wildlife Fund has unveiled 163 new species to the world, with all of them being found in the Mekong in 2015. The region is notoriously rich in species, with biologists finding 2,500 new species in the past 20 years.
Some of the new species are:
The "Ziggy Stardust" Rainbow Snake. It must be good at playing guitar with his band The Spiders From Mars.
Next is the Klingon Newt. It must've gotten its name since it looks like a Klingon from Star Trek. Thanks, Caption Obvious.
This is the Phuket Horned Tree Agamid. It looks like it's a big fan of the Stegosaurus and listens to a lot of punk music.
You can check out more discoveries in WWF's feature. These new species just say that there's more out there to be discovered and the fight to preserve our environment is getting more and more important than ever.
2. Pornhub reveals people's searches during Christmas and oohhhh myyyyyy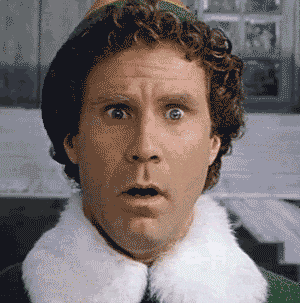 Christmas isn't just the season to spend time with your loved ones and celebrate the season of giving. It's also the season of using your hands (or fingers) to go to the fap cave and take horny self to pleasure town.
Pornhub recently released its findings of people's search terms during the holiday season, noting that "Christmas" experienced a 400% spike compared to the previous 11 months.
Something tells us that "Christmas Creampie" isn't exactly a tasty dessert.
You can check out more findings of the porn giant here. Merry Christmas, ya filthy animals.
3. Cat raps about giving his cat a bath, becomes viral sensation
Rapper Moshow, real name Dwayne Molock, is the newest internet sensation after his girlfriend filmed him giving his cat Ravioli (cool name) a bath while he busted out some sweet rhymes. The self-confessed cat-rapper's video has been viewed more than 1 million times. He later told Oregon Live that his cat is a special breed that requires regular bathing.
If you go on his page, it's clear that the dude really, really loves cats. He even collaborated with the Oregon Humane Society to rap and make a video about adopting a feline companion. Show a cat some love today! Do it for Moshow!
4. Sex shop employees fend off robber by throwing sex toys at him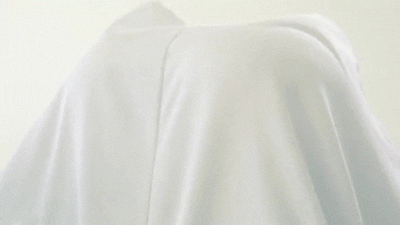 A man attempted to rob a sex shop earlier this week. What he didn't expect was that the employees got no time for his shit, nor the onslaught of dildos hurtling at his face.
CRAZY SURVEILLANCE VIDEO: Sex store employees fight off armed robber by throwing adult toys at him. @ABC7 at 4pm pic.twitter.com/E8QbuxJkEX

— Rob McMillan (@abc7robmcmillan) December 15, 2016
The man was clearly no match for the barrage of sex toys and eventually left the store. It's a Christmas miracle!
5. Guy eats Taco Bell, glues his ass shut, takes laxatives because reasons
.
In "this is why aliens won't visit us" news, a man thought it was a good idea to record himself eat Taco Bell, superglue his ass cheeks shut and drink a bottle of laxatives. Why? It's a mystery.
Suddenly, the future of the human race is looking bright.
6. Richard Marx subdues unruly airplane passenger because not all heroes wear capes
Here's something you don't read every day. Remember Richard Marx? He's responsible for a lot of the cheesy power-ballads you hear in the taxi and bus. Richard Marx and his wife Daisy Fuentes (yes, popular 90s VJ Daisy Fuentes) were traveling from Vietnam to South Korea when they had the displeasure of sharing the flight with an obnoxious passenger. According to Daisy Fuentes' Instagram posts, said obnoxious passenger started violently attacking the flight's crew and other passengers. That's when the "Now and Forever" singer decided he was going to deliver some justice.
Marx was able to subdue the unruly asshat and tweeted about it:
We have video of entire chaotic and dangerous event on @KoreanAir_KE 480. Lasted 4 hours. Crew completely ill-equipped to handle situation.

— Richard Marx (@richardmarx) December 20, 2016
Korean Air 480 pic.twitter.com/Ai9U6CV3qA

— Richard Marx (@richardmarx) December 20, 2016
A TMZ report stated that the man was arrested as soon as the plane landed in Seoul. This just proves one more time that Richard Marx isn't one to be messed with. Wherever you go, whatever you do, he'll be right there waiting to open a can of whoop-ass on you.
7. Snow falls on the Sahara for the first time in more than three decades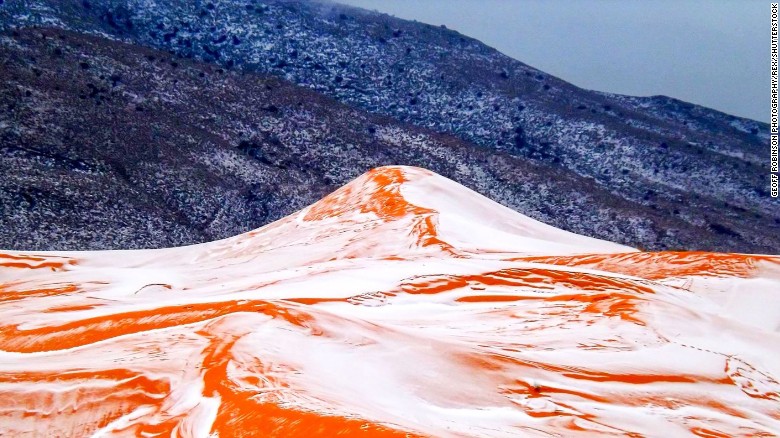 No, it's not just a song by Anggun. For the first time in 40 years, snow fell on the Sahara Desert on December 19. Snow fell on the Algerian desert town of Ain Sefra.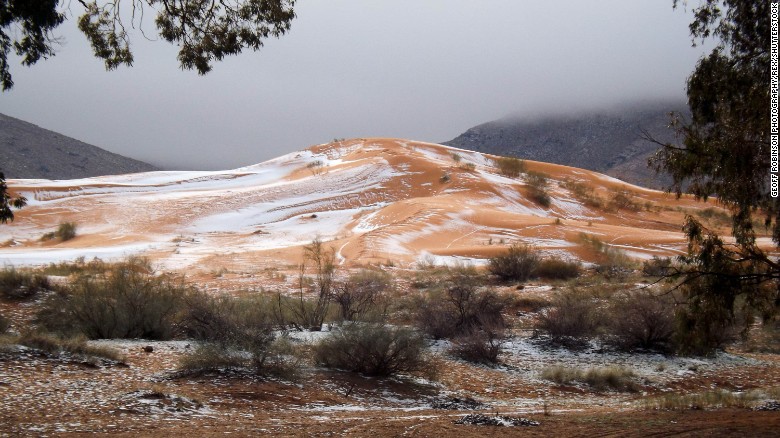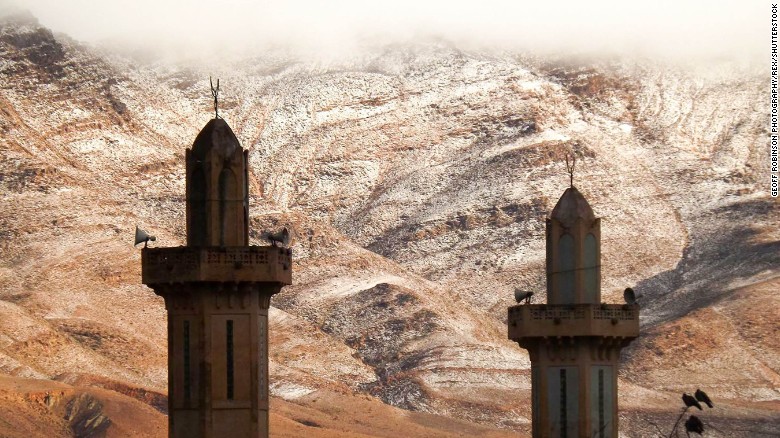 The incredible photos were captured by amateur photographer Karim Bouchetata. The last time snow fell on Ain Sefra, also known as "the gateway to the desert," was in February of 1979.
Covering more than nine square kilometres of North Africa, the Sahara is the hottest desert in the world. How hot? Temperatures can reach more than 50 degrees Celsius. Yes, that is super hot.
8. Deep sea fisherman shares catches on Twitter, results in pure nightmare fuel
Хороших выходных, сухопутные)! pic.twitter.com/wvMxczSjw4

— Роман Федорцов (@rfedortsov) December 17, 2016
Russian deep sea fisherman Roman Fedortsov recently started sharing his catches on his Twitter account, and oh dear God KILL IT KILL IT KILL IT TO DEATH.
Еще раз про #макрурус. #Чешуя как наждачка. #промысел #Баренцево_море #рыба #улов #трал #фото_с_борта_судна #рыбофабрика #траулер pic.twitter.com/5yAscLwEEx

— Роман Федорцов (@rfedortsov) December 12, 2016
То ли рыбы Х, то ли фантастическая двойка… Очередная порция жителей глубин моря. #рыба #fish pic.twitter.com/TFTax13w6k

— Роман Федорцов (@rfedortsov) October 22, 2016
Как вам такая красавица? Та #химера, которая сегодня попалась в #трал. #фото_с_борта_судна #промысел #Баренцево_море #рыба #улов #зубы pic.twitter.com/gl4WWlCboc

— Роман Федорцов (@rfedortsov) December 11, 2016
Для вновь "прибывших" на борт-очередной подводный хищник #промысел #рыба #фото_с_борта_судна pic.twitter.com/o8j1EzTTRZ

— Роман Федорцов (@rfedortsov) December 16, 2016
Seriously what the hell are those things? Looks like something Guillermo Del Toro, David Cronenberg, and David Lynch would come up with if they met up and did a shit-ton of mushrooms together. If this is any indication, we can only imagine what creatures look like the deeper we go.
What's the weirdest thing you've seen all week? Tell us about them below!