This Week in Weird News: Tikbalangs and Sex Edition
Oct 28, 2016 &nbsp • &nbsp 8List
4. Pictures of shiny legs are driving the internet crazy
Look at those legs. Why are they so damn shiny? OR are they even shiny at all? This photo is the new "The Dress" debate and it's driving the internet insane.
Turns out the shininess is an illusion. The legs look blindingly shiny thanks to a few well-placed streaks of white paint.
Given the mindbender, the internet had a lot of feelings:
Once you see it you can't unsee it pic.twitter.com/5mREeJUhYV

— bree (@msbreeezyyy) October 25, 2016
Once you realize that the legs aren't shiny & it's just paint.. you can never see the shiny legs ever again smh pic.twitter.com/71Sk8ZkHVf

— Real Housewife of VA (@Briiseppe) October 26, 2016
We can only guess what image will have us united in a debate next. Maybe we can look at @thingsihavedrawn and debate what he is really drawing.
3. Teenager falls into three-day coma, wakes up speaking fluent Spanish
.
There have been incidents of "sudden genius" reported through the years, in which head trauma or brain damage leaves the victim with a new skill. One such case was Derek Amato, who was able to "see" sound and play the piano and other instruments after suffering a concussion. He had no music training or ability prior to the accident.
Meanwhile, teenager Reuben Nsemoh fell into a coma after getting kicked in the head during a soccer game. Now, 16-year old Nsemoh woke up speaking fluent Spanish after waking up from a three-day coma. His first words waking up was "tengo hambre" or "I am hungry" in Spanish.
Given that there have been cases of "sudden savants" it would be interesting to explore this phenomena more. But for the love of God, don't ask your friends to kick you in the head just because you want superpowers.
2. Family claims to have tikbalang as a guardian
.
In a province in Northern Luzon, a man claims to have a tikbalang as a family guardian, ABS-CBN reports.
75-year old Mang Rogelio says his father has an unusual friend. Though he says he hasn't seen the creature or what it looks like, he claims that the being in question looks like a horse and that it smells bad, because of course it does. He further goes to say that his father constantly talks to the creature while outside the house.
Even if his father has passed away, Mang Rogelio says the tikbalang is still a constant presence in their home. He feels the presence and the tikbalang's stench is always there.
Seems legit.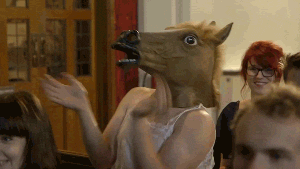 1. Man sleeps with a decomposing body under his bed for three weeks
Over in Pennsylvania, a man was charged with the abuse of a corpse after police found a body in a garbage bag underneath the man's bed.
A tip sent to police said that a dead body was in Donald Teaford's home. When police arrived, they were met with a "heavy smell of perfume."
Officers searched Teaford's bed and found a garbage bag with a boot hanging out. There was also a knife next to the body. Officers said that DVD players and a purse were used to hide the corpse from plain view.
The man who tipped the police said the body has been there for three weeks, and that Teaford regularly took heroin with the victim.
If that's not enough, police also added that Teaford's girlfriend also died on the same bed from a heroin overdose.
The lesson here? Don't do heroin.
What other crazy news has the internet dropped on us this week? Share them with us below!