4. British pub claims to have its ghost stolen, demands artist to return it
Don't you just hate it when someone steals your ghost?
The Ye Olde Man and Scythe, a 765-year-old pub in England, claims to have its drinking halls haunted by a ghost. They believe it so much that they even posted a video capturing the alleged apparition. The ghost in question was James Stanley, who was beheaded outside the pub in 1651.
The ghost is now nowhere to be found, and the pub's owners are blaming artist Lu Pingyuan for stealing it. On his website, Lu claims to have captured the ghost in a ""a symbolic act in reaction to the UK's colonialist past, which saw great losses of both tangible and intangible cultural assets by other nations."
Pub owner Richard Greenwood are demanding its return to restore the natural order of his establishment, and is even willing to trade the chair Stanley allegedly sat in for his last meal. Lu said the ghost can return, but only if it wants to. He needs to talk to the ghost and ask him if it wants to go back to the pub or remain as a work of art. We are not making any of this up. We can only imagine what the ghost is feeling.
3. Russia's Daldykan River turns blood red
Over in Russia, the Daldykan River has turned blood red. Locals are blaming the change to a crimson color to a leak at a nearby nickel plant Nadezhda Metallurgical Plant.
A company source from Norilsk Nickel, which runs the plant, says "as far as we know, the colour of the river is today no different from normal." Hmm, last time we checked, rivers aren't supposed to be red. Unless of course, the plant has been making blood sacrifices to please Cthulhu, bringer of the end times. But we digress.
A spokesman for Norilsk Nickel said that news of a leak of industrial waste has not been confirmed, but they will be monitoring the situation and reduce production at the facility.
Corporations are always looking out for the best interest and well-being of the public, right? Right.
2. Abbess accused of torturing nuns for years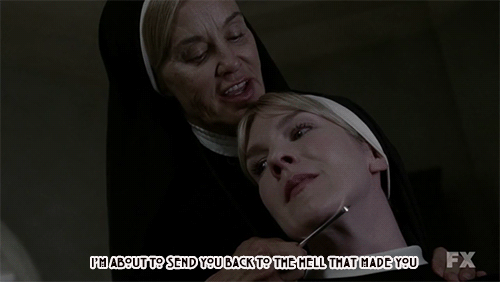 Over in the city of Nogoya in Argentina, an abbess is currently being investigated after a former nun told police that she suffered years of torture and abuse, The Mirror reports.
The former nun claims that she along with other sisters were routinely beaten with a whip covered with melted wax to make it harder, and the sisters were expected to use the device against each other while living in the Convent of the Congregation of Discalced Carmelites.
The abbess also approved certain convent rules, one which includes nuns must scourge themselves every Friday and three times a week. They must also wear a spiked belt and a crown with wires during Lent. The head of the Catholic convent has also launched an investigation. The abbess, identified by her religious name Maria Isabel was also charged for ""unlawful deprivation of liberty."
A now deleted Facebook video shows the Carmelites denying any abuse. Smiling, they said the charges are an "invention" and that "this is a life of penitence, not torture that is a word that was totally distorted."
Well, if being hit with a whip covered in melted wax isn't torture, we can only imagine what torture is for them.
1. Man gets balls stuck in Ikea chair
Claus Jørstad, now known as the world's unluckiest Norwegian, bought a Marius stool from IKEA so he'd have place to sit on while he showered. Sheer genius. During one of his latest sitting-down-in-the-shower-while-I-contemplate-life's-musings episodes, one of his testicles got stuck in one of the seat's holes when the hot water he was bathing with caused his nuts to expand.
Luckily, the drop in temperature allowed his gonads to shrink again so he can free himself of his furniture shackles. He then took to Facebook to warn of the dangers of getting your genitals stuck in one of IKEA's pieces, because of course it's inevitable.
Ever the good sport, Jørstad later posted another picture of his stool with a towel on top of the nut-grabbing captor.
Lesson here? Don't sit on a stool with holes in them.
Did we leave anything out? Think you can come up with weirder? Fire away below.