4. Chucky has a sister and aww hell no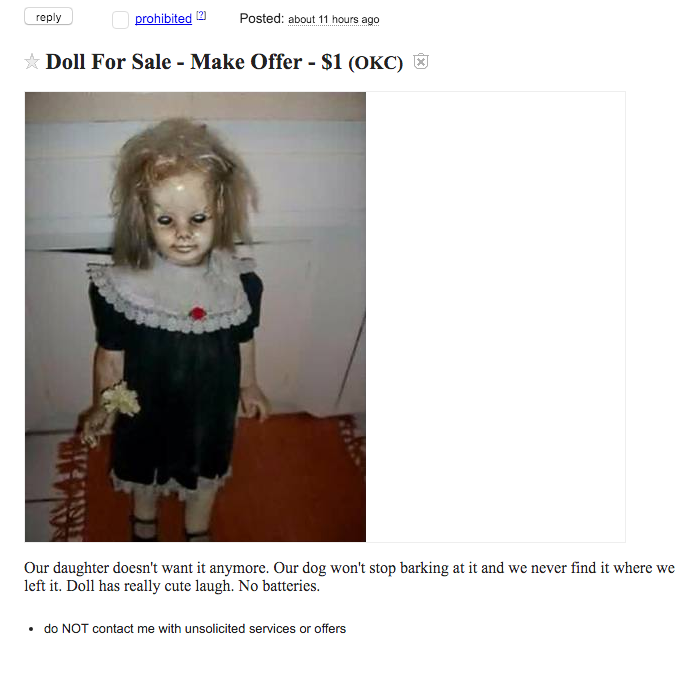 Nalulungkot at walang makausap? We have just the thing for you! An ad for a doll recently popped up on Craigslist showcasing a beady-eyed doll in a dress and clutching flowers in her hand. As a plus, it has a "really cute laugh," perfect for when the damn thing is about to murder you in your sleep. If you're planning to buy one, make sure you have an old priest, a young priest and a rocket launcher on hand.
3. New social media trend shows women kissing and sniffing their boyfriend's armpits because why not
https://www.instagram.com/p/BCnEEYeqskL/?taken-by=ryanmizard
https://www.instagram.com/p/BDfscJyI0tk/?taken-by=pegasusgengs
Indonesian couples are trying to start a fad wherein they post pictures of women smelling and kissing their boyfriends' armpits on Instagram with the hashtag #ciumketekpacar.  According to the Daily Mail, one caption read "I cannot lose you, because if I ever did I'd have lost your underarm essence." Could pheromones play a role here? Does sniffing the armpits act like a drug, giving you a euphoric head and body high akin to some dank kush? Who knows, this may be true love to them and no one can fault that. Let's just hope that the men in the relationships make sure they have deodorant.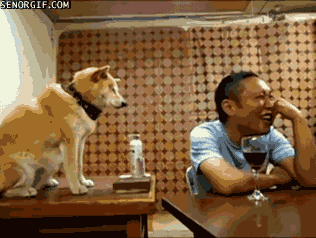 2. New documents reveal cannibalism in Nazi concentration camps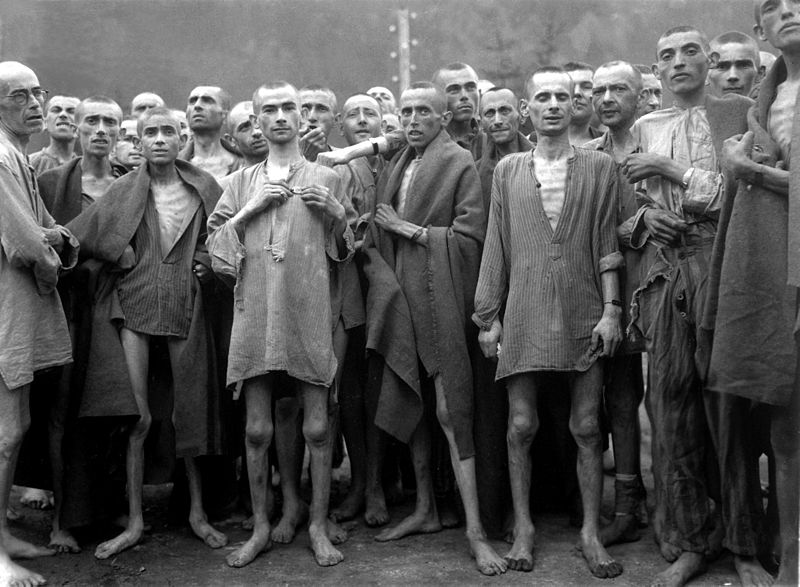 New testimonies from Nazi concentration camp survivors revealed some of the atrocities they witnessed first-hand in the camps, Vice reports. These horrors include prisoners being beaten and hanged to death, as well as instances of crucifixion. Rampant cannibalism was also apparent among prisoners. The documents also showed how survivors are struggling to get remuneration for their suffering. Currently, only 1,015 out of 4,206 have been successfully compensated. For the crimes that they had to witness and go through, let's hope that all of them get what's fair to them.
1. Say goodbye to lonely nights, say hello to the virtual sex suit
As if you needed more reason to say "WTF JAPAN," a company has recently unveiled their latest creation: the Illusion VR sex suit. The suit is a combination of the virtual reality headset the Oculus Rift and masturbatory aid cup from Tenga. The headset allows the users to view and engage in virtual porn, while the suit comes equipped with numerous sensors to replicate human contact. In addition, the suit comes with a pair of breasts for you to fondle and a cup that stimulates your genitals.
So far, the suit is only available for men and retails for about $400 USD. Who needs the touch of a real human being when you have this thing? However, if you want your virtual pleasure now, tough luck. The product is currently out of stock.
Got any weird news to share? Sound off in the Comments Section!