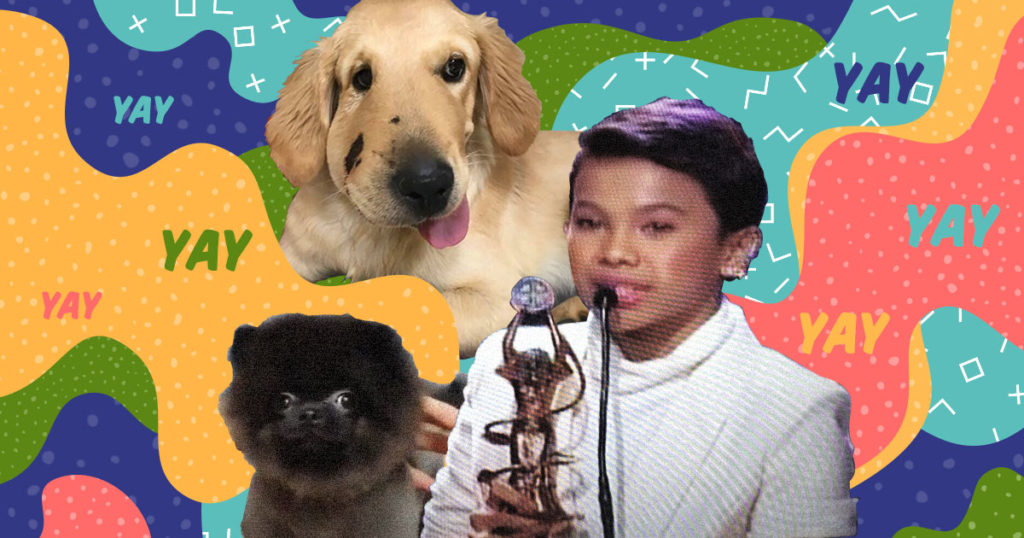 Yay Thursday! |
Cute Dogs and Millie Brown
Edition
By Abu Poblete

Let's take a break from all the basketbrawl posts flooding our timelines and get a load of this week's pampa-good vibes we've curated just for you!
Cherry Mobile ang sagot sa lahat
Cherry Mobile sagot sa lahat ng sakit pic.twitter.com/D2JGnZsjfL

— Jollibee Spicy Chicken Joy (@aiansalaysay) July 2, 2018
Thank you, kuya Willie!
That escalated quickly!
Hayop!! Hahaha. Tawang tawa parin ako till now. Hahaha. 😁😁😁 pic.twitter.com/RMkM2BotKv

— Inigo Demetrio (@itsnotjustInigo) July 1, 2018
Ui, pahiram naman ng notes
Ayaw mo kasi tumabi e, di ko namalayan na nadrawing na din pala kita pic.twitter.com/I5pegOT0zG

— Dₐₙᵢₑₗ💨 (@TheNyeeel) July 3, 2018
'Wag kang bibitiw
Sponge Cola:
WAG KANG BIBITIW BIGLA HIGPITAN LANG ANG YONG KAPIT MAGLALAYAG PATUNGONG LANGIT

Me: pic.twitter.com/F3i7m4s9xd

— SALBAKUTA KINABALU (@keiakamatsu) July 2, 2018
ANG CUTE IH??
*dry food crunches*
Ridiculously small kitten: "Myam myam myam. Njam njam njam njam njam njam njam! Myam myam myam nyam nyam myam. Mmmam. Mrrrrram. Meep!" pic.twitter.com/6Wpy2xMK4q

— Haru ⛅ (@RelktntHero) June 30, 2018
GIVE THIS GOOD BOY A BONE
This is Todd. He saved his human from a rattlesnake yesterday. A true h*ckin hero. He's expected to make a full recovery and has been rewarded our fifth ever 15/10 pic.twitter.com/TsS6isI0Ew

— WeRateDogs™ (@dog_rates) July 1, 2018
Separated at birth?
millie bobby brown looks so good😍😍 pic.twitter.com/ZIoTPbOOYm

— randolph (@rabdolph) July 1, 2018
ANG SAYA NIYA IH
the world: [at the edge of apocalypse]

me: [oblivious, headphones on] pic.twitter.com/6YwYotstzG

— elv (@_ElvishPresley_) June 29, 2018
What are on your list? Tell us below!