Live music fans: get ready to splurge! We have some awesome acts performing in the Philippines this year – from concerts, to festivals, to anniversary tours; check out some of the confirmed shows that we can look forward to in 2017!
Getmusic Indie-Go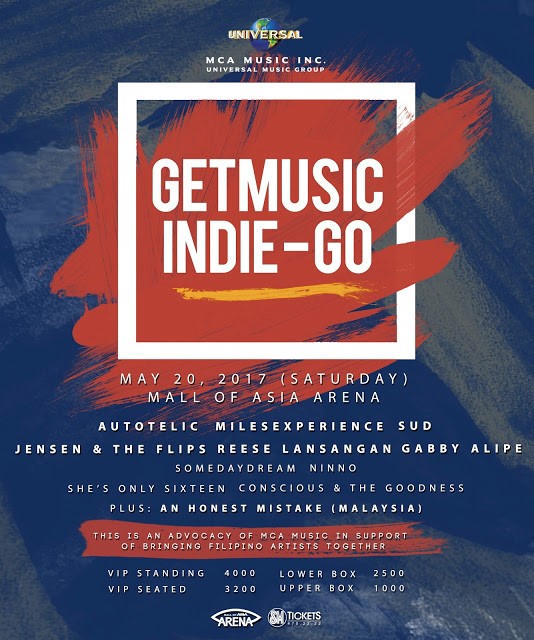 May 20, 2017 – 5:00 pm
Mall of Asia Arena, Pasay City
It doesn't take much to notice that the indie music scene in the Philippines is picking up a lot of pace… and with good reason! MCA Music Inc. is bringing together 10 of the hottest local indie bands for one of the biggest local festivals: Getmusic Indie-Go. The lineup includes Autotelic, Gab Alipe, Milesexperience, Sud, Jensen and the Filps, Reese Lansagan, Somedaydream, NINNO, She's Only Sixteen, Conscious & The Goodness, and Malaysia's An Honest Mistake. This is one festival not to miss!
Ticket Prices:
VIP Standing – P4,000
VIP Seated – P3,200
Lower Box – P2,500
Upper Box – P1,000
Britney Spears in Manila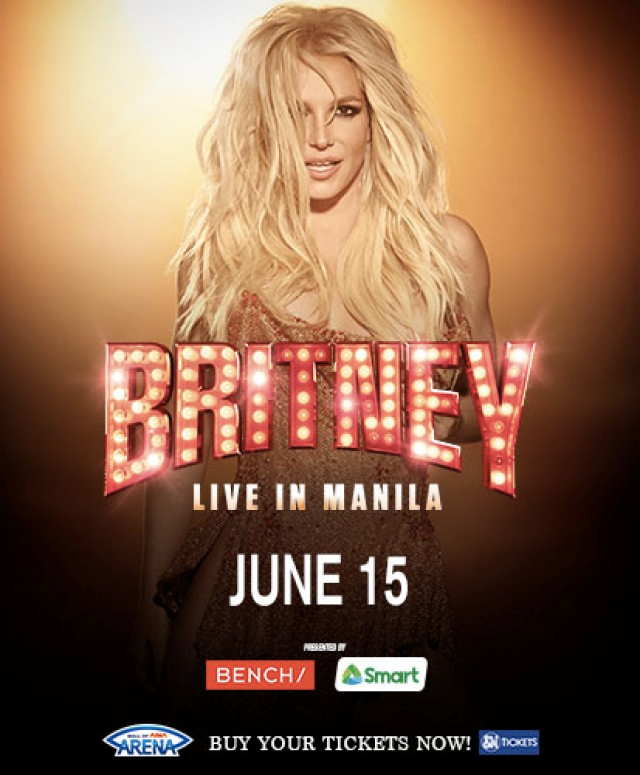 June 15, 2017
Mall of Asia Arena, Pasay
The good news: After years of waiting, the Princess of Pop is coming to the Philippines! The not so good news: you might have to do some digging to fund your dreams of seeing her up close and personal. 90's kids, get hyped and get ready to break out all your Britney moves!
Ticket Prices:
SVIP – P 28,350
VIP – P 23,100
Patron – P 15,750
Lower A – P 12,600
Lower B – P 10,500
Upper Box – P 5,775
General Admission – P 2,625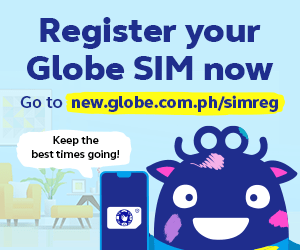 Young Gunz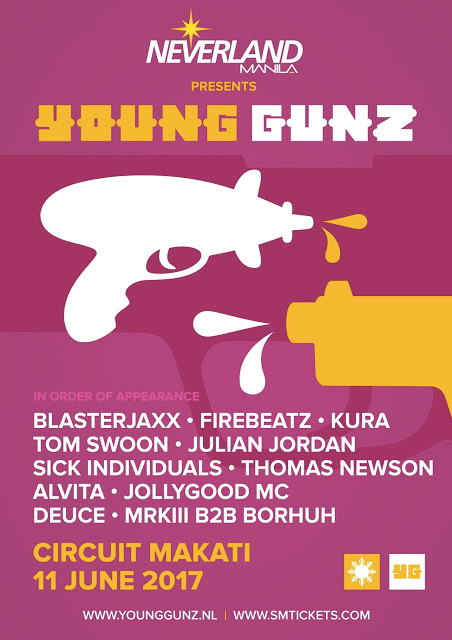 June 11, 2017
Circuit Makati, Makati City
This year, Neverland Manila is bringing Young Gunz to Manila! As one of Asia and Europe's most popular EDM festivals, Young Gunz prides itself on being an entire production complete with surprise elements. Their lineup includes some of the best DJs today, international and local: Blasterjaxx, Firebeatz, Kura, Tom Swoon, Julian Jordan, Sick Individuals, Thomas Newson, Alvita, Jollygood MC, Deuce, and MRK III B2B BORHUH. Save the date, and as Neverland Manila says: "Explore, dance, love, and simply enjoy life to the fullest."
Ticket Prices:
VIP Standing – P 2,625
Regular Gold Phase 1 (April 10 – May 16) – P 1,575
Regular Gold Phase 2 – P 2,100
A Pop Punk Weekend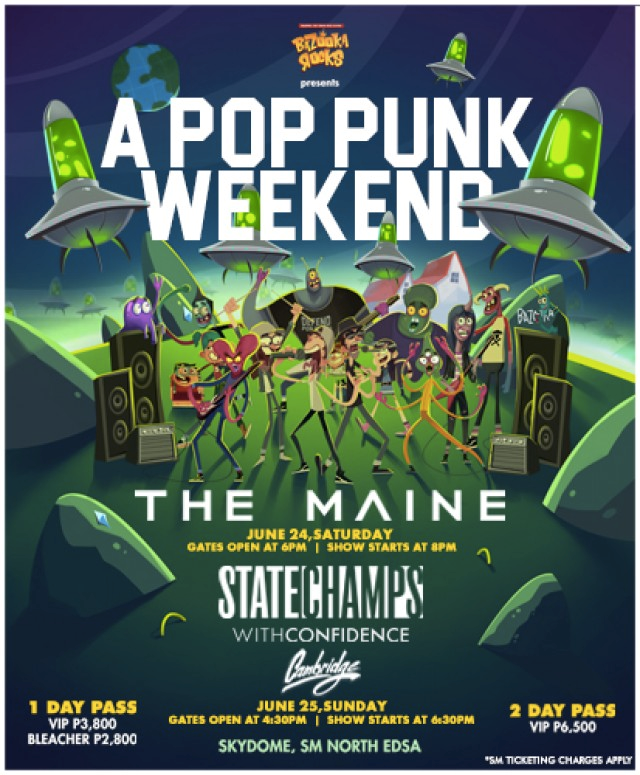 June 24, 2017 – 8:00 pm
June 25, 2017 – 6:30 pm
Skydome, SM North Edsa, Quezon City
If you were ever that kid that had the likes of Fall Out Boy, Boys Like Girls, or the Maine blasting through your headphones, this one is for you! Bazooka Rocks is back with two days of great pop punk music. The first night's headliner will be Arizona's alternative rock bad, The Maine, who'll be bringing their "Lovely Little Lonely" tour to Manila. The second day's headliner will be New York's pop punk band, State Champs, who'll be performing in Manila for the very first time, and they'll be joined by Australian pop punk bands, With Confidence, and Cambridge. Get ready to sing your heart out!
Ticket Prices:
2 Day VIP Pass – P 6,720
Day 1 VIP Pass – P 3,930
Day 2 VIP Pass – P 3,930
Day 1 Bleacher Pass – P 2,895
Day 2 Bleacher Pass – P 2,895
Phoenix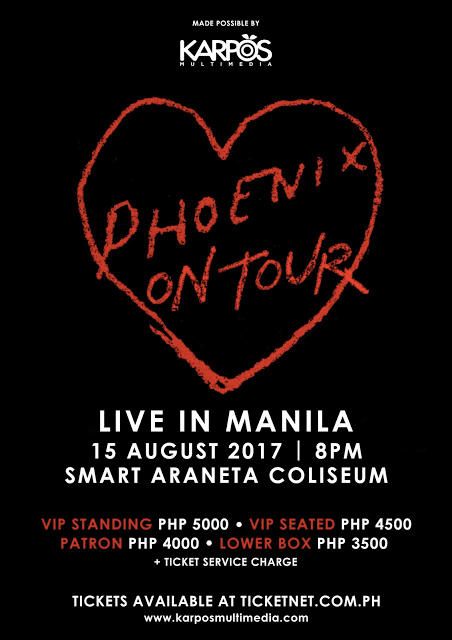 August 15, 2017 – 8:00 pm
Smart Araneta Coliseum, Quezon City
One of the biggest French indie-rock groups is coming to our side of the world again! The last time they were here was around 3 years ago, and they're coming back to perform some of their biggest hits in August as part of their on-going world tour.
Side note: they just released a new song a few days ago! It's called J-Boy, and it's awesome!
Ticket Prices:
VIP Standing – P 5450
VIP Seated – P 4905
Patron – P 4360
Lower Box – P 3815
In the Mix 2017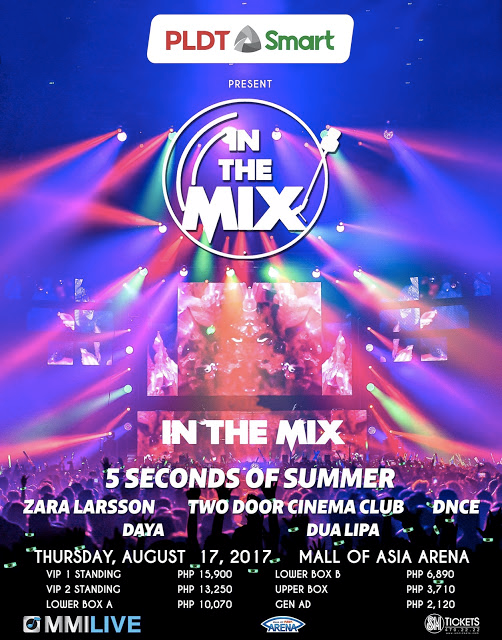 August 17, 2017
Mall of Asia Arena, Pasay City
Following the success of the first In the Mix festival in 2016, MMI Live together with PLDT/Smart is bringing us another one this year with quite the lineup. This year's festival will have Australian rock band 5 seconds of Summer to headline the festival, as well as Swedish singer/songwriter Zara Larsson, Irish indie-rock band Two Door Cinema Club, Joe Jonas' American dance-rock band DNCE, American singer/songwriter Daya, and English singer/songwriter Dua Lipa. With such an eclectic group of performers, this should be quite the show.
Ticket Prices:
VIP 1 Standing – P 15,900
VIP 2 Standing – P 13,250
Lower Box A – P 10,070
Lower Box B – P 6,890
Upper Box – P 3,710
General Admission – P 2,120
All Time Low: The Young Renegades Tour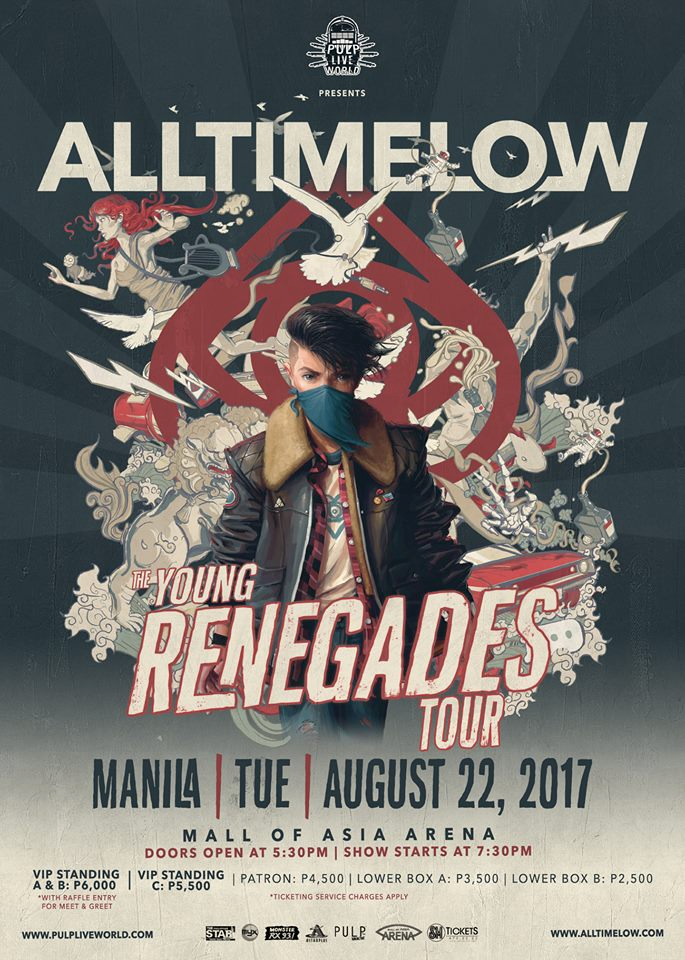 August 22, 2017 – 7:30 pm
Mall of Asia Arena, Pasay City
After their numerous visits to Manila, including their sold-out show in 2015, American rock band, All Time Low, will be coming back as part of their "The Young Renegades" tour. Slowly changing their sound just a little bit from pop punk to a little more alternative rock, All Time Low's new album is definitely one that will be amazing live.
Ticket Prices:
VIP Standing A & B – P 6,000
VIP Standing C – P 5,500
Patron – P 4,500
Lower Box A – P 3,500
Lower Box B – P 2,500
Mayday Parade: A Lesson in Romantics 10th Year Anniversary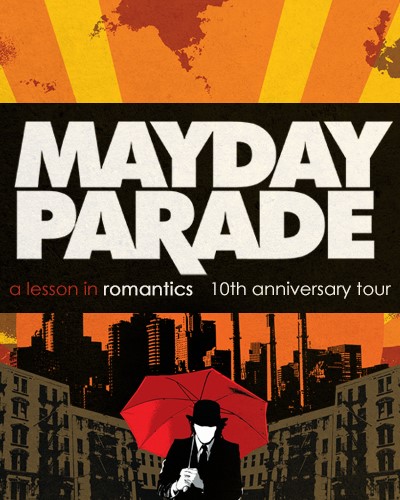 October 7, 2017
Kia Theatre, Quezon City
American pop punk band, Mayday Parade, will be returning to the Philippines for the sixth time this October, as part of their "A Lesson in Romantics" 10th year anniversary tour. Until then, you can listen to their album "A Lesson in Romantics (Anniversary Edition)" on Spotify.
Ticket Prices: TBA
Any other exciting concerts coming this 2017? Share them with us below!