Here in the country, the month of March is entirely dedicated to women, showing them appreciation and love for their contribution to our society. National Women's Month is originally based on the celebration of International Women's Day, which is recognized on March 8 worldwide. For this year, we give you eight Filipinas, who shattered stereotypes and status quos.
Hidilyn Diaz
The stigma of weightlifting as an unusual sport for women changed after Hidilyn Diaz's unprecedented silver plum win at the 2016 Rio Olympics. The Airwoman First Class ended the country's 20-year drought and brought home the much-coveted Olympic medal, showing the nation that women can go beyond limits. In her historic Olympic stint, she lifted 200 kilograms that is roughly four times her weight.
Dr. Reina Reyes
There are only three astrophysicists in the country, and one of them is Dr. Reina Reyes, who, at age 26, proved that Einstein's General Relativity is right. She and her team discovered how galaxies up to 3.5 billion light years away are clustered together in exactly the way Einstein predicted it to be.
Lea Salonga
Of course, who could ever forget about our very own Kim of Miss Saigon, Ms. Lea Salonga? Renowned for her powerful voice and perfect pitch, Salonga bagged her Tony Award for this particular role. She is also the first Asian to play the roles of Fantine and Eponine in Victor Hugo's classic, Les Miserables. Following in her footsteps is Rachelle Ann Go, who is now making waves abroad! After playing Gigi in Miss Saigon, Go is slated to play Eliza Hamilton on West End. There's no stopping these women!
Risa Hontiveros
Senator Risa Hontiveros has championed women's rights since she was a representative of democratic-socialist political party Akbayan. She recently authored and helped pass a bill extending the period of maternity leaves. She was the Chairman of the Senate Committee on Women, Children, Family Relations, and Gender Equality before she was recently stripped of the Chairmanship.
 Rovi Martinez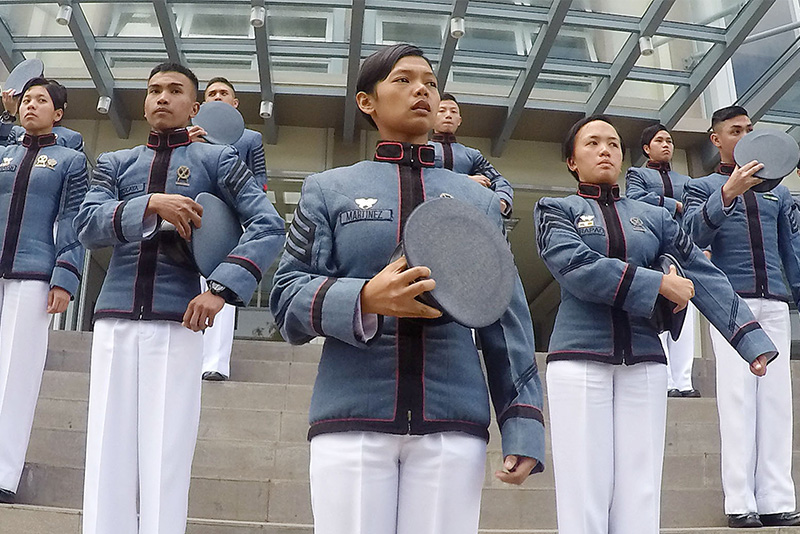 The Philippine Military Academy (PMA) is going to have its fourth female valedictorian this year with 1st class Rovi Mairel Martinez of the PMA Class Salaknib. She's graduating at the crème of the crop on March 12, along with 7 other females who made the cut in the Top 10 roster of their batch. The 22-year-old first class cadet owes her success to her fellow mistahs and to her mother who encouraged her to "prove them wrong."
Pia Wurtzbach
When it comes to beauty and wit, Filipinas are undeniably on a roll. There's Miss Universe 2015 Pia Alonzo Wurtzbach, whose never-say die attitude enabled her to face the world, or the Universe rather, confidently, beautifully, and with a heart. Add to that her advocacy on combating HIV-AIDS. Meanwhile, there's also Miss International 2016 Kylie Verzosa, a staunch advocate of mental health, and Miss World 2013 Megan Young, who gave the country its first Miss World title.
Jaclyn Jose
It is perhaps her au naturale demeanor in portraying every role that led Jaclyn Jose to win the Best Actress Award in the prestigious Cannes Film Festival. She basically owned her role as in Brillante Mendoza's "Ma' Rosa."
Janelle Frayna
Janelle Frayna is now touted as the Philippine's first Woman Grandmaster in chess after enduring the 42nd World Chess Olympiad in Baku, Azerbaijan last year. Frayna is a 20-year old psychology student of Far Eastern University.
Who are on your list? Share them with us below!