8 New Restaurants to Discover this June 2018
Jun 6, 2018 &nbsp • &nbsp Therese Aseoche
June signifies the end of summer, which means we're finally getting a break from the scorching heat we've been suffering for the past months. (Hopefully, that is.) So when the sun finally gets to take a chill pill this June, try out these 8 new food places around Metro Manila!
Kam's Roast
3F, Mega Fashion Hall, SM Megamall, Ortigas, Mandaluyong City
Open every day from 10 A.M. to 10 P.M.
Facebook, Instagram
The arrival of this Michelin-starred franchise from Hong Kong was met with excitement, especially by those who were looking forward to tasting the famous roasted goose. Sadly, our local Kam's Roast does not serve the esteemed dish but that doesn't make it any less appealing to foodies of the Metro. Kam's Roast delivers an authentic and quality Chinese cuisine — something that not a lot of local Chinese restaurants can achieve — that will delight you upon first bite. Do yourself a favor and order the Roast Duck, Char Siu, and Crispy Roast Pork!
Tokeru
3F, Building A, SM Megamall, Ortigas, Mandaluyong City
Open every day from 10 A.M. to 10 P.M.
Facebook, Instagram
We all scream for ice cream! Tokeru is the newest dessert bar you can find in SM Megamall, and it aims to satisfy your sweet tooth. Indulge in a melt-in-your-mouth sweet treat consisting of your choice of Lava Cake flavor topped with your choice of Ice Cream flavor and your choice of special toppings and chocolate fudge.
Agimat Foraging Bar and Kitchen
2F, 5972 Alfonso Corner Fermina Street, Poblacion, Makati City
+63 917 530 2580 | Facebook, Instagram
Open Tuesday to Saturday from 6 P.M. to 2 A.M., Sunday from 6 P.M. to 12 A.M.
Agimat treats its food and drinks like works of art, and every dish that gets served to your table will take your breath away. They use only local and high quality ingredients to craft their cocktails and dishes — most of which owner Kalel Demetrio makes himself — to elevate our distinctively Pinoy cuisine to levels beyond what we could ever imagine. Get for yourself the Balut at Chicharon or the Mollusco, and pair it with the Agimat ng Sawi cocktail or the Ritual ng Agimat which comes with a special number from the servers.
Quarks and Quills
43-H N. Roxas Corner Apo Street, Sta. Mesa Heights, Quezon City
(+632) 871 95 02 | admin@quarksandquills.com | Facebook, Instagram, Website
Open every day from 7 A.M. to 11 P.M.
Quarks and Quills is described to be a study center and workspace where you can not only hangout to study and/or work, but you can also take special classes, tutorials, and college entrance exam review courses. There's food available all day long too — rice meals, starters, and warm drinks — so you can satisfy your appetite while you're finishing your summer homework or working on your next project.
La Vita at Marina
Esplanade Seaside Terminal, Seaside Boulevard, Mall of Asia Complex (MOA), Pasay City
(+63) 917 576 0888 | Facebook, Instagram
Open every day from 11 A.M. to 11 P.M.
Located at SM By the Bay, La Vita at Marina offers you a taste of Italy at its finest. Indulge in authentic antipasti like the Burrata con Pomodori e Arugola, a variety of homemade pastas like the Pappardelle Tartufate, and delectable carnes like the Tagliata Di Manzo Alla Roberspierre to pair with your choice of wine. It's the perfect place to treat your loved one and to celebrate memorable moments in your life.
Loco Manuk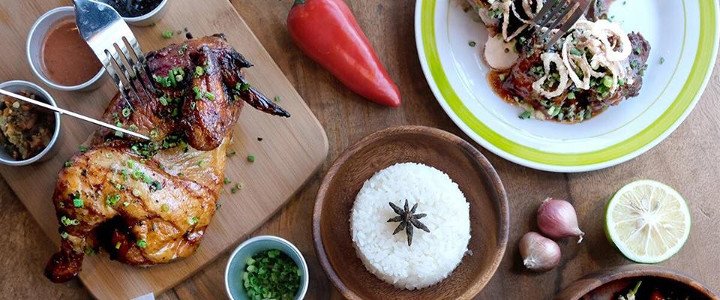 Burgos Corner B. Valdez Street, Poblacion, Makati City
(+632) 955 73 02 | Facebook, Instagram
Open every day from 11 A.M. to 10 P.M.
When it comes to chicken, how could we ever say no? Newest chicken joint Loco Manuk has found a home in the ever-evolving neighborhood of Poblacion to serve delicious wood roasted chicken smothered in distinct Latin and Asian flavors. If you've been a long-time fan of the likes of Señor Pollo, let Loco Manuk give you all-new gastronomic experience. Aside from the signature Chicken with your choice of Loco Manuk sauces, you must also try the Fried Chicken Bao and the Sweet and Sour Pork Ribs.
Torimomo
GF, Robinson's Place Manila Ermita, Ermita, Manila
Open every day from 11 A.M. to 10 P.M.
Facebook, Instagram
We can never get enough of Japanese cuisine! Torimomo, newly opened in Robinson's Place Ermita, serves authentic Japanese barbeque and yakitori at affordable prices so you can gorge down on all its finger-licking dishes without burning a hole in your pocket. Each yakitori stick is seasoned with your choice among the three of Torimomo's seasonings — barbeque, salt, and spice — and all its ingredients are guaranteed to be of high quality and imported from Japan.
Eden Food Hall
2F, 32nd and Fifth Building, 32nd Street Corner 5th Avenue, Bonifacio Global City, Taguig City
Facebook, Instagram
Open every day for 24 hours
In a city that's known for its multitude of bars and pubs that keep you awake until the ungodly hours of the morning, it comes as a surprise that there isn't any 24-hour food hall in existence before the newest Eden Food Hall. It's far from the regular open-air food parks that you're acquainted with; it's pretty and elegant and is set to soothe your senses after a long night out. There's Go Salads, Bulacan Lugaw Kitchen, Bakmi Nyonya, and so much more.
Have you tried any of these restaurants? Share your experiences in the comments section below!