8 Types of Pinoys Talking About Manila Mayor Isko Moreno
Jul 12, 2019 &nbsp • &nbsp Meryl Medel
Isko Moreno just took his oath as Manila Mayor a couple of weeks ago, but he has already taken a lot of steps to clean up the city. People are loving it, and a lot of Pinoys go to the internet to express their opinions on what's happening. So here are the types of Pinoy you'll see on the internet when the name Isko Moreno pops up.
The Hopeful
I hope I am not speaking too soon. As long as we see the emergence of new leaders like Mayor Isko Moreno, we can look forward to retirement and continue dreaming big for our beloved country. Let's pray that he will not be eaten by the system that consumed many others before him.

— PING LACSON (@iampinglacson) July 7, 2019
Many of Moreno's fellow politicians are expressing their support for the Manila Mayor, so they can "continue dreaming big for our beloved country." 
In a press release, Senate President Pro Tempore Ralph Recto even says, "Isko Moreno is the glowing 'Exhibit A' of the reality that many of the country's problems can be solved without having to rewrite the constitution."
The Skeptic
Am I the only who's having this "Mayor Digong of Davao" vibe from Isko Moreno?

— mar (@marzedong) July 10, 2019
On Isko Moreno's performance in Manila: He's doing pretty good. But honestly, he's just doing what any mayor should be doing. Isn't it sad that the bar is so low that what should be standard practice is lauded as progressive and amazing?

— Dash (@kimkarDASHA) July 9, 2019
Of course, where there is hope, there will be doubts. 
Twitter user marzedong thinks Isko Moreno might be a Mayor Digong in the making, while user kimkarDASHA criticizes the Pinoy's standards of a mayor's duties.
The Ditto Tito
very nice. 👏👏👏 tama yan. ako ay naging Mayor ng 10 years, pag tapos ko si Mayor John Rey ang naging Mayor, kasabay ng pagiging Congressman ko for 9 years, walang kahit isang classroom as Navotas ang may pangalan ko or pangalan ni Mayor

— Toby Tiangco (@TobyTiangco) July 10, 2019
Former Navotas mayor and current congressman Toby Tiangco lauds Moreno's plan to remove the names of politicians and adds that he and his predecessor didn't have either of their names written in any classroom of Navotas. Same.
The Predecessor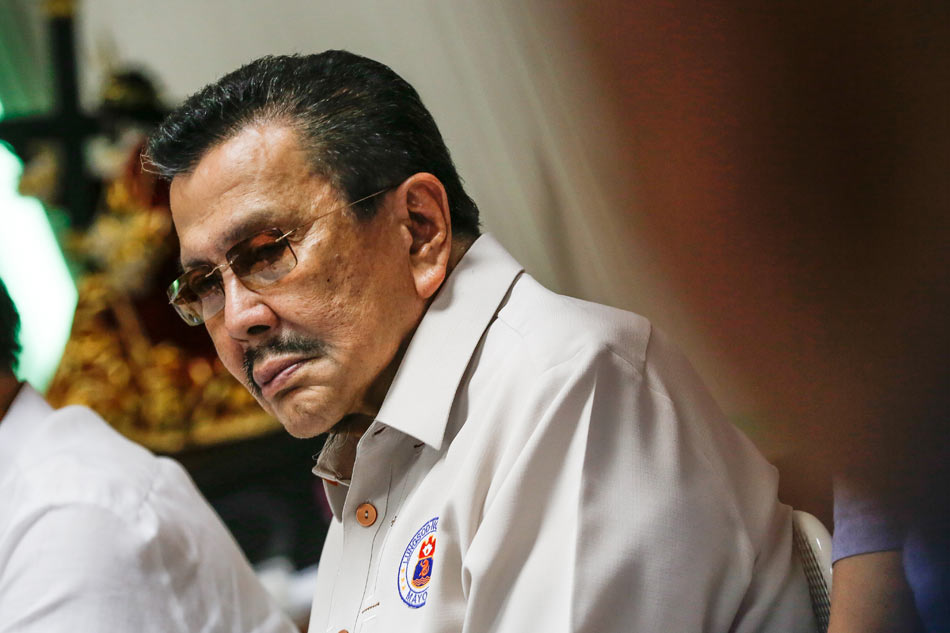 Via ABS-CBN
It's only been a few weeks, but Erap wouldn't stop talking about his successor. "Let us pray and wish him success. There's that saying once a person is elected kung walang daya talagang clean elections, the voice of the people is the voice of God. Let us help him."
Moreno, though, is putting Erap under fire for Manila's huge debt. Erap just brushes these off, telling the authorities, "Sue me."
The Non-Manileños
Mayor @VicoSotto suggestion lang po, maybe we can do the same here in Pasig City.https://t.co/HwGogXGrRG

— Ferdie Mercury (@FerdieMercury) July 10, 2019
I'm not from Manila but this looks great! I heard Divisoria has always been so crowded and dirty.

My question, however, is what happens to the vendors? These are livelihoods removed in a snap. Hope a place is made available for them to keep selling and living. 😊 @IskoMoreno https://t.co/gEvoEYeT1e

— xandi (@xandicheeks) July 2, 2019
Residents outside the city of Manila are also putting their two cents in. 
Twitter user FerdieMercury suggests one of Moreno's plans to his own mayor Vico Sotto. Though, like a lot of netizens, user xandicheeks do want to know what happens to the Divisoria vendors.
The Thirsty Titas
Crush na kita mayor 😍hihihi

— CHEklat (@Peppa_chlsy) July 6, 2019
Baket ang pogi ni daddy mayor @IskoMoreno 😱

— Donna B. (@donnabea_) July 10, 2019
Even before being elected into office, Moreno has been complimented for his good looks. Twitter user donnabea_ says, "Baket ang pogi ni daddy mayor 😱" Oops. The thirst jumped out.
The Advanced Magisip
Vico and Isko for Senators in 2022.

— doc.rgbm (@igotuinmyspace) July 2, 2019
Only a couple of weeks in and people are saying Moreno should run for senator. Or even president!
The Wannabe
Hi, Twitter peeps. Hindi ko po ito account, pero mukhang may pinaghuhugutan ang admin neto hehe who hurt you? 😅 https://t.co/2h81Et2wis

— Isko Moreno Domagoso (@IskoMoreno) July 6, 2019
A testament to Isko Moreno's virality, someone has already created a parody account. "Mukhang may pinaghuhugutan ang admin neto hehe who hurt you? 😅" the real Manila mayor tweets.
How about you? What are you saying about Isko Moreno? Come and tell us down below!