These days, Sanrio items can be purchased anywhere, from Daiso to Divisoria. On top of that, more and more Filipinos are traveling to Japan and buying knick-knacks featuring its cute characters in the land where they were born. But back in the days, Gift Gate was the foremost source for anything Sanrio.
Thus, it's no wonder why many are lamenting the fact that Gift Gate is closing, with its last branch shutting its doors in Greenhills on May 31. Many Filipinos have such fond memories of the store, and can't help but get sentimental. No, it won't be easy saying goodbye.
Let's take a glimpse at Gift Gate's story and how it found its way into the hearts of Pinoys.
It all started with a young mom's dream
Virgie Ramos and Kunihiko Tsuji and son Tomokuni with Cory Aquino's grandchildren, Jonty and Jiggy Cruz, and Nina and Miguel Abellada
Virgie Ramos was a young mom in her 20s when she fell in love with Sanrio. She was on a holiday in Japan with her in-laws and, while walking around Ginza, she came across a Sanrio store and was awed by how it was filled with Hello Kitty goods. Since then, she nurtured a dream of bringing it to the Philippines and introducing its cute characters to Pinoys.
And so she flew back and forth to talk business with the Tsuji family, owner of Sanrio. Other Filipino companies were also vying for it, but Ramos and the Tsujis clicked, and she was awarded the first ever and then the only country master license agreement in the world for Sanrio.
More than that, a deep friendship also developed between Ramos and the Tsujis.
Gift Gate became a favorite stop for Sanrio products, from bags to stationery
After launching in the Philippines, Gift Gate quickly became a favorite stop for Filipinos who were smitten by the cute and quirky characters such as Hello Kitty, My Melody, Little and Twin Stars. Gift Gate also embraced the characters later created by Sanrio, such as Bad Badtz-Maru, Kerokerokerropi, and Zashikibuta.
On a related note, do you want to know what year your favorite Sanrio character was born? Click on this link for an interactive Sanrio timeline (https://www.sanrio.com/timeline/#decade-1970), with Hello Kitty as your very own tour guide!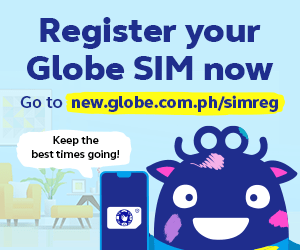 It was a Gift Gate commercial that launched Kris Aquino's career as an endorser
Sanrio fan Kris Aquino with a young Tomokuni Tsuji at the shoot of her first TV commercial in Gift Gate Ginza
Kris Aquino is one of today's most in-demand ambassadors, and it all started with a Gift Gate commercial. The then presidential daughter, herself a big Sanrio fan, was tapped by Gift Gate to star in its TV commercial which was shot in Gift Gate Ginza no less. It was a first for Kris, who was still quite the newbie in showbiz then.
Gift Gate was the first Philippine corporate partner of Make-A-Wish Foundation Philippines
In the same way that Sanrio is all about bringing joy to people, Gift Gate was also eager to bring happiness to others. When the Make-A-Wish Foundation Philippines was founded in 1999, Gift Gate was its first corporate partner. Together they mounted an event called "Gift Gate Gifts Every Day," which was basically an afternoon of Gift Gate granting the wishes of kids from the said foundation, with the help of celebrities like Kris Aquino, Martin Nievera, Benjie Paras, Cris Villonco, and more. "For these kids (from Make-A-Wish Foundation), every single minute counts. And some of them have so precious little happiness in their lives that it becomes infinitely more important for us to help grant their wishes," Ramos said.
The rights to Sanrio were acquired by another company in 2007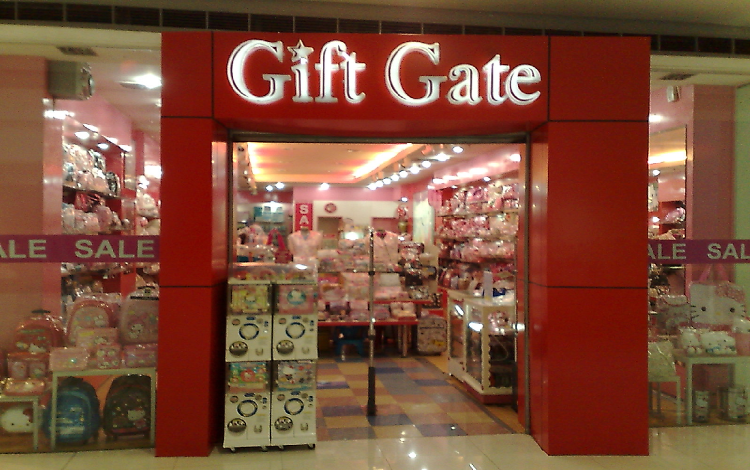 Great Gifts Sales & Licensing International Corp., a business owned by the Tiu family, acquired the rights to market and license Sanrio products and also obtained the master retail franchise for all Gift Gate stores in the Philippines from Ramos.
This move diversified the Tiu family's business: it's original venture, Carlson Corp., distributed Toshiba lighting and later sold products under its own brand name, Akari.
In 2009, Virgie Ramos opened a Sanrio Luxe Store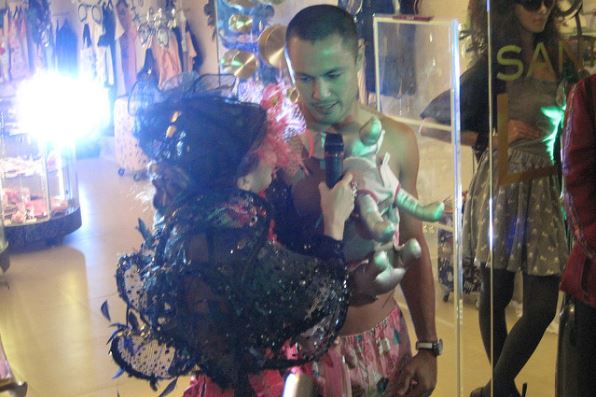 star.com/fashion-and-beauty/505245/always-kitty-sanrio-luxe-opens-gb5″]
Derek Ramsay, wearing only pink Hello Kitty pajama bottoms, was among the live models during the opening of Sanrio Luxe
After letting go of the Gift Gate franchises, Ramos remained ever the Sanrio fan. She's opened the Sanrio Luxe store at the level two of Greenbelt 5 in September 2009. This was only the second Sanrio Luxe store in the world; the first opened in New York's Times Square the previous year. Ramos was actually hesitant to open the store, with the outlook for economy bleak that year. But on a holiday in Japan, she met with Sanrio heir Kunihiko Tsuji, who wanted to open a Sanrio Luxe store in the Philippines and felt that Ramos was the best person to lead the project. The opening was graced by Tsuji as well as local celebrities, and had live mannequins dressed in Hello Kitty couture as part of the store display.
The Sanrio heir donated to typhoon Yolanda victims just before he passed away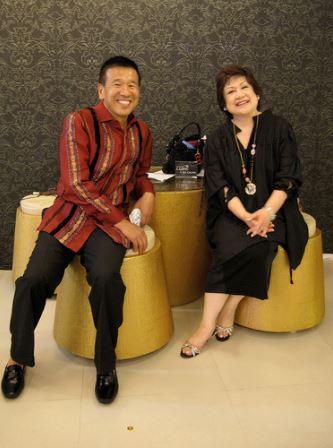 Kunihiko Tsuji, whose father created Sanrio, posing with Virgie Ramos at the opening of Sanrio Luxe
In 2013, when Tsuji learned that the Philippines was stuck by super typhoon Yolanda, he called up Ramos and asked her to help him extend assistance to those who were affected, especially the children. He was Sanrio's chief operating officer and senior executive vice president at that time, and he also instructed the company's general manager in Asia to send help as well.
Sadly, Tsuji died a few days later of acute heart failure in California. He was 62. But amidst the grief that his family was going through, his heirs still abided by his directive and facilitated the release of the donation for the Yolanda survivors.
Gift Gate will bid  us adieu in the very first mall where it opened: Greenhills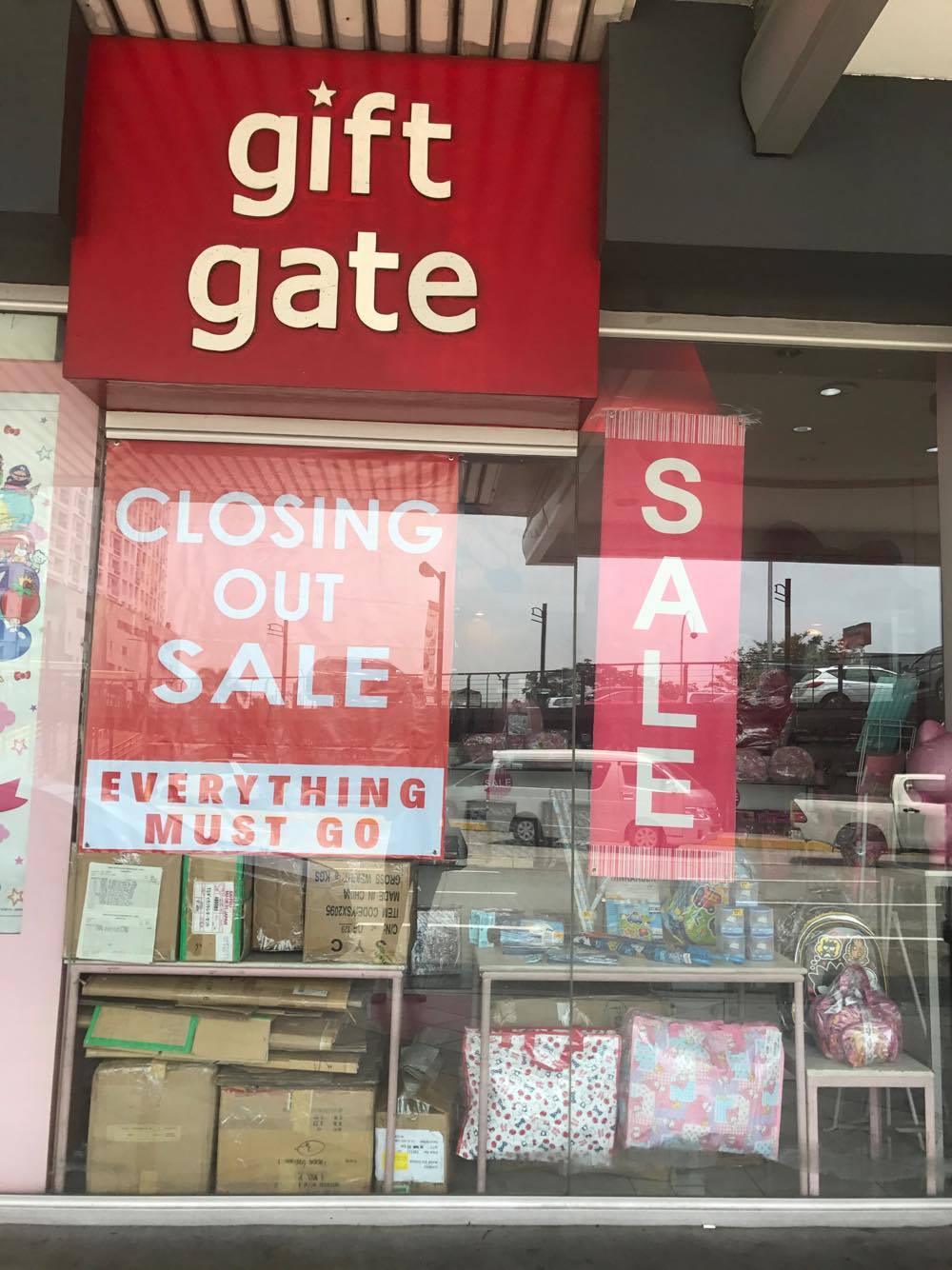 On May 31, Gift Gate will say its final goodbye to Filipinos by closing their last store located at The Shops in Greenhills. The said mall is also where the store first opened in 1976, albeit in a different location, Shoppesville. Huge "closing out sale" signs are plastered on the store's window, and people have been waxing sentimental about this. After all, the store has been a huge part of the 80s and 90s kids' childhood, and this is definitely an end of an era. Surely, the Sanrio love will live on for years to come, but we will never forget how it all began with that cute store with the beloved red and white logo. So long and thank you, Gift Gate!
What were your fond memories of Gift Gate? Share them with us below!