Action and Adrenaline Junkies, We Found the Best Streaming Platform For You
Sep 1, 2023 &nbsp • &nbsp Meryl Medel
With streaming becoming the norm, we've got a lot of options to choose from when we want to watch something. But the thing is, that might be the exact problem: there are too many options that you spend more time scrolling and looking for a new film or show than actually watching. And this is precisely what streaming platform Lionsgate Play solves, so you can spend less time browsing and more time actually watching.
Lionsgate Play
In case you didn't know, Lionsgate Play is the global streaming platform of entertainment company Lionsgate, which is known for popular films and shows, such as The Hunger Games, John Wick, Step Up, Saw, Twilight, The Expendables, Now You See Me, Orange Is the New Black among many others.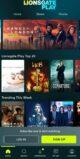 In the Philippines, Lionsgate Play is a fairly new gameplayer in the streaming industry, having only been launched last June 2022, according to Cecile Marino, the general manager for Lionsgate Play Philippines. Still, the platform has experienced significant growth in only its first year, with numbers expected to grow bigger.
Like its parent company that boasts many Hollywood blockbusters, Lionsgate Play doesn't fall short with its offerings, especially for fans of the action, adrenaline, and thriller genre.
Content curated just for you
Lionsgate Play specializes in edgy, thrilling, and action-packed films and shows, which makes it perfect for adrenaline junkies.
"Our content offering is bold, action, adrenaline, provocative, edgy, thriller," says Amit Dhanuka, Lionsgate Play's Executive Vice President for South Asia and Southeast Asia. "This really sort of targets an audience who constantly seek this kind of content. So from our part, everything that we put on the platform is curated, within this umbrella of genres, which makes it easier for the customer to come in and spend less time browsing and spend more time watching. And that's the big differentiation that we have vis a vis other platforms."

When asked why the platform is centered around these genres, Amit attributed it to two main reasons: "A lot of the content that traditionally Lionsgate has revolves around that. That was one, of course. But the other thing was, we also found that platforms have a tough time, creating a positioning for themselves. So some platforms are doing everything from kids' content to different languages, from animation to romance, to drama, to everything."
But with Lionsgate Play focusing on a certain umbrella of genre, the platform is able to target specific viewers who are looking for content that delivers action, adrenaline, and thrill.
Recommendations
When asked for recommendations, Cecile and Amit point to one of Lionsgate Play's most popular series Gangs of London, which centers in the city of London as it's torn apart by the power struggle of the gangs that rule it and the power vacuum left by the sudden death of London's most powerful crime family head.
Another, newer title is Gray, which follows CIA spy Cornelia Gray as she comes out of hiding after 20 years to prove her innocence when she's suspected of being a traitor.
Every Friday, Lionsgate Play drops new titles that fit your type of genre, so you won't run out of choices whenever you want to immerse yourself in an action-filled show. For more information, head to lionsgateplay.com and download the app on the App Store or Google Play.
Follow us on Facebook, Twitter, Instagram, Tiktok, and Youtube for the l8est entertaining, useful, and informative lists!