The internet is abuzz talking about an issue involving names you might be familiar with. After all, they're usually dominating those trending lists every other day. If you see the names "Andrea", "Francine", "Blythe", "Chin", "Seth", and "SethDrea" each time you open social media and you wonder what the heck is happening, you're not alone. Long story short, the issue involves celebrities Andrea Brillantes, Francine Diaz, and Seth Fedelin. If you've still got questions, the netizens deep into the drama have got the answers. Read on to get to the bottom of this tea!
Who are they?
In case you aren't familiar with these names, here's a quick introduction for you. Andrea Brillantes (a.k.a. Blythe), Francine Diaz (a.k.a. Chin), and Seth Fedelin are part of the so-called Gold Squad, along with Kyle Echarri. These up-and-coming actors have amassed a legion of fans individually, as couples, and as a team.
They all starred in the 2018 afternoon drama Kadenang Ginto and have recently reunited in the 2021 series Huwag Kang Mangamba. Brillantes and Fedelin (dubbed 'SethDrea' by fans) and Diaz and Echarri ('KyCine') are onscreen couples in both series. SethDrea are still an onscreen couple in the currently airing digital series Saying Goodbye.
What's the drama?


Eagle-eyed fans have noticed that Brillantes and Diaz are no longer following each other on Instagram. This led to a lot of speculation behind the reason they've basically unfriended each other in the online world.
Netizens speculate about the IG unfollow
Seth with chin's family<3 my heart is full of joy!✨#FrancineDiaz| #Sethfedelin | #FranSeth pic.twitter.com/uX0EpYYFAo

— FranSeth Official (@FranSethOFC_) January 12, 2022

Netizens shared their theories on why the two ladies unfollowed each other. Some think that the reason is connected to a photo of Diaz with her family and manager posing alongside Fedelin that's making rounds on the internet. The photo was originally shared by Diaz's mother on her personal Facebook page, with the caption "Happy new year".
Some people are asking what the visit is for, speculating that Fedelin spent the New Year's at the Diaz household. Fans of Diaz and Fedelin are ecstatic over the photo since they've been rooting for the two to have a potential on-screen love team. On the other hand, supporters of the SethDrea tandem aren't happy about the implications.
Andrea's Tiktok
Rumors got even bigger after Brillantes posted a clip of herself on Tiktok, captioned with a simple "Kakagising ko lang?" In the video, she was lipsyncing to the lyrics of Selena Gomez's "Lose You to Love Me" ("I gave my all and they all know it. You turned me down and now it's showing. In two months, you replaced us. Like it was easy. Made me think I deserved it.").
The actress also posted a series of cryptic tweets that fueled the fire even more.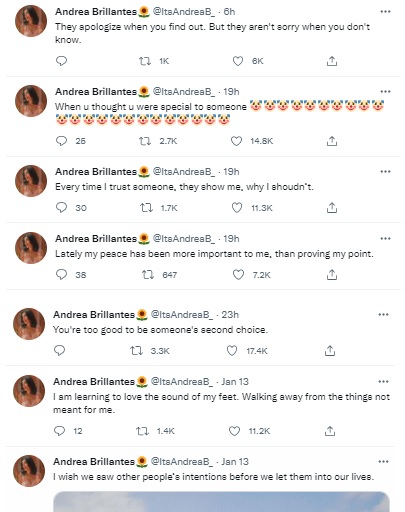 While not confirmed as an official couple, Brillantes and Fedelin are said to have a mutual understanding with each other.
A game of follow-unfollow?
BIGLANG NAG-IBA IHIP NG HANGIN AT FINALLOW NYA ULIT PANINDIGAN MO SAD GIRL KA DIBA

— Zavia (@carrel_echarri) January 13, 2022

Fans were also quick to notice that while Brillantes unfollowed Diaz on both Instagram and Tiktok, she almost as quickly followed her back.
Fans are defending their idols
Brillantes' fans want to give her a hug after what seemed to be heartbreak. On the other hand, Diaz's fans are earnestly defending her, telling bashers not to use double standards against the two actresses.
ppl who antagonize blythe are sick, like can't she post to express her pain? tsaka who cares if she unfollows francine on socmed, if that gives her peace of mind then let her be, she's hurting respect that.

— Athenaaaa (@atheeennnaaa_23) January 13, 2022
respect blythe's feelings but can't do it to francine??? double standard me thinks

— rei (@thezariego) January 13, 2022
Some just want the tea
The Mariteses of the internet can smell the drama from a mile away, and they're ready to take it all in.
me working on issue abt francine
my assignment: seth & andrea pic.twitter.com/eV0mKP7ZEC

— ًnot gen (@blstanner) January 13, 2022
this whole francine seth and andrea issue revealing my marites self pic.twitter.com/vaVV60P54J

— kian (@ddyangzkart) January 13, 2022
But a few are also going full-on Sherlock
2) i'd also like to clarify that seth was not there during holidays. he did NOT celebrate the new year's eve there. napadaan lang siya dahil parehas silang taga-cavite ni francine. THEY ARE FRIENDS and they are with francine's manager.

check the photos attached below for proof. pic.twitter.com/1bPVDeNDGm

— ًshen (@cinesart) January 13, 2022

Some fans took the time to investigate the root of the rumor. What did they dig up? It appears that it was a fake Facebook page of Francine Diaz that posted the New Year's celebration photo of Diaz with her family and Fedelin captioned "Family is love." When the post from the unofficial page went viral, netizens and fans took it at face value and assumed the worst.
But according to their findings, the photo was actually from way back. A quick look into the Instagram account of Diaz's manager shows that he posted a photo from the same day last December 19, 2021. Fans are speculating that Diaz's manager might take on Fedelin as a client, which is why he was there. They are also saying that Diaz's mother often takes photos of the actress' friends who drop by their home and shares the photos online, so this time around may not be something special.
But who knows? Only the people involved really do. Their fans are hoping they can settle this in private instead of airing it out publicly. And honestly, same.
What do you think of this issue involving Andrea Brillantes and Francine Diaz? Share your thoughts in the comments section!