Actress Angelica Panganiban is currently under fire from Pinoy netizens for a series of tweets she posted while waiting for a swab test from the Philippine Red Cross (PRC) branch in Subic Olangapo yesterday. Netizens are criticizing her for being "ungrateful," "privileged" and "entitled." Here's what is happening.
Angelica's tweets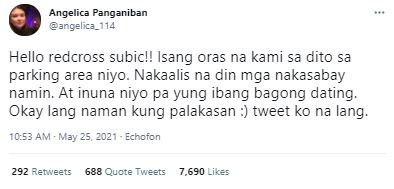 The actress and her boyfriend visited Red Cross Subic to get a COVID-19 swab test, but after waiting for an hour to get swabbed from their car, she took to Twitter to call out the organization's Subic branch for what she believed to be a "palakasan" system.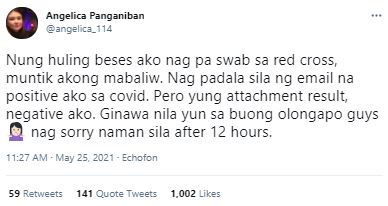 PRC's system for swab tests
PRC has one of the cheapest and most accessible COVID-19 swab tests in the country, so it's understandable that many want to take their tests with the organization. So the PRC prioritizes those who have booked appointments in advance.
Any interested parties should go to https://143.redcross.org.ph to choose their swab test venue and "checkout" an appointment. Once payment is made and the proof sent, PRC will then confirm the appointment and provide the schedule.
At the venue, the testee must go through a security check, then proceed to the verification station to confirm their time slot. Only then will they be assisted to get the saliva sample for testing. All these happen inside the testing facility, as the PRC Olongapo chapter doesn't have a drive-thru option (only malls so far have this). The only exceptions, according to a PRC Subic employee, are those who are in ambulances or are ill.
Here's Where You Can Get Free Swab Testing in NCR
Here's Where You Can Get Free Swab Testing in NCR
Kyzia Maramara | May 11, 2021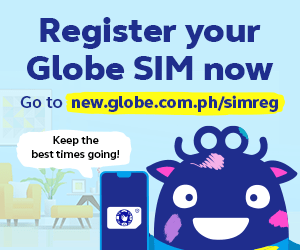 Some netizens already didn't like her tone

"Tweet ko na lang," finished Angelica in her first rant tweet. Immediately, some netizens started replying, asking her if she actually had an appointment. Which it seems, she didn't.
The tweets go viral and reach the PRC Subic team
A few netizens shared the tweets on Facebook, where one PRC Subic employee saw it. The employee commented on the Facebook post and shared their side. "Wala naman po sa parking area ang verification window. . . . Ni hindi nga po sila bumaba para magpaverify kami pa lumapit sa kanila sa sasakyan."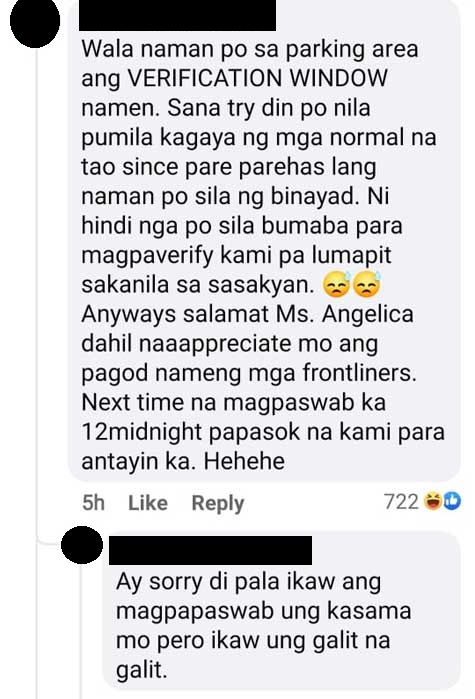 According to the PRC Subic employee, the actress was at the swab test site accompanying her boyfriend, who is the one who was actually getting tested. "Ay sorry di pala ikaw ang mapgapapswab ung kasama mo pero ikaw ung galit na galit," the employee added.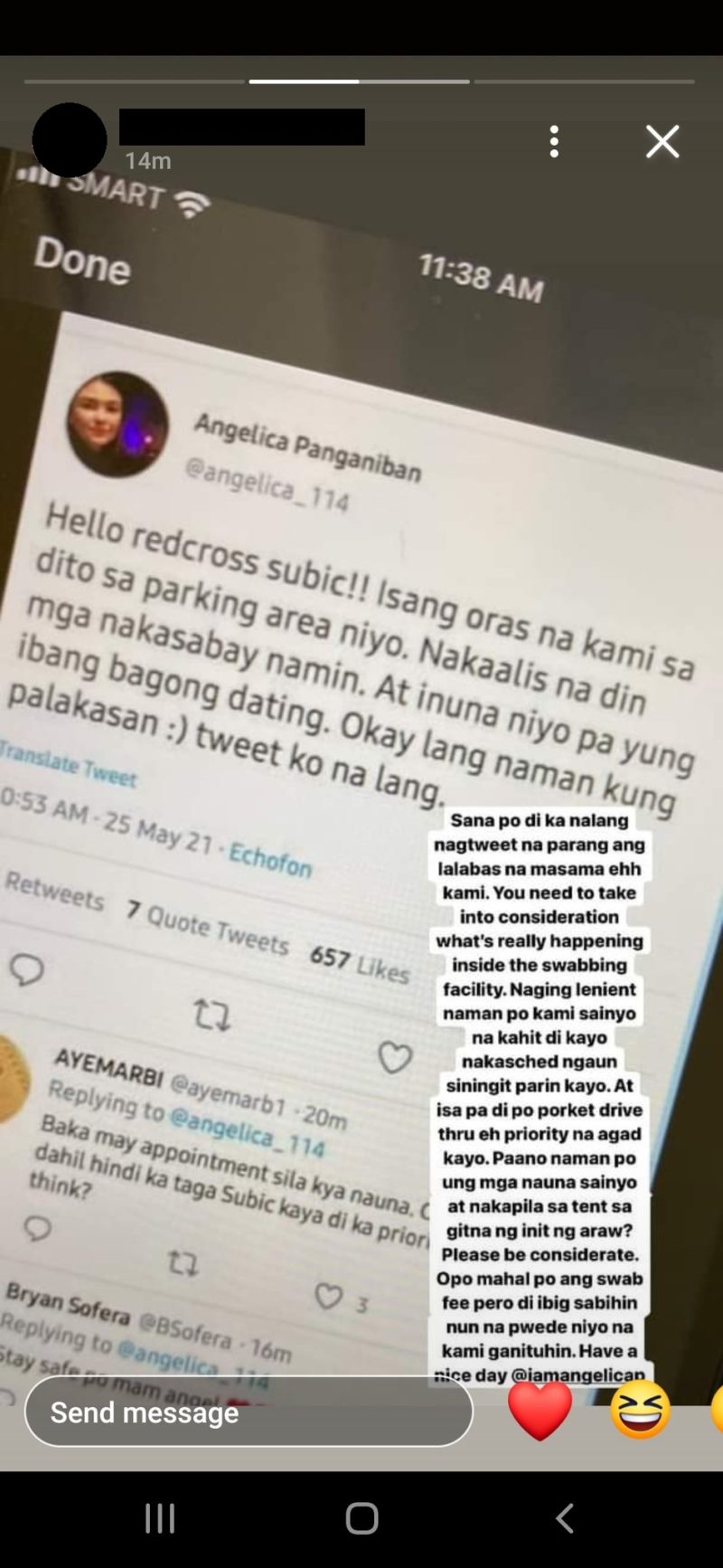 Another PRC employee responds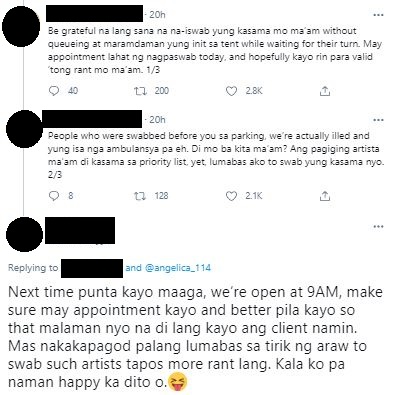 Another PRC Subic employee replied directly to the actress' tweets, with accompanying photo proof that he was the one who served them at the actress' car. Rebutting the actress' claims ("nakaalis na din mga nakasabay" and "inuna niyo pa yung ibang bagong dating"), the employee said, "People who were swabbed before you sa parking, were [sic] actually ill [sic] and yung isa nga nasa ambulansya pa eh."
Others have different concerns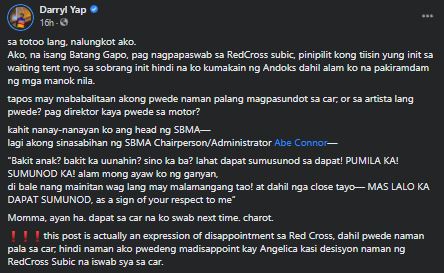 Director Darryl Yap, a resident of Olongapo, shared on his Facebook page that he was disheartened about the issue. "Ako, na isang Batang Gapo, pag nagpapa-swab sa Red Cross Subic, pinipilit kong tiisin yung init sa waiting tent nyo," his post said. "Tapos may mababalitaan akong pwede naman palang magpasundot sa car; or sa artista lang pwede? Pag direktor kaya pwede sa motor?"
A few minutes later, he edited to clarify that he was expressing disappointment with the PRC. "Pwede naman pala sa car [for the swab test]."
More netizens react
Netizens and even some healthcare workers have also pitched in. A certain Dra. G on Twitter called out Angelica's tweets for being "ungrateful" and told her that she should apologize to the PRC Subic staff. "You have no appointment [sic], siningit ka lang. Pinuntahan pa kayo sa car," the tweet says.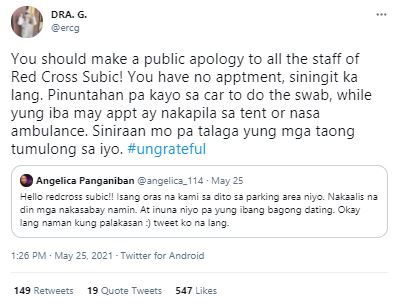 Meanwhile, others asked the actress for proof for one of her claims where she said she took a swab test with PRC Subic before and they provided an inaccurate email containing her test results. "Ginawa nila yun sa buong Olongapo guys," she claimed. Several netizens told her to provide proof about this mishap, but she has yet to respond.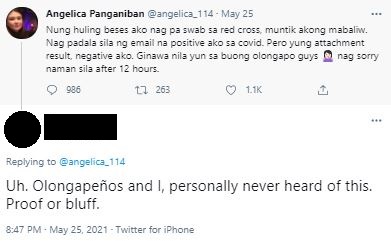 On Facebook, a few netizens offered a different perspective: the actress could've just thought that she would draw a crowd: "[baka] hindi nalang sila pinapila kasi 'magkakagulo' mga tao, so best they stayed in the car." This is a likely scenario, but netizens generally agree that she shouldn't have aired her complaints publicly in the first place.

Think before you click
Cliche, but this is still true, especially in this case.
It seemed that Angelica Panganiban let her impatience and anger speak first. Maybe she thought she could gain sympathy from what she believed was unfair treatment and service. Maybe she really just wanted to avoid a big crowd gathering if she went into the testing facility. But maybe she shouldn't have come for the Red Cross. Because unfortunately, during this time when our healthcare workers are more than ever the most important members of our community, her rants felt tactless and tone-deaf. In the middle of this pandemic that makes all of us equal in the face of illness and death, there is little to no space for "palakasan" and special treatments. Huwag puro ako, ako, at ako. But hindsight is 20-20. We hope it's a lesson learned for the actress though.
As of writing, there's no official statement from either PRC Olongapo Chapter or the actress' side.
What do you think about Angelica's tweets?