Many Filipinos were left scrambling, trying to prepare for the long weeks ahead without a sure stable source of income upon the implementation of the Enhanced Community Quarantine (ECQ). Classes were cancelled, working in the office discouraged, mass public transportation suspended, including motorcycle taxis. This means no source of income even for Angkas bikers, except for the limited number of delivery bookings. 
Angkas tried to help their bikers as much as they can, distributing rice to their families and accepting donations, but these seemed like they weren't enough. Hence, the birth of Angkas Food, a.k.a. Angkas' food delivery service.
Seems like a project that's been a long time coming, isn't it? Motorbikes + delivery — that's like the perfect combination. There's a reason fast food chains use motorcycles for their deliveries. So it's a wonder why Angkas, a motorcycle-centric app, didn't join this industry.
In their introduction for Angkas Food, this is what the company had to say, "Delivering food isn't our expertise. Madaming mas magaling diyan." But you might be thinking, why not push for more?
This is all for the Angkas bikers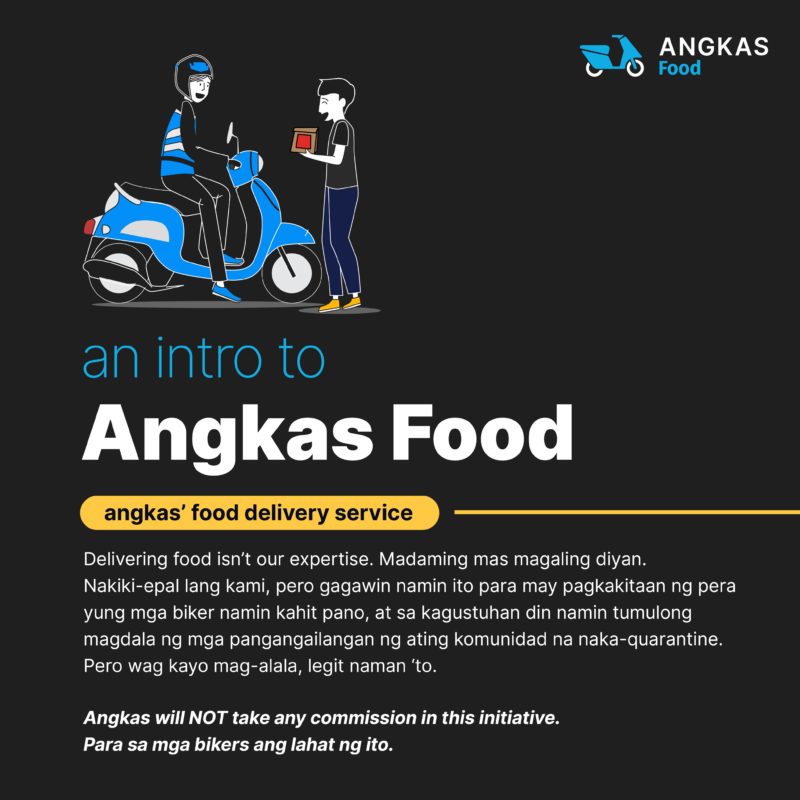 No commissions for the company. Angkas Food is an initiative by Angkas to provide a source of income for their bikers during the ECQ. Para sa mga bikers lahat. 100%.
How can you order?
Nope, you don't need to use the Angkas app (baka sabihin niyo na naman daw di gumagana yung app nila e). Wala din naman dun yun because Angkas didn't integrate Angkas Food into their app.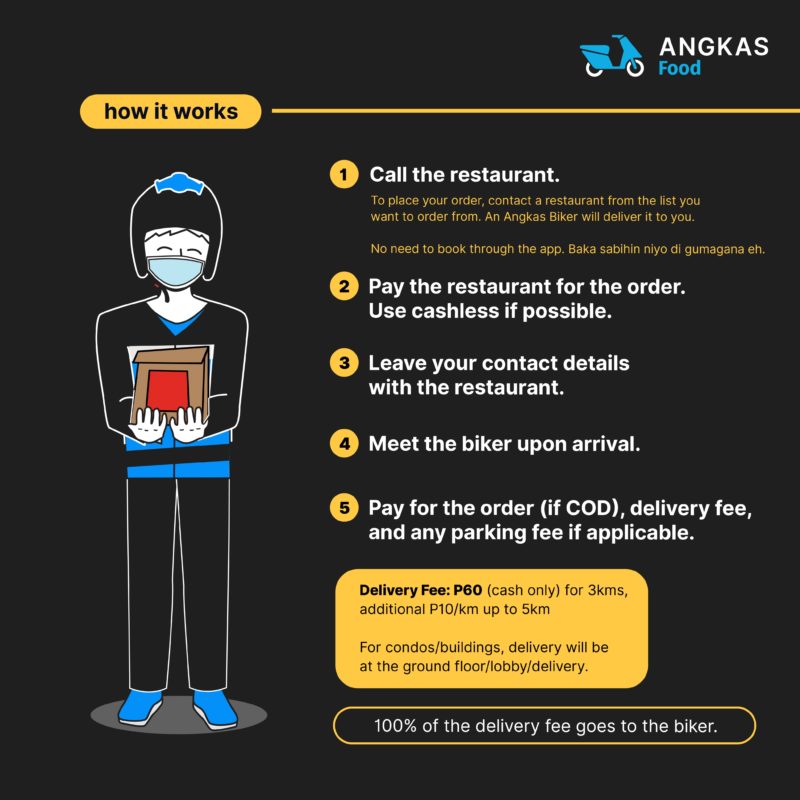 You just need to call your restaurant of choice, place your order, pay the restaurant, give them your contact details, and wait. Your Angkas biker will contact you and let you know when he has arrived at your gate or at the lobby of your building.
What can you order from the ~*MENU*~?
In true Angkas fashion, the ~*MENU*~ is a meme itself. ~*MENU*~ talaga yung name niya. Check niyo pa (it might just be lagging because of the amount of people accessing it, lol). In case ayaw pa mag-load, Angkas Food currently has 13 partner restaurants:
Crazy Bagnet — Cubao, Katipunan

Mama V — Malate (Manila)

King Sisig — Farmers Plaza (Cubao), Malate (Manila), Market Market, Comembo (Makati)

Bulalo World — Farmers Plaza (Cubao), Market Market

The Smokeyard — Poblacion (Makati)

Burger Matsing — 2M2M. Check their ~*MENU*~ for locations

Wobbly Pan — Shangri-La Mall

A'toda Madre — Makati

GOGI Korean BBQ — Poblacion (Makati)

Ineng's Special BBQ — Main Avenue, Katipunan, Visayas Avenue, Sucat, Bicutan
Ang saya di ba? These are restos not usually offered on other food delivery apps (NICE!). Oh, and take note of their locations! You'll need them for computing the delivery fee.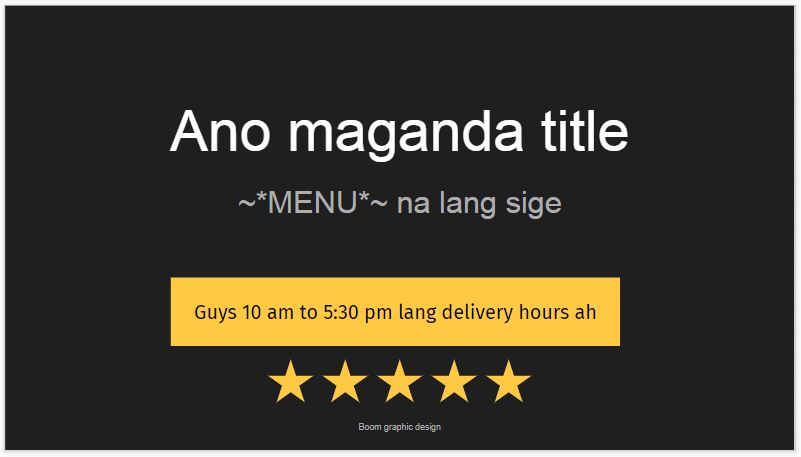 And a heads up! A lot of restaurants are also expressing interest (at least in the comments and replies of Angkas' social media pages) in becoming a partner of Angkas Food, so there might be a chance their menu will expand. Make sure to check their ~*MENU*~ every now and then. Kung mag-load.
Are the restos budget-friendly?
Of course, prices all vary. The lowest rice meal you can find is priced at PHP 115, which is the Pork/Chicken/Bangus Sisig from King Sisig. If you're looking for a burger, you can enjoy a buy-one-take-one promo on Burger Matsing's Burger Sandwich for only PHP 28.
The most expensive item on their ~*MENU*~ is Mama V's Angus Beef Tapa in large serving size for PHP 1080. But that's, you know, for sharing, so sulit rin, mga panget.
How about the delivery fee?
This is it, pancit. This is where Angkas bikers can earn some income through Angkas Food. For every booking, you only need to pay a delivery fee of PHP 60 in CASH for the first three kilometers from the restaurant to your address. If you exceed the three kilometers, add PHP 10 still in CASH for every kilometer after — but only up to five kilometers max!
100% of the delivery fee goes to the Angkas biker. And it must be paid in CASH so that the Angkas bikers can utilize them for their day-to-day needs immediately.
But is your area included?
This is probably your biggest question.
From our understanding, it seems like the maximum a restaurant can service is 5 kilometers away from their location, according to the computation of their delivery fee. So if you're not 5 kilometers away from your chosen restaurant or branch, then you're out of luck.
Want to be sure? Double check with Angkas or your restaurant of choice!
Pwede anytime?
Syempre HINDI. In case you missed it (but IDK how you can…), there's a curfew being implemented. That's why Angkas Food will only be operational from 10:30 AM to 5:00 PM, regardless of the opening time of your restaurant of choice.
Any other rules?
Noli me tangere daw, kasi social distancing nga kasi, mga panget!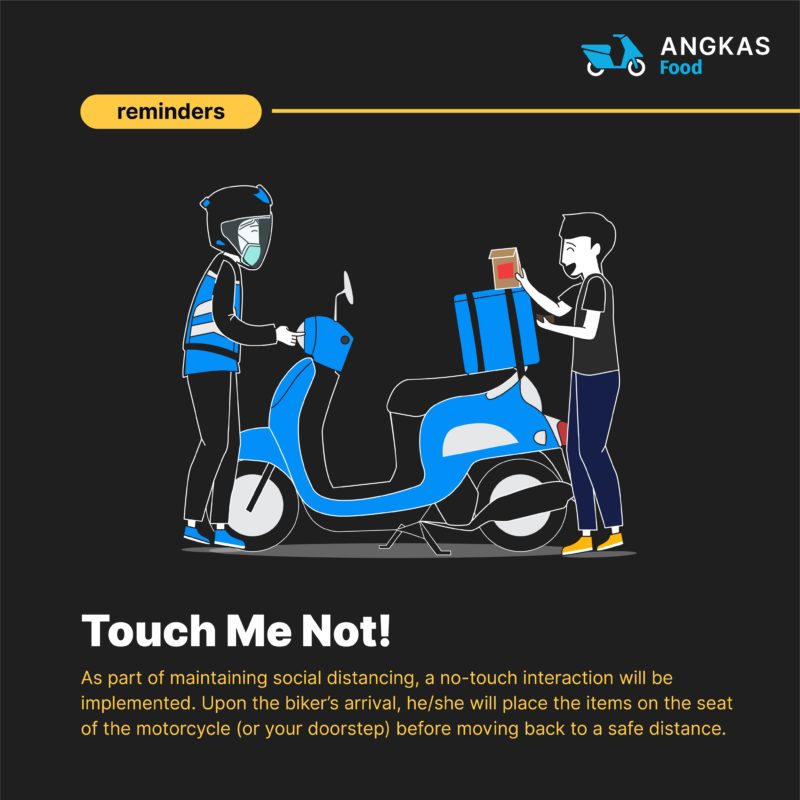 Nag-order na ba kayo, mga panget? Dali na!