January is proving to be a tough month for everyone on this planet. There are uncontained wildfires, earthquakes, volcanic eruptions, locust plagues, and now the pandemic of a new virus that has everyone panicking.
There is currently no cure or vaccine for the dangerous novel coronavirus (n-CoV) and as of writing, it has claimed 132 lives and recorded more than 6,000 cases in China alone. The virus has also spread internationally to countries such as Singapore, Malaysia, Japan, Korea, and even Germany causing ports from countries all over the world to either close their doors to foreigners or ban Chinese nationals entry altogether.
While the n-CoV epidemic and public health is indeed no small matter, it carries with it another underlying issue that needs to be dealt with – discrimination and racism.
Casual racism is present everywhere you look
Here's a tip: if you know a Chinese person, do not joke with them about coronavirus. This virus will increase scrutiny and racism towards them. It is not funny, and they should not be put in a position to pretend it is.

— Jorge Guajardo (@jorge_guajardo) January 26, 2020
Xenophobia, or the dislike and prejudice of foreigners, has existed for as long as we can remember. We're most familiar with the aggressive racists who believe in racial superiority and discriminate against others because they differ in skin color, facial features, and economic class – in other words, because they're part of the "minority."
Most of the time though, it's the subtle, casual racism we let slip that shows us how far we've yet to go as human beings. You don't necessarily have to blatantly bully another race. You just have to casually make a joke or two, pin a negative prejudice or stereotype on a foreigner, or make off-handed comments that sound as if they're nothing but they're actually humiliating. But what if you were in those person's shoes?
Social media – a deadly messenger with wings
Left with no choice but to grow my beard out and wear a backpack every time I get the tube now. It's the only way the Chinese will stay away from me

— Manny (@SuppressedSikh) January 27, 2020
It's a jungle out there and in here, inside the digital world, it's much worse.
When social media finally paid attention to the coronavirus that's spreading across the globe, there was only one nation everyone pointed fingers at – China. The panicked people of the internet were quick to blame the Chinese and their eating habits especially since Wuhan serves as ground zero for the virus, particularly a wet market that sold all kinds of animals.
You don't even have to imagine the conversations online – you can read the hate in real-time. Amid all the news on governments and hospitals trying to contain the virus are the whispers of warning to avoid the people that are said to be carriers and to be blamed for its spread.
If you're blaming culture, better think twice
Germans eat cheese flavored with live mites. From Romania to the US folks eat heaping piles of pig brains.

this whole "coronavirus outbreak is caused by Chinese people eating weird shit" isn't based in anything other than casual racism. https://t.co/1B0G4Fc6Dd

— Shimmy God✨ (@mal_praxis) January 26, 2020
What difference does it make if some cultures like eating exotic creatures like bats? Don't we also do that? We have an exotic Filipino delicacy called tamilok which are long, slimy worms found in mangroves and eaten raw. Or how about the balut (a developing bird embryo)? Some Pinoys even go so far as to shove balut down foreigner's throats, almost like a rite of passage for visiting our islands.
Foreign Policy puts it clearly when they pointed out that diseases don't spread by what's being eaten alone, it's also subject to the conditions it's being handled in – unclean markets, uneducated workers on sanitation. Coronavirus, or any disease for that matter, could've easily started in any country.
The Chinese in these trying times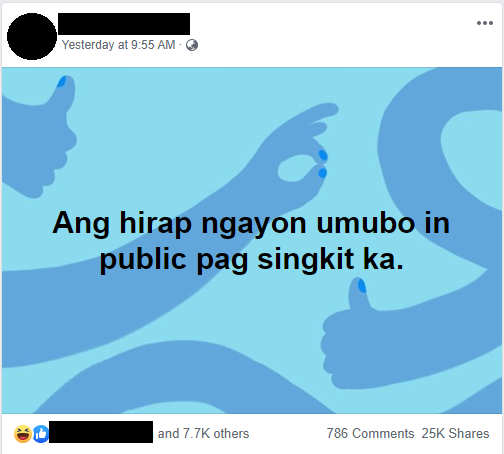 Millions of residents fled China before their local government put the city in lock down. This news properly terrified the world especially since all of the n-CoV cases worldwide could seemingly be traced to travelers from Wuhan or contact with people who have recently been there.
Now we're met with another face of discrimination disguised as "being careful." Every Chinese looking person that so much as coughs in public, runs the risk of being crucified, heck every Asian for that matter. Chinese living in Canada has even admitted to their fear of xenophobia which they've already been experiencing.
coronavirus is really fueling some potent anti-chinese racism, huh

— Jackie Luo (@jackiehluo) January 26, 2020
On our side of the world, we've seen the rise of the number of Chinese tourists and residents in major cities. This has been such a hot topic that almost always ends with Filipinos bitterly joking that we're actually residing in "the province of China." In the same way, men don't want to be defined by the mistake of one "cheater," we should not be treating every Chinese person we see as if they're a walking disease.
Local governments mishandling the crisis
May nakasabay ako sa elevator may dalang Lysol tapos medj madami kami sa loob at may mga chinese. Gag0h nag-spray siya ng Lysol sa loob ng elevator. 😭😭😭

— Edu (@eduuusaavedra) January 26, 2020
Our government's silence has made other things ring louder such as the hate thrown against the Chinese and suggestions of deporting them. Scrolling through social media, one could stumble over jokes such as the one above and 50 more like it. The microaggression is clear: all Chinese are carriers of disease and we must distance ourselves from them.
Okay, we admit, it's difficult to refrain from criticizing the Chinese, especially when some of them do crap like relieve themselves in our historic sites or punch delivery guys. It's proving even more difficult to tolerate them when it seems as if our government is hell-bent on being 'friendly' with them to the point of endangering the lives of Filipinos. But you have to at least try to take the high road, right? So, by all means, go ahead and demand the government to close our ports for Chinese nationals entering the country—the threat of disease is real after all—but don't let it reduce you to hateful human beings and cut off your Chinese friends.
At the moment, there might be nothing we can do but to take precautionary measures to make sure we won't contract the disease.
Irresponsible journalism coupled with fake news encourage fear-mongering
"nCoV carriers" is not the same as "suspected to have been infected with the nCoV". Isn't this a rather irresponsible headline, @TheManilaTimes ? pic.twitter.com/OWiyuBQPuP

— Miguel Ventura (@VeniVidiVentura) January 29, 2020
Everyone wants to know the latest update on the virus but some news sites have capitalized on it by creating clickbait and intentionally vague headlines that stir the pot and cause panic. As of writing, there are no confirmed cases of n-CoV in the country (because to confirm if a patient has the virus, we have to actually send samples to Australia first and wait for the results). An outright and detailed short statement like this could make a difference.
Even the threat of a deadly disease does not give us the license to be racist
THE WUHAN VIRUS IS SERIOUS, PLS DO NOT BRING RACISM INTO THIS.

YES, THE CHINESE USED TO COVER THEIR NOSES WHENEVER THEY SEE INDIANS, BUT THIS IS NOT KARMA FOR WHAT THEY HAVE BEEN DOING TO US.

PUNDEH, U CAN'T FIGHT RACISM WITH RACISM!

BE BETTER, BE SMARTER!

— Anjek Beng Matrep (@AnjekBengMatrep) January 28, 2020
At the center of all this are the Chinese nationals suffering from the coronavirus. They're crammed in hospitals, scared, ill and isolated; some don't know if they've contracted the disease or if their families are safe. No matter how you look at it, they're the victims. Fear makes people say and do stupid things in the name of protecting themselves. We are treading history and once we survive this virus, we wouldn't want everyone to remember these moments and see only the hatred we have for the Chinese people.
The truth is, xenophobia, casual racism, and discrimination might never be eradicated but we can try our best
Today, I cried for my family, friends, and all of China. China is currently the number one target of US propaganda, so to exist in the world & in the US as a Chinese person while everyone around you unquestioningly believes US propaganda is such a violent, alienating experience.

— Muqing (@muqingmq) January 27, 2020
At the end of the long and tiring day we're all having, it all boils down to this: this is not a war between humans, but one against disease. It should not be made as a fight among races or nationalities. It should be an opportunity to educate everyone on proper hygiene and public health. People have died and turning our backs and ostracizing the victims won't make us better humans. We have to work hand in hand in finding the cure.
Now, more than ever, we need to support the Chinese people. We should all learn to treat each other as equal human beings because aside from the fact that it's what humans should naturally do, the eyes of the next generation is upon us, and we wouldn't want them to make the same mistakes we're doing right now.
What do you think of the casual anti-Chinese racism happening right now?