8 Baker's Table Desserts That Will Remind You of Your Childhood
Mar 9, 2015 &nbsp • &nbsp Bong Sta. Maria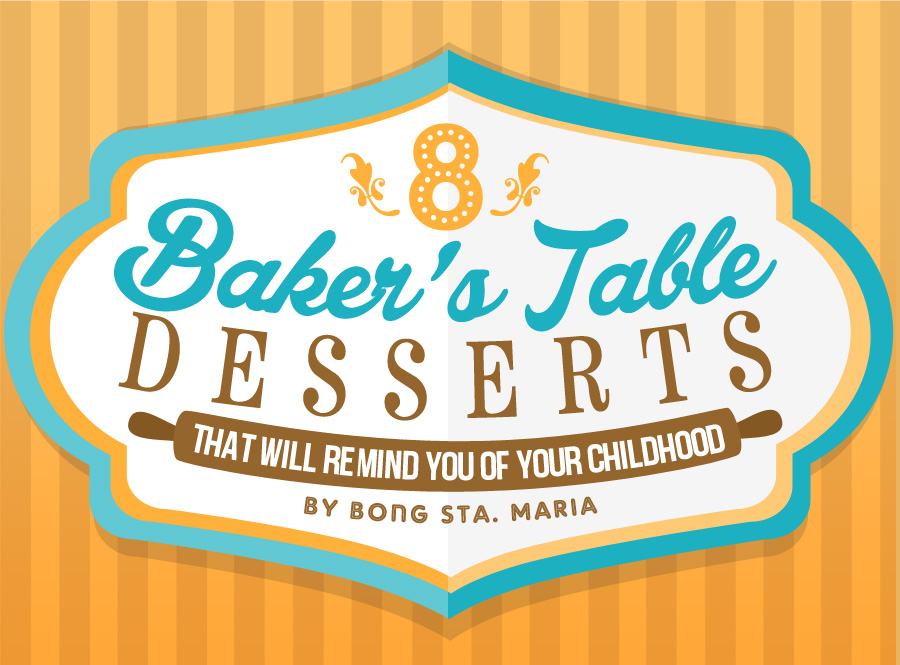 To give reference to a line from the movie "Strange Wilderness"— you say dessert, I'll come running.
Lately social media has been playing a big part in our search for things to eat. A well-Instagrammed latte art, for instance, could turn an unknown café into a hit business overnight.
Most of us used to discover places by passing by them, through word of mouth, learning about them after actually trying them out. My encounter with Baker's Table came as a form of a take-away—a Valentine's Day present, no less. A cliché I'd never thought I'd give into, because the moment I tasted that still-chilled Flat Tops cake, I was like "Oh lord. Since when did Valentine's day become so sweet."
Below is a story of the quaint dessert place in Maginhawa Street, Teacher's Village (it's near Ministop, and is right across the newly-opened Streat Food Park), as well as the 8 cakes that you must try once you've made it there. Owner/chef Jonathan Em also talks about how this delicious idea came to be.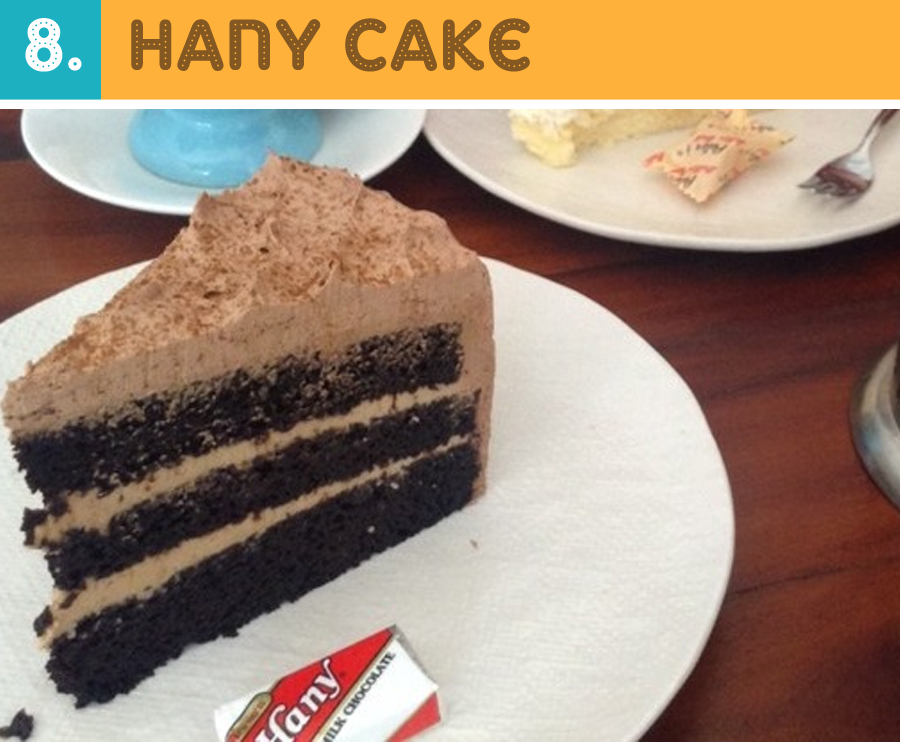 What sets Baker's Table apart from other dessert place concepts (and the reason behind my writing of this article) is that the flavors are unmistakably Filipino. Case in point: the peanut/chocolate concoction that is Hany, which is commonly found in sari-sari stores.
"Supporting local ingredients and products has always been one of my advocacies as a chef. But the idea was just something we stumbled upon, or should I say, a divine blessing," said Chef Jonathan.
He then told me the story of  that while he was shopping for some cake ingredients, he got lost in the candy section. "I saw Flat Tops, one of my all time favorites (impossible to eat just one) so I figured, it's just chocolate, so to speak I could make this into ganache."
He went home and did just that. The cake became an instant hit.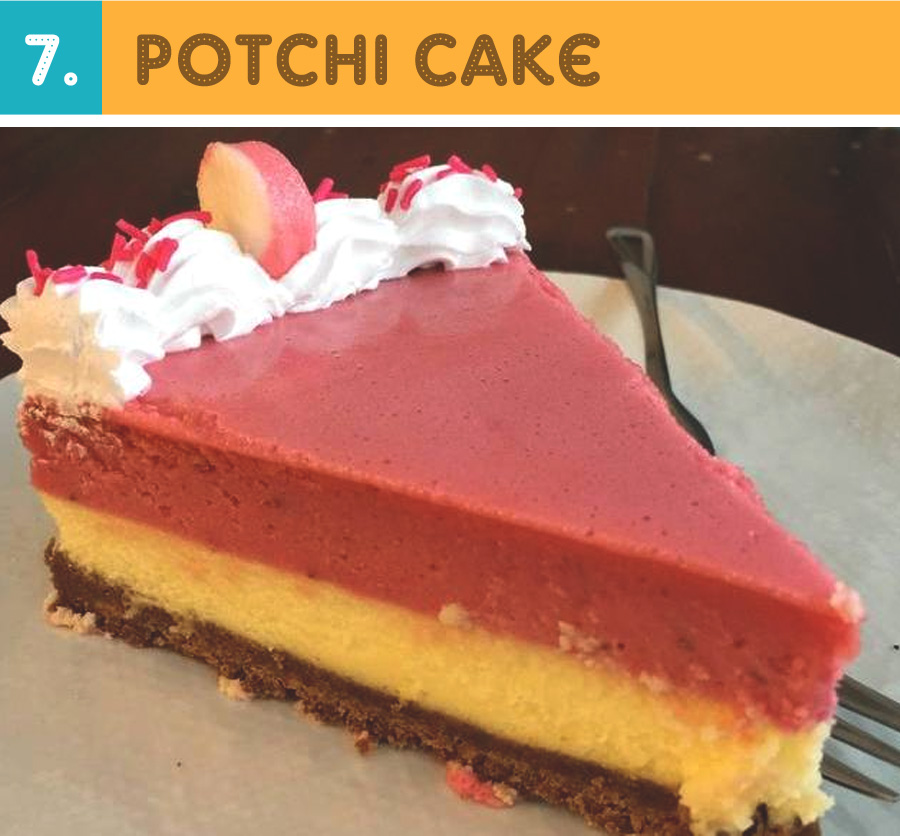 Chef Jonathan revealed that on the next day, his wife Monika gave him a bunch of her favorite candies and challenged him to turn them into cakes.
I was never a big fan of Potchi because I never liked strawberry flavors. Surprisingly though, this one tasted quite good. The top is a thin layer of what looks like melted Potchi (using one fork could be quite a challenge due to that rubbery texture, so be careful) and followed by two layers of cheesecake. Those who enjoy fruity flavors will love this one.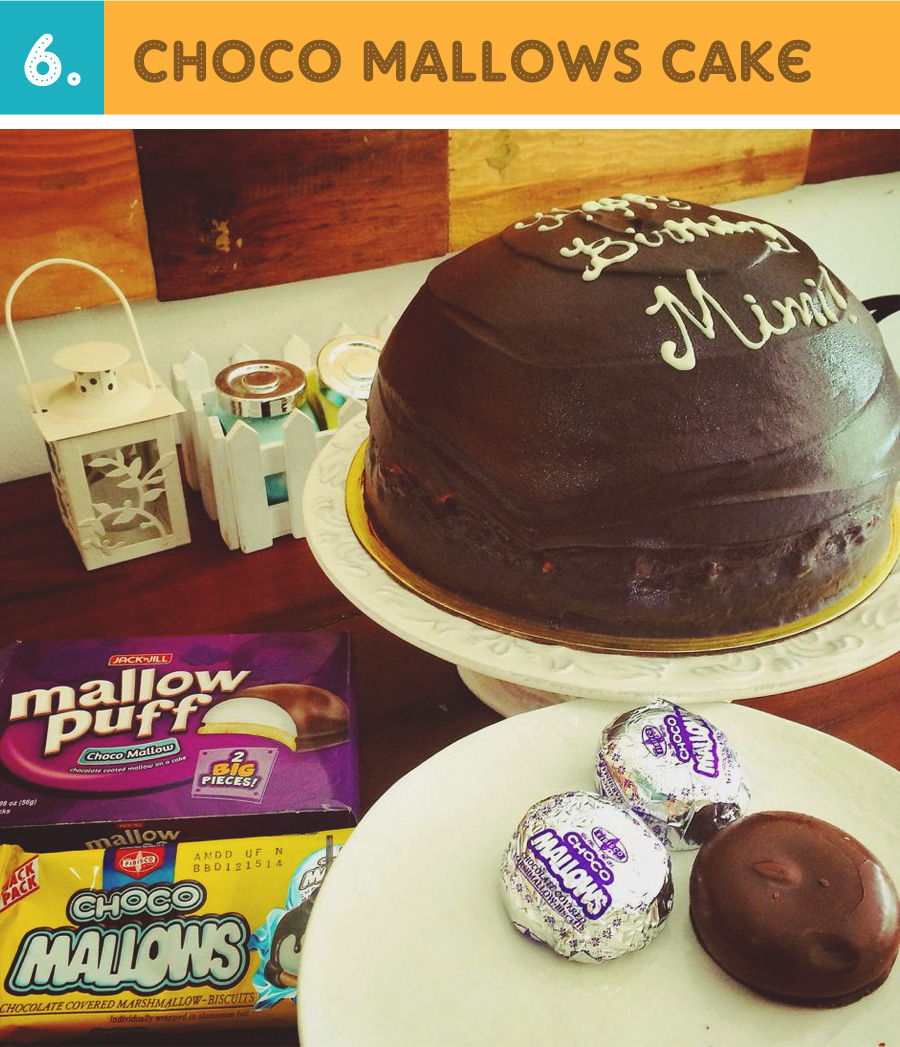 Sweet baby Jesus. If there was one thing that defined my childhood, this would be it. Happiness never fails to arise every single time I see that yellow box peeking out of the grocery store bag.
They describe this one as the "giant Choco Mallows," as it looks like Choco Mallows/Mallow Puff on steroids. The taste? I'm very confident to say that this one did my childhood favorite justice.
You'll most likely see this one available in the store on the first day of the work week, on what they call Mallow Mondays.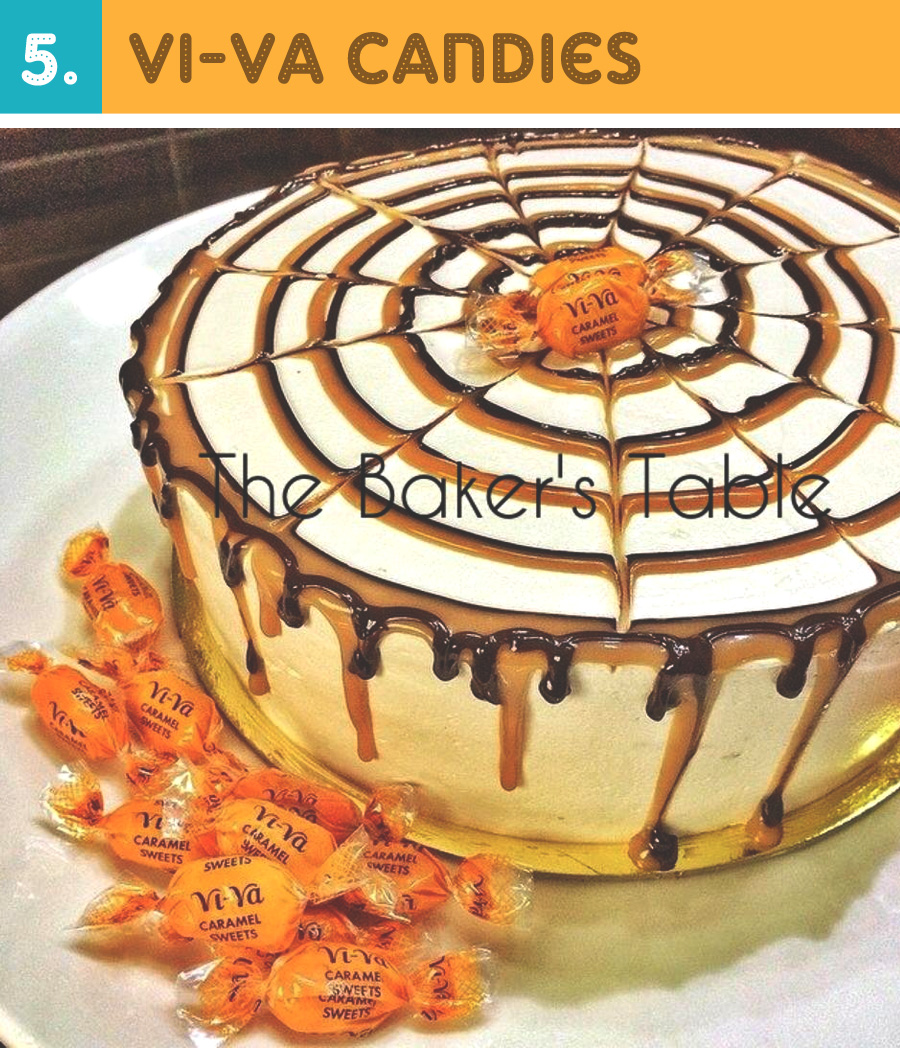 Vi-Va caramel candies, those that you'd find in sari-sari store containers, also became part of Chef Jonathan's menu. The Baker's Table's Vi-Va cake is a combination of soft chiffon with chocolate and caramel flavors. There's a certain crunch to it, too, which is probably the crushed versions of the candies.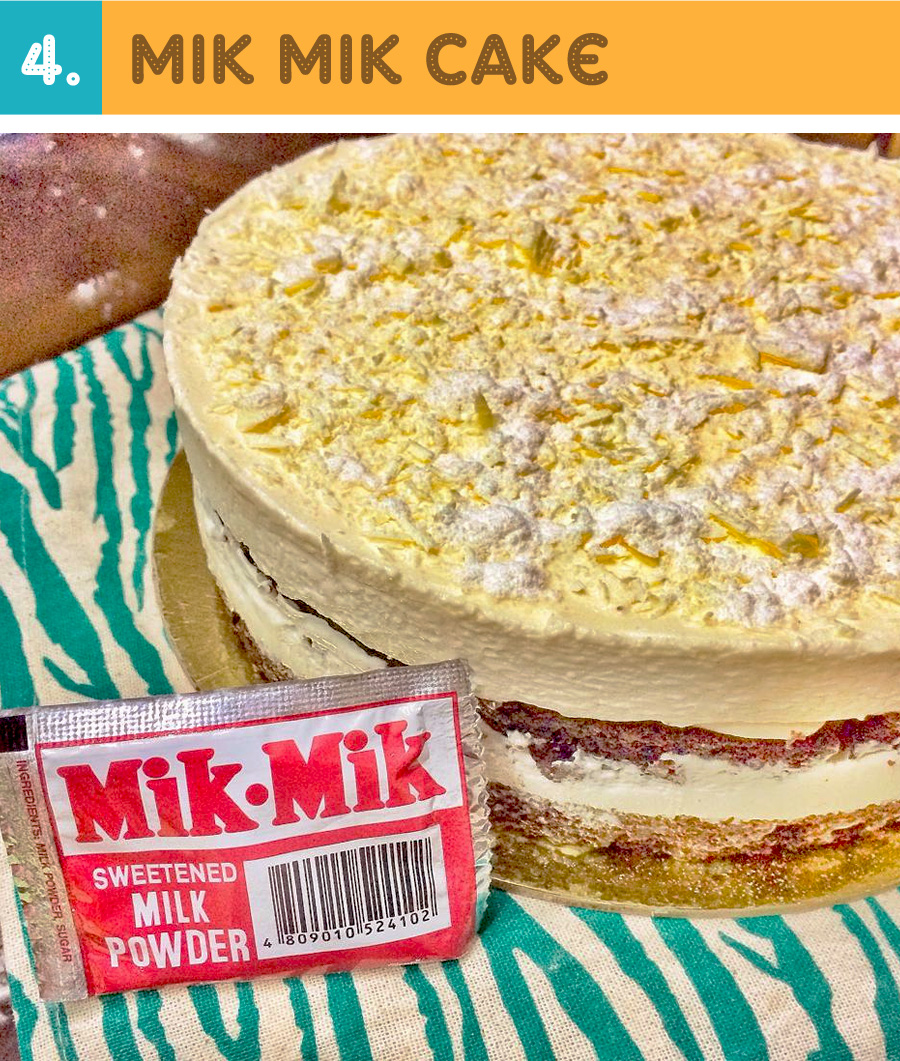 I never got into Mik Mik, but it's a common favorite among friends and family. Being a fan of cakes that are not too sweet, this one became an instant hit. The cake was served with an actual Mik Mik (all cakes are usually served with their candy origins), and sprinkling some on top would most probably add more nostalgia. It isn't too sweet, either, so there is the (delicious) danger of eating too much–don't worry, you won't regret it.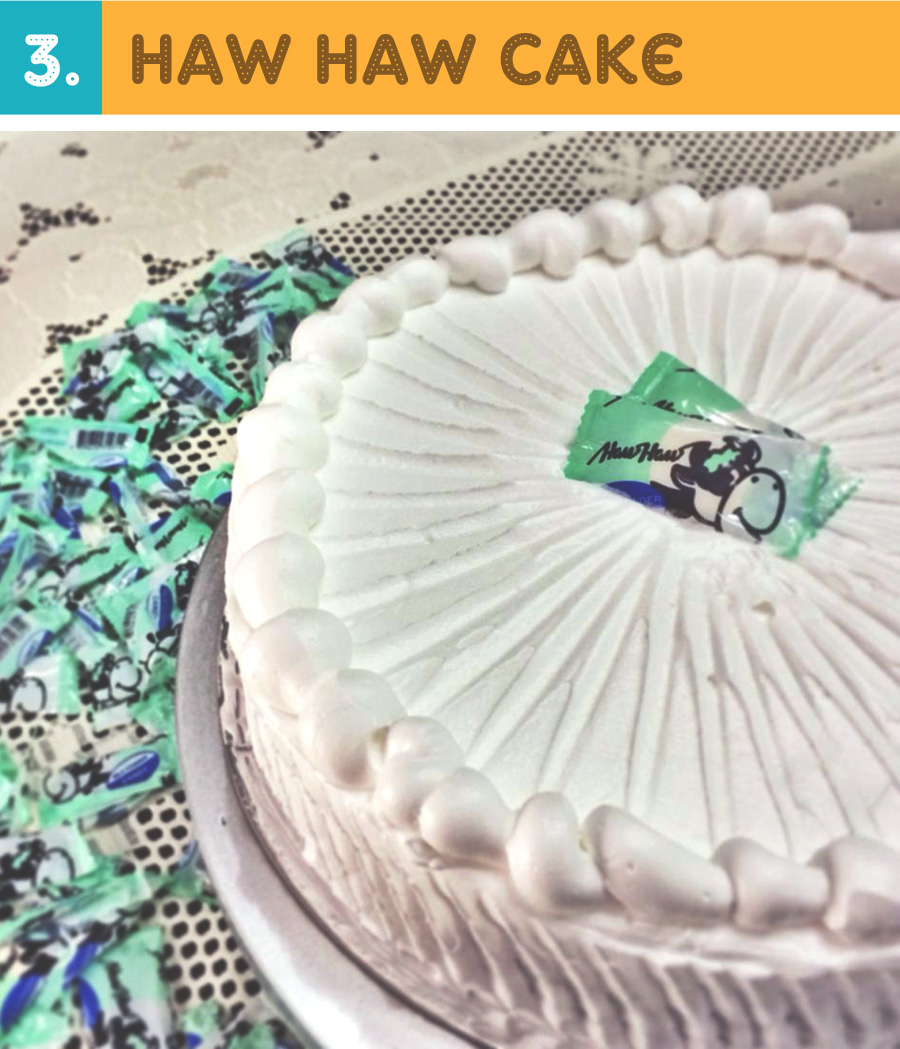 "Haw Haw it is so yummy?" asked one satisfied and evidently punny customer who posted on Baker's Table's walls.
Best eaten with their coffee (this place serves good barako on a French press), this cake perfects the balance between sweet and light—a combination of cream cheese frosting, moist vanilla sponge cake, and a generous amount of the melted childhood favorite.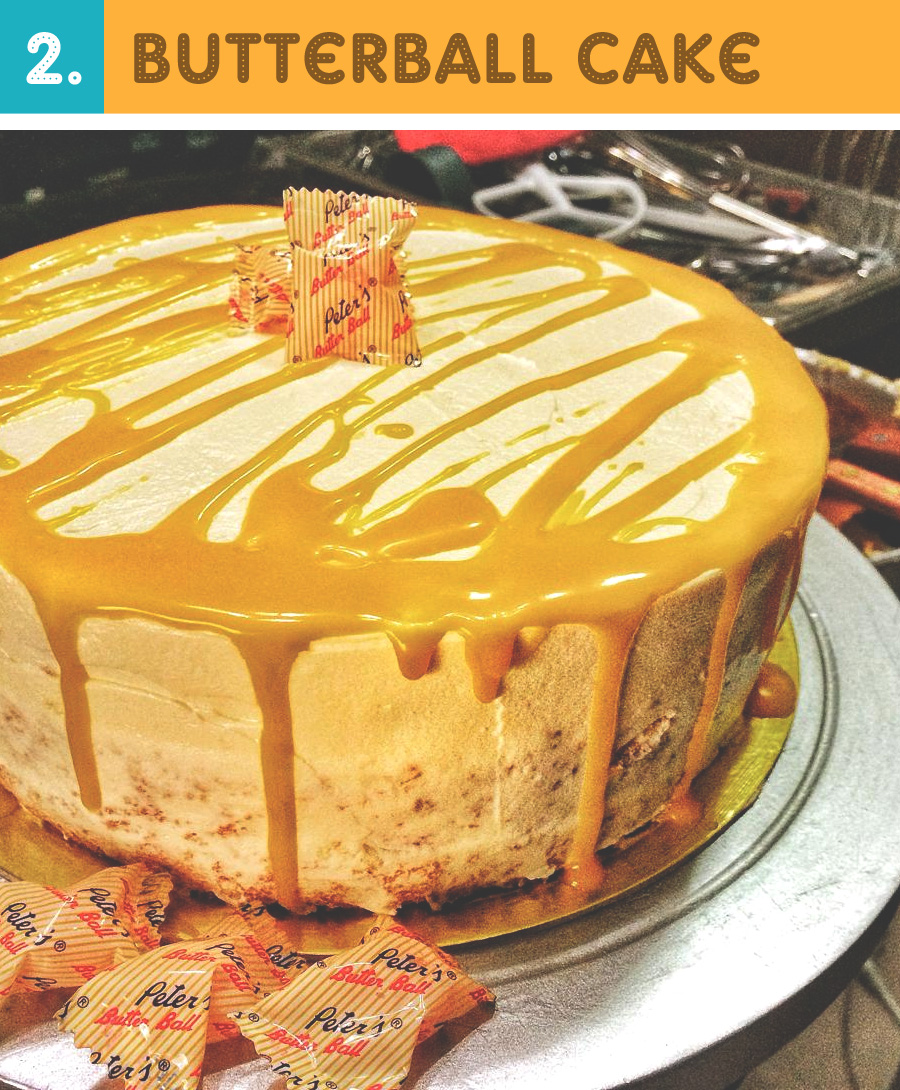 Before we talk about how amazing this cake is, a few things that you need to know:
Chef Jonathan said that ordering their cakes in advance is always appreciated, "but every other day we get those clients that jump on the first whole cake they see." Baker's Table also accepts customized cakes for special events. "Any cake you can imagine even a 20 foot Goliath cake, true story!" he added.
The details were provided because you'll most likely be back for more. This is Chef Jonathan's favorite (alongside their chocolate cake number 1, but more on this later). The Butterball cake is similar to the Haw Haw cake in terms of consistency—light but has a pleasant sweetness that's not overpowering, and slightly addictive.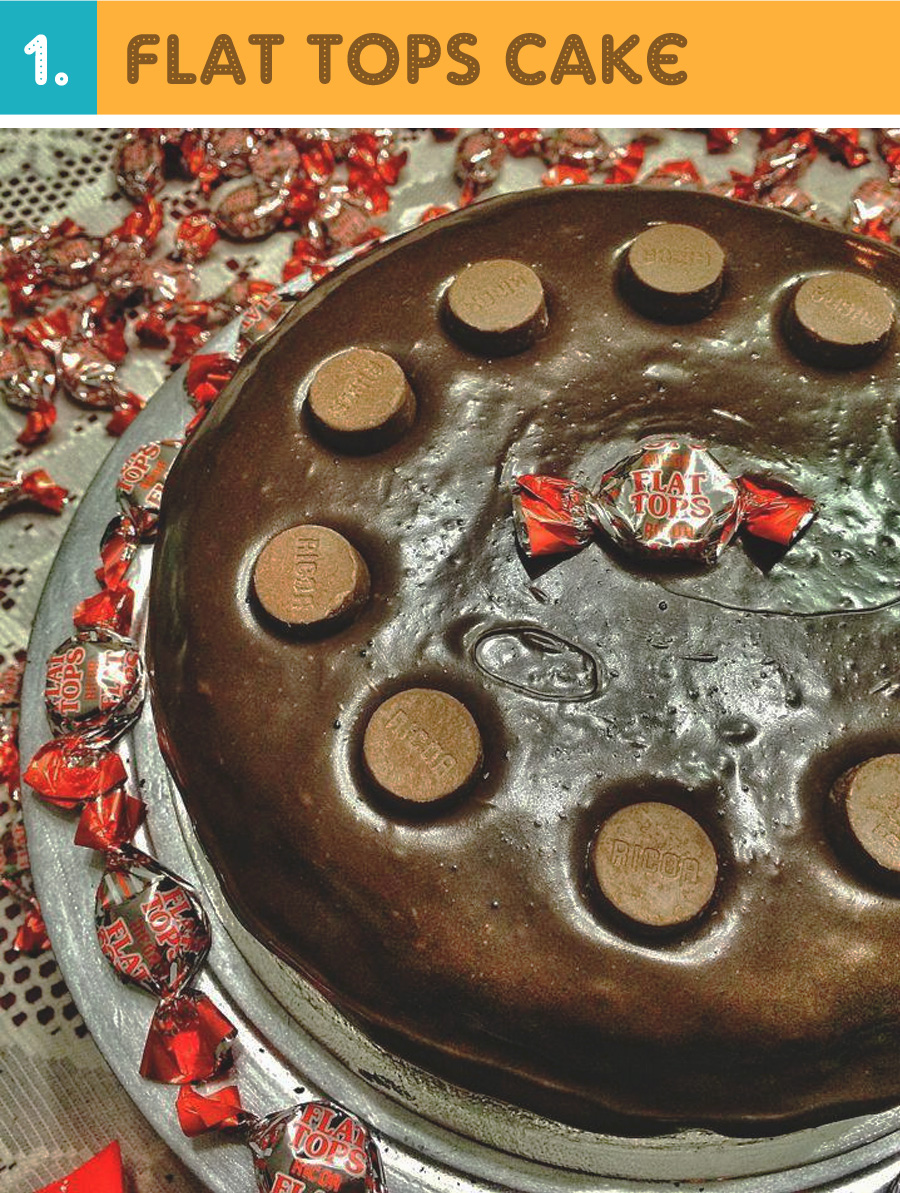 The Flat Tops cake is available every day. If you don't see it on display, it is probably because somebody who knows that a chocolate cake that good doesn't stay uneaten for too long already beat you to it.
A little helpful info for those who want to be first to devour the cakes: On Mondays, Baker's Table serves Flat Tops, Butterball, Hany and Choco Mallows; and on the following day, they have Cheesecake Tuesdays, which includes the Orange Swits cakes. The other cakes are chosen randomly, unless requested for.
Here's a little something to look forward to: "This March we are coming up with Sweet Corn cake—the little golden balls of airy delight. It's fluffy corn cake with ground Sweet Corn powder and pureed corn, layered with corny whipped cream and buttery caramel. Can't go wrong with that," Chef Jonathan said.
"Also working on a Mellon Cake for summer made with Mellon Rings the candy from Malabon," he added.
Baker's Table is located at 88-B Maginhawa Street, Teacher's Village Quezon City, Philippines.
Have other flavor suggestions for Baker's Table? Share them in the comments!