Though she has over 73.6 million fans and over 1.5 BILLION likes on TikTok, Bella Poarch is still a mystery to the general public. The Queen of TikTok might be incredibly active on social media, but she doesn't reveal much about herself, so her huge fanbase still doesn't know much about her. Thankfully, that's starting to change, and she's starting to open up more and more. The 24-year-old "Build a B*tch" hitmaker recently had her first Q&A on the H3 Podcast, where she spoke up about her rough childhood, why she joined the military, and her newfound fame. Here's just some of what we learned.

[TW: Child abuse, Suicide]
She never knew her biological parents

Bella was adopted when she was three years old by an American retiree and his Filipina wife. She doesn't remember her biological parents, and had been living with her grandmother in the slums. "We were very poor," she said.
Though Bella kept in touch with her grandmother until her death last year, the TikTok star said she isn't interested in reaching out to her biological parents.
"I feel like I'm scared to know [my biological parents] and I don't wanna know. Because I feel like meeting them would be just really awkward."
"My nickname was 'stupid b*tch' growing up."

Her stepdad — an American military veteran who had retired in the Philippines — bought a huge plot of land in the Philippines and filled it with farm animals, but much of the farmwork fell on Bella and her older brother. (She also had two older sisters, but they were spared from the hard work.)
"It was very hard. I had to wake up at 4 am in the morning — actually 4 am would be late, sometimes I'd have to wake up at 3 if I wanted to get to school in time… I had to finish all my chores. I'd be sweeping the yard and picking up dog sh*t, I'd be cleaning up the cat house and sweeping goat poop. I had to clean up real good because if I didn't, my stepdad would get mad at me and be like 'you're not eating breakfast if you don't get this done'."
If her stepdad wasn't happy with the way she did her work, she would sometimes not eat breakfast, and sometimes he would physically hurt her.  "I didn't realize [I was being abused] until I got to the States," she said. "To me it was normal."
In a TikTok video posted on November 2020, Bella revealed that she got tattoos to cover up her scars from child abuse.
Her stepdad recently revealed that he has PTSD because he was in the army for 20 years. "That was his excuse, but I have PTSD and I don't go around and hurt or take advantage of people," she said.
No adults intervened
Her stepmother never hurt Bella directly, but she didn't do anything to stop the abuse either. Bella did try asking for help from people but quickly realized that "nobody gives a sh*t."
"It's hard because in the Philippines, whatever happened in your neighbor's house, you had to mind your own business," she explained.
She once showed up to school with a swollen, bleeding hand. "It was really bad. And my teacher was asking me why I was so slow at writing that day. And I told her that my hand was swollen and I can't write with my right hand so I had to write with my left hand, and she was just like, 'okay, just hurry the f*ck up'," she said.
Today's Internet Kalat: #CancelKorea Trends, Sparks Arguments on Racism
Today's Internet Kalat: #CancelKorea Trends, Sparks Arguments on Racism
Kyzia Maramara | Sep 09, 2020
She was treated like a second-class citizen in her own home

Bella is the youngest of four siblings (all adopted); she has two older sisters and an older brother. Her two older sisters weren't abused. "They were given special treatment," she said. "They didn't have to clean poop. All they did was really clean up inside the house."
While Bella's sisters could basically do whatever they want, Bella and her brother were given the dirty work and were treated like second-class citizens. They weren't even allowed to sit on the couch. "When we watched TV we had to sit on the floor," she said.
She was bullied at home and at school

"I always thought it wasn't fair, but I couldn't really do anything about it. They were also bullying me," Bella said of her sisters. "They always got the nice things and I would get the hand-me-downs. That's also why I got bullied in school cause I would go to school with holes in my shoes."
She was also bullied at school because she had curly hair. "The [beauty] standards [in The Philippines] are really pale skin and straight hair, so I got bullied because of my curly hair," she said.
Bella was also bullied at school because her stepdad wouldn't let her have showers in the morning — only at night. Because she was cleaning animal poop in the morning, she'd smell bad when she went to school, and so the bullying was relentless.
She moved to the US at age 14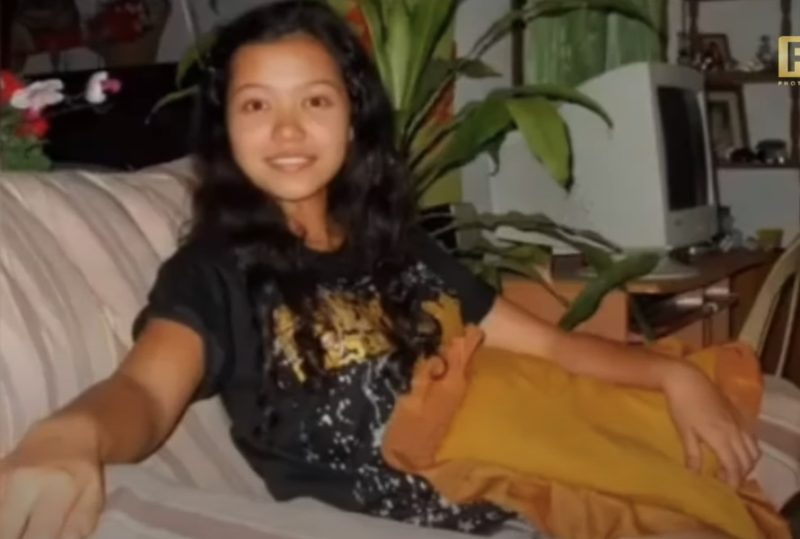 When Bella's stepdad needed to get bypass surgery, he couldn't find any doctors in the Philippines who were willing to do the procedure. And so he flew to the US for surgery. After his procedure, his doctor wouldn't let him go back to the Philippines, so he had to bring Bella and her brother over to the States because they were still minors (Bella's two older sisters were over 18 so they stayed in the Philippines).
They first stayed in San Francisco for two months, then they moved to Fresno, where Bella went to high school for a year before graduating. "It was good," she says of her high school experience in the US. "I mean, I was a loner, I had one friend. But I always liked school because it was a way of me not being at home. It was like an escape."
Even in the US, she wasn't allowed to do anything
"Even in the States I wasn't allowed to hang out or go out, but [my stepdad] changed a few rules, like 'oh, you can go sit on the couch now,'" she said. "But I was basically not allowed to go hang out with friends after school or anything like that. I never went to the mall.
"I never had a childhood, basically. And that's why my manager's basically like, 'wow there's so many things you haven't done and they're just taking me to these places and I'm experiencing new things."
Ironically, she found freedom by joining the military
View this post on Instagram
Her brother joined the navy almost as soon as he arrived in the US, and so when Bella graduated from high school, she decided to join the navy as well. "At first, I was scared, but then I was like, this is my only way out."
Bella was just 17 when she enlisted, so her parents had to sign a waiver allowing her to join the military. "Funny cause the day I left for boot camp, my parents couldn't even drive me. The last words from my stepdad were, 'Don't ever come back here. This is not your home.' That hurt. Back when I was younger I still thought, 'Maybe they'll change, maybe they'll love me as a daughter.' But now I'm just like, f*ck it."
At boot camp, Bella had the time of her life. Though everyone else was crying because they missed their parents, Bella was happy. "I was like the youngest and the tiniest, and I'm like, 'We're all sleeping together in a room — this is my first time actually having a sleepover,'" she said.
There, she instantly made plenty of friends (many of whom she's still in touch with) and she also joined their musical department as a soprano. "It was fun because six days a week we'd go through rough training and on the seventh day we'd just get to practice. It was like a whole day of me singing."
Bella eventually signed a four-year contract with the navy. She was in aviation ordinance, which entailed taking care of aircraft weapons, and worked on an aircraft carrier. Through the navy, she got to visit countries like Australia and Singapore. Though she had fun and discovered freedom in the military, it was also a dark time for her. Her PTSD and depression had gotten so bad that she attempted suicide and had to be admitted to a psych ward for five days.
She left the navy after four years at the recommendation of her doctors and decided to live with a friend. Going back to her family wasn't an option — though they knew about her condition, they didn't expect or ask her to come home.
Now that she's famous, her family suddenly wants to reconnect with her
Bella downloaded TikTok in early 2020 at her friends' prodding. And it wasn't long before she blew up on the platform — her "M to the B" video is the most liked post on TikTok. Soon after she went viral, talent management companies started contacting her, and the rest, as they say, is history.
After her success, Bella said that her family suddenly started reaching out, but she isn't interested in reconnecting with them. (Can anyone blame her?)
"It's very hard for them to accept what happened in the past. Like they can't accept it. And the way they apologized was like, 'I'm sorry that you feel that way.' And that made me feel so angry," she said.
Bella's been through a lot, but she's moved past her traumatic childhood and is now thriving. And even though she didn't have the best memories of growing up in the Philippines, it's easy to see from her content that she's still proud of her heritage and where she came from. She's proof that your past doesn't necessarily dictate who you become in life and that it's possible to flourish even after you've been through hell. We have no choice but to stan.
You can watch Bella Poarch's complete interview with H3 Podcast here.