Skip the filter and fill your camera roll with autumn's vibrant colors. Unleash your inner romantic at the sight of falling red, yellow, and orange leaves. There's no need to fly halfway across the world because here's a quick list of places to go in Asia this fall season:
1. Japan: Mt. Fuji
Visit Mount Fuji and you'll easily discover why it's the symbol of Japanese beauty.
Drink in the amazing scenery and cool air as you climb up the iconic mountain. You'll enjoy a breathtaking view at 2305 meters above sea level. At Misaka Farm, you can hand-pick your own fruit.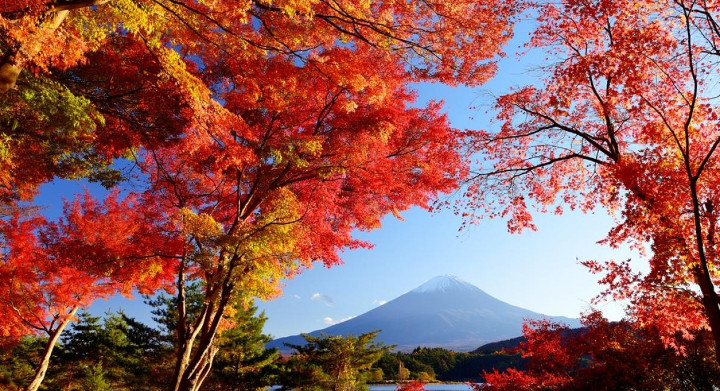 Watch Mount Fuji reflected beautifully on Lake Kawaguchi. Enjoy the contrast of the snow-capped mountain and deep blue lake. View a kaleidoscope of autumn colors: red, orange, and gold. Delight in ever-changing, but perpetually lovely flowers such as irises, lupine, and sunflowers. Witness Mount Fuji in all its glory this fall season!
2. Japan: Eikan-do Temple
Eikan-do is one of Kyoto's most famous fall foliage spots. This ancient temple was founded in 853 by monk Kūkai's disciple. Enter sprawling gardens dominated by maple and gingko trees. Delight in temple grounds alternatively decorated with lush greens and brilliant reds. Soak up the tranquil atmosphere with charming rock formations and chanting priests. If you want to escape the modern world and feel like a hermit for a moment, this is the place to be.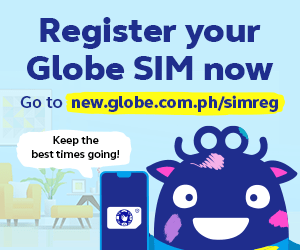 3. Korea: Naejangsan National Park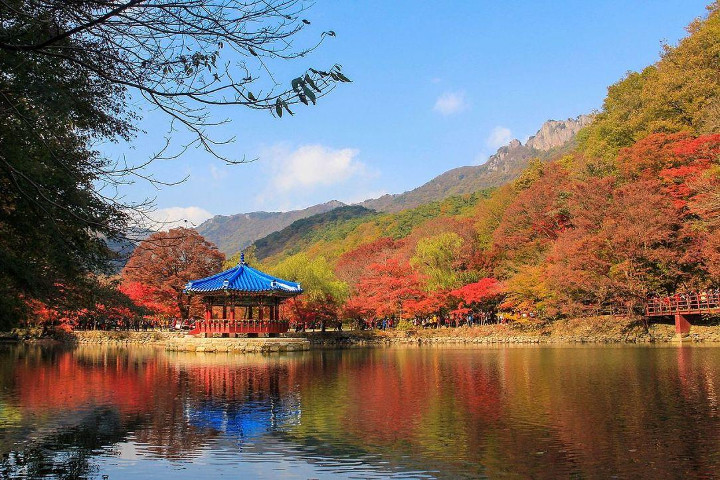 If you've only got a day outside of Seoul, head to Korea's best-known mountain for autumn scenery. Mt. Naejangsan, means 'many secrets in the mountain'. The cool weather makes it perfect for a day of hiking. Explore myth-like waterfalls, sacred temples, and lush forests. But for a truly spectacular view, take the park's cable car and marvel at the autumn carpet of reds and orange from above. Cap off your visit at photographers' favorite spot, Uhwajeong Pavilion. Capture the pavilion's beauty framed by autumnal trees, while its reflection glitters across the lake.
4. Korea: Seoraksan National Park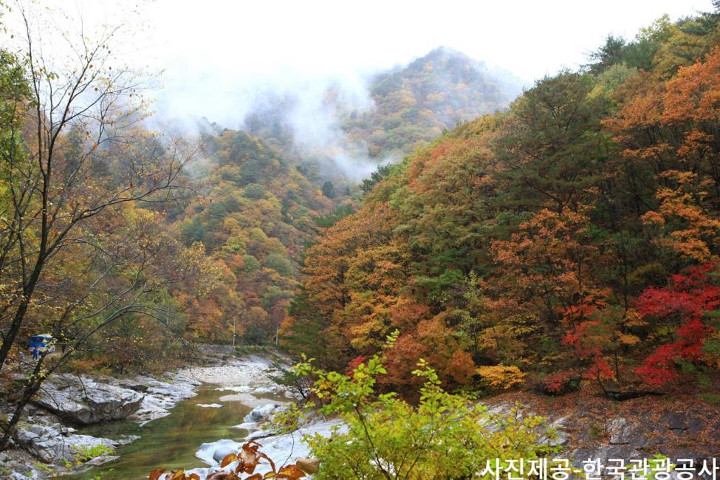 At Mt. Seorak (from 'Seol' meaning 'snow' and 'Ak' meaning 'big mountain'), fall and autumn meet early to give visitors a breathtaking view. Seoraksan National Park boasts stunning fall foliage, which covers most of the mountain. Wander through twisted trees and leaves painted red, orange, and gold. Encounter odd rock formations, dense forests, and interesting wildlife everywhere. Marvel at powder-white snow, crystal clear ponds, and flowing streams. Lastly, embrace the season with a cozy fall picnic. Share homemade goodies and a bottle of meoruju, a local fruit wine, with your friends and family.
5. Korea: Odaesan National Park
Remember the tragic love affair between Kim Shin and Ji Eun-tak? The hit K-drama, 'Goblin: The Great and Lonely God' swept us away with poetic lines, especially when they were recited in the midst of vivid autumn leaves. Here's your chance to catch a falling maple leaf and reminisce your first love, just like Kim Shin.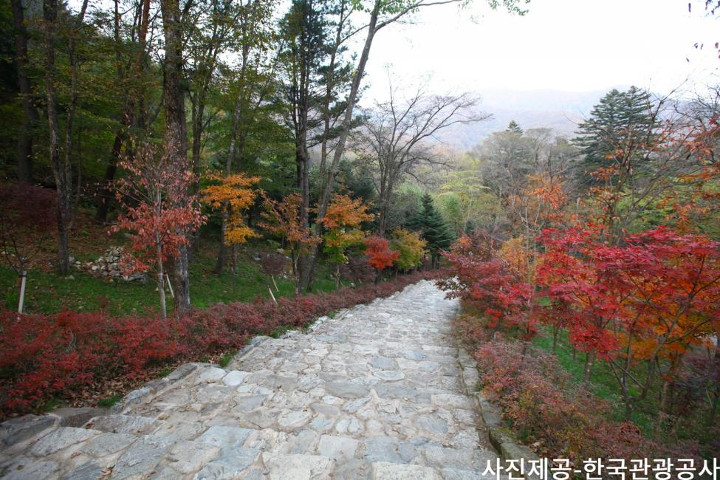 Stroll through the fir tree paths and meet musk deer, turtle doves, and woodpeckers. Even non-fans will appreciate the fall leaves of Odaesan National Park. Don't miss the opportunity to relive Goblin's 'shining' moments.
6. Taiwan: Mt. Liushishi
If you're tired of the same old pale pink flowers popping up all over your feed, try daylilies! This trip is perfect for hikers and nature lovers who want to enjoy something different. Unlike cherry blossoms, the daylilies bloom during fall, from August to September. Head to Mt. Liushishi, where the daylily blooms in the morning only to wither at night. Its fleeting yet beautiful nature draws tourists all over the world to Hualien, Taiwan. Once a year, you can get lost in a sea of brilliant gold.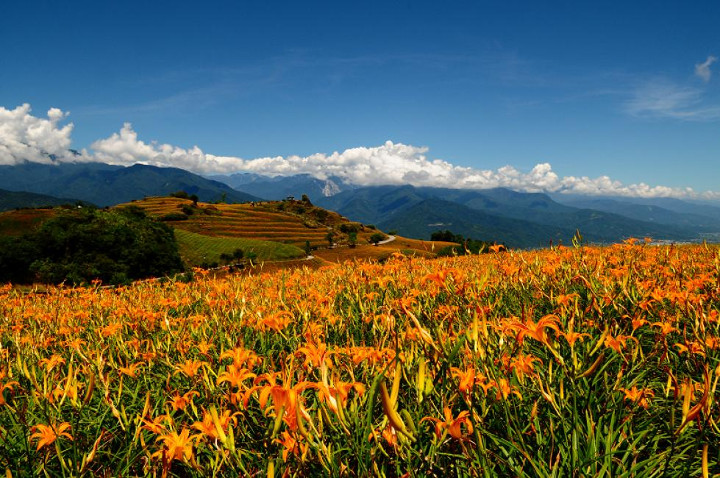 The daylily also has an earthy, musky-sweet taste and is a staple ingredient in Hualien cuisine. Local restaurants and food stands serve snacks and dishes made with daylilies, in all kinds of varieties.
7. Japan: Korankei Gorge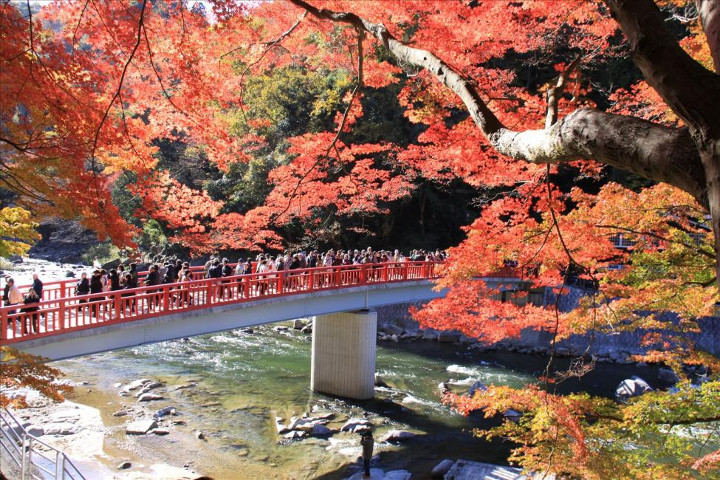 What better way to relax than to bask in the shade of vivid trees? Discover Korankei Gorge, central Japan's postcard-pretty valley. Enjoy the rare and marvelous sight of maple leaves and cherry blossoms. Stroll along scenic trails filled with vibrant red, yellow, and orange leaves. Marvel at the picturesque Taigetsukyo Bridge. Gaze at over 4,000 maple and giant ginkgo trees lining Tomoe River.
8. Japan: Kitano Tenmangu Shrine
Enter Kyoto, the ancient Japanese capital. Head to Shozan Resort Kyoto, located between Northern Kyoto's hills. They're known for their Kaiseki cuisine, a multi-course Japanese dinner. Watch dancing geishas and maikos in colorful kimonos and marvel at their elegant and poised movements. Interested in traditional fabric dyeing and calligraphy? Test your skills, then make it an awesome addition to your Instagram collection!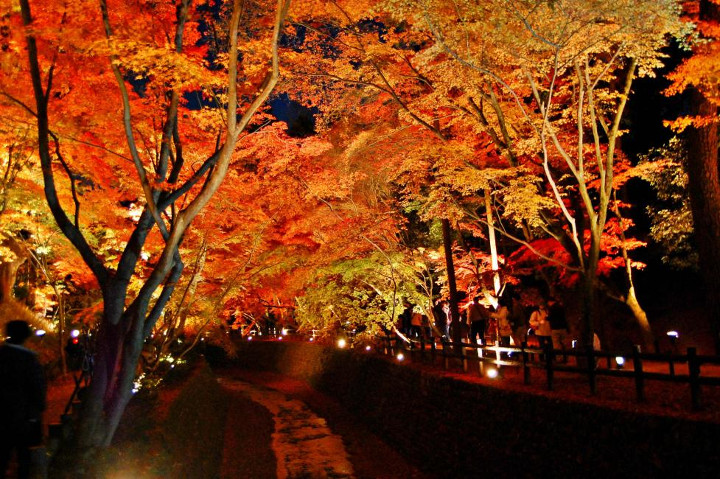 Cherish an unforgettable sight at Kitano Tenmangu Shrine. Its plum trees are dedicated to Sugawara Michizane, a revered politician. Surround yourself with blazing colors inside serene temple gardens. Marvel at the blend of purple, red, and orange leaves. Witness hundreds of lit maple trees lining the garden's river. You'll definitely adore the beauty of both the autumn season and Japanese arts.

All photos courtesy of KKday.

How are you planning to embrace the magic of autumn? Tell us which place you're excited to visit below!

[/whole] [/row]