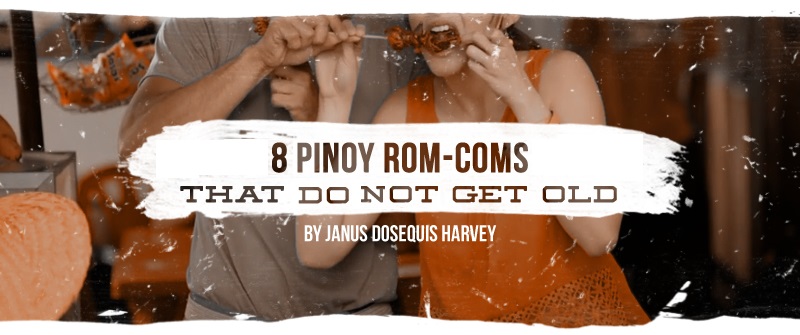 Well, if someone can do a "classic" list when I'm the #TBT authority 'round these parts, I should be able to do a #hugot one instead of the resident #Hugot King on the writing team.
We all love Filipino Rom-Coms. Whether you liked "Maging Sino Ka Man" or "Labs Kita, Okay Ka Lang?", there's something for everyone in this genre. When the Korean invasion of the mid '00s hit, though, it triggered a remarkable shift in the variety of storylines that the rom-coms ran with, a shift that was further diversified by Wattpad in recent years.
This list is dedicated to the more recent hits, given that none of these films go back earlier than 2003 (so sorry, fans of "Radio Romance"). Furthermore, in compiling this list, I made it a point to never use a leading star twice, so another sorry to the fans of "A Very Special Love," but John Lloyd's already spoken for somewhere on this list. Here are 8 Pinoy Rom-Coms that are practically impossible to get tired of, unless you have no joy in your soul…
Synopsis: At 25, wedding coordinator Toni (Claudine Barreto) is being pressured by her family because she's an old maid (At 25? Really?!?). She meets Lorenz (Rico Yan), a wedding photographer who's jaded on the idea of love. He tries to help her find the one, but what if, unbeknownst to both of them, he's the one?
Rico Yan's last film was also probably his best. The chemistry between the two lead stars onscreen was scorching hot, which is why the news that they broke up and Rico's subsequent death in the middle of the phenomenal success of the film really marred the feel-good story behind this movie's success.
Most Memorable Line: "Sometimes, Mr. Perfect isn't going to be Mr. Right."

Synopsis: Bogs (Gerald Anderson) and Mae (Kim Chiu) are best of friends, but no matter how long Mae has held a torch for Bogs, he has always turned to his best friend for help with the women he has wanted to woo over the years. After one massive heartbreak, Bogs finds himself falling for Mae. Is this really it? Or will this just be a rebound with the meantime girl?
Kimerald may not be to everyone's taste, but this tale of best friends falling for each other was a cut above the rest in that very tired, cliche'd subsection of romantic plots. The fact that Kim Chiu played a volunteer firefighter in Manila was an amusing highlight to anyone in the know, too. Mae and Bogs was Kimerald at their best: you could practically feel how into each other they were at this point in their onscreen (and supposedly real life) pairing.
Most Memorable Line: "Shinota mo best friend mo, Bogs! Shinota mo!"

Synopsis: Julian (Derek Ramsay) is a Filipino-American man who needs a translator to teach him fluent Filipino, so that he can deliver a scathing letter to the woman who broke his heart. Tere (Jennelyn Mercado) steps up to this odd role. Both of them are fools for love. But will they be a fool for each other?
Probably the best acting you will ever see from Derek Ramsay with his shirt on, "English Only, Please" really drives home the fact that a love story can spring from the most mundane of premises. This film pretty much put writer/director Antoinette Jadaone on my map.
Most Memorable Line: "Oo na! Ako na! Ako na ang magisa!"

Synopsis: King (Robin Padilla) and Ning Ning are engaged, but while the latter is abroad, she asks her fiance to work with her cousin, Lally (Pops Fernandez). To nobody's surprise, this leads to a merry-go-round of misplaced affection and annoyance until the inevitable resolution comes.
Robin Padilla may be an action star most of the time, but he knows how to turn on the charm when he's given the chance. This film cemented that, and his surprising singing prowess (or lack of it) certainly did him favors!
Memorable Line: "Kung may Megalotto man sa pag-ibig, tinamaan mo na yun."

Synopsis: After a whirlwind courtship, Angie (Judy Ann Santos) and Jed (Ryan Agoncillo) suddenly find themselves in the middle of preparations for the wedding of their dreams and nightmares. Will wedded bliss really rule the day? Or will it wear off when real life sets in?
Probably one of the most realistic depictions of a relationship in recent memory, Kasal, Kasali, Kasalo was an exercise in no-acting acting as you saw that Judy Ann and Ryan were so in tune with each other, everything they did onscreen just felt right. Every quip, every fight, every quirk made you look and think "that's how it is!"
Memorable Line: "Ipraktis natin yang human rights mo!"

Synopsis: Four years after a painful breakup, Ginny (Toni Gonzaga) receives a purposely delayed e-mail from Marco (Piolo Pascual) telling her how much he misses her. Soon afterwards, he comes into her life again – and asks her to convert his ancestral home into a restaurant. Ginny thought this was her chance to set things right – until she finds out Marco is engaged to someone else. Will love be sweeter the second time around?
Toni Gonzaga proves why she is one of the best rom-com leads in the country with a very convincing portrayal of a student infatuated with her hunky teacher. This film really tugs at the hearstrings of anyone who ever held onto love long past its expiration date.
Memorable Line: "Kailangan mong malaman kung bakit isang umaga pag-gising mo, biglang nagbago ang lahat. Bakit wala na siya. Bakit mag-isa ka na lang. Kailangan mo ng dahilan, 'di ba? Kailan mo ng mapangahahawakan kung bakit kailangan mong tiisin na magkmukhang tanga. Na magmukha kang tae sa paningin ng tao, sa paningin mo sa sarili mo! Kasi hindi mo alam kung paano, eh. Hindi mo alam kung kailan. Hindi mo alam kung ano'ng nangyari. Kung ano ang mali sa iyo. Bakit ka niya iniwan?!? Anong karapatan mong hingin ang isang bagay na ipinagdamot mong ibigay? I deserved an explanation. I deserved an acceptable reason."

Synopsis: Mace (Angelica Panganiban)  is struggling to meet baggage limits in the airport when she is approached by Anthony (JM De Guzman) who plays Good Samaritan. A trip to Baguio and to Sagada later, they find out the answer to the age-old question: where do broken hearts go?
Not a single kissing scene: just a pure parade of real, raw emotions. This film is a modern-day achievement in Philippine cinema, no matter how many snobs turn their noses up at it.
Memorable Line: "Alam mo yung sinasabi nilang kung kayo, kayo talaga? Kung kayo, babalik siya sayo? 'Langhiya, nakakagago yun, eh. Ano yun? Iaasa ko na lang sa hangin? Sa tadhana? Sa isang bagay na hindi ko nakikita yung future niyo ng taong mahal na mahal mo? So kami, yung 8 years namin, kailangan ko na lang tanggapin na hindi pala kami nakatadhana para sa isa't isa? Hindi ganun. Hindi yun ganon para sa akin. Para sa akin, kung mahal mo, habulin mo. Dapat ipaglaban mo iyon. Huwag mong hintayin na may magtulak sa kanya pabalik sayo. Hatakin mo. Hangga't kaya mo. Huwag kang susuko. Huwag kang bibitaw. Sorry. Mahal ko, eh."

Synopsis: When Popoy (John Lloyd Cruz) and Basha (Bea Alonzo) break up after a long engagement, the two go through the typical stages of recovering from heartbreak. Yet through it all, one has to ask: is this really the end?
A movie so good that even That Thing Called Tadhana repeatedly referenced it. There's a reason why it's about a decade since it came out and One More Chance still gets quoted ad nauseam. They say that the best movies reflect the human condition, and this is living testament to that claim.
Memorable Line: "O, eh di ba't ikaw pa ang nagsabi sa akin na kaya baka tayo iniiwan tayo ng mga taong mahal natin, kasi baka merong darating na mas okay. Na mas mamahalin tayo. Yung taong 'di tayo sasaktan at paasahin. Yung nag-iisang tao na magtatama ng mali sa buhay natin. Ng lahat ng mali sa buhay mo."
What are your favorites among the recent Pinoy romantic comedies? Share the #hugot with us in the comments!