Singaporean brand Love, Bonito knows what's up. They've got an entire catalog of stylish and comfortable pieces for modern Asian women whether they're lounging at home, going to work, or dressing up for an occasion. If you're looking for classic, timeless pieces to add to your wardrobe (and you should) this women's fashion brand is a good place to start. Here are just some of our current favorites from Love, Bonito:
Verita Lounge Shorts in Renewed Blooms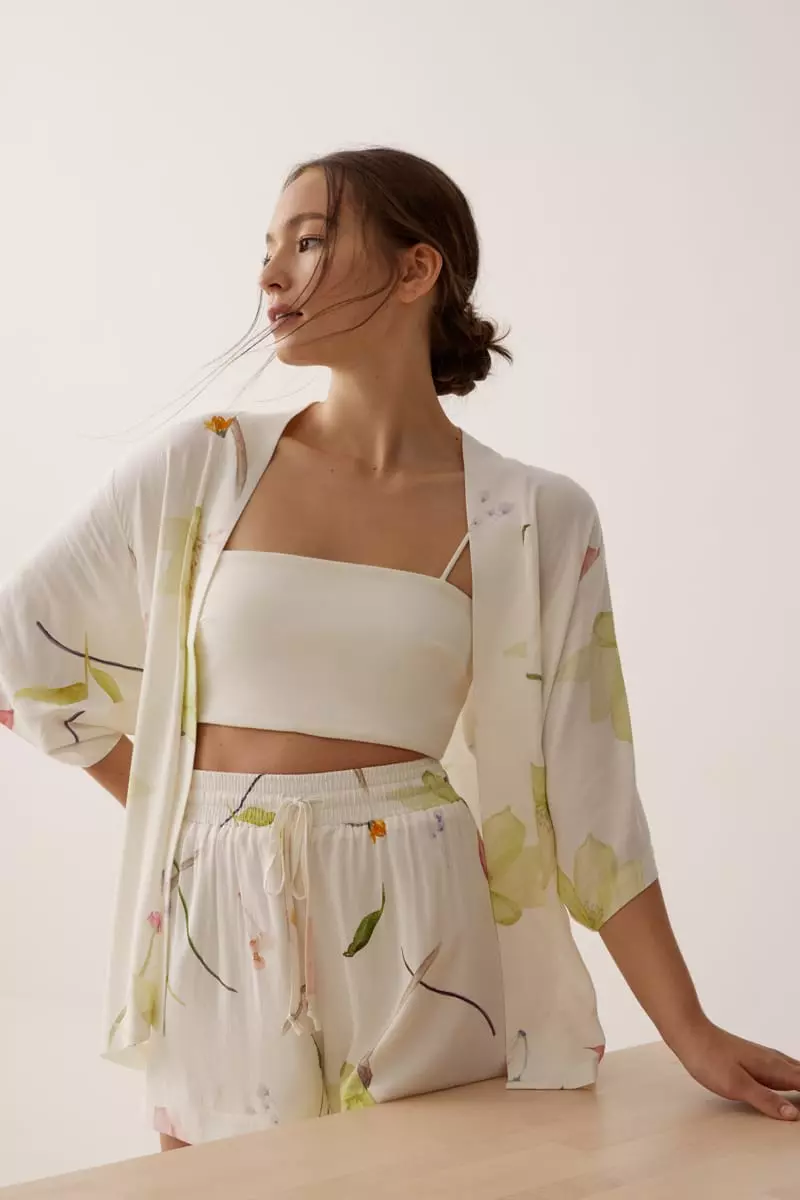 Love, Bonito recently launched their latest loungewear collection — Renewed Blooms — centered around the theme of rest and renewal. The collection features five pieces: Lennea Lounge Kimono, Verita Rayon Lounge Shorts, Pelicia Elastic Lounge Pants, Marleen Patch Pocket Lounge Shirt, and Fidelia V-Neck Lounge Dress. Each piece in the collection feature floral motifs inspired by wilting flowers in comforting hues and silhouettes.
Each style is made of rayon, a breathable lightweight fabric perfectly suited for lounging in style and comfort. Thoughtfully made with versatility in mind, pieces from the collection also have an added lining that makes them feasible even for a casual jaunt outside. You can get these in black and white versions. Visit Love, Bonito's official website to get one for yourself.
Marleen Patch Pocket Lounge Shirt in Renewed Blooms
This rayon pocket lounge shirt is so comfortable and stylish that it could double as your outfit for casual hangouts. While the Marleen Patch Pocket Lounge Shirt is part of Love, Bonito's newly released collection, Renewed Blooms, it deserves a spotlight of its own. It can double as your favorite loungewear to a shirt you can wear on a casual day out. You can also choose between the white and black versions with prints of digitally drawn and colored petals.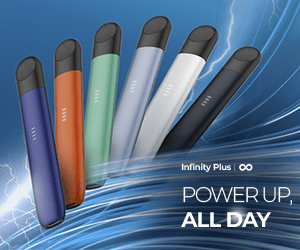 Delisha Padded Crop Top in Springday Dream
Don't be afraid to ditch your bra with the Delisha Padded Crop Top. The top features a cropped and fitted bodice with a straight neckline and a padded bust. Pair it with the matching Krislyn Tailored Shorts and you're good to go for a weekend get-together with your barkada. The Delisha Padded Crop Top comes in Navy Blue and Periwinkle versions.
Parina Twist Back Jumpsuit in Serendipity
Add this simple but elegant dress to your rotation of summer outfits. The pastel candy-colored Parina Twist Back Jumpsuit features an A-line silhouette and a V-neckline with a low twist back design. The best part? It comes with functional side pockets! It's also available in navy blue.
Hollynn Padded Cotton Back Cut Romper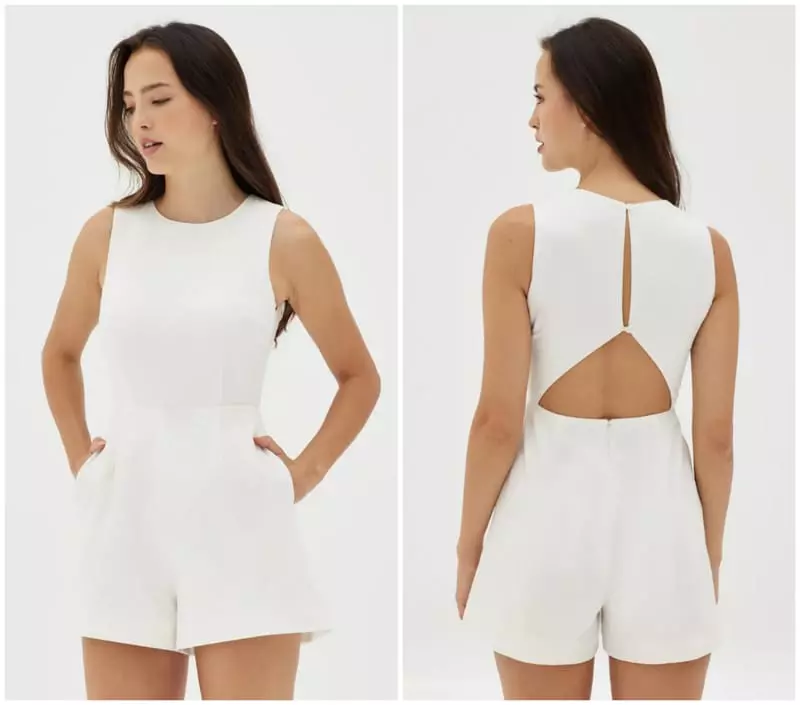 If you want to go for an even breezier outfit, the Hollynn Padded Cotton Back Cut Romper might suit your needs. It's made of textured, breathable cotton and features a round neckline with a back cut-out at the waist. As if that isn't enough to cool you down, this romper also has a centered back slit. You can also put your phone and small essentials in its functional side pockets. Get it in white or dusty pink online.
Margot Broderie Ruffle Top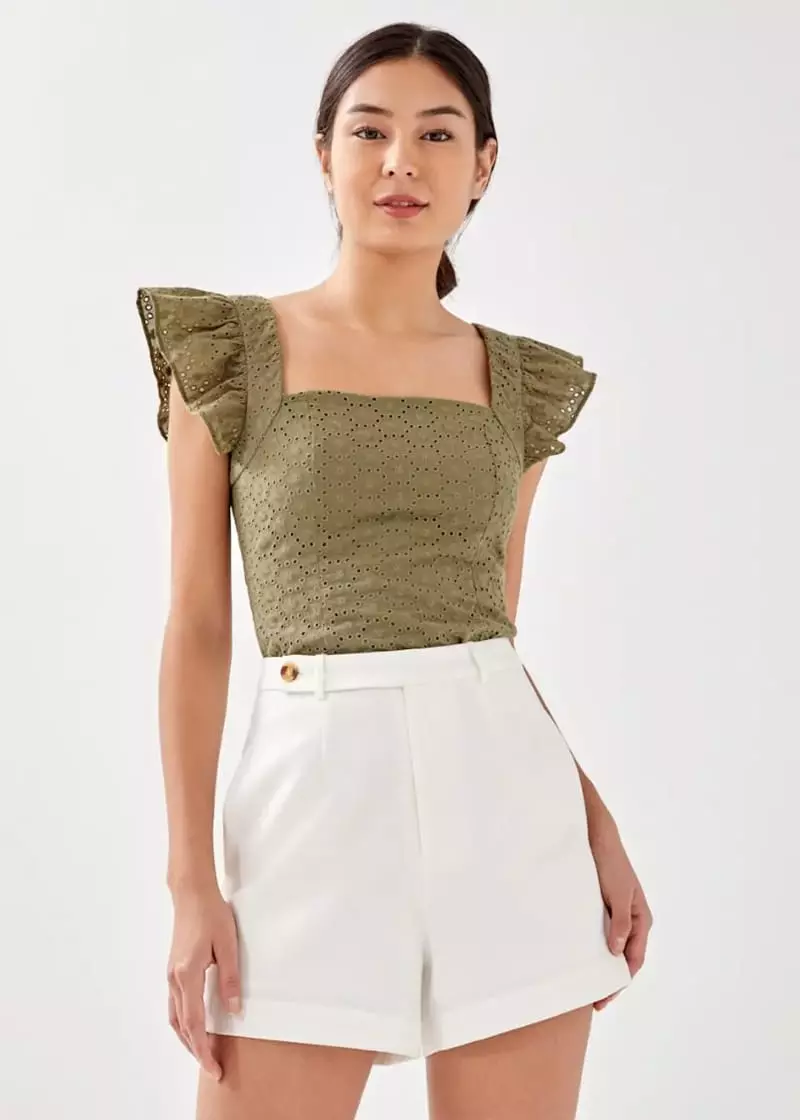 Speaking of breezy, eyelet tops should be a local summer staple. The Margot Broderie Ruffle Top comes in white and olive versions you can easily switch out and pair with any jeans or shorts. It comes with a flattering square neckline and dainty ruffle sleeves. Add your favorite gold necklace and you're good to go.
Daniela Broderie Tie Back Top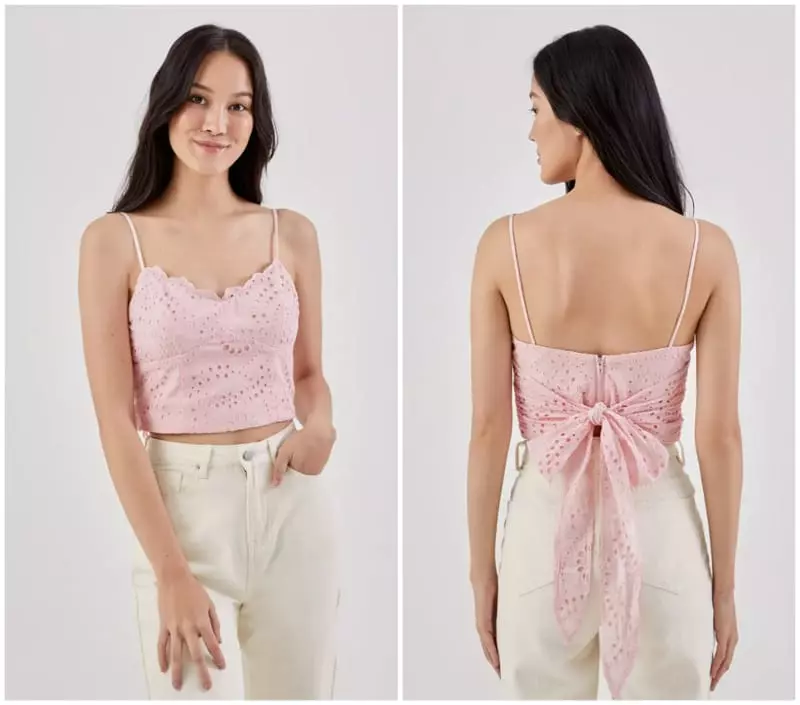 It's the little details that tie an outfit together, just like the detail in Love, Bonito's Daniela Broderie Tie Back Top. The scalloped neckline and spaghetti strap combined with a fitted silhouette give a dainty vibe. Once you turn around, the functional back tie will turn heads for sure. You can also get it in a white version.
Quincy Square Neck Fitted Knit Tank Top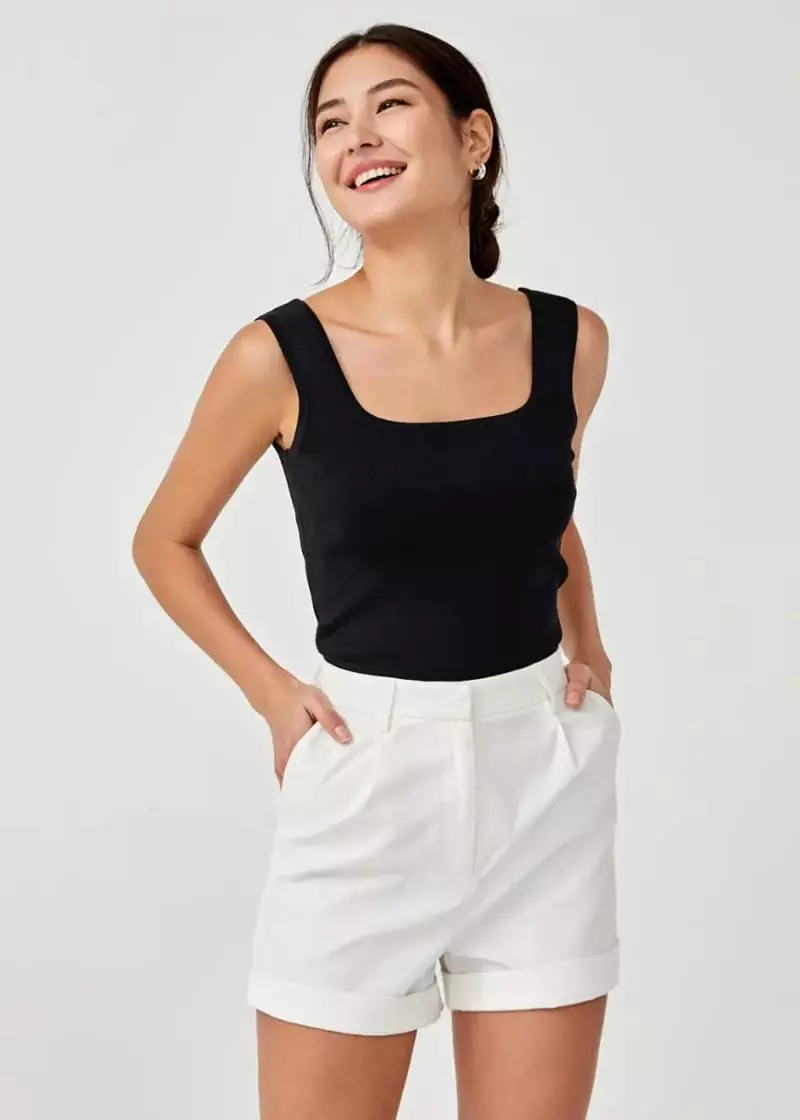 Every girl should own a few tank tops in her closet. They're outfit staples you can wear on any occasion. Take the Quincy Square Neck Fitted Knit Tank Top for example. You can wear it on its own on a warm summer day out. On days when you need to report to work, throw a linen polo or a formal jacket on top of it. For formal occasions, you can even pair it with a blazer and your best pair of slacks. The outfit ideas are endless. Love, Bonito's tank tops come in different colors — black, baby blue, and sand.
Which piece from Love, Bonito are you copping next sweldo? Share it with us in the comments!
Check us out on Facebook, Instagram, Twitter, TikTok, and YouTube, to be the first to know about the latest news and coolest trends!