On May 25, 46-year-old George Floyd died after being arrested by police. Footage taken at the scene of the arrest shows Floyd pinned to the ground by a white police officer, Derk Chauvin, who was kneeling on Floyd's neck. Chauvin kept his knee on Floyd's neck for eight minutes and 46 seconds. "I can't breathe," Mr Floyd said repeatedly. He pled for his mother and begged "please, please please" before he passed out. An hour later at the hospital, he was pronounced dead.
The horrific incident has prompted nationwide protests in the US. Millions from the global community — including Filipinos — have since expressed their support for the #BlackLivesMatter movement and its activists. But while it's important for us to show solidarity in the face of oppression, some Pinoys couldn't help but ask: "How can you speak up about this while staying silent about police brutality in the Philippines? How can you stand up for humanity in other countries, but not in your homeland?"
"Simpatya mo imported?"

Police brutality and injustice isn't unique to the United States. Oppression is everywhere, including here in the Philippines. But why is it that many Filipinos speak up for international issues, but stay silent when it comes to our own?
Know Your Rights: When Can Police Arrest You Without A Warrant?
Know Your Rights: When Can Police Arrest You Without A Warrant?
Cristina Morales | Apr 27, 2020
"Where were you when #EJK was trending?"

Now we're not saying that you should care about Every Single Issue on Earth, because, ya know, gotta take care of your mental health. But when you're not speaking up about injustices that are happening right in your backyard, don't be surprised to get called out when you express support for activists in other places of the world.
Make it make sense
Some netizens have defended their support of the current administration, pointing out that while #BlackLivesMatter is a racism issue, EJKs are drug-related issues. While these situations aren't identical, they have plenty of parallels that only mental gymnastics gold medalists will fail to see: police brutality, selective justice, and the abuse of authority, to name a few.
And it's not like we don't have issues with racism. See: the Lumad struggle; anti-Muslim sentiments; the displacement of Aetas; the president's racist statements… the list goes on and on.
Remember Kian delos Santos?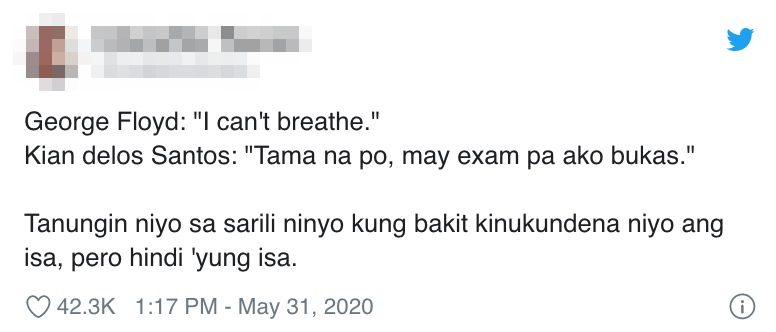 We are a forgetful nation. (That may be a coping mechanism, one that's possibly our secret to the much-talked-about Filipino resilience, but that's a topic for another 8List.)
Remember Kian delos Santos' last words? Though three policemen were convicted for his murder, the victim blaming logic (i.e. "nanlaban kasi"; "drug pusher kasi") still hasn't gone away. We've still got a long way to go before incidents like this stop plaguing our society.
Don't protest only when convenient
We can't deny that it's often easier to have strong opinions on issues that don't affect us directly. After all, caring only about faraway issues means you won't have to have difficult talks with loved ones who don't share your views. It also means you won't have to confront your own problematic behaviors and how you could be complicit to injustice. It means you're not putting anything at stake. Simply (and harshly) put, it's a cop-out.
Sis snappedt
It wasn't too long ago that Winston Ragos was gunned down by police. We can only wish that the Pinoys supporting overseas activists put the same amount of energy into calling for #JusticeForWinstonRagos.
Let's be clear: There's no question that Filipinos should care about #BlackLivesMatter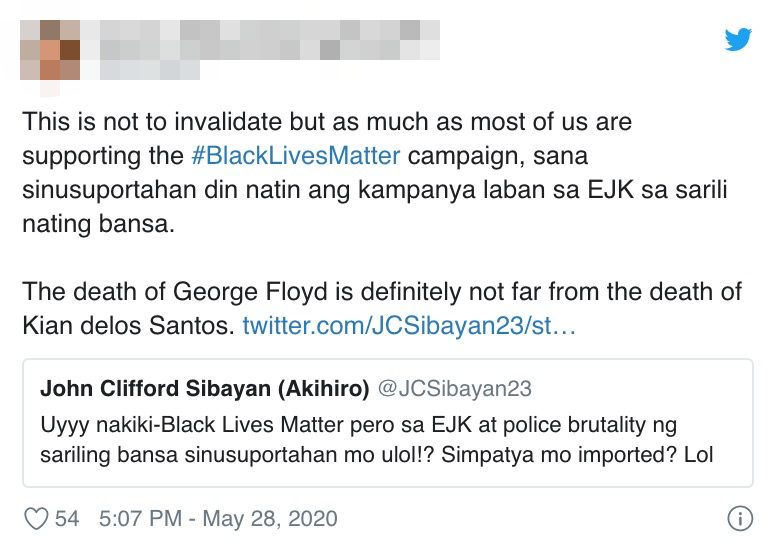 The plight of African-Americans is unique and there are many nuances to the situation that we may never understand. But that doesn't mean that Filipinos cannot be effective allies. By all means, voice your support for the #BlackLivesMatter movement. Sign petitions. Donate to the cause. But why not do your part and fight for justice here in the Philippines as well?
Also remember: we all have to start from somewhere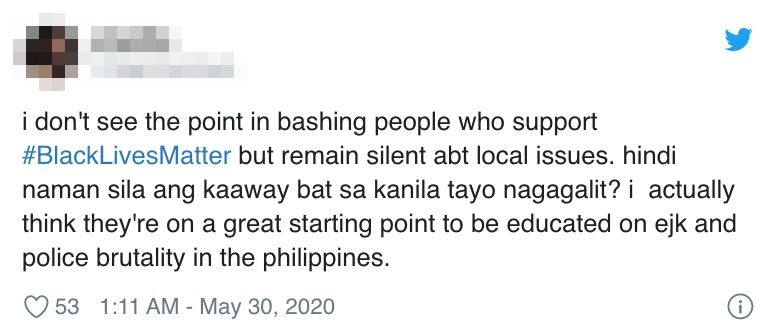 This all being said, it's important for us to acknowledge that no one was born unproblematic. We're all still learning, and the #BlackLivesMatter may simply be the catalyst for many to open up their eyes to the injustices in society.
Instead of simply calling people out for their hypocrisy, maybe we can use this as a jump-off point to have conversations about the issues we have here in the Philippines. Then maybe, just maybe, things will get better for us. Give it a try, it just might work.
Thoughts? Comments? Sound off in the comments below!