Former Chief Justice Maria Lourdes Sereno recently went viral after she responded to a netizen who made a threat under one of her posts.
Some context

On her social media pages, Sereno has been posting a series of posts to debunk the myths about dictator Ferdinand Marcos' martial law era and the Marcos family's ill-gotten wealth. Her posts drew much attention from supporters and critics alike and — of course — trolls. Some of the feedback has also caught her eye, albeit not for the best reasons.
The comment
On one such post, a netizen going by the name of Orly Garcia was asking for more evidence because he believed that the Marcos family was already rich on their own. Asking for evidence is all well and good, but the netizen added some harsh words that could really be considered as a threat. "Ipakita mo kundi busalan ko bunganga mo g*ga," the comment ended.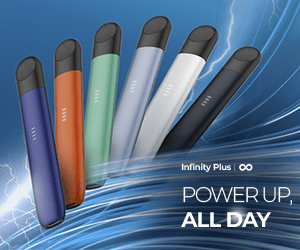 The warning


The comment captured Sereno's attention, which led to her posting a warning that she might file a complaint. "Pag-iisipan ko, kung sulit na itigil ko panandalian ang ginagawa ko para magka-oras sa paghain ng kaukulang reklamo," the former chief justice said. Her new post was accompanied with a screenshot of the comment and a photo of the netizen.
The message
After seeing this warning, it seemed Garcia felt nervous about Sereno going through with the lawsuit. This prompted him to personally message Sereno to apologize. "Di ko napansin na kayo pala ang dating Chief Justice. Ang dami po kasing nagcocomment na di ko na sang-ayon," his message said.
Reconciliation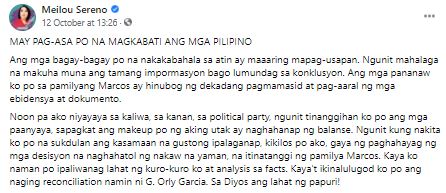 Sereno posted a screenshot of their conversation, where she said she accepted his explanation and they have reconciled. The former chief justice wanted this exchange to be an example of the reconciliation that can happen between fellow Filipinos, especially in online spaces where everyone is anonymous and people might let their rage get the best of them.
Evidence served
Right after her post of reconciliation, Sereno also shared links to the evidence the netizen was asking for. She posted a compilation of links of reports by the Presidential Commision on Good Government regarding the recovered ill-gotten wealth over four years. "Paki-paliwanag po sa mga kaibigan nyo," her post read. "Anyone po na magtatanong pa niyan, ay ipe-presume ko po na troll, kasi maliwanag na iyan sa original post ko at paulit-ulit pa natin ditong nababanggit."
It's important to have toxic-free discourse online
When most discussions like this are done online due to the ongoing pandemic, it's important to remember that while we must educate and engage in discourse with one another, we must also do so without toxicity. There is no need to make personal attacks or insults because it might just bite you back in the butt like what happened here.
A reminder for Halalan 2022
Make decisions based on trusted and verified information. Educate yourself and others around you, and do it in a way that involves no toxicity. Because this upcoming election is going to determine what will happen to the Philippines in the next six years.
P.S. Register to vote if you still haven't! You have less than two weeks left!
A Step-By-Step Guide To Voter Registration During the Pandemic
A Step-By-Step Guide To Voter Registration During the Pandemic
Meryl Medel | Nov 16, 2020
Step-By-Step: How to Reactivate Your Voter Registration Record Online
Step-By-Step: How to Reactivate Your Voter Registration Record Online
Kyzia Maramara | Aug 26, 2021