LOOK: Director Darryl Yap Slams PAL for Noisy Crew During Flight
Oct 24, 2022 &nbsp • &nbsp Ina Louise Manto
After nearly three years of limited flights and changing protocols, airports are becoming busier than ever as travel returns to normal. This means that pre-pandemic travel woes are returning, like crying babies in-flight, lost luggage, and everything in between. One particular passenger, director Darryl Yap, took to Facebook to share his recent experience during a flight with Philippine Airlines:
"The mouth of the Filipino"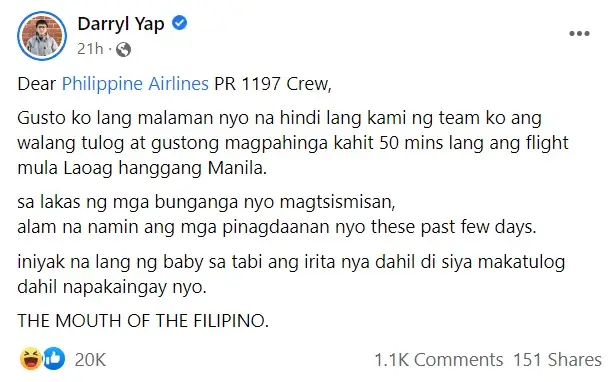 Posted on his Facebook page, film director Darryl Yap shared his experience during a 50-minute flight from Laoag to Manila with Philippine Airlines.
"Sa lakas ng mga bunganga niyo magtsismisan, alam na namin and mga pinagdaanan nyo these past few days," he wrote. Even if it was just a short flight, he said he and his team still wanted to get some rest. Pinoys are known to be "marites", but what would you do if it's during a flight?
Philippine Airlines apologizes
Under Yap's post, the said airline apologized to the director, assuring him that the situation would be handled properly. Some netizens used the thread to air out their own complaints with the airline:

But some netizens aren't having any of it

In another post, one reader said Yap could've approached the crew on the same day instead of posting about it. With the number of followers and influence he has, was this the best move?
It could've been handled better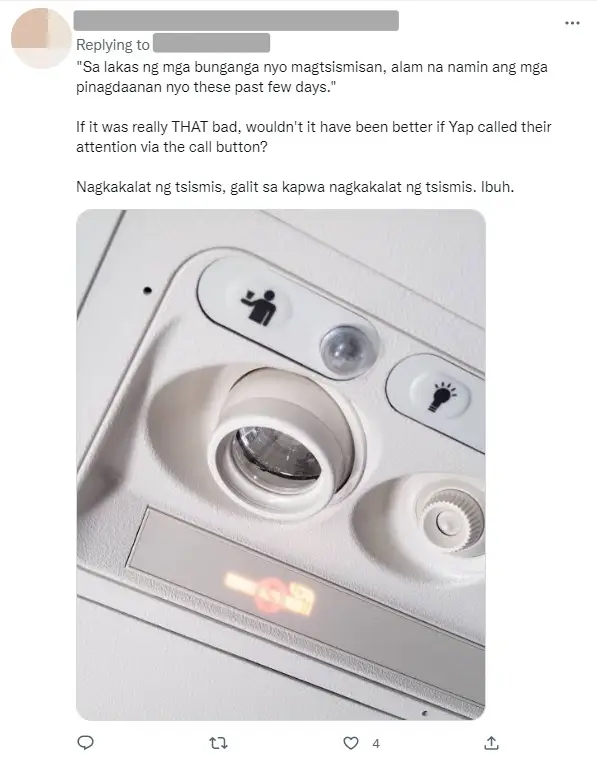 As one netizen shared on Twitter, Yap could've pressed the call button and called the crew's attention.
But this is the year 2022: confrontations are delayed and later posted online, often ~for the clout~. After all, did it really happen if you didn't post about it?
Let's be real: situations like this are inevitable, much like the crying baby on board (which is more embarrassing, especially for the parents), as shared in Yap's post. Remember the Korean mom who handed out 200 bags of candies and earplugs in case her baby cried during a 10-hour flight from Seoul to San Francisco, USA?
Former cabin crew shares their experience
"Tone down [your] voice and avoid noise both in the galley and in the cabin, be it a long or a short flight," a former cabin crew shares in the comments section of the director's post. We aren't knowledgeable about what could've caused the noise; perhaps the said flight attendants were tired and talking about it is one way to ease their exhaustion. Nevertheless, PAL already apologized and assured the director that the situation would be handled properly.
What would you do if you had the same experience during a flight? Sound off in the comments below!
This article was republished with permission from WindowSeat.ph.