As the cost of living in the Philippines continues to rise, so should the wages of the people living in the country. But it seems that some institutions just aren't stepping up to match the needs of their future employees. Professionals expect more from potential employers, and a local government office recently learned this the hard way.
A questionable job hiring post
On October 17, the Marinduque branch of the Department of Environment and Natural Resources (DENR) published a job hiring post looking for a contractual Forest Protection Officer (FPO). Set for the duration of two months, the contract requires applicants to have a bachelor's degree and "preferably a driver's license and motor vehicle." The job comes with a monthly salary of PHP 8,500.
Filipinos are angry
The hiring post drew the attention of netizens, with many leaving comments calling out the demanding minimum qualifications paired with a low salary. With the continuously rising prices of essential goods, this shouldn't have come as a surprise. A netizen said the job seems to be "volunteer work with a little bonus pay", while another dubbed the hiring post as "exploitation".
That sounds like volunteer work with a little bonus pay ngl.

— Local Dungeon Enjoyer (@MayDayYay1) October 23, 2022
An unprofessional response
After getting flak on their now-deleted post, the DENR Marinduque office responded in a comment under the job posting, saying they didn't ask for anyone else's opinion and that such opinions are insulting to their employees. "Marami kaming Forest Protection Officers sa DENR nationwide, sila ay mga competent & over qualified. Kaya yng mga statements at comments nyo are very insulting to our FPOs."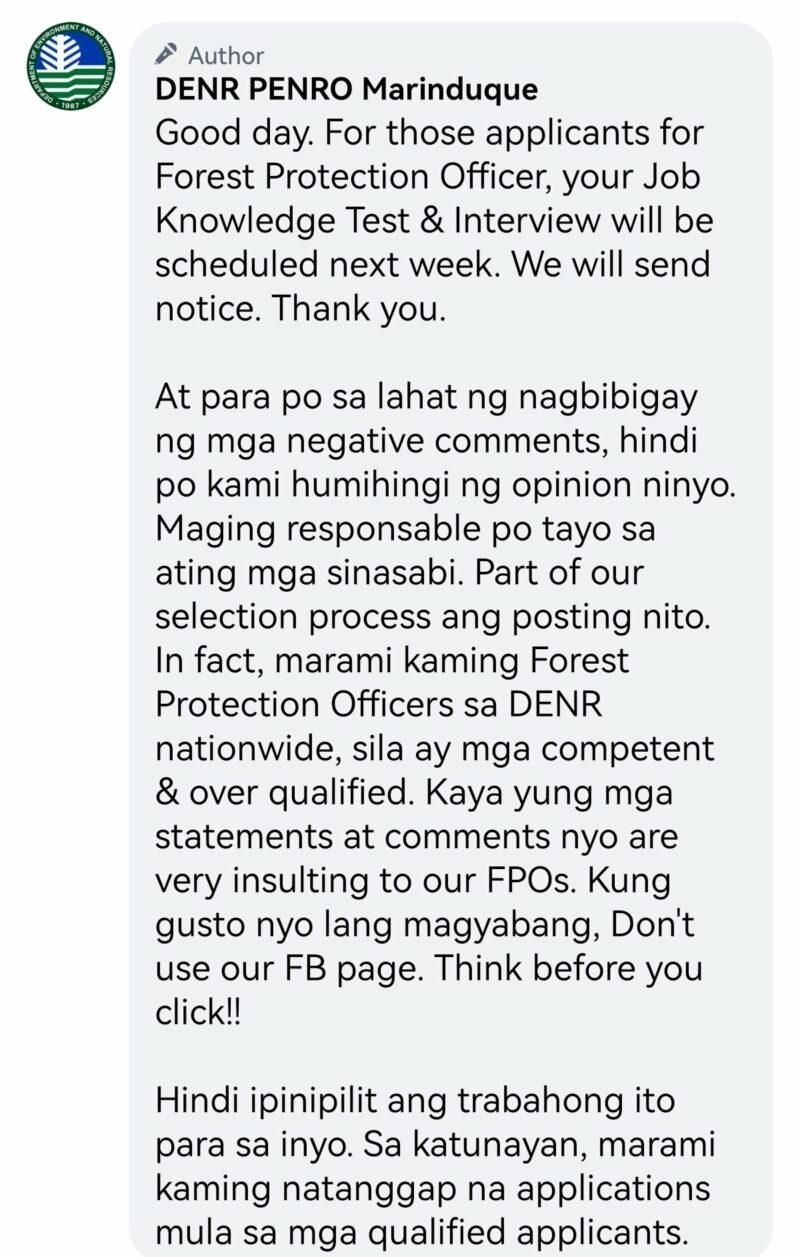 "Hindi ipinipilit ang trabahong ito para sa inyo," the government office wrote. "Sa katanuyan, marami kaming natanggap na applications mula sa mga qualified applicants."
"Nakakadismaya lalo"
The response only fanned the flames. Netizens pointed out that the government office's employees were being exploited, and probably applied because they were desperate.
Yeah nag-apply sila kasi they need money, and are probably desperate too. This is literally exploitation. Whoever wrote that reply deserves all the pillory that post earned.

— Richard James Mendoza (@rjmendoza444) October 23, 2022
A Marinduque resident also described the government office's response as "rude and unethical."
It is rude and unethical for a gov't socmed account to write such a response. You have to speak on behalf of the agency, and you have to treat the public as clientele. I'm from M'duque too, nakakadismaya lalo. Mababa na nga ang pasweldo, ganito pa ang trato.

— telay (@telaymetyou) October 23, 2022
Below minimum wage
A netizen also pointed out that the offered salary seems to be below minimum wage. In Region IV-A where Marinduque is located, the minimum wage for non-agriculture jobs is PHP 371.79 per day or about PHP 11,000 per month. However, another netizen said that the labor code protecting a citizen's minimum wage unfortunately does not apply to government employees.
It's weird how government jobs are allowed to be under the minimum wage right?

— Juan De Dios (@Shankatorium) October 23, 2022
No official statement yet
As of writing, the government office has made no further comments on the issue. The viral job hiring post has also been taken down from their Facebook page. Comments on their other posts have also been limited.

Talks of ending contractualization in government
Last Saturday, a senator brought up the issue of ending contractualization in the government once again. Senator Joel Villanueva called for the attention of the government and his fellow lawmakers as there are 642,077 Job Order (JO) or Contract of Service (COS) workers in the government. The DENR is part of the top 5 government offices with the most number of JO and COS employees at 5,487. They also have 2,430 unfilled positions.
"We have been raising the issue of unfilled positions in government during budget hearings since we became a senator in 2016, and the number of JOs and COS workers in government remains a problem," he said. "It's about time that we address the issue of contractualization in government."
What do you think of DENR PENRO Marinduque's response to the netizens' reactions? Tell us below!
Follow us on Facebook, Twitter, Instagram, Tiktok, and Youtube for the l8est entertaining, useful, and informative lists!