Four days into the new year and bad news abound. The mess surrounding Philippine star pole vaulter Ernest John "EJ" Obiena continues but this time with a shocking development — the Philippine Athletics Track and Field Association (PATAFA) has moved to remove the Asian record holder from its roster. What happens now? Here's the latest on the wild rollercoaster ride that is the case of EJ Obiena vs. PATAFA.
Philippine Olympic Committee declares PATAFA president persona non grata
The Philippine Olympic Committee has declared PATAFA president Philip Ella Juico as persona non grata, in the wake of his rift with Olympian EJ Obiena. | via @camillenaredo pic.twitter.com/pXwUhKUI6D

— ABS-CBN News (@ABSCBNNews) December 28, 2021
Last December 28, the Philippine Olympic Committee (POC) declared Philip Ella Juico, current PATAFA president, persona non grata. POC said the PATAFA chief "harassed" Obiena with "malicious public accusations." This was after Juico accused Obiena of discrepancies with the liquidation of payments for his Ukrainian coach, Vitaly Petrov, for the last three years. Obiena admits to making late payments but maintains that he has never pocketed the money. He also shared the difficulties of being in charge of his own team's finances since PATAFA won't pay his coaches directly.
PATAFA removes EJ Obiena from the Philippine team
Another development on the PATAFA-EJ Obiena issue. pic.twitter.com/G6G7KRjs7k

— One Sports (@OneSportsPHL) January 4, 2022
Days later, in a move that surprised everyone, PATAFA announced they are recommending dropping Obiena from their National Training Pool of Athletes "effective immediately." His expulsion was only one out of six recommendations made by the PATAFA investigative committee.
They're also charging him with estafa
After finishing #3 in the world and setting the Asian record in 2021, pole vaulter EJ Obiena to be dropped from the national training pool and charged with estafa.

This comes after the POC Ethics committee declared PATAFA President Philip Ella Juico as "persona non grata". https://t.co/hnaF8UBBJA

— Gretchen Ho (@gretchenho) January 4, 2022
PATAFA is also set to file a criminal complaint of estafa for the amount of EUR 6,000 (PHP 360,000), the pole vault star's coach Vitaly Petrov's salary from May 2018 to August 2018. It also included the termination of Petrov as a PATAFA coach, and declaring Obiena's backer and adviser James Michael Lafferty as persona non grata.
"The report brought so much sadness and feelings of betrayal but we had to face the challenge because as professionals we should account for all the funds, government and private, given to us," said PATAFA president Juico in a press conference on Tuesday.
"So the board has accepted all the recommendations of the administrative committee that includes removing the 26-year-old young man, who knew the consequences of what he was doing as he repeatedly produced those spurious documents," he added.
Even EJ Obiena's mother is caught in the mess
Recommendations from PATAFA effective immediately: pic.twitter.com/B92BiSdwHd

— Gretchen Ho (@gretchenho) January 4, 2022
The final points of the recommendation reiterated how they found that Obiena "misappropriated" EUR 61,026.80 (PHP 3,661,608), funds released to him by PATAFA and the Philippine Sports Commission (PSC) as coaching fee for Petrov.
Even the pole vaulter's mother, Jeanette, was accused of "misappropriating" PHP 624,116.76 "she claimed from the PSC under pretext that it is a reimbursement of the coaching fee paid to Mr. Petrov for the months of January 2019 to March 2019."
What happens to EJ Obiena now?
The POC has assured Obiena that he will be endorsed by the organization to represent the country in international competitions including the SEA Games and Asian Games in 2022.

"If PATAFA won't endorse him, which I doubt they would, then we will." — POC Pres. Tolentino pic.twitter.com/DEbyomcfEe

— ABS-CBN News (@ABSCBNNews) December 28, 2021
For now, nothing is clear. Obiena's camp is yet to release its statement about what happened. POC president Abraham "Bambol" Tolentino said last December 28 that they're supporting Obiena if his federation lets him go. "If PATAFA won't endorse him, which I doubt they would, then we will," Tolentino said. Tolentino also said that Obiena will still represent the Philippines starting with the Southeast Asian Games in Vietnam in May.
EJ Obiena ranked third in the World Athletics list of top pole vault performances of 2021
View this post on Instagram
Obiena clearly had an awesome 2021 and World Athletics just proved that. His record-setting 5.93-m jump landed him the third spot in the Top 10 pole vault performances announced last January 2. That is also the current Asian pole vaulting record Obiena himself set last September at the 2021 Golden Roof Challenge in Austria. World Athletics currently ranks him 6th worldwide in pole vaulting. While our shoulders are raised in pride, one would think that these achievements would help Obiena's own federation realize his worth to the Philippine team.
PATAFA vs EJ Obiena: Filipinos are dismayed


The Internet is disappointed that PATAFA is willing to sabotage the career of one of their best athletes. There are talks of "the politics of it all" to fearing the worst — what if Obiena decides to "pull a Wesley So" and change his nationality? After all, his adviser, Lafferty, did say that countries have been offering the athlete passports to represent their country. We won't blame him if he decides to go for the option that's best for his future.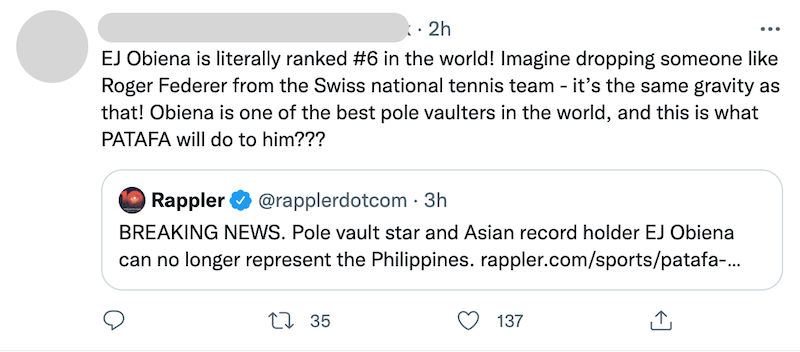 EJ Obiena has yet to speak up
From the beginning, Obiena has been nothing but transparent. He regularly posts updates on his Facebook page and lays his "facts" online. While he hasn't spoken up about his expulsion, we're sure he's going to address that soon. Needless to say, we'll be camping on his
Facebook page
for updates.
Check us out on Facebook, Instagram, Twitter, and YouTube, and be the first to know about the latest news and coolest trends!