Ellen Adarna Gets Mixed Reactions for Her Brand's Taylor Swift Tickets Raffle
Aug 23, 2023 &nbsp • &nbsp Meryl Medel
Over a month after the Great War that was the ticket selling for Taylor Swift's six-night Singapore concert, Filipino Swifties that haven't found success are still holding onto hope that they'll find a ticket. One such hope Pinoy fans have been clinging to is actress and entrepreneur Ellen Adarna's promise of giving away tickets to The Eras Tour in Singapore. But now that mechanics for the said giveaway is out, some fans are not so happy and hopeful anymore.
The mechanics

Posted last Friday, the promo is open to Filipinos who are 18 years old and above and have a valid passport for six months at the time of travel. To gain one raffle entry, they need to purchase two bottles of e11ven glutathione priced at PHP 3,120 (including shipping fee) in a single transaction, and the unique purchase order identification for every confirmed order will serve as the raffle entry. For the raffle, e11ven can accept a maximum of 15,000 slots.
The brand is raffling off a total of six tickets. For this round of raffle, two tickets are up for grabs: one VIP 1 ticket on March 7 and one CAT 1 for March 2. The second raffle's prizes are the remaining four tickets: one VIP 1 for March 7, one VIP 6 for March 9, one CAT 1 for March 2, and one CAT 3 for March 2.
Some fans are mad…
Swifties who were eagerly awaiting Ellen Adarna's giveaway were disappointed with its mechanics, describing the promo as "opportunistic" especially when it comes to fans of the American superstar.


Others also couldn't believe that there are 15,000 slots allotted for the raffle, which meant about 45 million pesos in gross sales — a number much higher than the total price of all six tickets, which
…while others say it's nothing new
This promotional tactic is nothing new in the Philippines. Like one of the commenters said, this is similar to the raffle promos you find in grocery stores and the like, and the main differences are the product they're selling (i.e. glutathione) and the prizes (i.e. much-coveted concert tickets).
Other netizens also pointed out that ideally, the target customers are those who actually use the product, and those who will simply buy the product to join the raffle will definitely suffer a loss.

E11ven's disclaimer
In response to the backlash, e11ven published a post answering frequently asked questions. In terms of transparency, they said the raffle will be done using Lightweight Solutions e-raffle system in the presence of a FDA representative. They also confirmed that the raffle doesn't require that the maximum of 15,000 slots be filled for it to push through. E11ven also said they have the approval of the Food and Drug Administration (FDA) to hold this raffle promo.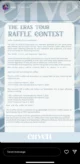 But people are asking: does e11ven have clearance from Ticketmaster Singapore?
Ticketmaster's terms and conditions
Under Ticketmaster Singapore's Purchase Policy, tickets may not be used for promotions, sweepstakes, or similar commercial gain "unless formal written permission is given by us and the relevant Event Partners in advance and provided that even if such permission is granted, use of our or any Event Partners' trade marks and other intellectual property is subject to the express prior written consent of the owner."

Swifties have repeatedly quoted this part of the policy when discussing the giveaway. However, Ellen Adarna and e11ven have yet to confirm if they were able to secure the "formal written permission" Ticketmaster requires.
As of writing, the posts related to the giveaway have since been deleted from E11ven's social media pages.
Follow us on Facebook, Twitter, Instagram, Tiktok, and Youtube for the l8est entertaining, useful, and informative lists!