Yesterday, the country was rocked to its core after Taal Volcano, one of the most active volcanoes in the Philippines, was put on Alert Level 4 by the Philippine Institute of Volcanology and Seismology (PHIVOLCS), as the volcano continued to spew ash, and eventually, magma just this early Monday morning.
Amid the chaos of evacuation and the anxiety caused by this natural calamity, the Internet is riddled with photos, posts, and news that only further worsens the general public's panic. That's why we should all be vigilant with our fact checking and see which is fake or not.
Is this photo of Taal Volcano real?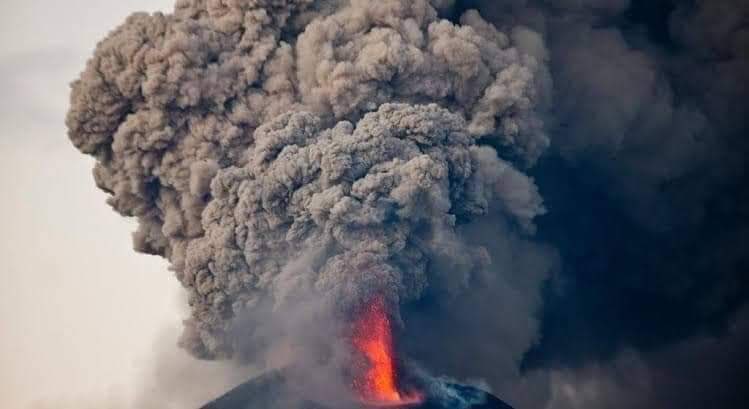 Not all photos circulating on social media are of Taal Volcano! 
While there are many sources (e.g. reliable news sites, PHIVOLCS) that could provide you with images of what is happening at the volcano in real time, there are twice as many who can just pick up an equally devastating photo from the world wide web and claim, "Look, this is Taal!" It's important to be vigilant and check your sources.
Where is the image above actually from?
Do volcanoes have the same alert signals?
Phivolcs clarifies there are different alert level schemes for volcanoes in the Philippines. Official says a Mayon Volcano alert infographics is being widely circulated when referring to #TaalEruption2020 https://t.co/D16DIM6Apw pic.twitter.com/kYnfykBaPU

— CNN Philippines (@cnnphilippines) 13 January 2020
Pinoy netizens have been circulating volcano alert level charts online, and while the good intentions are there, all that would be useless if the information being circulated is inaccurate.
In a press conference, PHIVOLCS says that an infographic on Mayon's alert levels are being circulated instead of Taal's. Officials share the correct description of Taal's alert levels, which you can check out here.
Is Taal triggering Mayon to erupt?
After Sunday, many have been panicking about the other active volcanoes around the country, one of which is Mayon Volcano in Albay, which at the moment is on Alert Level 2.
However, even before Taal's eruption this Sunday, Mayon has been on Alert Level 2 for more than a year (as far back as November 2018). This alert level for Mayon means "increasing unrest," but according to a message to news site Inquirer, Mayon Volcano Observatory in Albay officer-in-charge Paul Karson Alanis says that "the steaming and the emission of white smoke from its crater is just a normal sign for an active volcano." This is unsurprising especially after Mayon's phreatic eruptions in 2018.
Nevertheless, residents near Mayon Volcano should still continue to exercise caution.
Is Taal triggering Bulusan to erupt?
Similarly, netizens on social media have been expressing worry over the alert level of Bulusan Volcano in Sorsogon. However, just like Mayon, Bulusan has been on Alert Level 1 as far back as May 2019. According to PHIVOLCS, Bulusan's alert level 1 means "low level unrest" but there is "no eruption imminent."
Are N95 masks the only ones you can wear to protect yourself from ashfall?
Did the prices of these masks really hike up?
PUBLIC SERVICE: The public is advised to wear an N95 mask during ash falls.

N95 mask is a respiratory protective device designed to achieve a very close facial fit and very efficient filtration of airborne particles.

[Photo Courtesy: GMA News]#DOTrPH 🇵🇭 pic.twitter.com/fHuspEZ6EX

— DOTrPH 🇵🇭 (@DOTrPH) 12 January 2020

What are N95 masks anyway? Unlike the common surgical face masks we often use, N95 masks are sturdier and made to fit the face snugly, built to filter more than 90 percent of airborne particles.
However, after the panic-buying brought about by the general public, many are finding it difficult to find a store that still has the masks in stock. In fact, Manila's local government unit has received unconfirmed reports that, after the sudden increase in demand, there has been an illegal price hike for N95 masks. The local government is working to verify these reports and crack down on these alleged stores. The Department of Trade and Industry adds that these businesses may face charges for taking advantage of the public's need. (Why can't people be decent human beings like this guy?)
If you were unable to get yourself an N95 mask, another alternative is to use a wet cloth to cover your nose and mouth or to put it on your usual surgical masks.
Department of Health Undersecretary Eric Domingo also shares that wearing N95 masks is advised for those in high-risk areas like CALABARZON, while surgical masks would suffice for those in affected areas like Metro Manila.
DOH Undersecretary Eric Domingo: Those in high risk areas (CALABARZON) are advised to wear N95; for those in other affected areas like Metro Manila, surgical masks will do. | via @shecrisostomo pic.twitter.com/XB24I3pCbv

— The Philippine Star (@PhilippineStar) 13 January 2020
Is it dangerous to go to Mall of Asia?
This is a chain message that circulated through Viber after Taal's first eruption. The management of the mall released two statements. 
"The foundation of the SM Mall of Asia Complex is built on concrete piles that reach the bedrock and will withstand extreme situations," the mall's management said. "We also have rigorous annual checks to ensure the safety of the buildings so at no time will the safety of our customers, tenants and employees be compromised."
Are we in danger from cosmic ray emissions?
This seems like it came out of nowhere, but this kind of chain message has been around for years, always coming back up whenever the general public is panicking. 
In case it wasn't obvious yet, this is not true at all. Fact-checking website Snopes has already debunked this as far back as 2017.
Is it true that there will be more earthquakes around the country?
Netizens are prone to sharing article links that are essentially just click-bait, just like those "articles" claiming that several areas in Luzon would soon experience a 7.8 magnitude earthquake. Facebook page
Earthshaker
advised Pinoy netizens to beware of fake news like these. "No reliable technology nor person can accurately predict earthquakes as of now," they said. "Please stop spreading such to avoid panic."
For now, it's best to stay indoors and continue keeping an eye on the news from reliable sources. Here are some more tips and reminders that you can do to protect yourself from ashfall. (And remember that your pets also breathe, so get them their own masks!)
Did you see any other dubious-looking social media posts? Make sure to fact-check them before sharing anything!