In case you've been under a rock for the past two decades, the Pokemon brand was launched in February 1996 as a pair of video games called Pokemon Red and Green for Nintendo.
Years later and it's now a global sensation that includes a multi-platform video gaming franchise, a trading card game series, an anime TV series (now on its 22nd season), over 20 animated films, and available as spin-off stories in books, manga, music, toys, merchandise, and of course apps. If you've never played Pokemon GO then count yourself lucky that you've likely avoided a potentially addictive game.
Pokemon: Detective Pikachu is the latest addition to the franchise but a first for two reasons: it's live-action (with A-list stars on the voice and cast) and it's in top shelf 3D CGI.
Starring Ryan Reynolds as the voice of the cute and yellow Poke Monster Pikachu, the movie also has Justice Smith as Tim Goodman, Kathryn Newton as Lucy (a junior reporter following her first big story), Rita Ora, Oscar-nominee Ken Watanabe, and Bill Nighy as technologist Harry Clifford.
The movie begins when ace detective Harry Goodman mysteriously goes AWOL. With him missing, his employers send a message to 21-year-old son Tim to collect his effects and find out what happened.
Through a series of happy accidents Tim meets Harry's former Pokémon partner, Detective Pikachu. They must team up to solve the case of the missing Harry and find out just what the heck is going on with all the Pokemon being uncharacteristically aggressive in Ryme City.
Who Killed Harry Goodman?

The adventure begins when 21-year-old Tim Goodman (Justice Smith) reluctantly arrives in Ryme City, a haven for humans and Pokemon alike. He's there to wrap up the affairs of his estranged father, Harry, who was a private eye that's been presumed dead during his last case.
Though he remembers otherwise, Tim finds that there are signs in Harry's apartment his dad apparently cared very much for him. Tim is touched by glimpses into the life of a man he never really knew and a feeling of needing to solve the mystery of his father who inexplicably died grows within him. It's just a nagging feeling, but it's something that develops in impetus once Tim meets Pikachu, Harry's old Pokemon partner.
Pika Pika and Amnesia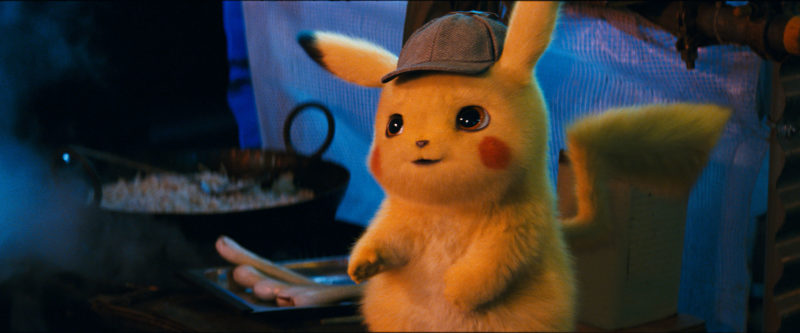 Detective Pikachu is an old-school gumshoe investigator. He used to solve plenty of cases with Harry and, unusually enough, he has the gift of gab and a tendency to spout bad jokes, noir clichés, and possible leads as conspiracy theories.
The fact that Pikachu can be understood by Tim is amazing in itself. After opening and taking an accidental whiff of the contents of a violet vial Tim can suddenly understand what the yellow Pokemon is saying.
As fans everywhere know, Pokémon can be pretty expressive with their features, actions, body language and special powers, but they are literally linguistically limited to stating their own names in conversation. The vial itself is another point in the deepening mystery. Who made it? Why did it make Pikachu understandable? And also why are there unusually aggressive apelike Aipom attacking Tim?
Pikachu, while gabby as hell, isn't much help. He's forgotten a lot and he's up to his fuzzy little face in mysteries so deep and confounding that he can't even remember how they started, especially since he has no memory beyond last week. What happened to his partner, Harry Goodman?  And why is he suddenly able to communicate in human language so that one man—one specific young man, that is, Harry's son Tim—can actually understand him?
Through all the garble, Pikachu manages to convey his firm belief in two things: he is a world-class detective and Harry is very much alive. It might be a bad case of too much coffee, but this bright yellow P.I. is another mystery by himself.
Tim Goodman, the Prodigal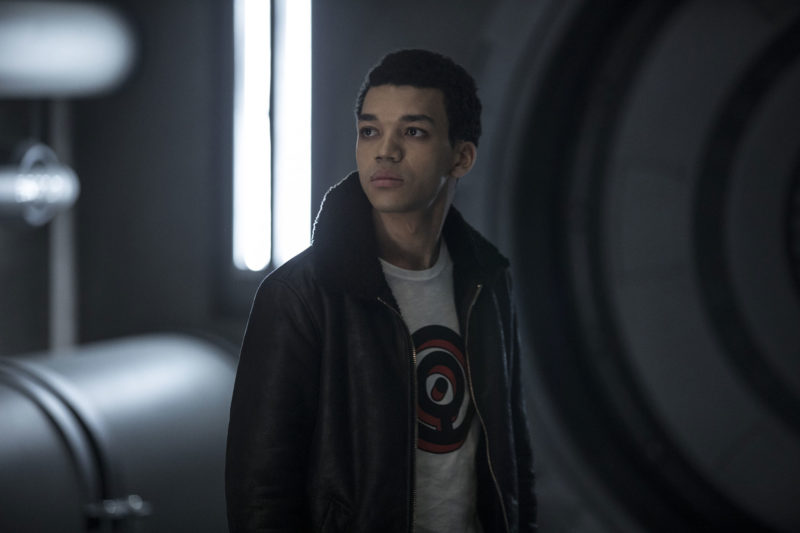 Raised by his grandmother in another city, Tim hasn't seen his father in years.  That was just fine, if you ask him.  He doesn't need a dad or even a Pokémon to call his own. But once he steps foot inside inside Harry's pad, Tim discovers that there are framed photos of a young Tim, an unsent birthday card with a train ticket, a room carefully decorated for Tim as a Pokémon-loving teenager.
With Tim suddenly being able to talk to Pikachu, Pikachu being able to talk to other Pokemon, and the two of them able to talk to each other, the only logical course is for them to buddy up. Tim finds himself drawn to the possibility that Harry must be alive and that he and this supercharged fuzzy detective must uncover what he was working on. But it might be the very thing Tim needs to challenge himself, and a chance for him to shake off a past that had him playing it safe and come to know his dad better albeit in proxy.
All Roads Lead to Ryme City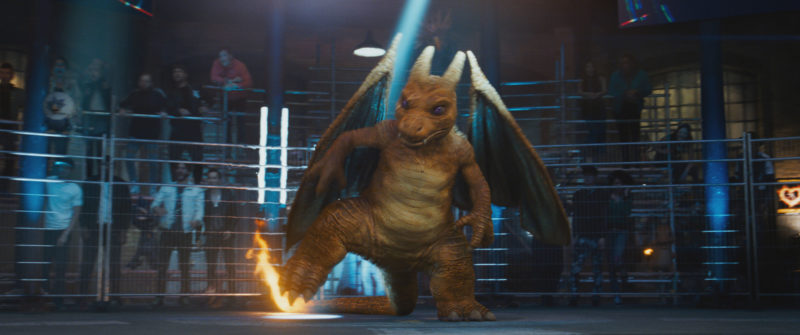 As the backdrop of this hardboiled tale of men and fuzzy monsters, Ryme City is the hi-tech urban sprawl to be in if you ever wanted to live in harmony with Pokemon.
A sleeping Snorlax might just be in the way when you cross the pedestrian lane, Bulbasaurs caper through the parks, Charmanders work in vendor stalls cooking with their partners, and Growlithe police the streets beside their law enforcement humans. Digitally extended skylines and signage further obscure the city's exact locale, imbuing it with a classic noir atmosphere, cool and dark, with slashes of neon reflecting off rain-wet streets and weird shadows around every corner.
Tim and Pikachu chase clues together through the neon streets of Ryme City as scrupulously detailed poke- monsters are depicted down to their proper sizes, shapes, and attributes. Ryme City is a community built on the precept of "harmony between humans and Pokémon" as per its visionary founder, the benevolent billionaire Howard Clifford (Bill Nighy).
That Journo Dame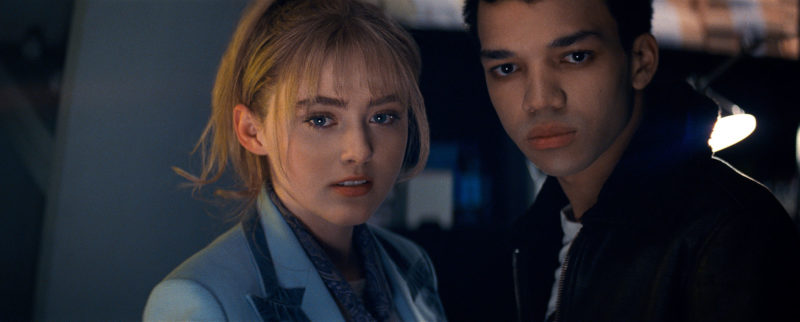 Tim and Detective Pikachu get an unexpected boost of help from Lucy Stevens (Kathryn Newton), an aspiring investigative reporter who's sniffing after the story of an unexplained and completely uncharacteristic aggressive Pokémon behavior. Lucy thinks Harry was asking the same questions and just maybe he got a bit too close.
Lucy and Tim, plus Pikachu and Lucy's easily agitated partner Psyduck make for some hilarious banter and scenes. Pikachu said it best when he pointed out that when Psyduck "gets stressed he explodes" in a psychokinetic wipeout. So throughout the movie they're always trying to calm his nerves.
All Your Pokemon Are Belong to Us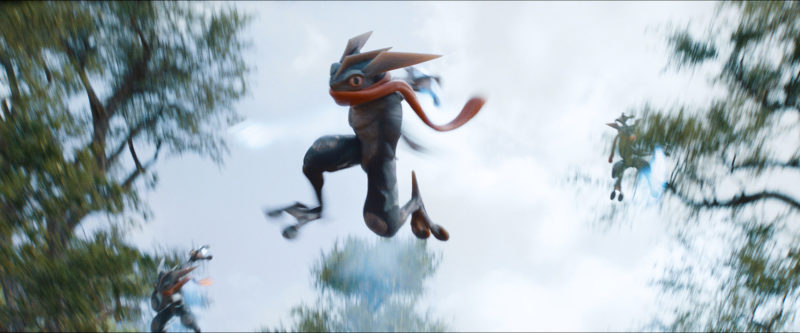 While there's plenty of fan service here, the story's enjoyment doesn't depend on whether or not the viewer is versed in the fine points of the 800-plus species of Poke monsters.
Though not animals, from a design standpoint Pokémon do have certain characteristics of various animals, so the design crew tapped into natural examples for their physicality.  Aside from Detective Pikachu and Psyduck just a few of the big ones to expect are Charmander, Ludicolo, Snubbull, Squirtle, Bulbasaur, Jigglypuff, Aipom, Lickitung, and the frustrating Mr. Mime.
Speaking of, for the scene where Tim and Detective Pikachu face the challenging task of interrogating Mr Mime, they hired prominent New Zealand physical comedian Trygve Wakenshaw for the performance.
In another big scene, where we go from the rarified air of Ryme City's halls of power to its underbelly, The Roundhouse is an illegal Pokémon fight club owned and run by Sebastian.  Sporting a full chest tattoo of his champion Charizard, Sebastian wants a rematch with Detective Pikachu for some weird reason. The scene then becomes dark and frenetically charged when the classic battle between Pokémon and their trainers gets acted out, although in Ryme City it openly breaks this city's rules of co-existence.
Through all this, Tim and Detective Pikachu must find out: who is the powerful and elusive Mewtwo and what's his connection to the violet-colored vial?
The Power and the Glory and Howard Clifford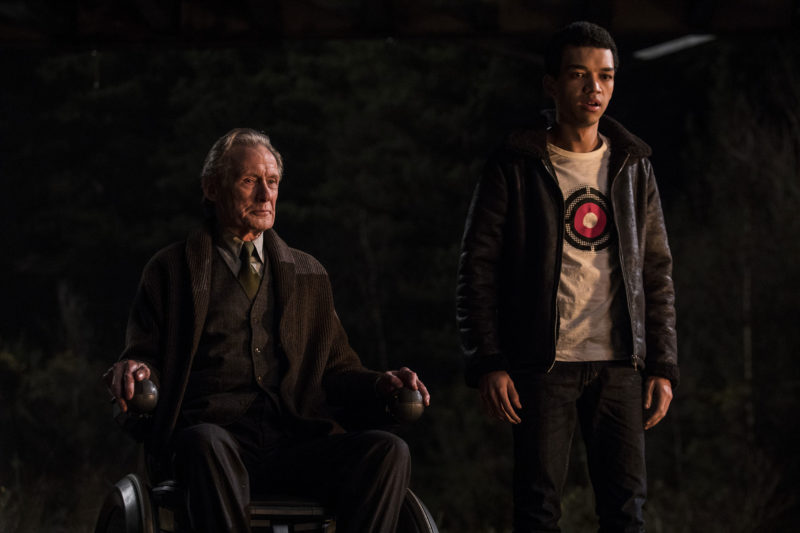 Ryme City is the vision and design of Howard Clifford (Bill Nighy), who is depicted as an avuncular, responsible, billionaire, the CEO of the industrial complex Clifford Enterprises. The city is his experiment and dream: a place where humans and Pokémon cohabit for the first time as equals,  sharing the aspiration of becoming the best version of themselves through evolution.
Howard is however constantly at odds with his abrasive son Roger, the president of the company who feels the need to get out from under the tall shadow of his father. Frustrated, Roger never misses a chance to berate and oppose Howard like a menacing adolescent.
I Choose You!

Ultimately, with quite a few twists and dozens of cups of coffee, Tim's journey with Pikachu leads to uncovering uneasy truths that threaten not only the safety of the Pokemon but the basis of Ryme City's harmony itself.
Though clearly made for kids and kids at heart, there is a bedrock of meaning in here that can be read between the fun and crazy antics of the Pokemon and the very real suffering of Tim who wants to get to know his previously absent father, now come to life in the mystery and adventure he always craved, but never knew he wanted.
Will Tim and Pikachu solve the mystery before the forces opposing them find a way to annihilate the peaceful co-existence between Pokemon and human? Somehow they both must evolve into their best selves to even stand a chance.
All images courtesy of Warner Bros. Pictures
"POKEMON Detective Pikachu" opens in PH cinemas on Thursday, May 9.